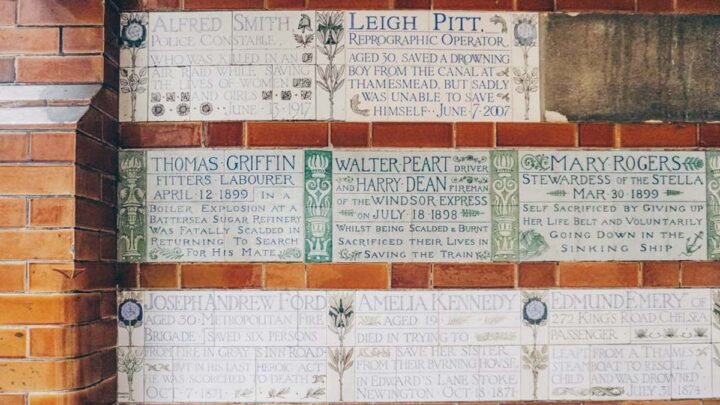 Postman's Park is one of London's secret spots – a touching and sad memorial to Londoners who lost their lives in heroic acts.
Tucked away in the City of London, a short walk away from St Paul's Cathedral, Postman's Park is certainly one of London's quirkier spots.
While it might not look like anything special at first glance, Postman Park's biggest draw is a touching memorial – stretched along a long wall in tribute to Londoners who died as heroes.
Filled with plaques, each one dedicated to one hero and telling of the (often gory) circumstances of their death – The Watts Memorial to Heroic Self Sacrifice is at once both poignant and horrifying.
Here's everything you need to know before you visit.
Who are the Heroes on the Postman's Park Plaques?
The Watts Memorial features 54 memorial plaques dedicated to 62 London heroes who died saving the lives of others.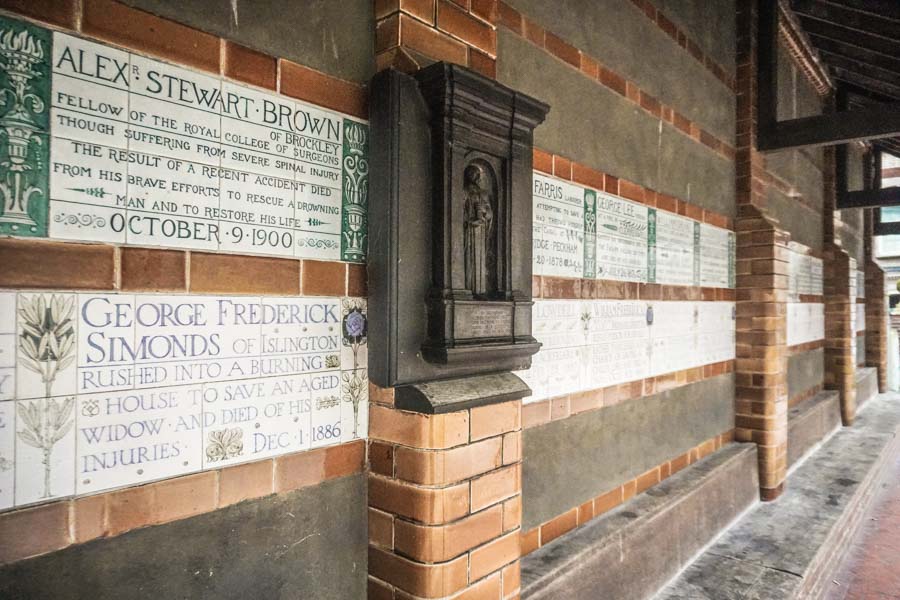 The Postman's Park plaques go into the details of the deaths – the first being Sarah Smith who died whilst trying to put out flames on a friend in 1863.
Another, a servant called Alice Ayres, died saving her employer's children from a burning house – though she saved their lives, it was at the cost of her own.
All of the heroes are normal people – those whose deaths would otherwise have been forgotten by the passage of time. They were of all ages – the youngest, Henry Bristow, only eight years old who died saving his sister from burning to death, but caught fire himself in the process.
History of the Watts Memorial and Postman's Park Plaques
But how did the Postman's Park memorial come into existence?
Well, it was the brainchild of artist George Frederick Watts, who'd long been campaigning for a memorial to everyday heroes.
Watts had campaigned for the memorial to be erected in many places – including Hyde Park – but had been refused before someone came up with the idea of putting it into the relatively new Postman's Park in the City of London.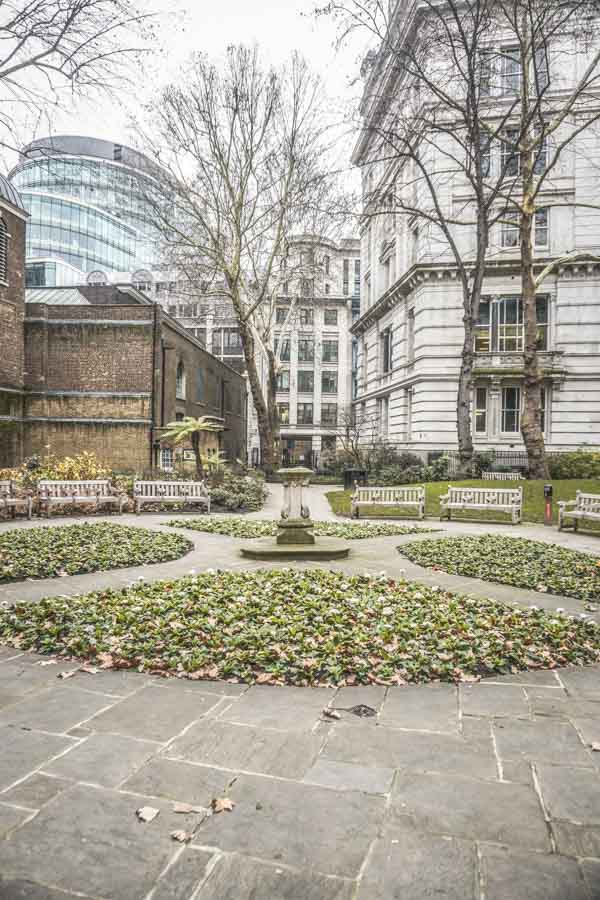 Unveiled in 1900 for Queen Victoria's Jubilee, there were only four plaques installed at the time of its opening. It was meant to be an ongoing project – with a large number of empty spaces left for new plaques.
Unfortunately, Watts himself died in 1904, when only 13 of the tablets had been installed.
The Postman's Park memorial project was continued by his wife for several years until 1931, by which time only a few plaques had been added in the past couple of decades.
Another tablet was installed in 2009 by the Diocese of London (the first in 79 years), which led many to hope that it would finally be completed in the near future.
But, sadly, it's been decided that there aren't going to be any more tablets added in the future.
Why Did Watts Create the Memorial?
Watts wanted the memorial not only to pay tribute to the Londoners it featured, but also to inspire those who viewed it to live a better life. To take those heroic actions and to implement the moral standing into their own lives.
We think he completely succeeded.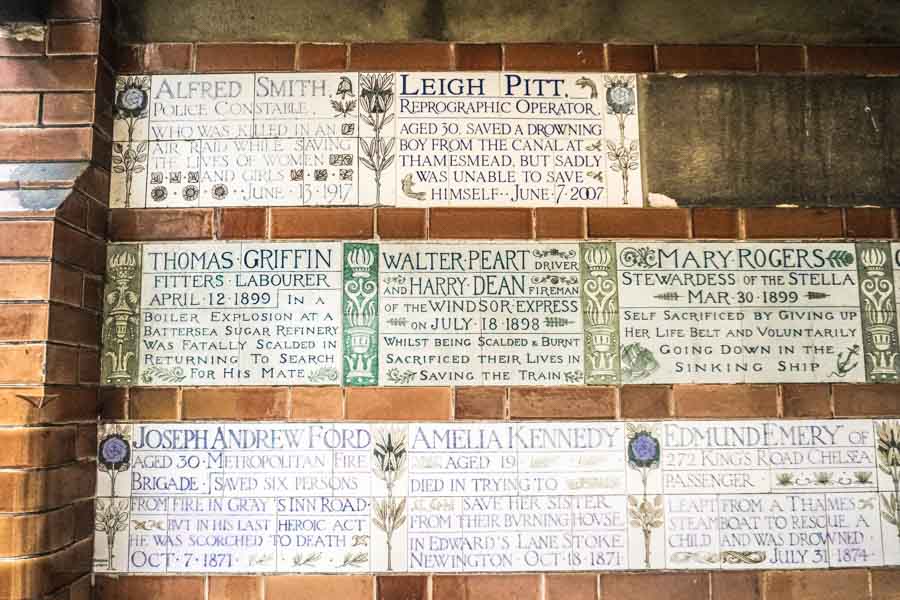 He wanted to emphasise the importance of moral fortitude and respectability in society – something that suited the Victorian era, but became less and less fashionable as the decades passed – which explains why the memorial was never finished.
The tiles were created, first by eminent tile designer William De Morgan, with whom Watts was acquainted.
Later in 1907, when De Morgan decided to stop producing tiles to focus on writing novels, namely Somehow Good and It Never Can Happen Again, the second row of tiles were manufactured by Royal Doulton.
Mary Watts was actually very unhappy with the designs by Royal Doulton – she lost interest in the project completely, which led to the completion being sporadic until it completely stopped in 1931.
Why is it Called Postman's Park?
Postman's Park takes its name from the General Post Office that sat on its southern boundary.
The park was built in 1880 on a former churchyard of St Botolph's Without Aldersgate with London's first purpose built post office standing to the south.
The church at the time was desperately trying to raise money to secure itself – it was hoped that the memorial would raise awareness of the park in order to do just that.
Postmen would take their breaks in the park – even today it's still a welcome respite from the bustling city that surrounds it.
It Looks a Bit Familiar… Wait! Was it in the Film Closer?
Yes! When we first visited the park, we couldn't get rid of the niggling feeling that we'd seen it before and then it hit us – it plays a pretty central role in the 2009 film adaptation of the Patrick Marber play Closer.
You know the one with Natalie Portman, Jude Law, Clive Owen and Julia Roberts in some screwed up love square that ultimately shows how selfish and awful we humans can be. That one.
Natalie Portman's character takes her pseudonym – Alice – from one of Postman's Park memorial plaques when she first meets Jude Law in the park.
Go back and give it a watch, it's stood the test of time pretty well.
Postman's Park: Map

Read More London Tips and Guides