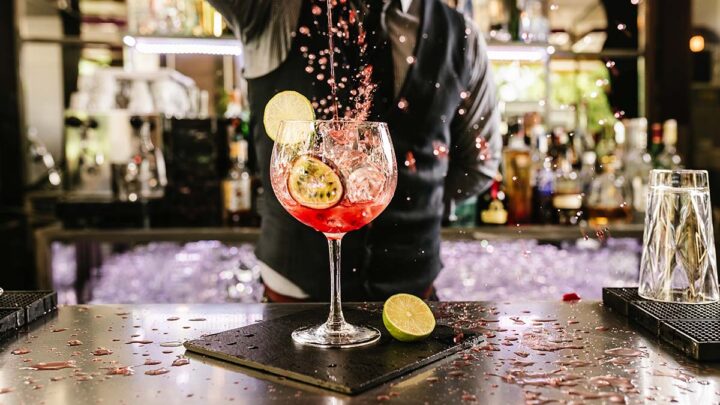 Looking for the best bars in Clapham? Here are our top picks.
When it's time to go out-out (or even just out), Clapham is a destination that has it all. From the swanky bars of Clapham Common, to the boozers of Clapham North and the come-for-one-and-stay-all-night wine bars in Clapham Junction, we've got it covered.
With converted toilets, hidden basement clubs and rooftop hangouts to choose from, we've scoured the length of SW4, so you don't have to.
Ready to hit up some Clapham bars? Let's have it…
Best Clapham Bars
Venn Street Records
£/££
So many Clapham Common bars promise 'good times', but one that achieves it with all the rockstar vibes is Venn Street Records.
You can easily find yourself here for 'just the one' and stay until 2am, such is its lure.
Come at the weekend and there's a smorgasbord of live music and DJ sets that always bring an eclectic vibe and hip up-for-it crowd.
The cocktails (wines and beers) aren't too shabby either, best put down with a side of cheesy pizza.
Oh, and did we mention – there's a daily Happy Hour, (5-8pm) when the cocktails are 2-4-1. What's not to love?
The Latchmere
£/££
More pub, less bar, The Latchmere is an institution where Clapham bars are concerned, that it would be remiss not to include it (even if some of the quibblers among you may say it falls more on the Battersea side of the hood).
Don't be fooled by the volume of beers on tap though, there are plenty of gin cocktails and champagne on ice, if you fancy something a little perkier.
Well located between the junction and Battersea, it's a popular spot with the after-work crowd, or even for a quiet drink with the paper.
There are often events being shown upstairs, which makes it a fun place for a night out. Plus there's four giant HD screens inside and three outside, making it one of the finest sports bars Clapham has to offer.
Little Orange Door
££
When you've reached the tipping point of time to dance versus going home, Little Orange Door makes that decision easy for you.
Undoubtedly one of the most entertaining Clapham Common bars that's open till late, the theme is up-for-it glam with none of the pretension you'd expect. And the owners have done a fine job to create a welcoming home-from-home with its stunning interior and bright design, giving it a touch of house-party vibes.
It doesn't end there though. Little Orange Door is all about the bottomless brunch in the morning after your big night. You're welcome.
<script async src="//www.instagram.com/embed.js"></script>
SIXTY/FOUR
££
Cut loose and hot-foot it over to SIXTY-FOUR, the latest party spot, which replaces the former 64th and Social.
Much like its predecessor, there are New York vibes aplenty in this Cocktail bar Clapham prides among its best. Deservedly so, especially between 5-7pm when it's Happy Hour.
After all, this is a place where cocktail making is an art form in itself, as mixologists flare up using fresh ingredients with a wink in their eye.
Not sure where to start? You can't go wrong with a 'Dark & Stormzie' – a heady mix of spiced rum, ginger ale, lime and bitters. It's the perfect punch you need to get up on the dance floor and give it some.
Add to that an eclectic mix of hip-hop, soul, funk and house, you never know what kind of night you're in for, which is half the fun…
Aquum
££
Oh hello there cool rooftop bar, what are you doing around these parts?
Stepping inside the chic doors of Aquum, you can be forgiven for thinking you've arrived in a hip Soho hangout. Except, this is SW4 and one of the top spots for cocktails Clapham style.
Yes, the drinks, tunes and vibes are everything you'd expect from a glitzy well-thought-through bar, but there's more.
The emphasis on food is big here, and the mouth-watering Greek menu doesn't disappoint. As such, it's the perfect pairing of food, drink and fun times, making it a one-stop destination for the perfect night out.
Plate smashing… not encouraged.
Northcote Records
£/££
If you like your pizza with a side of funk-soul brother, add Northcote Records to your list.
One of the best bars in Clapham for live music, Northcote's a pretty cool spot for first dates, music aficionados, and a touch of east-London cool, washed up onto Clapham's fair shores.
On the warmer days, crowds spill out on the street, otherwise you can find them holed up inside its dark walls.
The sister to Venn Street records, it's a refreshing diversion from the ritzy wine bars Clapham Junction is known for.
WC Wine and Charcuterie
££/£££
And now for something a little different. Those of you who prefer to savour a drink, rather than down it, WC Wine brings a touch of sophistication to its bijou tables.
That's if you can overlook the fact that it once stood as a 'Victorian water closet', or as normal people say – toilet.
One of the latest wine bars Clapham has to offer is worth a visit. Not just for its 'charming' setting, but for the ambience and first-class charcuterie menu – perfect for post-work nibbles.
If you can tear yourself away from the impressive wine list, The Grasshopper cocktail is also highly quaffable.
Sugar Cane
££/£££
When you're done with the novelty of Clapham South bars and fancy something a bit more, well, wild… it's time to hotstep to Sugar Cane in the Junction.
The Tiki bar is one of the most famous cocktail bars Clapham has to offer, known for its potent cocktails in a small snug setting, perfect for second-date feels, so to speak.
The cocktails, the décor, the theatre of it all must be experienced at least once – Sugar Cane is so perfectly bonkers that you can't help but fall in love.
Lucky for you, it's near to quite a few takeaways for lining your stomach before stumbling home… oh, and you will.
The Plough
££
Bars in Clapham Junction are notorious for being busy and vibrant, which is no bad thing.
However, if you're just catching up with friends, or don't fancy a drunken Karen falling all over the shop, The Plough is for you.
Once you've mustered the strength to walk up St John's Hill, you'll find your reward at the top. This clean, chic bar has a cool New York vibe about it, with a delicious menu to boot.
Big up the establishment for its commitment to London-based craft beers (some are a hefty 6.5%).
Or if you're in a wine or cocktail kind of mood, you can't go far wrong either.
Mommi
££
One of the latest Clapham Common bars to wow the crowds, Mommi is a concept drinks and dining hangout famous for its Sunday sushi and bottomless Prosecco brunch.
With Latin-Japanese hybrid cuisine and inside as well as outside dining, it brings grown-up sophistication to the well-heeled streets of Clam, dahling.
To add to the trendy vibe, there's a full vegan menu and the walls are adorned with Ben Watts photography.
No. 32 The Old Town
£/££
When Lil' Nas X sang about taking his horse to the Old Town road, he probably didn't mean No.32 The Old Town. This is a surprise, because there's a real community spirit that even a pet horse wouldn't look out of place.
Come summer, you can't move for the crowded streets in this popular Clapham Old Town bar. Its location makes it the perfect stumbling distance from the tubes, common and other bars in the area, although it seems to attract a local crowd.
Friday night beers withstanding, come on a Sunday for the roast… No need to dress up, come as you are – horse 'n all.
Tonight Josephine
££
Tonight Josephine is the spot to hit up for all the party vibes.
With unapologetic neon lighting and resident DJs bringing the joint to life, it's good times galore.
If you think that can't be topped, then get ready for the bottomless brunch with a 90s theme – the drag one is particularly high jinx.
Humble Grape
££/£££
If you're looking for something with a little more class, head over to Humble Grape. With a few outposts dotted around London, you may already be familiar with what they offer: a shelfload of great wines and a kitchen of good small plates to nibble while you drink.
All this is served in a low-lit, sophisticated setting that pretty much spells out the ideal of a cosmopolitan wine bar.
Much of the wine is from independent vineyards that you probably won't have heard of unless you're deep into the wine world so a drink at Humble Grape is a great opportunity for a new experience. Let your waiter offer a recommendation. The service staff are super friendly, and most importantly: knowledgeable
Lotus Bar
£/££
Lotus Bar describes itself as a 'club restaurant'. That means they light the place up like you were clubbing, but actually you're knocking back cocktails and (if you want) feasting on their menu of Italian classics.
They get their name from the fact they've been known to use edible lotus leaves in some of their drinks, though the cocktail list is extensive enough that you'll have to wade through plenty of tantalizing options before you find it.
Drinks sit at around the £10 mark. We suggest this as a good spot to start your night before moving on to finish up elsewhere.
Clapham Bars: Practical Tips
Getting home after a big night (or a few drinks) in Clapham can be done pretty easily on public transport. You've got Clapham North, South and Clapham Common at various points along the Northern Line, and Clapham Junction for Overground at National Rail connections.
Mind out If you're crossing Clapham Common alone at night. People, especially the drunk, have been victims of muggings there in the past. We don't want to be fear mongerers, it's highly likely that nothing will happen, but it's best to keep your wits about you.
Clapham Bars: Map