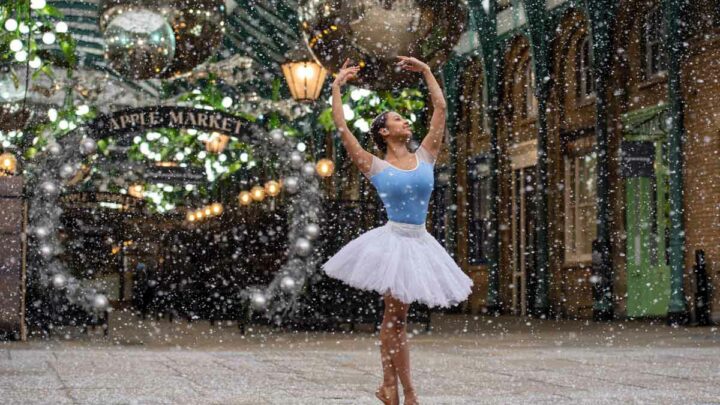 Christmas in London is a magical time… and there's no better place in the capital to get festive than Covent Garden.
If you can't tell, we're already feeling very Christmassy here at London x London (absolutely nothing to do with the multiple glasses of mulled wine wdee've already put away, we promise). Don't worry if you've still got a touch of the Scrooge in you, this year's Covent Garden offering is looking like an absolute (Christmas) cracker.
From magical decorations and trees to the ultimate christmas sandwich, our round up of what's on will have you ready to be wrapped in tinsel and shouting ho ho ho in no time.
Covent Garden Christmas – Feeling Festive
The area's main piazza will totally transform into a magical Christmas village designed by award-winning film-set designer Sonja Klaus, and there'll be food markets, art installations, and exclusive dining experiences to sink your teeth into throughout the jolly season.
Warming Tipples Galore
First up, the Winter Warmer Mulled Wine & More Festival will be shaking things up between the 10th and 24th December.
Pop up stalls and long standing favourites will be serving mulled wine and other hot toddies sure to warm you right up in the cold weather.
In fact, there'll be 25 different varieties of the popular drink served across Covent Garden's many brilliant restaurants and bars. Dirty Martini X Diageo, Frenchie, and Mrs Riot are among the spots upping their festive tipple game.
Christmas Sandwich Festival
Keep it classic with turkey and cranberry? Go HAM with stuffing and bread sauce?
Whatever you like in your festive sandwich, nothing is off the table at the Covent Garden's Christmas Sandwich Festival, taking place between the 15th and 24th November.
Nearby eateries and restaurants have been challenged to create the perfect Christmas sandwich… and The Smokey Gaucho, Mr Pig Stuff, and The Cheese Toaster will be among the many stepping up to the plate.
We love anything with stuffing, if you were wondering.
Gift for Good Charity Auction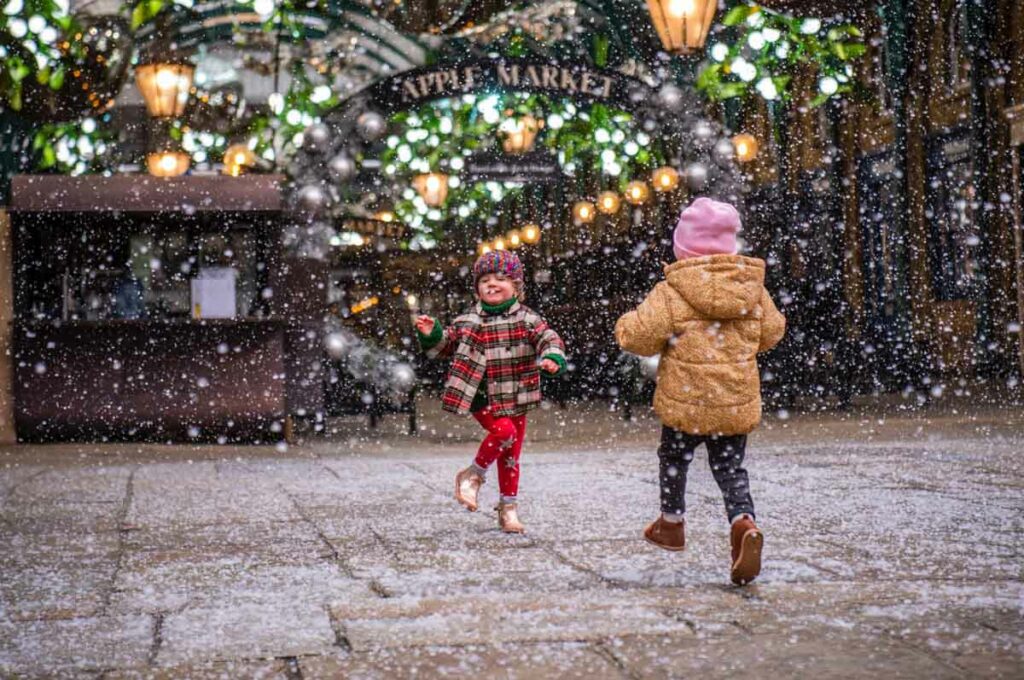 After raising £15,000 last year, Covent Garden's heartwarming Gift For Good online charity auction is returning and will be taking place between 25th and 28th November this year.
Proceeds from the auction will go directly to Only A Pavement Away, a charity working overtime with employers to help get people into work and end homelessness in the UK.
There are plenty of wonderful prizes up for grabs – we're talking Mulberry handbags and an evening at NoMad London. Get involved and spread the Christmas cheer.
And if you'd like to snag yourself a little treat, the 9-12th December sees a special shopping weekend taking over Covent Garden. Expect plenty of bargains and discounts from big names such as Nars, Ganni, and KICKGAME. Merry flippin' Christmas.
Festive Family Fun
After last year's huge success, LEGO will be returning to the Piazza between 1st December and 3rd January.
The company will be bringing back their popular installation made up of iconic colourful bricks – this year you'll be able to spot a rocket race car, a firefighting dragon, and a cactus Christmas tree.
But Lego isn't the only global company to give the piazza a makeover this year.
Disney has teamed up once again with Covent Garden to celebrate the recently-launched West End Musical Frozen, delighting children who visit the capital (and, let's be real, adults too – we know you know all the words to Let It Go).
Until January 3rd, the North Piazza will be transformed into a Frozen Forest – complete with snow-topped trees, Frozen decorations, and random flurries of snow every day.
Head there at 9:30pm for an extra special evening snow performance under twinkling lights.
Take a Peek at Covent Garden's Christmas Tree
London welcomes plenty of Christmas trees each year (though most are overshadowed by the tree in Trafalgar Square) – but if you want to take that all-important photo for the 'gram, you'll want to check out the impressive Christmas tree that sits over in the west piazza.
At 55ft tall, the beautiful tree towers over the rest of Covent Garden – and makes for a stunning selfie backdrop.
Covent Garden Christmas Lights
Can't get enough of London's dazzling Christmas lights? Join the club. Not one to be outshone (quite literally), Covent Garden are, of course, getting in on the action again this Winter.
The whole neighbourhood will be adorned with over 115,000 lights – with the main tree alone brandishing a whopping 30,000.
Not only that, but the Market Building will be reunited with its much-loved giant baubles, mistletoe, and mirror balls, as well as nearby giant nutcrackers guarding the Royal Opera House Arcade.
Practical Tips for Visiting Covent Garden at Christmas
We LOVE visiting Covent Garden at Christmas… and so do plenty of other people. In other words, it can get busy. Head there early to beat crowds.
Plenty of stores will be offering discounts throughout the season so it's a great place to do some serious Christmas shopping at both big chains and independent retailers.
Looking for More London Christmas Guides?