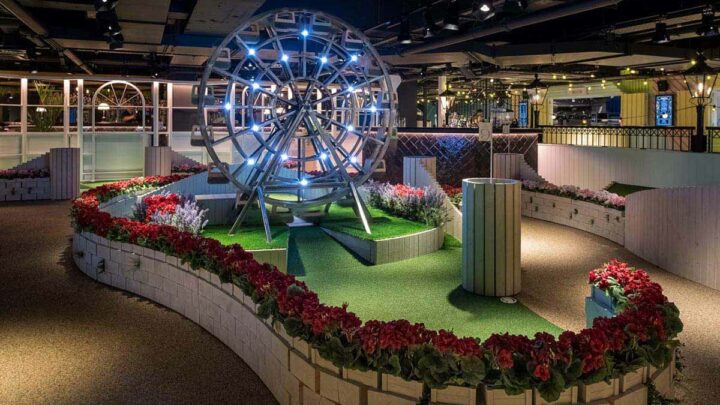 Bonkers but brilliant, Swingers is the venue putting crazy golf front and centre on London's radar. Here's why you need to go.
Q: Why do golfers always carry a spare pair of trousers?
A: In case they get a hole in one.
We'll let you in on a little secret… swinging is cool again. No, no, not that kind. We're talking about the London crazy golf venues that you really should have on your radar.
Let's face it. It's kinda rare that crazy golf lives up to its name. We've all been there – a sad little course on astroturf buried in some backwater park (if you haven't, well done). Either way, you can think of Swingers Crazy Golf as the antithesis of all that.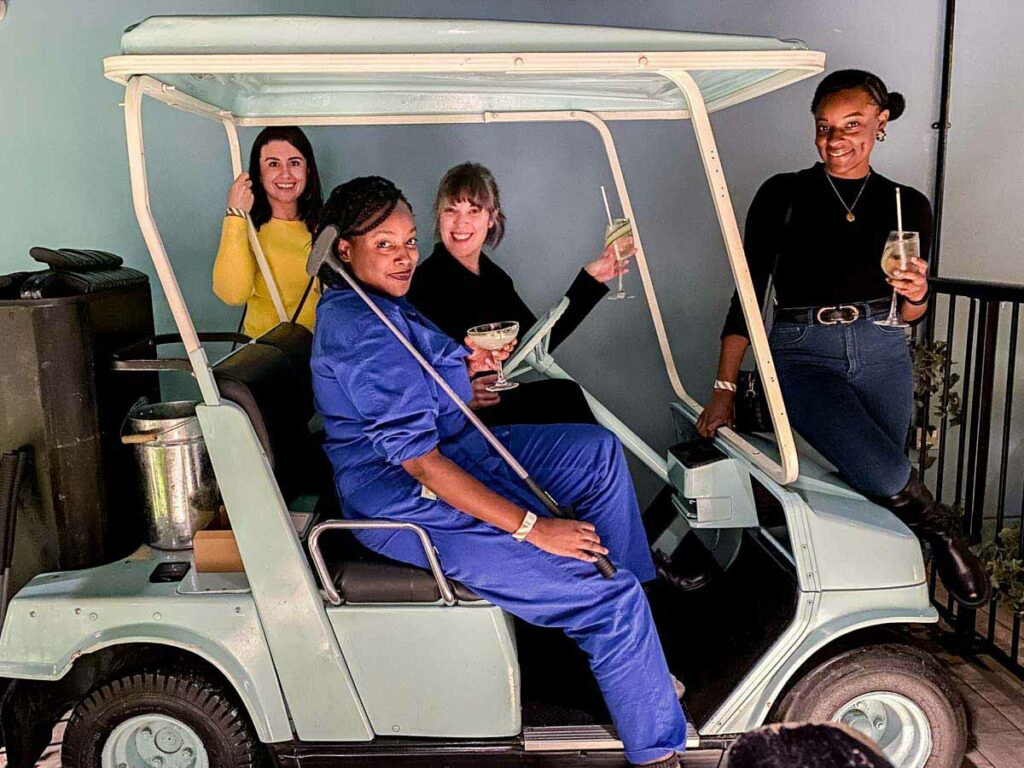 Sporting two venues: West End and The City, they're cool spots for everything from date night to a raucous night out with your mates.
What's not to love? The decor – inspired by the British seaside of the 1920s – is a cross between a mad-hatter's tea party and the playground-come-emporium of your dreams.
It sets the tone for the venue's two mini-golf courses (more on that anon), each one with a quirky array of increasingly difficult, though always entertaining, holes.
Add to that a banging cocktail menu, street food from some of the best in the game (did someone say Patty & Bun, Breddos and Pizza Pilgrims?) and you can see why Swingers have earned themselves a reputation for being one of the most outrageously fun nights out in London.
Swingers London: The Golf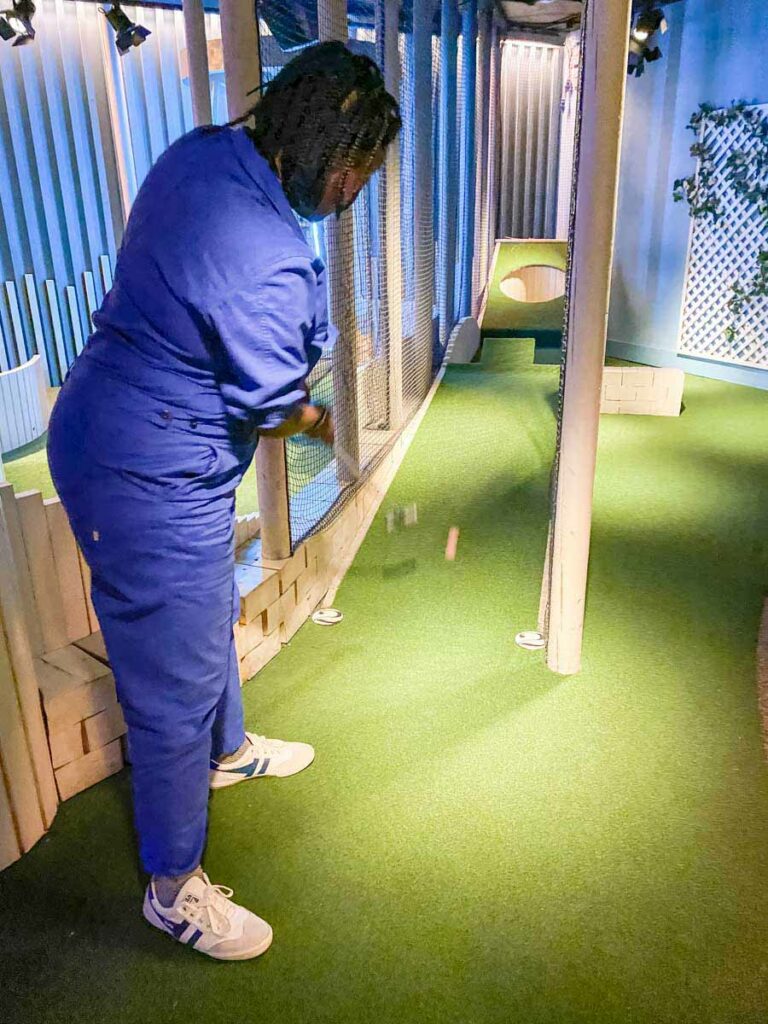 Crazy golf is front and centre at Swingers and they really putt in the effort (sorry, couldn't resist).
The huge venue means a choice of not one but two nine-hole courses at each venue.
Whoever came up with the ideas for the different holes was, to tell the straight up truth, a bonafide genius.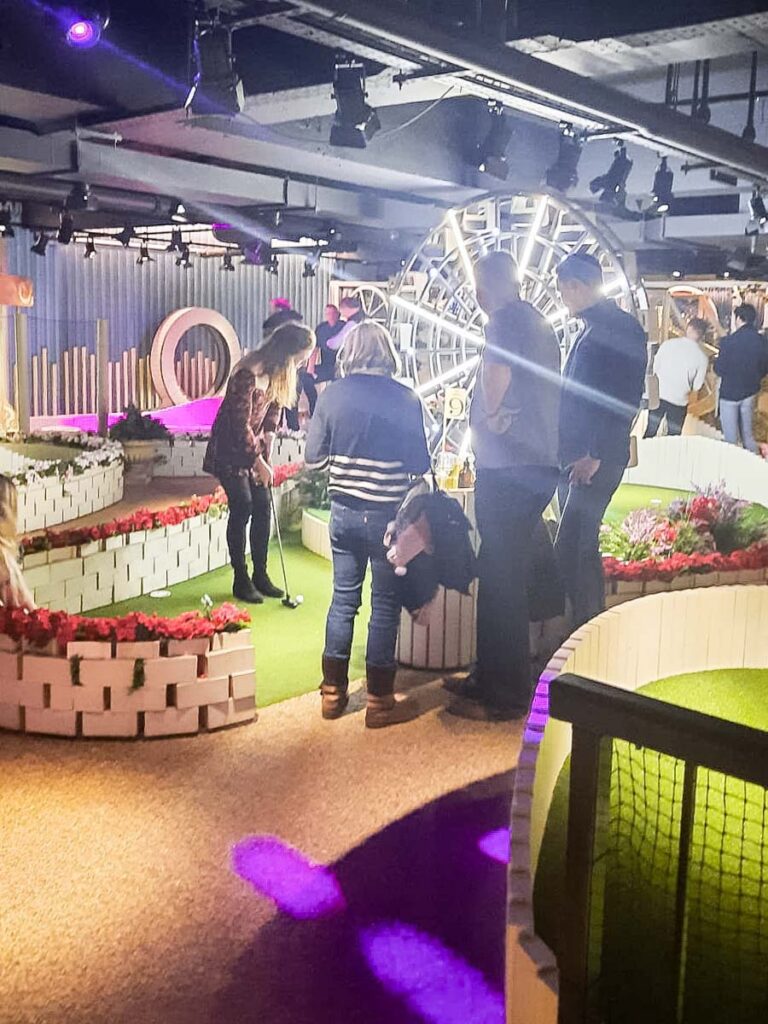 Whether it's teasing your ball around impossible corners or negotiating your way around a giant loop de loop, it's like applying your mind to understanding the space-time continuum, only with a lot more laughs and a few more cocktails en route.
The Food & Drink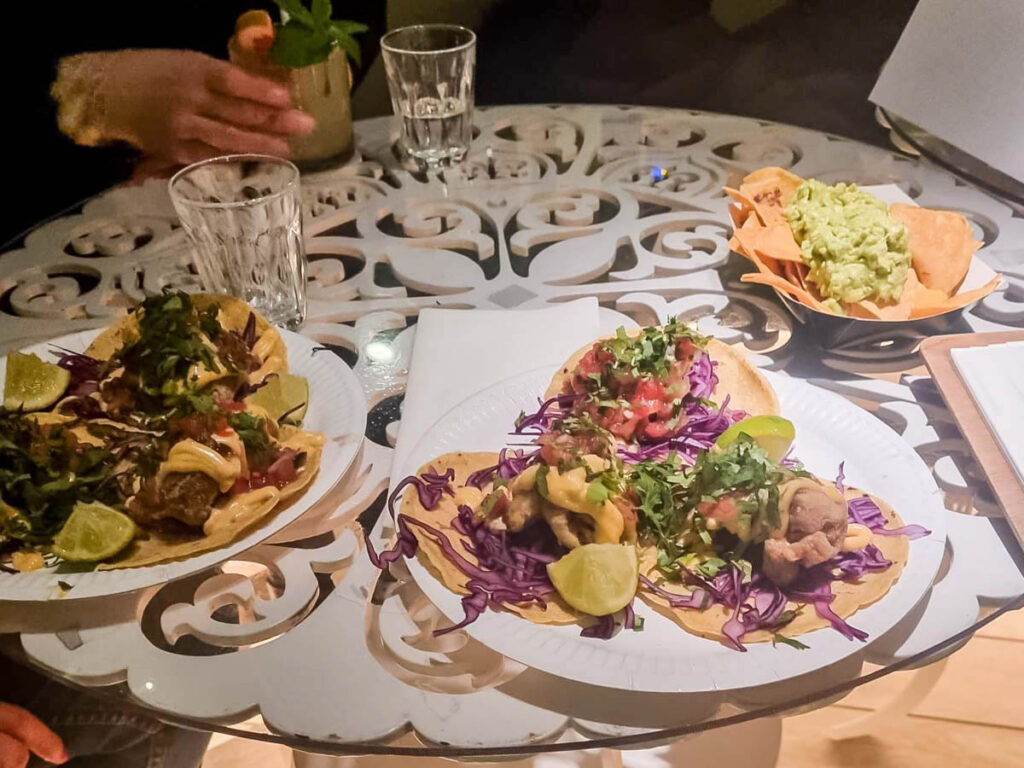 Look, we won't blame you if you get a tee in your bonnet about the food and drink.
Who wouldn't wax lyrical when a pimped out burger, dripping with blue cheese and bacon in a pillowy-soft brioche bun turns up at their table? You're only human after all.
Or how about metre-long pizzas from Pizza Pilgrims? Particularly when they start bandying toppings like burrata, 'nduja, fior de latte and spicy honey about… drool.
Or tacos – cosily wrapped around crunchy baja-style fish or meltingly good short rib barbacoa.
Point is, there's a lot to get excited about.
Drinks-wise, Swingers goes beyond your bog-standard cocktails.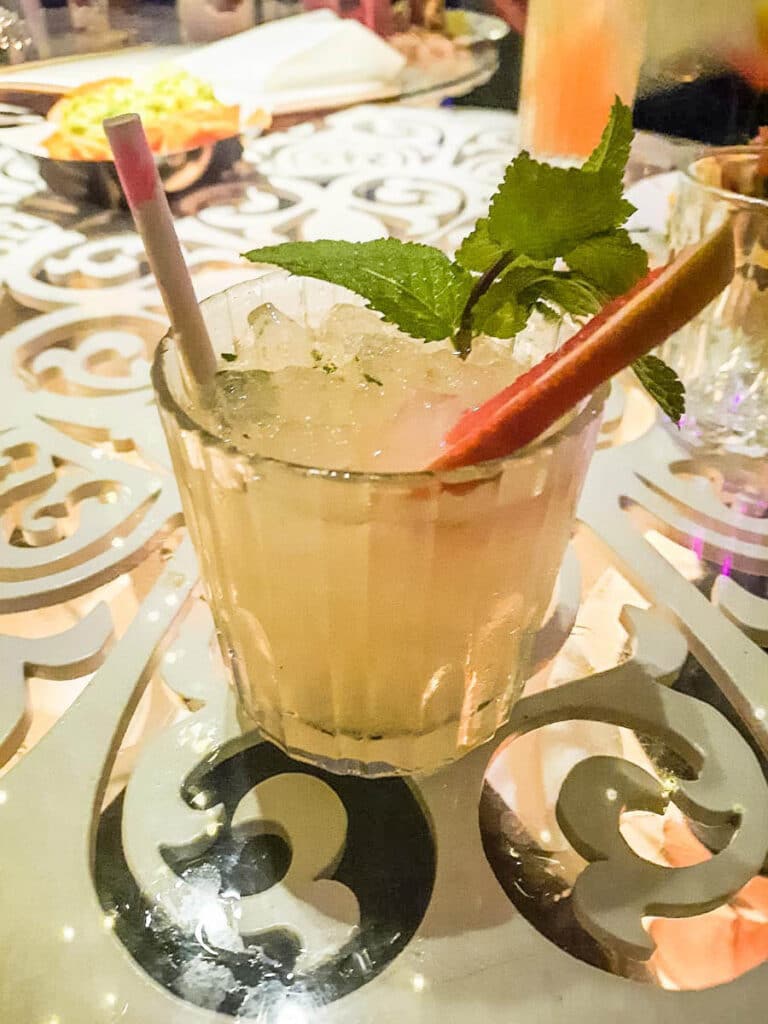 From the Hot or Not – a short and punchy combination of Don Julio Blanco, cascabel honey, lemon and gomme (opt for the house-infused chilli tequila for extra kick) to the Hurricane Carter – Havana Club 7, apricot brandy, spiced honey syrup, ginger beer and peach bitters, there's plenty of dutch courage to help you swing like a pro.
Christmas at Swingers
Of course, Swingers wouldn't be a jolly good venue if they didn't pull out all the stops for Christmas.
Packages are cunningly named after key parts of the Christmas dinner. They range from the Sprout Set, which comes with a round of crazy golf and two deluxe drinks, to the all-out Turkey Set, which covers crazy golf, a reserved area, welcome cocktail and unlimited drinks, plus street food, a festive dessert and a snazzy Christmas golf visor.
Everyone dreams of organising a Christmas party that doesn't totally suck and here it is in your reach.
Word to the wise though, you'll have to move fast to snap up the few remaining slots available before Christmas.
Practical Tips for Visiting Swingers London
Swingers West End: 8 Brown's Building London EC3A 8AL
Swingers City: 15 John Prince's St London W1G 0AB
Book in advance for crazy golf, but you can just pitch up for food and drink.
Rounds of crazy golf start from £13.50 per person not including drinks, to £58 with golf and a food and drinks package.
Looking For More Things To Do in London?