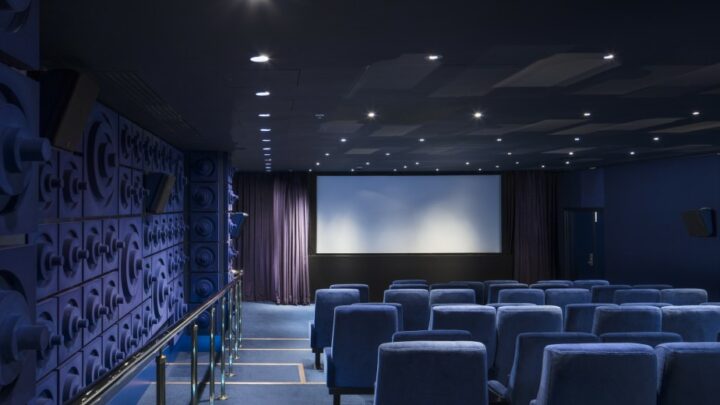 Take things up a notch on your next visit to the flicks with our go-to guide to the best luxury cinemas in London.
Back in the day, a trip to the cinema was mostly defined by sticky carpets, chewing gum under the seat and a pick 'n mix if you were lucky.
In case you missed the memo, those days have definitely passed. Today, cinema-going in London is a whole different beast that comes complete with sofas, reclining seats and fully-stocked bars. In other words – a night out at the flicks just got glamorous.
Looking for a date night with a difference? Or simply to treat yourself? These luxury cinemas in London offer a fresh take on an evening at the movies.
Luxury Cinemas in London
Film and Fizz at One Aldwych
Covent Garden
Take your screening experience to the next level by booking a seat in the cinema at the gorgeous hotel One Aldwych.
Screening a mix of new releases and old classics in their 30-seat cinema, the real attraction here is the Film and Fizz package, which sees each ticket come with a three-course meal in the hotel restaurant, Indigo, popcorn and a glass of Henners English sparkling wine.
The Cinema in the Arches
Battersea
Part of the new development around Battersea Power Station, the Cinema in the Arches (previously Archlight Cinema) ups the cool London cinema ante with plushly upholstered reclining seats and an intimate setting.
The focus here is very much on the viewing experience – which is why the three screens come pimped out with Dolby Atmos Surround Sound and crystal-clear laser projections. All that's left for you to do is snuggle up with a bag of their handmade popcorn and a cocktail (served by the bottle don't you know) and enjoy the film.
Curzon Sea Containers
South Bank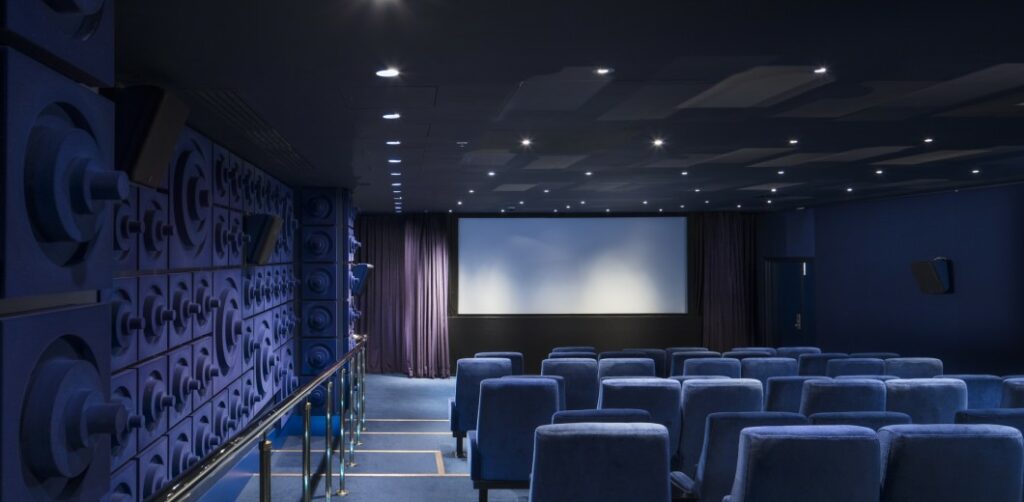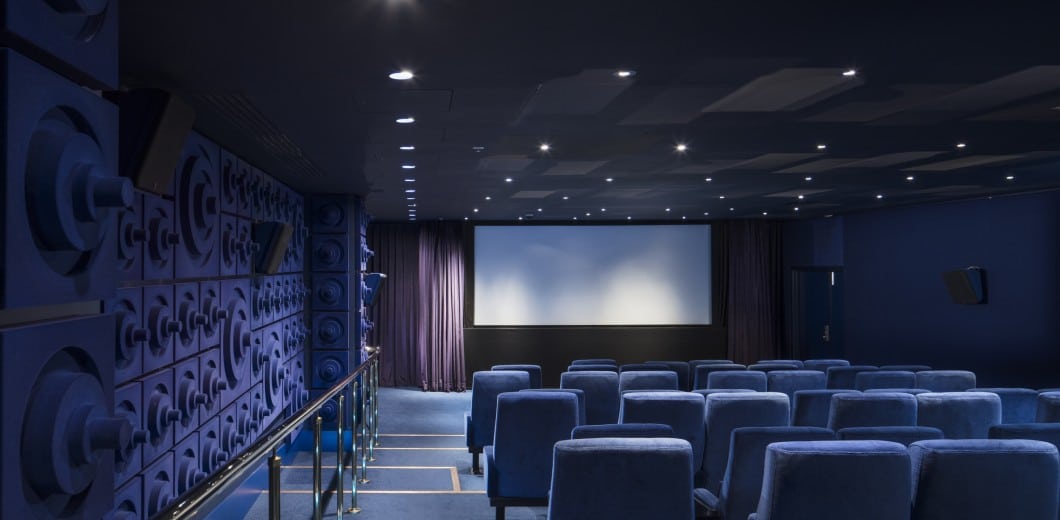 The South Bank's monolithic Sea Containers building is home to some of our favourite hangouts *cough Lyaness cough* – including a tiny Curzon cinema in the basement that only opens at weekends.
The 56-person luxury London cinema is decked out in blue and gold, with comfy plush blue velvet seating for you to sink into during the film. Even the furthest at the back have great views of the screen (4K of course) and it's kitted out with Dolby Surround sound for an immersive viewing experience.
Top tip: you'll want to book your tickets in advance as they almost always sell out.
Electric Cinema, Portobello
Notting Hill
It just so happens that one of the best-known lounge cinemas in London is also one of the city's oldest too: Portobello Road's Electric Cinema originally opened 1910.
Don't worry – it's been shown a lot of love since then: it's now owned by Soho House, which explains the tastefully put together interiors.
The cinema experience is equally impressive. You can choose from a spacious red leather armchair, a sofa or go all out and snuggle up on a velvet double bed.
Other perks include individual tables for drinks and snacks, footstools and a cashmere blanket (also useful for hiding under during the scary bits).
Be sure to also check out their sister cinema in White City.
Everyman Cinemas
Londonwide
We couldn't write about posh cinemas in London and not include the Everyman Cinema chain – there are eleven of them after all.
It all started 20 years ago with the Hampstead Everyman – a cinema in which sofas, wine coolers and waiting staff were de rigueur. Little wonder that it proved so popular it mushroomed into the mini cinema empire we see today.
While all of the Everyman Cinemas pride themselves on their luxe touch, we still have a soft spot for the Hampstead venue thanks to its opulent auditorium and delicious build-your-own-sundae menu.
Backyard Cinema
Wandsworth
The Backyard Cinema offers a very different sort of luxury. Instead of finding velvet sofas and champagne on tap, these guys offer a more immersive cinematic experience.
The themed cinema originally started as a pop-up but was so popular, it now has a permanent base at Capital Studios in Wandsworth.
You could be watching a film with sand underfoot in summer or walking through a Narnia-like wardrobe and winter wonderland in order to reach the cinema. Whatever the film, there will be dancers, actors and lots of surprises.
Less for the purist film goer, go for a fun night at the movies with a difference.
Curzon Mayfair
Mayfair
The Curzon Mayfair is high up on our list of posh cinemas in London. The Grade II listed building dates back to 1934 and it's become something of a London landmark, hosting several premieres a year.
You might not get to go to a film premiere, but the Curzon Mayfair rolls out the red carpet treatment to all cinemagoers… but particularly those who book one of the two royal boxes.
Genesis Cinema
Stepney
Genesis opened in 1999 but its history as an entertainment venue goes way back.
In 1848 it went from being a pub to a music hall. After being destroyed in a fire, the building was replaced in 1885 with a theatre named Paragon Theatre of Varieties. Charlie Chaplin and Laurel and Hardy performed here.
Recently restored after being derelict for 10 years, it's now a fresh and happening place to bring your laptop or grab a drink, even if you're not seeing a film.
As for the luxury cinema, you need to book Studio 4 or Studio 5. You'll get sofas, armchairs, footstools and blankets. And once you've made yourself comfortable, there's table service from the in-screen bar.
Castle Cinema
Hackney
The Castle Cinema is a lovely little cinema residing in a characterful arched building in Hackney. It was originally constructed in 1913 as an independent screen cinema.
Since 1958, it has been reincarnated as a bingo hall, warehouse and also a snooker hall but became increasingly run-down.
After a successful Kickstarter campaign in 2016 the cinema has come full circle and has been restored back to its former glory – with swanky armchairs in the OTT auditorium, which comes complete with an ornate curved plasterwork ceiling.
Regent Street Cinema
West End
It's been a pleasure to watch some of London's oldest cinemas take on a new lease of life in the last few years – none more so than the Regent Street Cinema.
Its tale started in 1848 when it opened as a theatre, before being transformed into London's first independent cinema.
Closed in 1980, it was lovingly restored and reopened in 2015 where it's built a die-hard group of fans who can't get enough of the diverse screening schedule, which spans everything from old favourites, documentaries, modern releases and everything in between.
Olympic Cinema
Barnes
Let's face it, when you create a luxury London cinema in one of the city's best-known recording studios, you'll have to do something special. The Olympic Cinema does not disappoint.
Traditional red seating is given an upgrade with seats so soft they feel like you're floating. Did we mention that they recline? Alternatively opt for one of their love seats or sofas for a spot of mid-film snuggles.
The Cinema at Selfridges
Oxford Street
Another great option for a night of luxury cinema in London is The Cinema at Selfridges. As you'd expect from a home like the one this cinema has, nothing is less than the best.
The tech here is top-of-the-line. You can see it in the crispness of the image on each of the screens and feel it in the bassy sound systems (they can literally rattle through you when something explodes.
You'll have three screens to choose from, each showing a mix of new blockbuster releases and independent films too. Occasionally they'll treat you to a blast from the past and put on an old classic.
Picturehouse Central
Piccadilly
You'll know you're in for a bit of a treat at this place as soon as you step into the lobby. It's grand – probably the grandest of all the luxury cinemas in London. The space is beautifully Art Deco and spread over two floors.
Head upstairs again and you'll find the screens, where a bunch of new blockbuster releases are shown every day. The experience here is not quite as plush as you might find in some of the other spots in this guide, but you're guaranteed a comfy seat and plenty of space to stretch your legs out while you settle into your film.
Luxury Cinemas in London: Practical Tips
Do we need to tell you to book your tickets in advance? No, we don't. What we will say though is that it's more necessary if you're going to a screening in central London. The cinemas out in the suburbs tend to have less attendance unless its a very popular film or a new release.
While you are often actually permitted to bring your own snacks into the cinema, theatres actually make most of their profit on the concessions counter, not through ticket sales. That means if you want to support the cinema you're going to, it's best to buy your snacks there.
Luxury Cinemas in London: Map