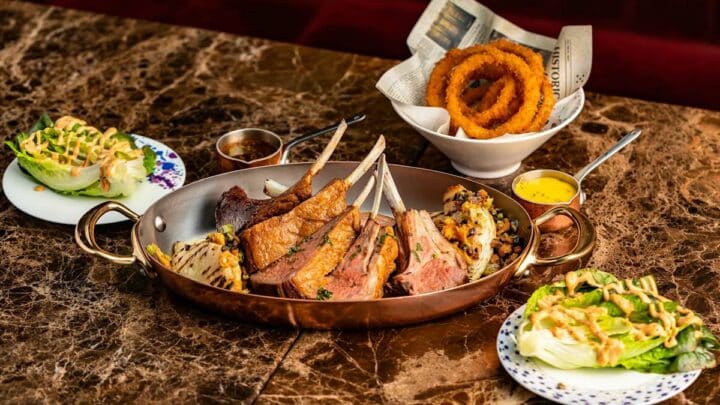 Looking for places to eat in Soho? These incredible Soho restaurants are some of the best in the city.
Soho is packed with great restaurants and they come in all shapes and sizes. With all those theatres a stone's throw away, you've got the fancy places that'll do you a good pre-show dinner, wine, class, and top service to boot.
There's also the old classics. Places that have been drawing in Londoners for decades. One thing's for sure: if you want a delicious meal, you can find it in Soho.
Read on for our guide of the best Soho restaurants.
Best Restaurants in Soho
Gunpowder
£££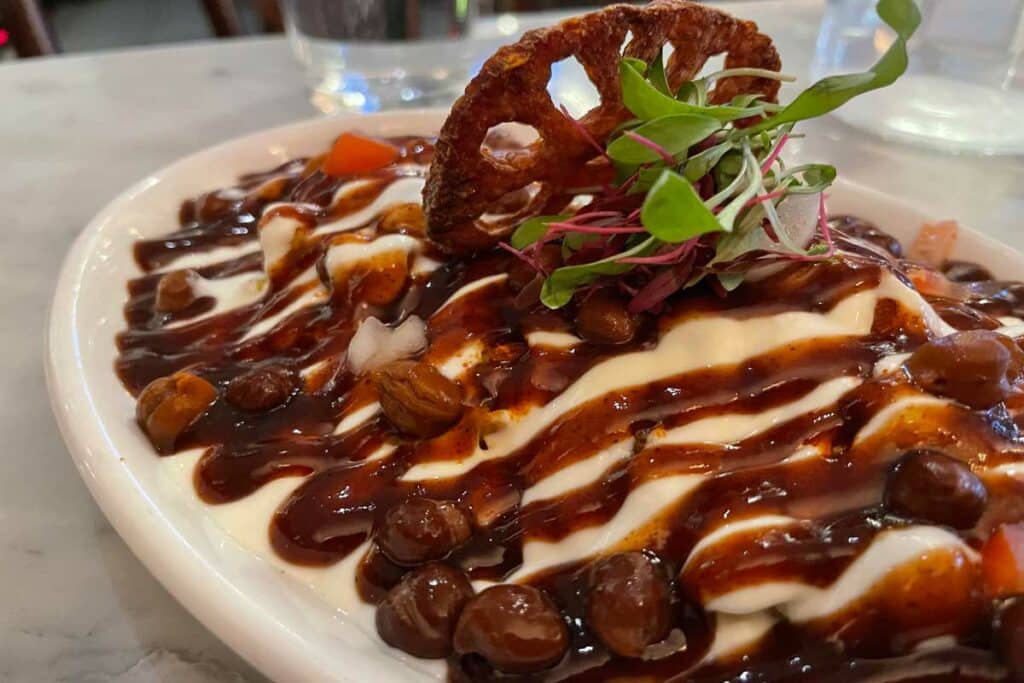 Taking hot positions in our guides to both Indian spots and Soho restaurants is Gunpowder.
In a city with so much competition, and with an obscene abundance of fantastic Indian restaurants, Gunpowder has quietly expanded and maintained a position as a cornerstone of the up-market Indian scene.
The place is styled something like a colonial cafe of old, but the food is anything but nostalgic. You'll find yourself dining on Indian food that gently pushes on the limits of the cuisine without straying too far from the tradition.
Eat the lamb chops. Don't ask why. Just do it.
The French House
££
Probably the most iconic venue on this list, The French House has been around for aeons.
Over the years, both its downstairs pub and upstairs restaurant have been regular hangouts for folks like Francis Bacon and Dylan Thomas, and the spot where Charles de Gaulle used to get his work done while in exile during WW2.
These days, the kitchen is headed up by Neil Borthwick who turns out a daily changing menu of nose-to-tail dishes in the French style. Expect anything from calves' brains to excellently-handled cornish crab to appear on your menu, and to be walking in the footsteps of greatness with every meal.
Bocca di Lupo
££
At heart, a traditional Italian trattoria. At the same time, an award winning restaurant that should be your go-to for something suave but laid back in Soho. You can decide for yourselves whether you go for a traditional multi-course Italian feast.
If you're not in the mood for all that, you'll be encouraged to pick and choose some of the dishes to share. That's how we like to do it at Bocca di Lupo, glass of prosecco in hand, and saving room for some of their delicious Italian gelato, of course.
Berenjak
££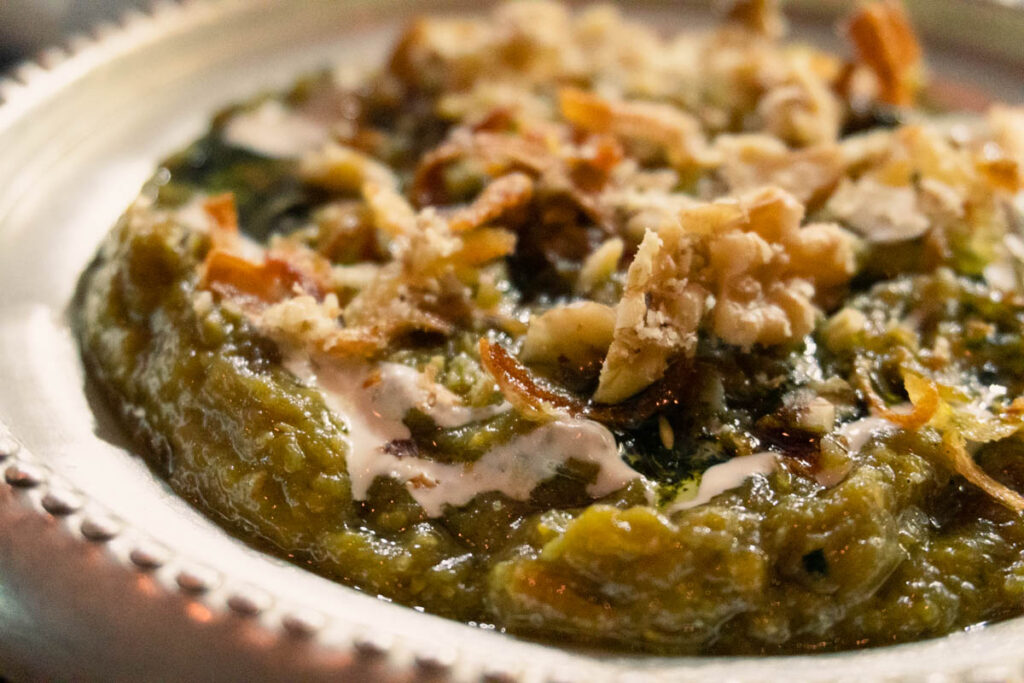 Looking for the best restaurants Soho has to offer? You shouldn't pass up on Berenjak. This charming restaurant turns out home-style persian food and such good quality and affordable price they landed themselves a Michelin Bib Gourmand award in 2022.
You can't book ahead, and you'll probably have to wait a while for a table, but when you get to your seat you'll be treated to a spread of things from the grill that will have you hailing Tehran as the food capital of the world.
Bob Bob Ricard
££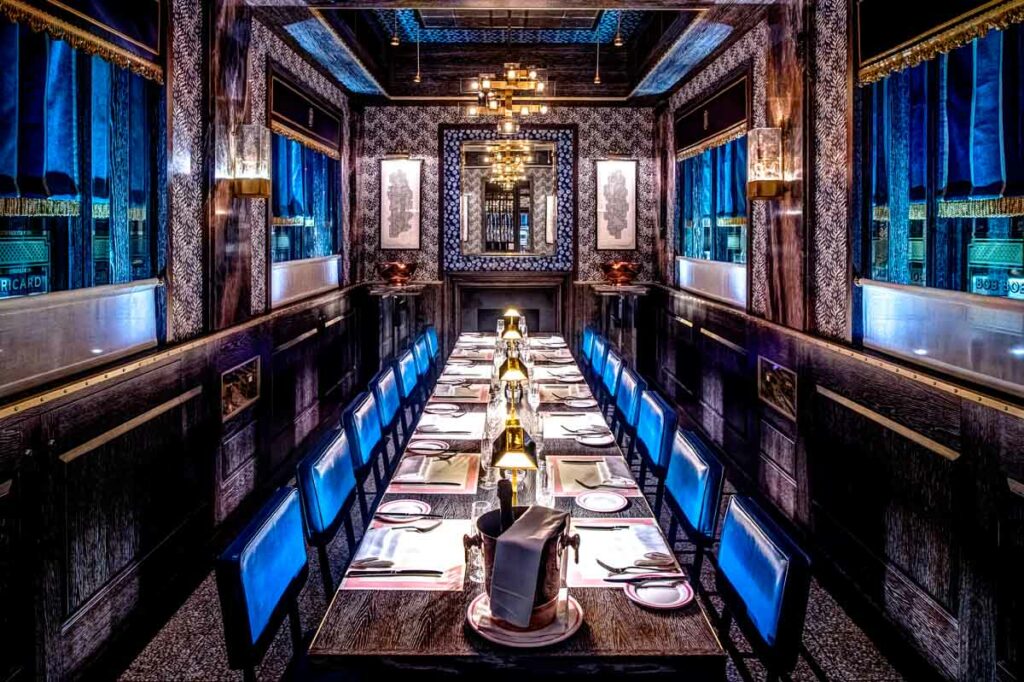 The restaurant so nice they named it twice! Bob Bob Ricard is a super iconic restaurant that marries the best of French and British cooking in a glamorous, very flamboyant dining room.
The interior takes inspiration from the Orient Express and the Golden Age of Travel with lots of dark reds and golds. The cooking is a bit closer to home but no less flamboyant. Your eyes will probably be drawn to their Truffle and Champagne Humble Pie.
If you want a meal to remember, crowding into a booth at Bob Bob Ricard is likely to be the place you find it.
Heritage
££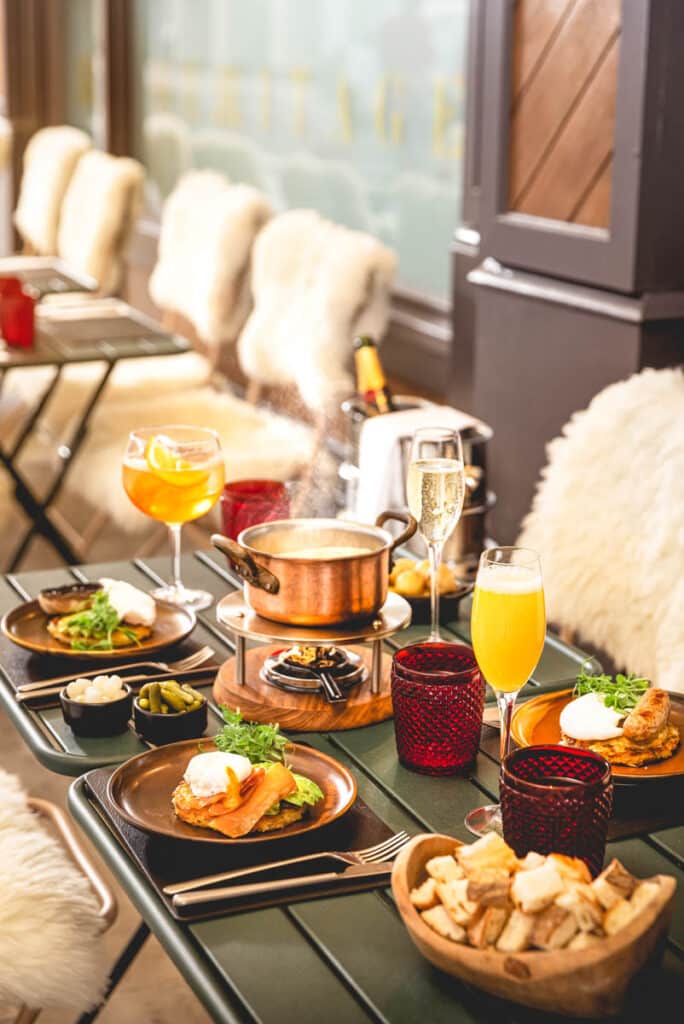 You might not expect to find an alpine restaurant in the heart of Central London, and it's true that at Heritage the only mountain within eyesight is the mountain of cheese they'll be feeding into your fondue. That doesn't stop this place from being every bit as legit as any ski lodge in the alps is.
Food here takes a bit more of a contemporary route than you might be used to finding on your ski holidays, dahling, but is all the better for it. Ingredients are fresh, seasonal and full of flavour. You don't need to stick to fondue either.
You'll find plenty of other enticing options on the menu, and even a killer Sunday lunch.
Barshu
££
If you want to turn the heat up to 11 for dinner, head to Barshu.
Without a doubt the most legit Chinese restaurant Soho has claim to, and better even than most in Chinatown, they serve up authentic Sichuan dishes that'll have you clutching a cold beer like it's your best friend.
You can do this two ways. Either you pick your way through the menu of dishes, probably ticking off a few old faves (we love the kou shui ji), or you go for (and you really should go for this) a giant baked fish for the middle of the table, and a couple extra dishes for fillers. You won't regret it.
Blacklock
££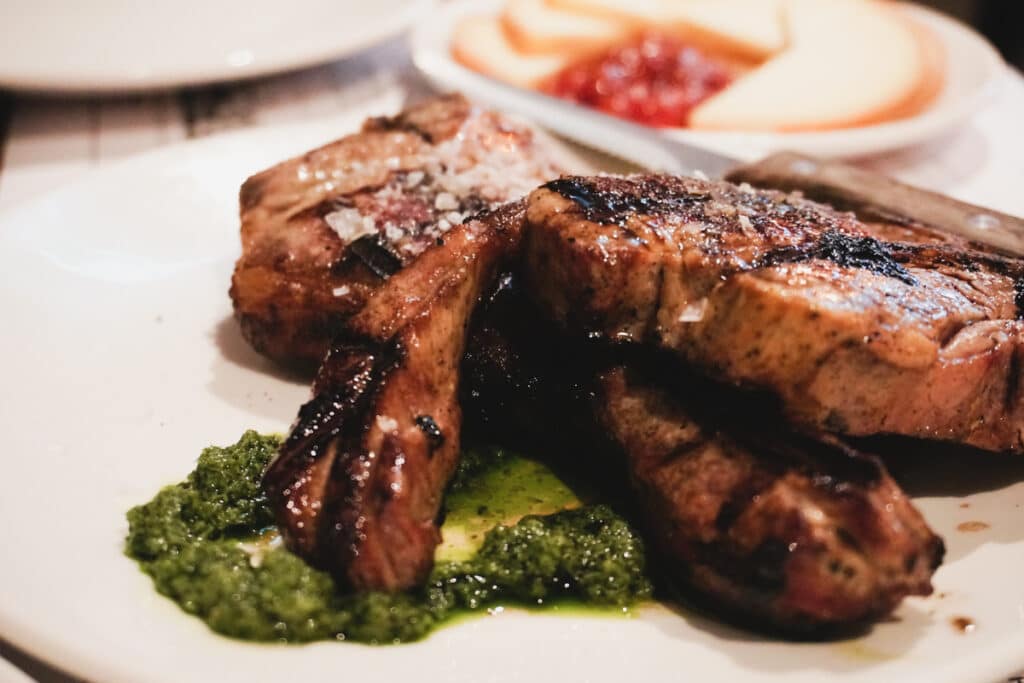 Vegetarians look away. Blacklock is a meat-lover's heaven.
This chophouse was founded by a father and son team who travelled the country to source the best cuts, and stumbled across a farm in Cornwall that still takes care of their herds of precious beef.
A meal at Blacklock is a feast of meats that'll have you slipping your belt a few notches looser. Expect steaks and cuts of beef in pretty much every variety, with fries and salads on the side.
All that will probably have to be washed down with a fine wine, or perhaps one of their excellent classic cocktails.
Bubala
£££
Bubala means 'darling' in Yiddish, an appropriate name for a restaurant that we cherish. The Soho branch of Bubala is their second outpost after a highly successful opening in Spitalfields that took east London by storm.
You'll find much to love, from an a la carte of middle eastern food, packed with bold flavours and fresh ingredients, to spreads of mezze for sharing between friends. If you don't want the burden of choice, go for the Bubala knows best set and leave it all up to them.
You'll be in good hands.
Social Eating House
£££
Gordon Ramsay has had a massive impact on London dining, and one such impact is the schooling, and setting loose of, Jason Atherton. Once the guy who slaved away in the heat of Ramsey's cooklines, now a food mogul with restaurants all around the world.
Social Eating House is a classy affair. You'll be treated to tip-top service and quality contemporary cooking – think beautifully presented dishes of locally-sourced ingredients and a selection of cocktails you simply should not be passing up on.
If you're trying to impress, you can't do much better in Soho than this.
Korean Dinner Party
££
Inspired by the late-night, k-pop-fuelled joints of LA's Koreatown, Korean Dinner Party promises a fun-fuelled atmosphere to get down to some seriously good grub, and more than likely a few too many drinks to go with it.
You'll want to get a few friends together, and start the ordering process with one of their Brown Rice Old Fashioned's to get the cogs going. Then jump straight in for portions of KFC (Korean fried chicken) and Korean tacos (Yes that's a thing, in LA at least).
The result is basically guaranteed to be a good night.
La Bodega Negra
££
If you're looking for a full-on Mexican fiesta, look no further than La Bodega Negra. Their food ticks all the boxes of great Mexican food: spicy, hand-food, with plenty of options to share and a skinful of margs to go with it.
The vibes kick off with people getting into the swing of the night. The music's so loud you'll find it hard to make yourself heard unless you shout, and the door is guarded by a mannequin in a gimp suit.
It's certainly not everybody's cup of tea, but it's good fun.
Kolamba
££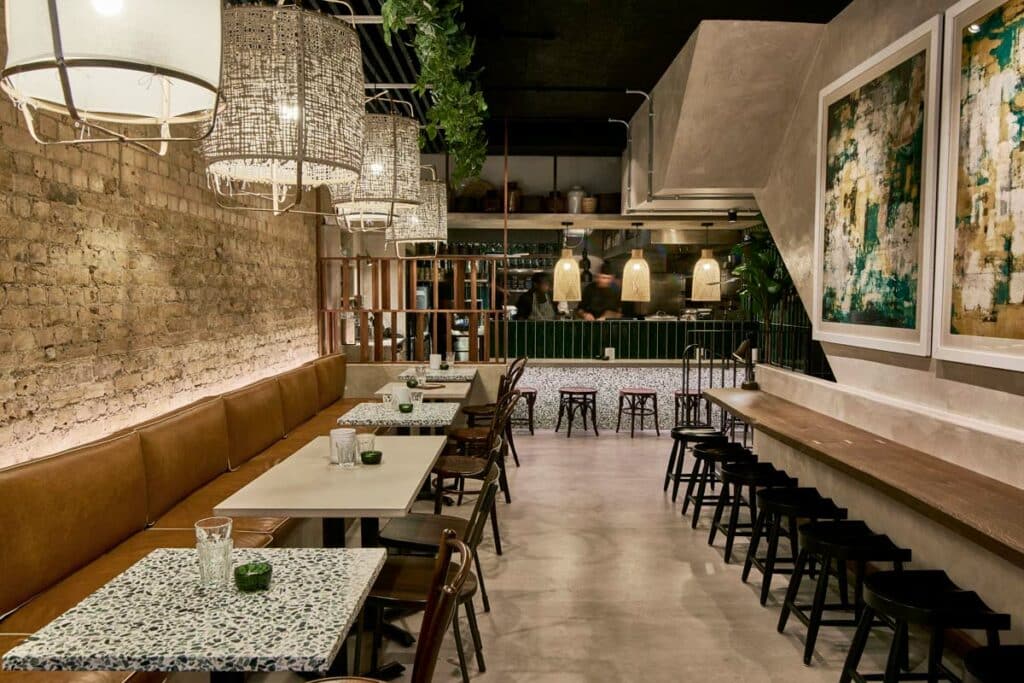 Kolomba is one of the wave of Sri Lankan restaurants that have been slowly taking over the capital's curry scene. It's ultra slick, with pared-down, muted colours on the tables and walls that are a far cry from anything on the plates.
The food is bold and bright and, it has to be said, ballsy. These guys had the nerve to open up a curry house next to a Dishoom.
Needless to say the food stands the test. Kolomba's on this list. Can you see Dishoom anywhere?
Park Row
£££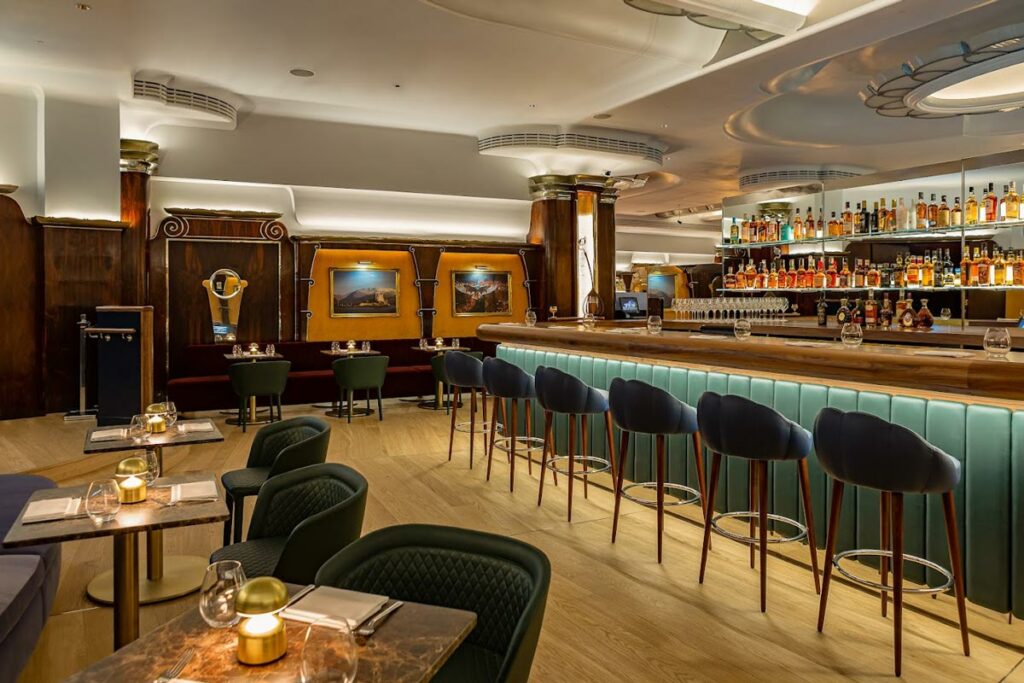 Superhero fans will want to take note of this one. Park Row is a Batman-themed bar that recreates the swanky glamour and excess of a Gotham City eatery.
From the hidden entrance and atmospheric descending staircase to the Nitro popcorn, this place is as much about gastronomic theatre as it is about good food.
And the food is good. Don't let the fact that this place is modelled on Batman fool you into thinking that they don't take their cooking seriously. They do. Steaks are cooked to perfection, and cocktails come similarly well-made.
If what you're looking for is something a little different, this will be one of the best restaurants in Soho.
Temper
££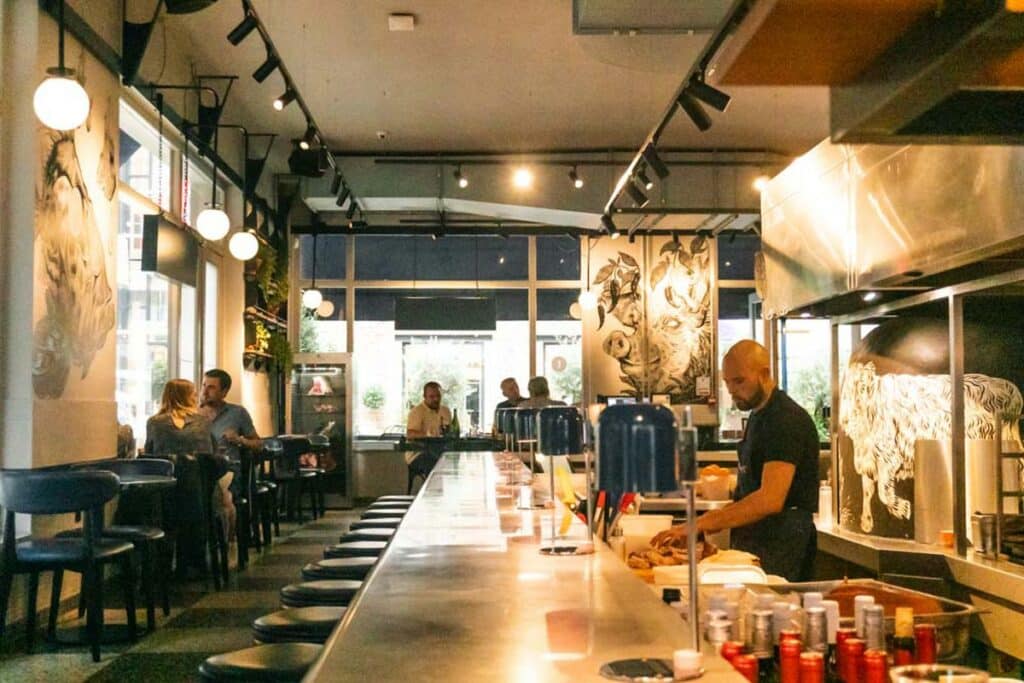 Step foot in Temper and you'll be surrounded by happy diners, noticeably enjoying hacking away at chunks of meat. You'll also see a humongous fire pit.
This place is barbeque in all its glory. Flavoursome smoked meats coming in portions that could feed a small family.
Don't let any of this excessive meat consumption get to you. Temper are proud to say their meat comes from UK farmers that have a commitment to sustainability. They also dry age the stuff which makes for one hell of a delicious meal.
Barrafina
££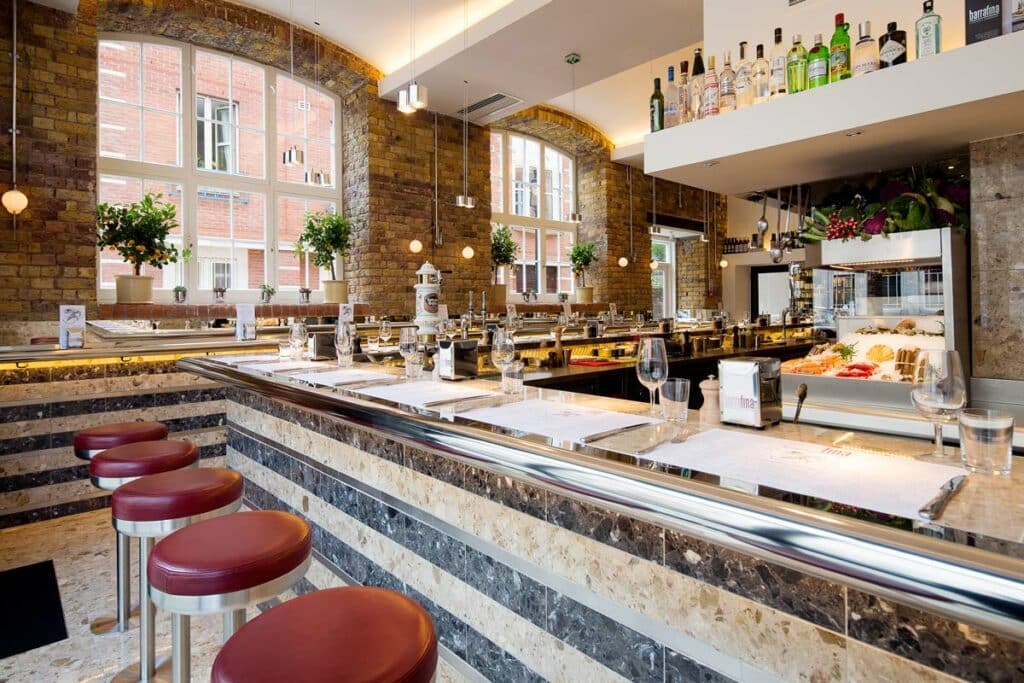 The original outpost of one of London's most popular tapas joints, Barrafina's Soho location is as beautiful as it is popular. Yep, this is another one of those you'll have to queue for. It's truly worth it though.
The menu of modern tapas hits so many high notes you'll likely forgo any concerns with queuing the next time you're thinking of visiting.
Make sure you sample the tortillas. And the Pluma Ibérica with confit potatoes. Oh yeah, and the Octopus á Feira. The list goes on.
Koya
£
Soho boasts a slew of quality Japanese restaurants. You can spot them by the queue of people trailing out their doors, and sometimes around the block.
Things are no different at Koya. You might have to brave the outdoors for up to 45 mins to get a seat at this ramen spot but there's a strong case to be made that it's worth the wait.
The long wooden ramen bar has all the feel of a true Japanese restaurant and the food that comes from behind it ticks similar boxes for authenticity. You'll want to make space for some of the smaller dishes alongside your noodles, and if their cod pil pil ramen is on the menu, don't pass it up.
Speedboat Bar
££
Round the corner on Tottenham Court Road you'll find a Thai restaurant called Plaza Khao Gaeng that serves up punchy grub in a space that looks about as close to an actual Thai canteen as you can get in London. The food, the vibe, both excellent.
Late 2022 saw the same chef, Luke Farrel, open a similar restaurant, this time in Soho.
Enter Speedboat Bar. It's got all the same authentic punchy Thai food as its sister restaurant but with more of a focus on the nightlife end of the spectrum. There's pool tables, Thai pop tunes and they stay open till 1am on the weekends.
Other Places to Eat in Soho
Poppies Fish and Chips
£££
On here as a warning as much as a recommendation, Poppies is a bit of a Soho institution. They've been running since the 50's and have expanded to multiple locations across London over the years.
To be fair to them, the food's pretty decent. Especially when you consider the standard of fish and chips in London.
What will make you ask some questions though is the price. Fancy a cod and chips? You're looking to spend over £20. It's up to you if that's an amount you're willing to part with.
Pizza Pilgrims
£
You're hungry. Every other restaurant in Soho has a queue winding out the door. Someone in your group is getting close to blowing a gasket if you don't find somewhere to eat fast. Pizza Pilgrims, in that situation, is your friend.
You know the drill. You probably already know what you're going to order. The Soho branch can be a cramped but atmospheric affair.
On nicer days you'll see the custom spilling out onto the street, people chowing down slices on the side of the road, beer in hand. And that certainly beats standing in a queue for an hour like a lemon.
Practical Tips for Exploring The Best Soho Restaurants
It's a pretty cliche bit of advice to give diners in London but book, book, book. And nowhere in the capital is this truer than the Soho food scene. A poorly planned night here can quickly end up as an evening wandering the streets looking through windows at other contented people who were smart enough to make a reservation.
Be prepared to wait. Waiting is a bit of a thing in London, it's almost like the restaurants enjoy torturing us with a big queue. Bring a book, bring a friend, do what you gotta do. You'll get that table eventually.
Soho Restaurants: Map