Discover the great places to eat and drink in Soho's Kingly Court.
Boasting a bunch of places to eat and some rather pretty designs, Kingly Court is a Soho foodie heaven hidden in plain sight. We say that because it's way too easy to miss the little blue archway on Carnaby Street if you're not looking hard enough.
If you do miss it, you've also missed a food court with 21 pretty great spots to eat (including a few you don't want to miss) – the ideal place for anyone who has trouble deciding what to eat for their next meal.
Here's our guide to all the best Kingly Court restaurants.
The Best Kingly Court Restaurants
Korean Dinner Party
If you're looking to spice up your meal in Kingly Court, head straight for Korean Dinner Party. The place is known for having the kind of vibe you want to go a little wild too, something you'll probably see in the amount of drinking going round and the regular sight of birthday groups getting down to it.
The food is some of the best Korean cooking in London. For the most part it's made to share which only adds to the good vibes. You'll be dining out on the classics of the Korean menu – don't miss out on the fried chicken – and washing it all down with plenty of Cass and soju. It's a tried and tested combo, and it never fails.
Shoryu
Another great spot you don't want to miss is Shoryu – a spot for mouth-wateringly good ramen. They specialise in a certain type of the classic Japanese noodle soup called Hakata ramen after the region it comes from.
The defining feature is the particularly rich pork broth you'll find your noodles swimming in. If you want to try it at its best at Shoryu, order the Shoryu Ganso Tonkotsu, the house special. We don't like to choose favourites, but that dish might just make us.
If you're vegan or vegetarian, don't worry. Shoryu also has a menu of great ramen that doesn't include any animal products.
Dirty Bones
Dirty Bones is a New York City-inspired joint turning out some hearty American grub and getting it right. The menu gathers a bunch of different US classics from fried chicken on waffles to racks of deliciously glazed ribs and serves them up alongside a menu of cocktails that slip down all too easily.
The playlist of classic American tunes sets up a chilled atmosphere to the place. We suggest you put aside all hope of eating healthily for dinner and get stuck in. You'll have to choose between sharing small plates or going for a burger to yourself. If you opt for the former you can get Cheeseburger dumplings so you don't have to miss out on burger time.
Le Bab
London's posh-kebab darling has an outpost in Kingly Court where you can tuck into some expertly made kebabs in a setting that's no doubt got a bit more charm than your local kebaby.
Le Bab brings together some of the great elements of the fine dining meal and applies them to the traditional cooking of the Middle East – not without a sprinkle of global cooking influences. The result is some food that will no doubt impress but doesn't come with the price tag of a swanky meal out.
Señor Ceviche
Señor Ceviche is a great restaurant and pisco bar in Kingly Court. You'll find some great dishes here and a menu of cocktails you pretty much can't say no to.
The restaurant was started off the back of some foodies getting together and travelling South America. While there they discovered Peruvian cooking and its fascinating history of influences from the Spanish to the Japanese, and how the many climates of the country create some really interesting ingredients.
They describe the cooking as the 'ultimate fusion food'. If you want to know what that tastes like (and sip a little pisco while you do) head to the first floor.
Paradiso Burger and Cocktail Bar
No self-respecting food court would be complete without a dedicated burger joint. If you're not finding it in Dirty Bones, you're probably more of a Paradiso person. This joint does a great menu of beef burgers but what's actually best here are the chicken options.
We particularly like the Hot Fried Chicken Burger – made with buttermilk batter and topped off with crispy shallots, hot red pesto and (perhaps best of all) jalapeño mayonnaise, it's a hefty thing to get your hands around but delicious to the last bite.
Paradiso also has a decent selection of cocktails, all refreshing twists on classic drinks. We recommend trying a couple if you're after a drink. We should also add that some of these cocktails are available on Paradiso's popular bottomless brunch if you really can't get enough of them.
Other Spots in Kingly Court to Keep Your Eye Out For
Disrepute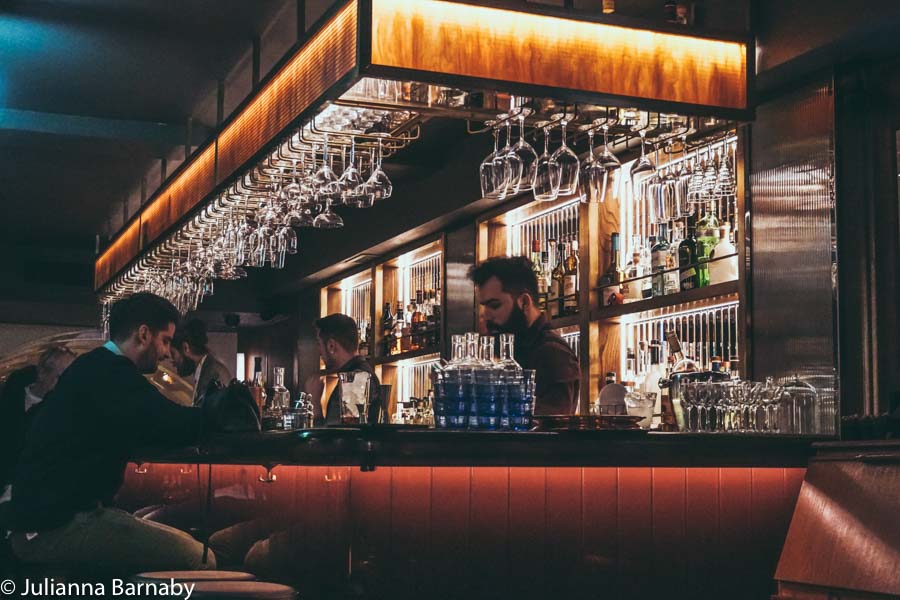 Disrepute has a reputation in the London x London office as one of the finest bars in London. We're not kidding. There's noir mood by the bucketload, with the backdrop of a very sophisticated bar and a selection of drinks that are all on point.
The place is actually a member's club but they do allow non-members in. The mood manages to hit a fine balance of having members club exclusivity without being snobbish or stiff. It's the kind of place you'll want to spend a lot of time, so trust us when we say that after your first visit, you'll be seriously considering a membership.
Practical Tips and Information for Exploring Kingly Court
Opening times: 6am – 11pm seven days a week
Address: Kingly St, Carnaby, London W1B 5PW
Booking ahead is always a good idea if you've got your heart set on a place, but at least here if you can't get a table at your restaurant of choice, you'll still have plenty of other options to choose from.
Your nearest tube stations will be Oxford Circus and Piccadilly.
Kingly Court: Map