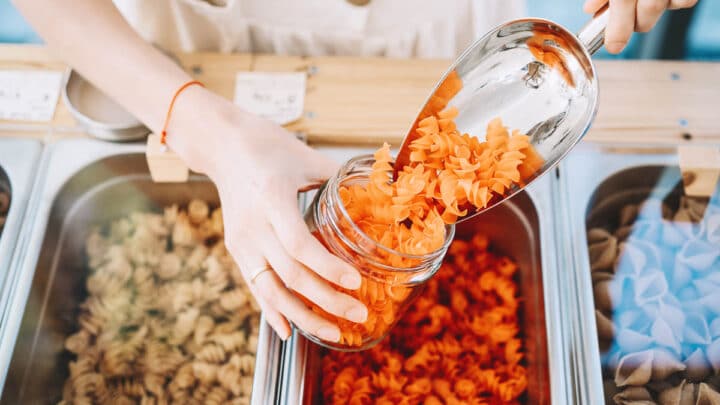 Want to minimise your impact on the environment? These zero-waste shops are a great place to start.
Looking for plastic-free shops in London? Bulk food shops offer locally sourced, planet-friendly groceries without needless packaging.
You may not be able to fit a whole year's waste into a mason jar just yet, but a few small changes can go further than you think.
Time to grab your cloth bags and get filling at these zero-waste and plastic-free shops in London.
Zero Waste and Plastic Free Shops in London
Get Loose Foods at Hackney City Farm
Haggerston
Hackney City Farm's Get Loose is a much loved zero waste shop in East London – a slice of rural charm in the heart of the city.
After saying hello to the goats and chickens, you can pick up some plastic-free organic fruit and veg, pulses, oils, dairy products, toiletries and plenty more.
Much of their stock comes from independent local producers, including coffee from south-east London roastery Mont58, nut butters and relishes from Carley's and vegan cheeses by Palace Culture.
The Source Bulk Foods
London-wide
The Source Bulk Foods were born in Australia and are gradually conquering the globe. They have several shops around the UK, including six branches in London.
Stock up on over 500 plastic-free bulk foods from baking ingredients to pasta. Naturally, the organic chocolate vanilla fudge and Home Counties honey sourced from the South Downs is at the top of our shopping list.
Click and collect and UK-wide delivery available.
Fin and Earth
Dalston
Fin and Earth is a stylish zero-waste store where you can buy a lovely range of lifestyle items, along with your pantry staples.
After perusing the beeswax candles, coconut scourers and organic kitchen cloths, fill up on OceanSaver cleaning products, oat milk and organic herbs and spices.
Free local bike delivery is available for orders over £20 if you live within 1.5 miles of Hackney.
Unpackaged at Planet Organic
London-wide
If you've noticed Unpackaged refillable stations at your local Planet Organic, this is the brainchild of zero waste movement trailblazer Catherine Conway. Back in 2006, she pioneered zero waste shopping in London, initially at Broadway and Exmouth markets.
A year later, she opened the first-ever zero-waste grocery store in Islington, selling 700 products.
Despite closing up shop in 2013, Unpackaged opened their first concession in Planet Organic Muswell Hill two years later. They are now in nine of their London branches selling over 70 certified organic products from mango slices to popping corn.
Re: Store
Hackney
For those of you searching for zero waste shops in East London, you'll love Re: Store at Hackney Downs Studios.
Prioritising an inclusive approach to zero waste, an interesting section of their website compares the affordability of their food to that of the supermarket giants.
Pick up a lovely selection of natural organic and plastic-free beauty brands here, as well as some great foods from East London producers such as The' Arty Vegan and I Am Nut OK.
Delivery is available up to 6km from the shop location.
Bulk Market
Hackney
Bulk Market was founded by Ingrid Caldironi, previously a B2B retail marketing executive for a Fortune Global 500 company.
Modelled on an ethical and sustainable supermarket, most of the produce comes from under a 50 mile radius from the shop, is UK-grown, made to organic standards or is certified by Soil Association.
Got some old plastic toothbrushes lying around? Bulk Market will send them (along with old toothpaste tubes and dental floss) to Terracycle as part of the Colgate recycling programme.
Check out their DIY Beauty Bar which includes essential oils, tins and unrefined shea butter for making your own zero-waste face masks and heavenly bath soaks.
Kilo
Archway
Jordan Perata left her job in commercial interior design in 2019 just before the pandemic. Then she restored a run-down building on the Holloway Road and turned it into a plastic-free shop of course.
At Kilo you can stock up on the usual pulses, herbs, cereals, nuts as well as lots of vegan offerings. There's a good selection of zero-waste toiletries and some chilled and frozen items such as frozen peppers, potatoes, raspberries or carrots, all sold plastic-free.
Saturday is a good time to visit when they're also selling fresh vegan pastries.
Local delivery by bike courier available within 3km.
The Refill Larder
Teddington
Open seven days a week, The Refill Larder is one of the best zero-waste shops west London has to offer.
It began as a pop-up shop selling packaging-free bits and bobs, organic produce and refillables and has since grown to become not only a bricks-and-mortar store but also a cornerstone of the community.
They still sell the same stuff but on a bigger scale. Their refillable selection is particularly good so you'll want to bring a few extra jars and Tupperware boxes when you shop here.
They also do delivery within a three-mile radius of the store.
BYO London
Tooting
BYO stands for Bring Your Own. It's a simple concept that's run out of Tooting Market providing the local community with a solid option for waste-free shopping.
The place is only small but they have an impressive selection of products – their edible stuff especially. The whole back wall is given over to dry goods you can syphon off into the containers you brought with you.
It's got everything from pasta to beans and so many different types of grain that it's almost a little mind-boggling.
SWOP Market
Blackheath
Is this an industry that loves an acronym or what? Another great packaging-free shop whose name needs a little unpacking, SWOP stands for Shop With Out Packaging. They're one of the best options for you south London shoppers.
That's in part because the shop takes its ethical attitude very seriously. All the produce they sell is vegetarian or vegan, and all of it is sourced from places that also take ethical capitalism seriously.
They are also able to manage requests. That means if you're looking for a certain product or brand and they don't stock it, speak to the cashier and they'll try to order it in for you.
Jarr Market
Stoke Newington, Herne Hill
Jarr Market have had enough success to set themselves up on both sides of the map. The owner Jess is on a bit of a mission to get shoppers using less packaging. She even applies that aspiration to herself, buying the shop's stock in bulk so that she uses less packaging to fill the shelves.
She also works with suppliers that run closed-loop systems – ones that don't produce any waste themselves, often taking advantage of recycled or up-cycled materials.
Then to ensure she's really getting all that juice out of the squeeze, any waste she does create (it's inevitable in any business) is dealt with by First Mile, a recycling company that has a zero-landfill policy.
Gather
Peckham
Gather was born in 2016 when owner Tash was chillin' with an episode of Breaking Bad on in the background and scrolling on her phone. She saw an article about single-use plastics and went down the mother of all internet rabbit holes.
That rabbit hole led her to open Gather, Peckham's finest refill shop. The aim of the shop is to get people away from packaging-intensive shopping that contributes to the pollution of this fine Planet Earth – We've only got one remember.
Tash also knows that there's no such thing as perfect, and having a zero-waste planet is impossible, but that doesn't mean we can't get close.
She researches the brands she stocks thoroughly before she gets them in to ensure that they really are worthy of her shelves and not just greenwashed to make them seem ethical.
They stock everything from dry foods to cleaning products, all organic and all refillable. She's even got containers lying around in case you forget to bring your own.
Practical Tips for Shopping at Refill Shops in London
Some of the smaller zero-waste shops aren't open every day. Check opening hours as they may chop and change.
Bring your own jars and Tupperware but where possible, cloth bags are much less heavy and bulky, plus you'll be able to carry more.
Wash containers well before refilling to prevent contamination.
If you forget your own containers, stores usually provide paper bags or vessels you can buy.
Zero Waste and Plastic Free Shops London: Map