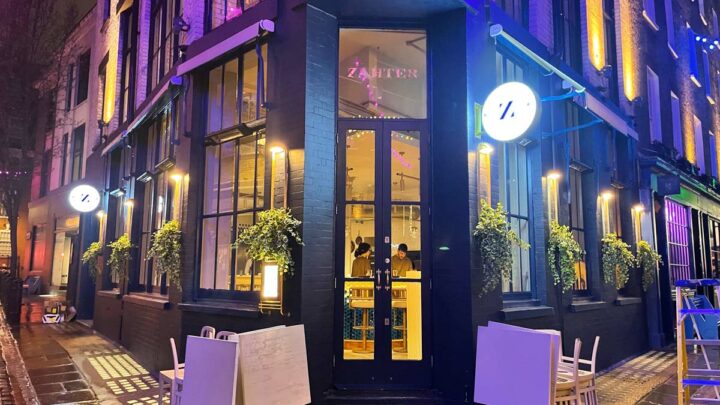 Zahter is a new Soho spot serving up authentic Turkish dishes. We review the first UK restaurant of a chef who's already made her bones taking the Istanbul food scene by storm.
Esra Muslu cut her teeth in her home country of Turkey by opening the striking success story that is Istanbul's Moreish. She put in time at the kitchen of Soho House in the same city before coming to the UK to head Ottelenghi's kitchen in Spitalfields.
Zahter is her first UK opening – a restaurant that takes a look back at the cooking she got into the business making, and of the city where she first put her name on the map: Istanbul.
The result is a restaurant that draws on an eclectic range of flavours and ingredients to reflect the cuisine of the Middle East's most cosmopolitan city. We went down to see what it's all about.
Zahter – The Full Review
The Food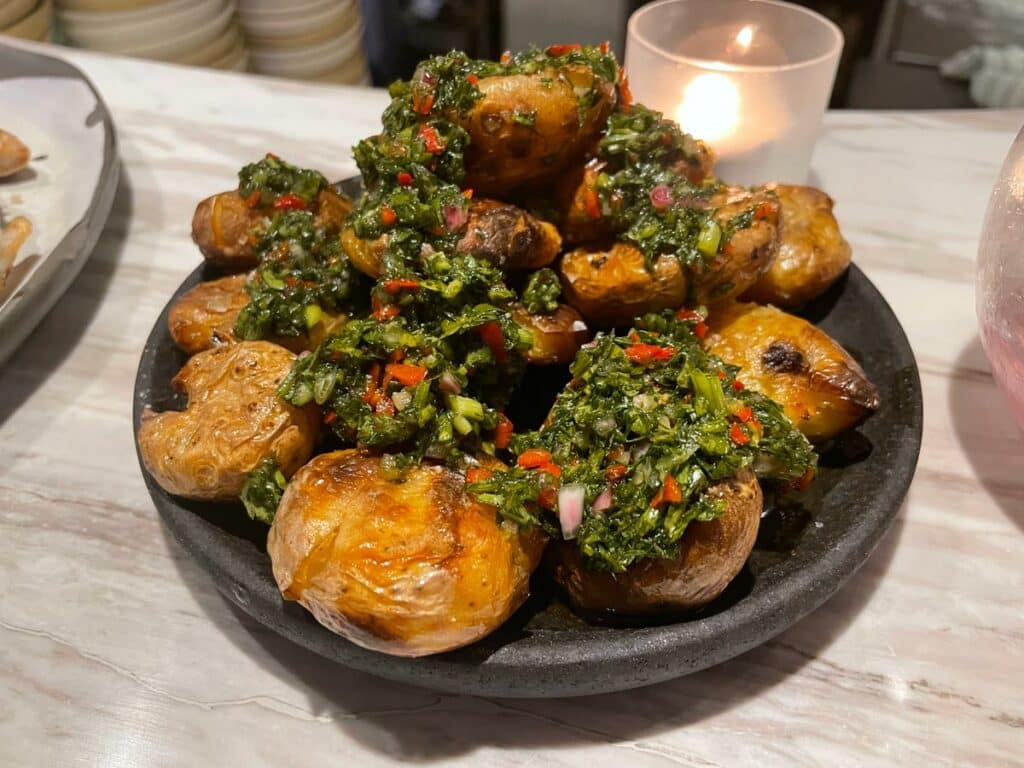 Istanbul sits right on the edge of Europe and the Middle East, has eyes to both continents and both the Mediterranean and Black Seas.
As such, the food draws on all of these regions allowing the best ingredients to shine with simple techniques that feel heightened by Muslu's skill in the kitchen without straying too far from the well-beaten tradition of the cuisine.
You'll do well with a plate at fava, a hummus-like dish of pureed broad beans as much for the pleasant tinges of dill as for the fact it gives you something to drag Zahter's bread.
Nearly a whole review could be given over the Zahter's bread. It's pide, a type of Turkish flatbread you might have seen topped with diced tomato or minced meat.
Here it's served naked and straight from a pizza oven. Squidgy dough is singed by the wood fire and glazed with something very special indeed, served hot enough it could burn to touch.
We had barely finished the first one before we put in an order for seconds.
This was all accompanied by an aubergine salad – lorlu patlican – that we'd fully recommend getting if it sounds like your thing.
We'll be honest: the warm mezze section didn't excite as much as the cold. Kuzu Tandir, a new-on-the-menu dish of cauliflower puree and slow-cooked lamb didn't hit as hard as it could have and perhaps felt a little out of place next to so many dishes that used simple cooking techniques to let ingredients shine.
The Tava Böreği was better but, bite-for-bite, a little bit hit and miss. Some parts were packed with cheese, others not. The two of us eating it do have very high standards for pastry and cheese dishes like this, though, so we can forgive.
By this point the coal pit had been turning out tantalisingly BBQ and we hadn't had any of it. Our main dish was a helping of levrek – sea bass with chimichurri sauce that you could tell would be good as soon as you see it racked up over the grill.
Dessert after all that food was a take-it-or-leave-it affair. In the interests of journalistic integrity we took it to share – a portion of baklava.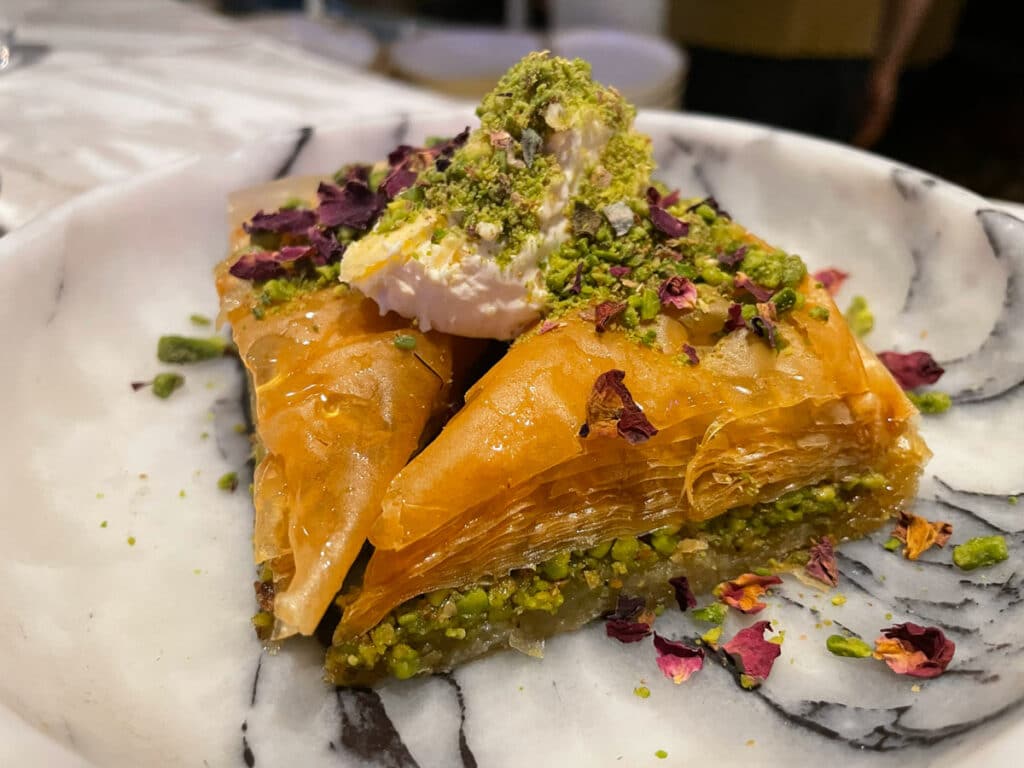 We have to say that we are very glad that we did. Light and crispy, sticky and served with a dollop of cream to take the edge off, it was a crowning moment to an already excellent meal.
The Drink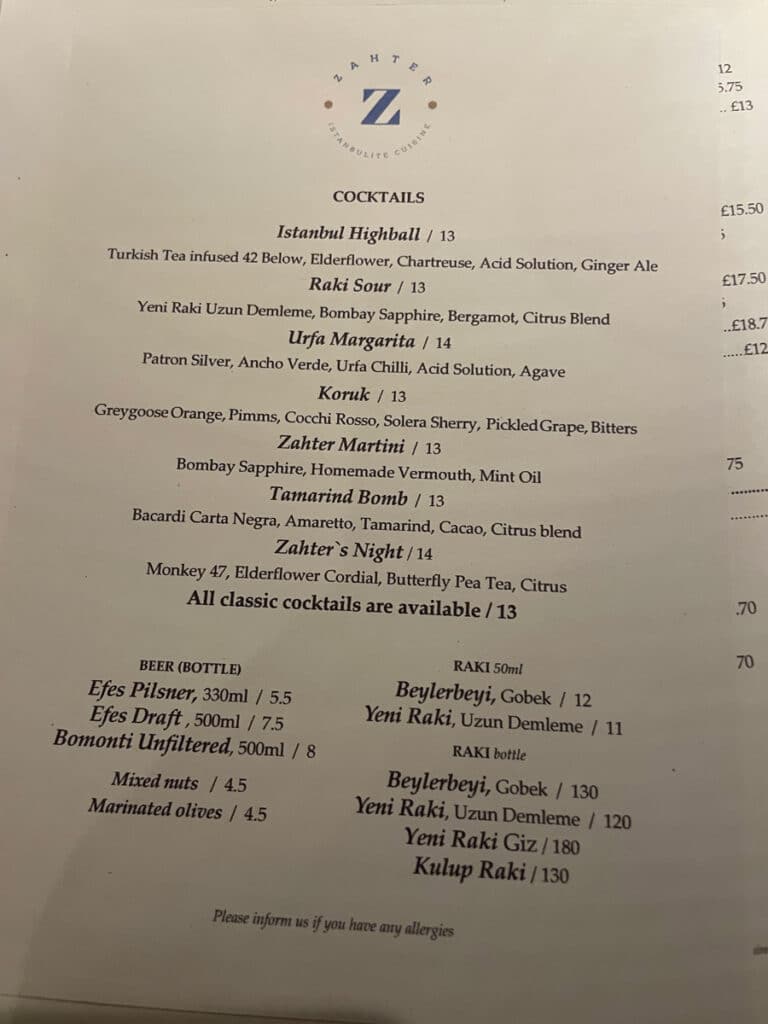 Cocktails at Zahter play on classics using ingredients from Turkey and their broader culinary region. You'll see things like sours made with raki – the national Turkish drink.
We had one and couldn't complain. Liquorice is a funny flavour to pair with citrus, but it's not an off-putting combination.
We also went for a Zahter's Moon because we thought we ought to know what the namesake drink was all about. It comes in two parts: the drink and a small jug of cold, purple tea that goes over the top.
The drinks didn't quite match up to the quality of the food. However, they also offer straight-up classics – maybe we'll ask for one of those next time.
The Look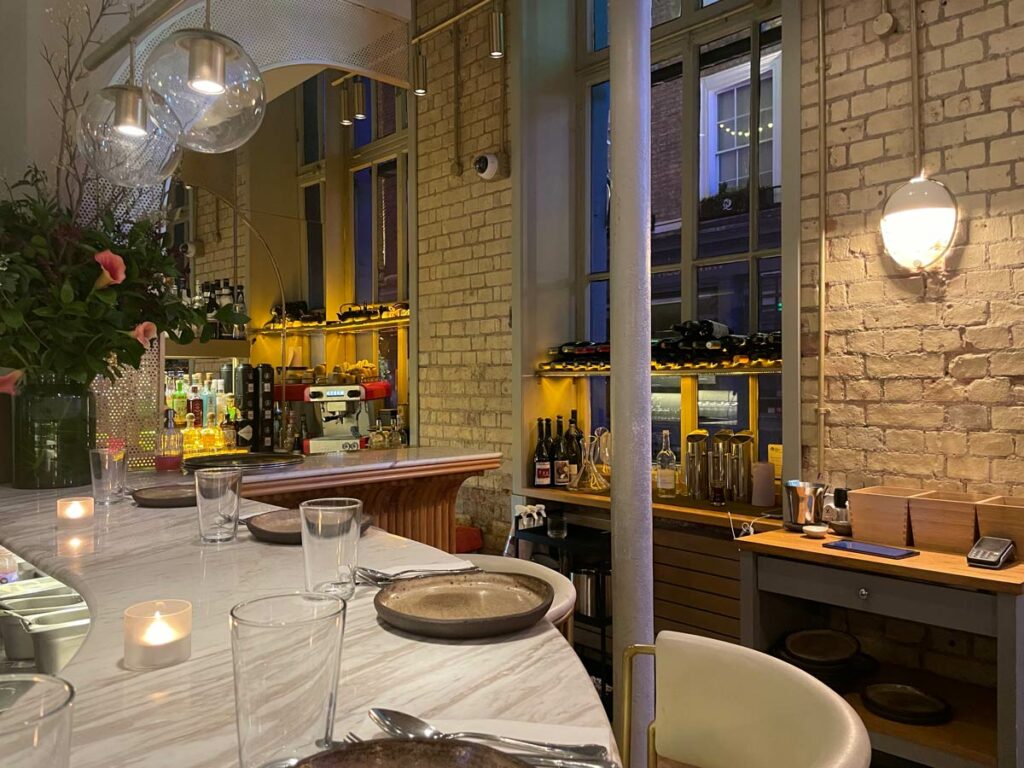 The first thing you'll notice about Zahter, if you're arriving in the evening, is how inviting it looks from the outside. The bright interior shines beaconesque onto the street outside. Stepping into that out of a cold night, it's hard not to slip into the fold of comfort.
Pull up at the bar and that comfort is extended by the grill station pizza oven in front of you. What could be more relaxing than watching a naked flame?
Zahter is split across four floors and each one captures the same aesthetic. There's little about the decor here that's unnecessary. Just a sleek space – exposed brick, big windows, some flourish in the tiling.
When you're eating at the kitchen bar, that simple aesthetic means the chefs and their cooking stations seem to draw the eye even more and that makes sense – Zahter's food is meant to be the centrepiece.
Final Thoughts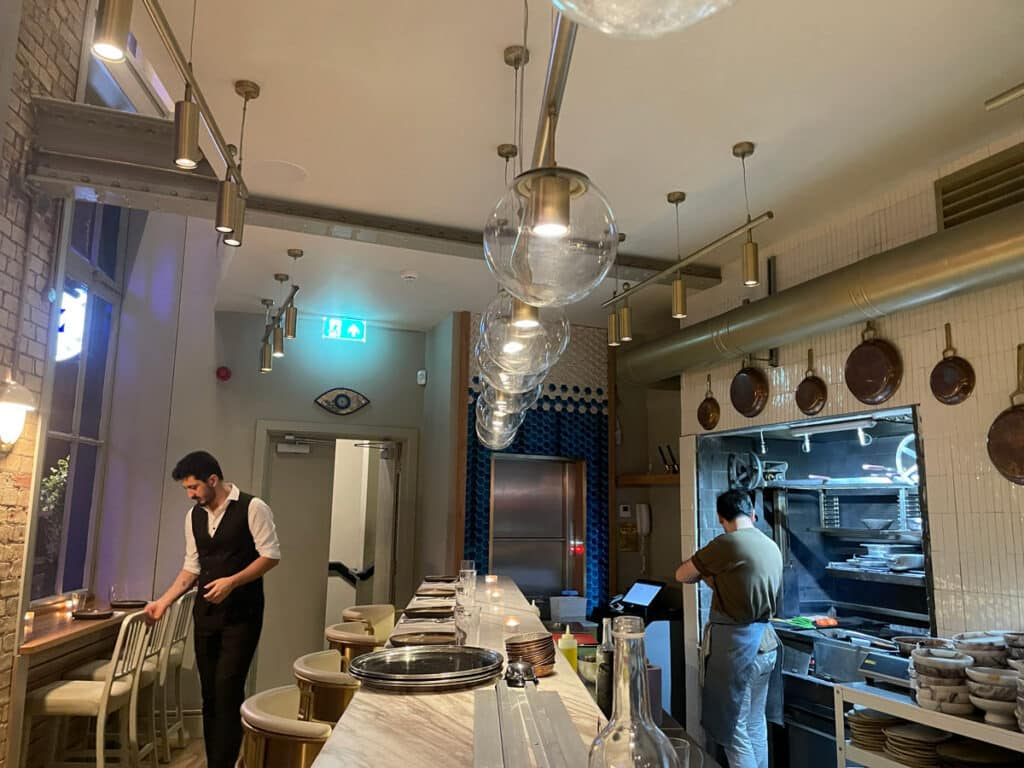 Zahter is all about simple cooking done to a high level. Where they had strayed from that were the only places we weren't as wowed, but overall there's little to fault.
We loved Zahter. It strikes a fine balance between being fancy and unpretentious. If you like Middle Eastern food you'd do well to get down here and see what they're all about.
Zahter – Practical Information and Map
Price: ££
Address: 30, 32 Foubert's Pl, Carnaby, London W1F 7PS
Review 4 / 5
Dining At: Zahter, Soho's Top Turkish Kitchen
Zahter - The Full Review
We loved Zahter. It strikes a fine balance between being fancy and unpretentious. If you like Middle Eastern food you'd do well to get down here and see what they're all about.
Dining At: Zahter, Soho's Top Turkish Kitchen