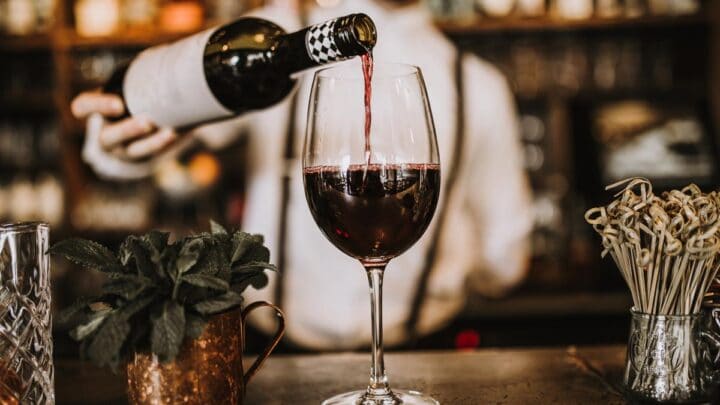 Brush up your wine knowledge with these great wine tastings
When it comes to a brilliant wine tasting experience, London's got plenty to boast about.
What was once an activity for the upper-crust of society has recently turned into an ultra-swish hobby for the coolest kids in town. Whether you love classy wine bars, or fancy a spot more hip, the capital is now awash with places where you can sample thousands of different bottles.
From the rolling hills of Burgundy to the sunny vineyards in California, take a trip around the world with these wonderful wine tasting experiences in London.
Where to Go Wine Tasting in London
Renegade Winery
Bethnal Green
It should come as no surprise that Bethnal Green is home to one of the capital's coolest wine bars – that is, if you can get past the rows of eyes staring back at you as you enter.
Renegade Winery describe themselves as a little bit naughty – breaking the rules of wine, one bottle at a time. And we have to say, we absolutely adore them. The winery boasts an impressive selection of wines made in-house, which actually sit in the barrels decorating the taproom.
Previous events have included sessions dedicated to the mechanics of wine, as well as an exciting Austrian wine tasting experience. Oh, and we couldn't love Renegade's Speakeasy Sundays more if we tried: cheese, wine, and the smoothest of jazz. What else could you ask for?
Tap & Bottle
London Bridge
It's no secret that we rave a lot about this London Bridge bar – in fact, Tap & Bottle is our go-to spot if we feel like sipping a glass (or three). The two-story wine bar was first created to showcase a range of wine regions and wineries – both those that are well established and lesser-known.
Tasting sessions are a little bit rarer here, but well worth the wait – previous events have included a South Africa Masterclass and an entire session dedicated to Beaujolais Nouveau. Keep checking back here for any upcoming announcements.
Bedales
Tucked away in Leadenhall Market, Bedales has surely but slowly managed to build itself a brilliant reputation, known for being one of the best places for wine tasting experiences in London.
The sommeliers are ridiculously knowledgeable, and with glee will share what they know with wine-lovers. Whether you're well-versed in wine or just fancy giving a tasting session a go, there's something to suit all tastes and levels.
And at just £25 per person, we seriously love the self guided wine tasting offering. On arrival, you'll be greeted with a glass of bubbly, before sitting down to 3 specially-selected glasses of vino. Bowls of sourdough and olives act as wonderful palate cleansers.
You'll also be given access to a video tutorial explaining all you need to know about the wines in front of you – this is a great option for nervous beginners looking to find their feet in the wine tasting world.
Wine Unearthed
Looking for the best wine and cheese tasting London has to offer? Look no further than Wine Unearthed.
For over 15 years, Wine Unearthed has been providing the UK with unforgettable wine tasting days and courses. Whilst they won't be winning any awards for style, they simply cannot be beaten in terms of substance.
Treat someone you love to a wine-tasting day – try 15 wines and enjoy a 3 course food and wine pairing lunch. Or, you know, buy it for yourself. Self-love and all that.
At £110 it's pretty expensive, but you're getting a pretty big bang for your buck.
Berry Bros & Rudd
Taking the title of Britain's oldest wine merchants and boasting more than 5000 wines in their collection; it's safe to say that the sommeliers over at Berry Bros & Rudd know a thing or two about grapes.
Berry Bros' main focus seems to be on French wine, though they aren't afraid to venture into the far corners of the globe – or so their small selection from California, Germany, and Spain indicates.
Upcoming wine tasting events include a Christmas reds tasting, a guide to the wines of Paulliac, and even an introduction to the wines of Spain. With so many wine tasting events lined up, you could spend forever pondering which sessions to attend.
Humble Grape
Multiple Locations
With the aim of bridging the gap between winemaker and wine drinker, Humble Grape is one of the top spots for organic wine tasting London has to offer. Small, family run vineyards producing sustainable wines is their speciality.
Their tasting sessions cover everything from Rieslings to the best wines in particular French regions. The chain's bespoke tastings are particularly special; opt for the wine dinner and receive an informal but informative feast run by a friendly team.
Skylon
For something a little bit special – perhaps a birthday treat – Skylon's wine flight is unbeatable.
Perched above the South Bank, guests will be able to enjoy a stunning flight of five wines picked out especially by the head sommelier. Nibbles will, of course, be the perfect accompaniment to great wine and even better views.
With floor to ceiling windows and a dramatic central bar, peeling yourself away from Skylon might just be a little bit tricky.
Hedonism Wines
Mayfair
Fine wine and spirits boutique Hedonism Wines is handily located in Mayfair and, we think, is home to some of the greatest wine tasting experiences in London.
Book onto a private wine tasting session and the sommelier will tailor their recommendations to your personal taste. Excitingly, Hedonism also boasts 6 enomatic wine dispensers – thanks to a clever contraption that is able to preserve even the finest of wines, you can sample nearly 50 wines at any time.
Hedonism also offers free wine tasting sessions – from vineyard showcases to a round up of dazzling reds, everything is covered. This is a great way for beginners to get a sense of a wine tasting session, without actually committing lots of time or money.
56 West Smithfield
Farringdon
56 West Smithfield have carved themselves a little slice of peace in among the bustle of Faringdon and for that reason they make a lovely place for a glass or two of wine. They also offer tastings.
Much of what they do revolves around smaller, independent vineyards so you won't be buying into big business with your tasting. In fact, quite the opposite 56WS is a family run business from grape to glass – they even own the vineyard that produces the bar's own bottles.
As for the tastings, they change regularly, rotating varieties of grape and region so that you can totally nerd out on the specifics.
London Wine Academy
St James'
London Wine Academy is exactly what the name says it is: a whole school dedicated to furthering the knowledge of wine.
The best thing about this option is the variety of classes on offer. From very beginner courses to ones on white, red, wines by region, bubbly, we pretty much guarantee you'll find something to suit what you're after. They even do classes on pairing wine with food…
The classes are led by consummate pros. We're talking more than just sommeliers, the London Wine Academy employs genuine Masters of Wine.
Winemakers Club
Farringdon
The Winemakers Club probably couldn't have a cooler setting for a wine tasting if they tried. They've got a prime spot in Farringdon under Holborn Viaduct – you may have walked past it before.
Inside the place looks like a cellar, all exposed brick and vaulted archways. They've got a killer selection of wines for you to taste too and have fully got behind the biodynamic/natural wine trend, meaning you'll have some funky new flavours to experience too.
Wine tastings here are informal affairs run on Mondays, Tuesdays and Saturdays where charcuterie is complimentary and wine-banter (if there is such a thing) welcome. More info here.
Practical Tips for Booking a Wine Tasting Experience in London
Before you book, make sure you check to see what you're getting yourself in for – there's no point booking onto a red wine tasting session if you know you hate red wine. That said though, this can be a great way to expand your taste and learn about new wines – be brave!
Wine tasting can be very expensive. Vivant offers virtual tastings (the first 3 are free) where you can cover the basics and really get a feel if you want to book a wine tasting experience in London IRL.
Wine Tastings in London: Map
Read More London Bar Guides