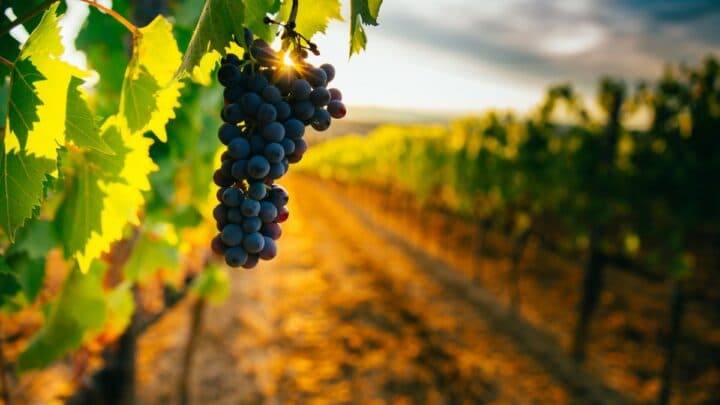 Looking for the best vineyards near London? You're in luck.
It's true that London itself might be lacking on the vineyard front (though, it certainly has an abundance of excellent wine bars), but if you venture out slightly to the countryside surrounding the capital, you'll soon discover plenty of brilliant spots for you to tour and taste some outstanding wines.
These are our favourites…
Vineyards In London
Forty Hall Vineyard
Enfield
Often touted the best vineyard London boasts, Forty Hall is a social enterprise spanning 10 acres and cultivated by the community. Local volunteers take turns to run this vineyard which, by the way, just so happens to be the first commercial-scale vineyard in London since the middle ages.
With a focus on still and sparkling English wines, Forty Hall are certified organic, priding themselves on organic grape-growing techniques and sustainable farming practices.
Tours of the vineyard run between April and October, on the second Sunday of each month. It just so happens that this coincides with the farmer's market – so you can grab yourself a tasty snack or stock up on organic food afterwards.
Olding Manor Vineyard
Lewisham
Tucked away in the St Mildred's Road Allotments, Olding Manor Vineyard is a tiny spot specialising in organic, hand crafted wines. The vineyard is the creation of director and author Paul Olding, who just so happens to be wine aficionado in his spare time.
On this small plot of land, grape varieties include Phoenix, Orion, Pinot Noir, and Bacchus, amongst plenty others – though Paul also part-owns the larger Wildwood Vineyard in East Sussex, where you can find a wider range of grapes and wines.
Guided tours of the vineyard are available on Weekends, though you'll need to book in advance.
Vineyards Near London
Denbies Wine Estate
Surrey
Located on the outer fringes of the capital is one of the top wineries near London, Denbies Wine Estate. And it's every bit as grand as the name suggests.
Established in 1986, the vineyard was founded by Sir Adrian White and has since been owned by generations of the White family who have continued creating award-winning sparkling and still wines.
The estate comprises more than 627 acres and 10 estate houses, with tours of the vineyards running frequently. Though, you've also got the option to skip slogging yourself around and get on with tasting the good stuff (which takes place in Denbies very own cinema room, in case you were wondering).
Chapel Down
Kent
Chapel Down's vineyard can be found amongst Kent's pretty rugged landscape, growing and cultivating quintessentially British sparkling and still wines, gin, and vodka.
As one of the most popular vineyards near London, it's no secret that their wine tours are excellent. Whether you're keen to take on a guided tour or indulge in tutored wine tastings, or even fancy whiling away the hours enjoying lunch with a glass of fizz on the side.
If you do opt for a tour, make it the Cheese and Wine Experience – where a session of nibbling on the good stuff follows a tour of the vineyard.
Gusbourne Estate
Ashford
When it comes to vineyards close to London, the Gusbourne Estate is one of our favourites.
Gusbourne focuses on classic grape varieties such as Chardonnay and Pinot Noir, growing them on their farm to ensure that they are able to produce high quality wines.
Opt for the simple Vineyard Tour or, if you're really into your wine, push the boat out with the Estate Tour – an indulgent affair consisting of a vineyard tour, an extended wine tasting session, and a three-course lunch.
Biddenden Vineyard
Ashford
Self-described as Kent's original vineyard, Biddenden has been managed by the Barnes family since it was founded in 1969 on the family's farm.
The vineyard spans an impressive 23 acres, boasting 12 different grape varieties that go into their white, rose, red, and sparkling English wines. What's more, everything in the vineyard is still carried out traditionally by hand – from the pruning to the picking.
They offer plenty of tours, including ones where you get to grill the winemakers whilst sampling their offerings, or you can take yourself round the winery on a self-guided tour.
Bolney Wine Estate
Haywards Heath
Boasting a huge selection of wines, Bolney Wine Estate has got you covered whether you like your vino red, white, sparkling, still, or anything else in between.
Bolney's vineyard tours near London are some of the very best in the UK – wander through acres of vines and spot many different varieties of grapes before heading to their tasting room and restaurant to try some out for yourself.
Greyfriars Vineyard
Surrey
A short drive from the capital, Greyfriars Vineyard has been steadily growing since 1989 to the 50 acres it boasts today.
Greyfriars main focus is on Champagne varieties of grape, though they also have small plots of Pinot Gris and Sauvignon Blanc – which are equally as delicious.
Not content on simply growing wonderful grapes to produce high-quality wine, Greyfriars recently expanded with a brand new winery based in a natural chalk underground cellar, perfect for ageing wine prior to release.
Book yourself onto a guided tour, or punt for a self guided tour – just remember to collect your map from reception.
Ridgeview
Sussex
This sleepy South Downs winery is worth every second of the lengthier journey it takes to get there.
Their sparkling wines are made from Chardonnay, Pinot Noir, and Pinot Meunier grapes, with a heavy focus on choosing the fruit with the perfect ripeness and natural acidity.
Ridgeview offers a wonderful tour of the vineyards, where the knowledgeable guide will share all about wine production before leading a tutored tasting session. Make sure you keep your eyes peeled on the events page too, as they host a wide range of exciting events throughout the year – from Easter hunts to wine trails.
Fairmile Vineyard
Henley-on-Thames
Located in South Oxfordshire, Fairmile Vineyard is a smaller, family-run spot that seriously holds its own in the wine world.
Back in 2011, Jan and Anthea Mirkowski decided that their home near the Chilterns would be the perfect environment for grape-growing. This is mainly due to the steep south-facing slopes, which helps vines to get as much sunlight as possible. And so, Fairmile was born.
Vineyard open days are regular in the summer, when the canopy is in all its glory – or if you want to visit before then, book yourself in for a private guided tour.
The best part? Fairmile Vineyard can arrange local companies to deliver a picnic straight to you, wherever you are in the vineyard.
Hambledon Vineyard
Hampshire
Forty Hall might boast about being the oldest of commercial vineyards in London, but Hambledon is the oldest in England. Established in 1952 by Major-General Sir Guy Salisbury-Jones (what a title!),
What makes Hambledon Vineyard's wines so special? Put simply, the earth. The chalk on which the vines are grown was actually formed on the Paris basin seabed around 65 million years ago. Which, if you weren't quite sure, apparently results in some cracking grapes.
Hambledon offers plenty of taster sessions and guided tours, along with some more unique offerings – sign us UP for Yoga in the Vines.
Hush Heath Winery
Kent
Also known as the Balfour Winery, this humble vineyard near London is home to some of the most impressive wines to come out of the UK. In particular, vintage sparkling.
It all started when Richard and Leslie Balfour-Lynn decided to take the plunge and plant their first vines in 2002 – and just five years later, Balfour Brut Rosé 2004 won a gold medal and Trophy at the International Wine Challenge – the first English wine to do so.
Between April and October, guests are welcome to enjoy a self-guided stroll across the vineyards, apple orchards, and ancient oak woodlands, or opt for a guided tour and phenomenal tasting experience.
Practical Tips for Visiting Vineyards In & Near London
Whilst the capital doesn't have very many vineyards (though, that's not to say that there aren't plenty of brilliant spots for wine tasting), the vast majority of vineyards near London can be found in Kent, Surrey, and Sussex.
If you're travelling from the capital, it's a great idea to plan to visit a few that are close by all in one day.
London Wineries: Map
Looking For More London Wine Guides?