Looking for the best pubs in Camden? From gorgeous beer gardens to Amy Winehouse's old haunts, don't miss this guide to the area's best boozers.
What is there not to love about Camden?
While people may come to Camden for the markets and the food, they stay for the area's lively pubs. Unlike many parts of the city, Camden's pub scene is not only alive, but it's thriving – with lots of independent drinking spots dotted all over this enclave of London cool.
The Best Pubs in Camden
World's End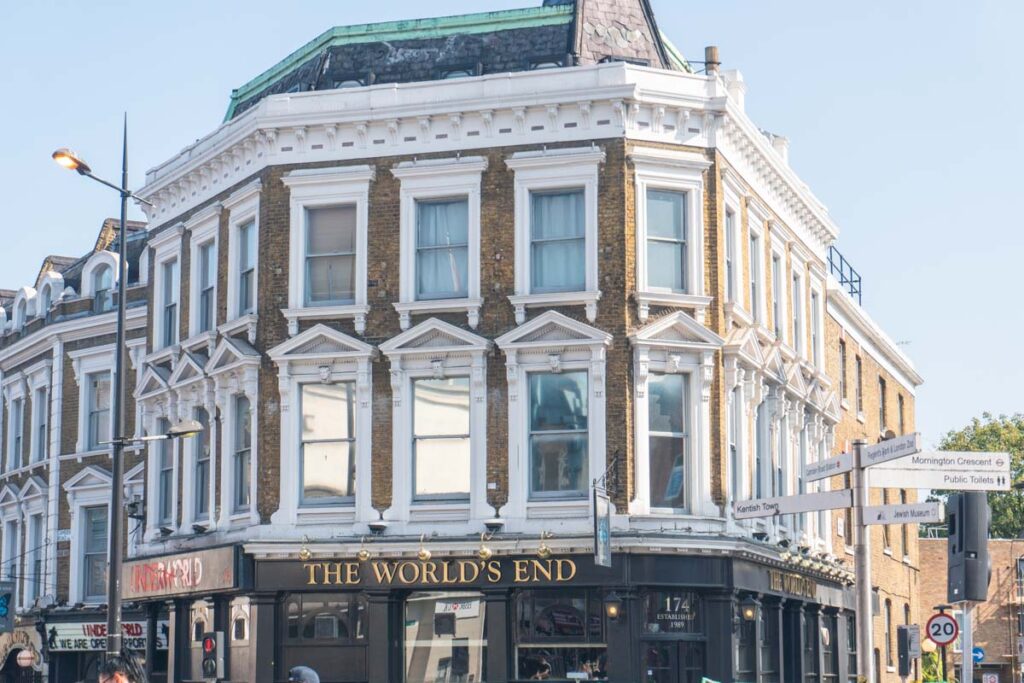 A tour of Camden pubs would not be complete without a visit to The World's End.
This historic pub attracts a mix of people that mirrors the electric atmosphere of the North London borough – in fact one famous Londoner who once frequented this pub was Charles Dickens.
The interior – a mix of steampunk and industrial styles – is massive. Even so, it does get packed at the weekends, so you'll want to get there early to nab your spot.
Edinboro' Castle
In search of a Camden pub with a beer garden? Head to the Edinboro' Castle where you'll find a garden bedecked with colourful lights tucked between shady trees.
Grab yourself a pint from the grand selection of beers on tap, including Hells Lager (a Camden Brewery beer). Not a fan of beer? No worries, they have a great selection of wines and spirits from around the world.
The Black Heart
If you're looking for beer, live music, and a great time, look no further than the Black Heart. This is one of the best Camden Town pubs for rock, punk, and indie music.
The pub has a rock and roll atmosphere. There are fairy lights hanging off the walls and plenty of posters and various religious icons decorating the walls.
Brewdog
This legendary pub chain is great for brunch and has veggie and vegan options for half of their menu items (half their premier beer selection is vegan too). This place has a friendly atmosphere and, together with the no-nonsense decorations, lends a relaxed feel to the patrons.
Bring your pup along because this pub is also dog-friendly. Stop by for classic pub grub and choose between plenty of craft beers to enjoy.
The Hawley Arms
No Camden pub crawl is complete without a stop at The Hawley Arms. This famous pub's nickname is the Amy Winehouse pub in Camden.
This is due to the fact that this was the late singer's local pub back in the 2000s. Since then, it has gained popularity in the British indie music scene, and the likes of Liam Gallagher, Kate Moss, and Pete Doherty have all graced its doors.
Colonel Fawcett
This independent pub prides itself on its wide selection of gins (there are over 30 types). It is a restaurant and pub with a 19th-century feel. They do not hold back when it comes to their food and have gained a reputation for tasty pub grub.
Colonel Fawcett sometimes hosts live music, pub quizzes, and even comedy nights. This is a great venue for a quality lunch and a wide selection of drinks.
The Oxford Arms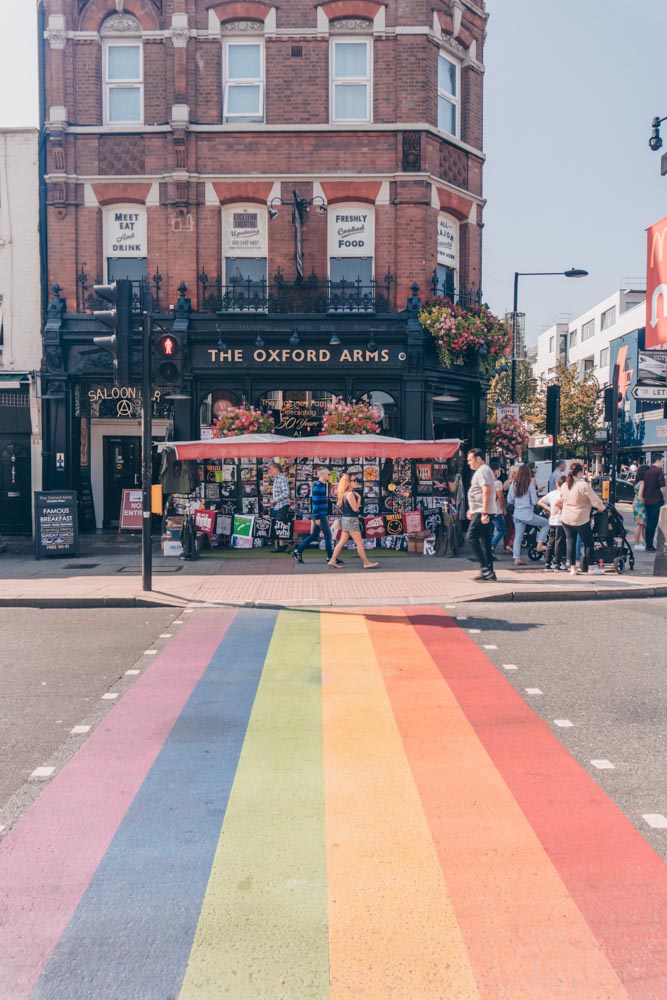 Smack bang in the middle of Camden, The Oxford Arms is a cool family-run pub that's been keeping locals in their beers since 1968 (though the Victorian building is much older than that). It's safe to assume that they must have been doing something right.
Snuggle up with a drink inside the cool interior – which still sports a few Victorian decorative touches – and tuck into the hearty food menu. Everything's homemade and it's some of the best pub grub in the area.
Lock Tavern
This is another must-visit pub in Camden with a beer garden. The Lock Tavern is a Camden lock pub that serves up some of the best burgers in Camden. They boast 18 beer taps in their main bar downstairs.
There are three more spaces in the pub: the beer garden, the cocktail bar, and the rooftop terrace. Join them on a Monday to Thursday between 5 and 7 pm for their happy hour special.
Lock 17
This is one of the many Camden market pubs. Perched next to Camden's lively section of the Regent's Canal, it's a buzzy place to hang for a few drinks.
The venue has two levels. It consists of a market bar, pub and grill, terrace with tables, a live music venue called the Dingwalls, and a comedy club called The Comedy Loft.
The Elephant's Head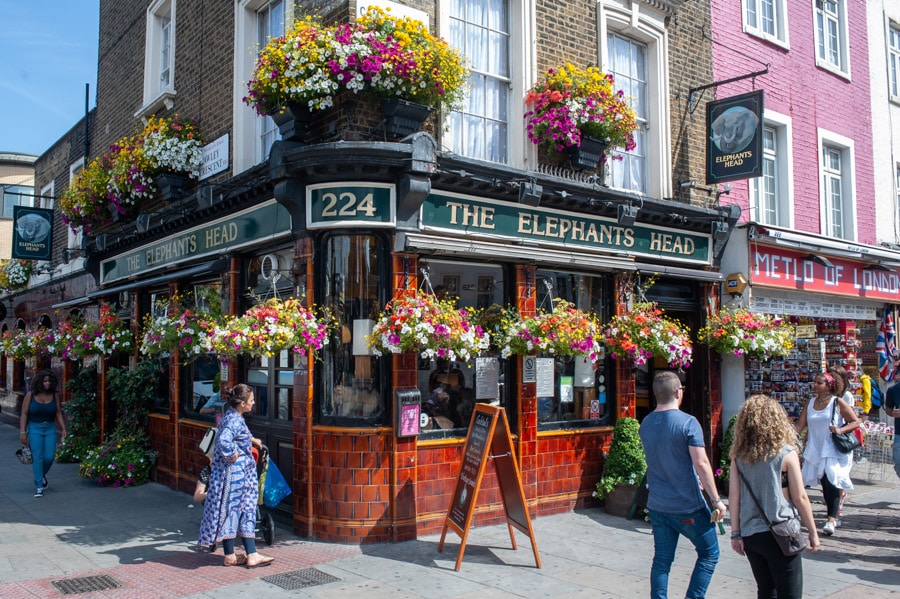 This historical pub once belonged to the Camden Town brewery. It is a pub that dates back to the 19th century and prides itself on being an authentic Victorian London pub with light bites and good drink varieties.
The Camden Elephant's Head pub's house DJ plays music from around the world, including Motown, Reggae, Garage, Punk, Rock, Metal, and RnB. If you fancy yourself a talented musician or singer, why not visit on Wednesdays when they have an open mic night.
Princess of Wales
The Princess of Wales is a restaurant and bar set in a building that is 150 years old but recently renovated. It serves classic British pub grub and pints on tap.
It's a unique pub garden in Camden boasting a patio area with a mural that looks like Banksy did it (but it's faux Banksy). There are no other outdoor pubs in Camden quite like this. This pub is fit for any occasion, from Sunday roast to relaxed drinks with friends.
The Good Mixer
The Good Mixer dates back to the 1950s when it was constructed on a World War 2 bomb site. It gets its name from the time someone forgot a cement mixer inside the pub after construction ended.
This is a famous pub frequented by musicians, especially in the Britpop era of the 90s. Oasis, Blur, Amy Winehouse, and more celebrities have made appearances at this electric pub.
Spread Eagle
This corner pub is in the middle of Camden. It is the perfect hideaway for locals because it's one of the pubs near Camden markets, Regent's Park, and the London Zoo.
They have been serving food and drinks within the community since 1858 and offer a warm and inviting setting for locals and tourists alike. You can even use one of their hot desks for 4 hours at a time where you can work, have your pub grub, and a pint all at once.
The Draft House
Of the Camden Road pubs, this is one of the more lively ones. The Draft House features posters of different rock groups like The Who, The Clash, and other bands that made Camden so popular for rock stars.
They offer classic pub foods like burgers, which are half-price on a Monday. They also have a wide selection of beers that are reasonably priced.
Camden Pubs: Map
Looking for More Camden Guides?