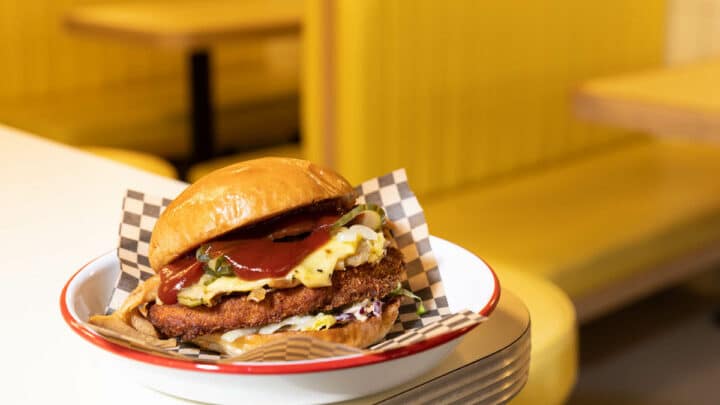 Looking for the best restaurants in Camden? From the spicy flavours of Rudy's to the decadent Cheese Bar, these are the places to eat you shouldn't miss.
Camden is largely known for two things: its music scene and its markets, but if you're hungry you'll also find that Camden's food offerings are up there with some of the best in London.
From the street food pop-ups that line the canals to family run restaurants and popular London eateries breaking into this humming food hub, you'll have plenty to choose from.
Read on for the best restaurants in Camden…
Best Restaurants in Camden
The Cheese Bar
££
The Cheese Bar is a Camden restaurant with a straightforward concept: serve all things cheese, and serve them well.
This philosophy, paired with exceptional ingredients and a friendly staff, make it one of the most popular Camden Town restaurants in the area.
You'll find higher-end options, like charcuterie boards and raclette here, but also snack-friendly items such as mozzarella sticks. There are also hearty burgers and macaroni and cheese on the menu.
Made In Brasil
££
If you're looking for a great Brazilian restaurant in Camden, look no further than Made In Brasil.
It's one of Camden's best places to eat, and it's conveniently centrally located right in the heart of Camden Town. It's got a fun, hip atmosphere and serves plenty of traditional and creative cocktails.
Not familiar with Brazilian cuisine? You're in for a treat – menu highlights include Bolinhos de Bacalhau – mini salt cod fishcakes with a zingy lime mayo and feijoada a classic stew with mixed pork cuts and black beans that's served with rice, cassava crumbs and sauteed greens.
Word of warning: the portions are significant – be sure to bring your appetite.
Ma Petite Jamaica
£
For fiery Caribbean cuisine, head to one of Camden Market's restaurants; Ma Petite Jamaica is a top Caribbean restaurant in Camden, known for its authentic food and exceptional service. As if that wasn't enough, Ma Petite Jamaica serves up a great brunch, plus their cocktails are out of this world.
Stand-out dishes include goat curry, oxtail stew, and spare ribs.
Sonita's Kitchen
£
There is no shortage of Indian restaurants in Camden, but Sonita's Kitchen is in a league of its own. Their dishes are perfectly balanced, sweet, savoury, and spicy, and many of them come from tried-and-tested family recipes.
Plus, you can find plenty of vegan and specialty items on the menu too. Sonita's Kitchen proves that healthy food never needs to be boring. Instead, it can be spectacular.
YoKOYA
££
YoKOYA is a great Japanese restaurant in Camden where you can enjoy ocean-fresh sushi right in the heart of London.
It does have quite a loyal following, so be prepared to wait for a minute if you arrive during their lunch or dinner rushes. But, it's all completely worth it; trust us.
Their sushi and sashimi are both exceptional, but you also won't be disappointed by their beef. The Wagyu steak is fork-tender and delectable. Finally, get one of YoKOYA's signature drinks to round out your experience.
Tortilla Camden
£
Tortilla Camden is a top Mexican restaurant in Camden that serves delicious comfort food at reasonable prices.
Their portions are relatively large too, like burritos that are easily enough to feed two people and massive plates of perfectly-fried churros.
The margaritas at Tortilla Camden stand out too. With the perfect blend of salt, spice, and lime, they are the ideal accompaniment for any of the dishes on the menu.
What The Pitta Camden
£
For the best Greek in Camden, visit local favourite What The Pitta Camden. You can taste the freshness and mastery of the ingredients, especially their housemade falafel and tasty flatbread.
One of the critical items that you absolutely must try at What The Pitta Camden is their doner meat. Get your doner as part of a meal, or have their chefs wrap it up in flatbread. It's delicious.
Guanabana Restaurant
££
Guanabana Restaurant is easily one of the best halal restaurants in Camden, with plenty of options on the menu like roast beef and jerk chicken.
One thing that Guanabana Restaurant does really well is not to skimp on the portion sizes. You can easily split a single entree and be satisfied.
Guanabana Restaurant is a BYOB place, so bring your own libations and be ready to pay a corkage cost.
Purezza Camden
£
If you want great pizza and desserts, Purezza Camden is one of the best Italian restaurants in Camden.
Purezza Camden prides itself on making mouthwatering vegan pizza from a special sourdough recipe.
With excellent service, a friendly staff, and tons of different options to choose between, Purezza Camden will be a hit for you and your whole family.
Andy's Greek Taverna
£
Andy's Greek Taverna is a great Greek restaurant in Camden for people who want to relax in a good spot and sample some incredible and authentic Greek food. Their calamari is out of this world, and their moussaka is a decadent beefy, creamy pie.
Make sure that you save some room for dessert and coffee too.
The Blues Kitchen
££
Hearty meals with a side of blues-y coolness? The Blues Kitchen is the coolest joint in Camden for a bite to eat.
Inspired by the deep south, the menu is filled with the likes of dirty burgers, finger-licking wings, and buckets of Cajun seasoning to spice things up a little bit. The brisket drip sandwich is a standout addition to the impressive menu.
Wash down with a cocktail or two while live music soothes your ears and your soul.
O Tino
£
You'll find O Tino just off Camden High Street, a perfect position to catch you after a stint working up an appetite at the vintage stalls along the road and its adjacent markets.
This Portuguese restaurant also picks up plenty of custom from the country's London expat community for its traditional cooking and charming, homely atmosphere. That comes in part from the fact O Tino is family run – a fact you can probably pick up from the food. Dishes are very down to earth and have that mum's-feeding-you-up kind of vibe to them.
You'll want to sample the seafood, but don't miss out on the peri peri chicken either.
Seto
£
Seto makes it into our guide for their gyoza – perfectly shaped, crisped to perfection parcels that'll have you frantically waving your hands at the waiter for second helpings.
It's also here for the ramen. These hearty bowls of noodle soup are the perfect lunch on a cold day. Portions are generous and the broth rich. If it wasn't for those gyoza we'd declare a ramen at Seto the must-order dish. Perhaps you can try both…
If you're hanging out in Camden around lunchtime, Seto also does a pretty killer lunch set deal during the week.
Jinli Chinese Restaurant
££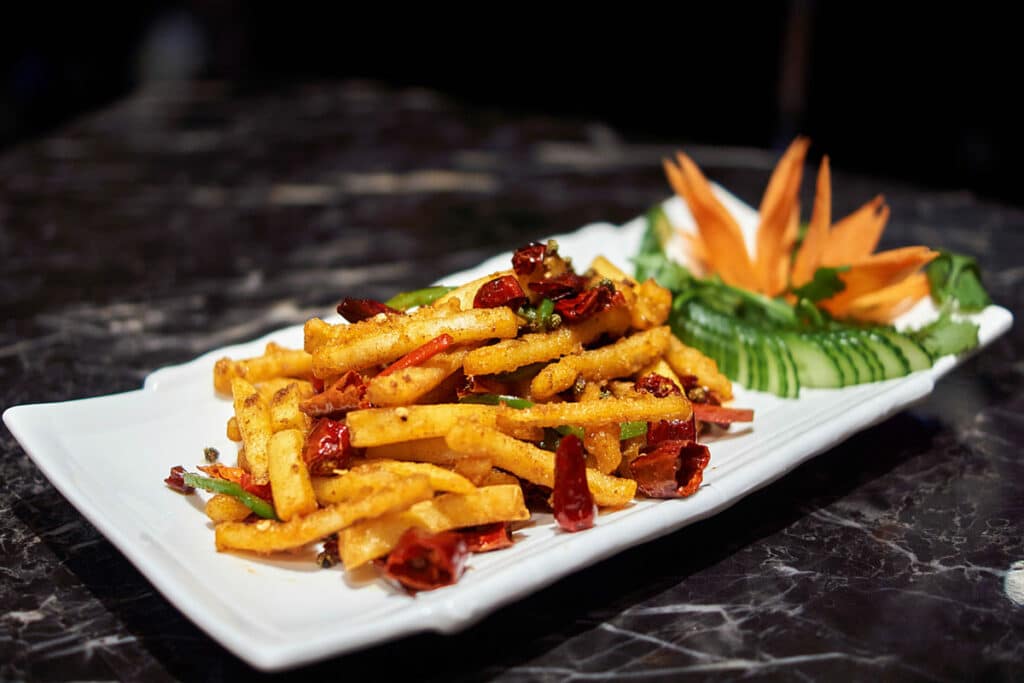 You may have eaten at Jinli Chinese Restaurant in Soho's Chinatown. They do a roaring trade there for a menu of very well-prepared Chinese dishes that largely draw from the Sichaunese cookbook.
The Camden location does the same thing but on a bit of a smaller scale (meaning it's actually easier to get a table sometimes). The food is pretty traditional so don't expect to be eating like you would at your local takeaways.
Expect lots of spice and a chunky menu of dishes you may not be familiar with, but jump right in and be adventurous. You are in good hands.
Three Uncles Camden
£
One of the newest additions to the area is Hawley Wharf, a renovation of some waterfront buildings that is now chocca with restaurants and independent shops.
One of the best places you can eat in this part of Camden is undoubtedly Three Uncles. This is their second outpost after their Liverpool street location and the concept is much the same – that concept being affordable Cantonese cooking.
You'll want to order some of the roast meats. You can get them as a combo with rice or order them separately and share with friends. Don't forget to douse them in some of the home-made sauces on offer.
Other Places to Eat in Camden
Camden food is some of the best in the city. With all the great restaurants near Camden. If you need a little bit more inspiration, check out these other two incredible options.
Lemongrass
£
Lemongrass is a traditional Cambodian restaurant that likes to keep things simple – except for their recently revamped menu, which has added a few different options alongside their rather incredible chicken curry and beef.
Take it from us and try their papaya salad if you're in the mood for something a little lighter but still authentic – it hits all of the right flavours and is a beautiful blend of sweet, salty, savoury, and spicy.
Chin Chin Labs
££
Chin Chin Labs is the spot in Camden to get the best ice cream in the entire city.
Try their famous hot chocolate ice cream topped with marshmallow cream, or go for a more traditional route with their strawberry flavour.
Although you can get the dessert of your dreams at Chin Chin Labs, you'll have to pay cash for it; since they don't take any cards.
Camden's Many Street Food Options
£
Camden's dining scene doesn't just stop at its bricks-and-mortar restaurants, this part of London is also home to some of the most vibrant street-food markets in the city.
You can find places to eat all through Camden Market, especially at the section along the canalfront. With such a wide selection you also get variety. Options include everything from Indian lamb burgers to enormous Polish hot dogs.
You can also pick up plenty of nice things to drink, then take all your food and sit by the water for an impromptu picnic.
Practical Tips and Map for Exploring The Best Camden Restaurants
Camden is a very popular area of London – and so the restaurants get filled up pretty quickly. It's worth checking to see if you need a reservation in advance, or turning up slightly earlier to nab yourself a table.
When you're exploring Camden and its lively restaurant scene, remember to watch your bags and keep anything important in your front pockets. Camden is a busy place, and it's easy for pickpockets to wander through. Keep your guard up while you're having fun.