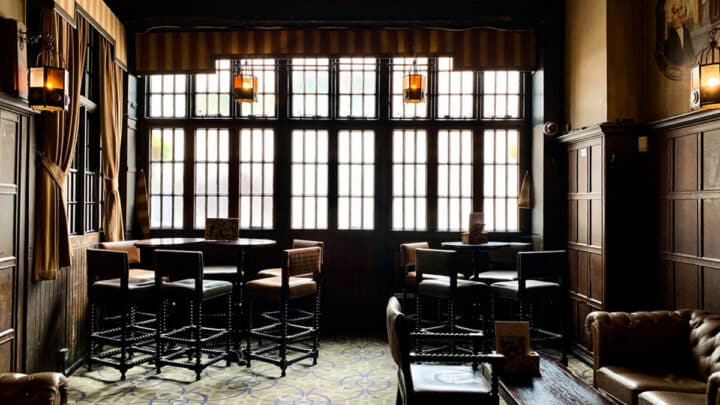 Your guide to the best booze-free bars and sober events in London right now.
It used to be that finding a good mocktail in London was a near impossible task. These days things have changed. From people running sober comedy nights to cocktail bars that specialise in 0% drinks, London's got plenty to offer people that get on the sauce.
Whether you're hitting dry Jan, fancy not spending your Sunday with a nasty hangover or you're just plain tee-total we've taken a jaunt around the city to find of all the best booze-free bars and sober events you can find across London.
The Best Alcohol Free Bars and Activities in London
LOAH taproom
Hackney
The latest alcohol free bar London has launched comes to us from LOAH brewery. If you've not had the pleasure of drinking LOAH's beer before, it's no-or-low and comes in a variety of funky flavours. Lime larger? Yes please bar keep. Blood orange 0% beer? Ok, one of those too…
LOAH Taproom is exactly what you'd expect it to be: a HQ where you can work your way through all the funk flavours they've brewed up back of house.
We love this place because of its cosy size, meaning that you're likely to get chatting to other customers.
Club Soda Tasting Room
Covent Garden
Perhaps London's most iconic booze-free bar is Club Soda Tasting Room. They've steadily been building a bit of a cult following for the quality of their cocktails. You won't find a drop of liquor in them but the drinks are as good (and as instagramable) as at any other London cocktail bar.
Drury Lane being their home, the Tasting Room is a good spot to stop off for a booze-free, pre-theatre cocktail. If you haven't got any entertainment lined up for later in the night you might find they've organised some for you.
They're big on getting the booze-free community together, hosting regular nights for chats about booze-free life or their sober mingling events for the LGBTQ+ community: Queers without Beers.
The Connaught Bar
Mayfair
If you're looking for alcohol free bars London's got few worth trying, but that doesn't mean you don't have to stop drinking elsewhere. Some of the city's best bars have great menus of no-and-low cocktails that you should definitely try.
Take The Connaught Bar for example. Yes, The Connaught Bar – widely agreed to be one of the best bars in the world, let alone London. They've got a great menu of booze-free beverages that stand up with the best of the rest.
It's also just a fantastic place to hang out: ultra slick mixed with a touch of grand-hotel class, and service by some incredible well-dressed bartenders.
Morning Gloryville
Location varies
Are hippies the only people with the faculty for booze-free dancing? They might just be. When they get together for a slice of good-natured fun they certainly do it right. Case in point: Morning Gloryville – easily the best sober rave London has to offer.
They fill up tents for morning – yes, morning – raves. And we're not talking about ones that start the night before and go right through. These parties begin in the AM and aim to kick start your day with a bunch of good vibes, healthy food and plenty of sober dancing.
It's definitely nothing like a massive version of the Rainbow Rhythms class on Peep Show – really it's not
The London Alcohol-Free Club
Locations vary
Having a stage full of stand-up comedians keeping you entertained is a great way to spend an evening and that's exactly what you'll find at The London Alcohol-Free Club, regularly one of the finest sober events London offers.
They get together for stand-up comedy nights, performing sober, to sober crowds. They're all very talented and set this night up with the noble aim of providing a laugh for people who don't want to get it through booze.
If you're looking for the ultimate postmodern confirmation that these guys are good, know that you may have seen some of their faces on the holy TV box.
Sober Girl Society
Locations vary
Sober Girls Society was founded in 2018 with the purpose of showing the world that going without booze means going without fun. They've since gone national, running sober events in cities across the UK.
What kind of stuff do they do? Well they love a good dance class. They're also not adverse to a bit of fitness, as you'll see from their Sober Sweat events. From time to time they even hold an alcohol-free gin tasting.
There's a hitch though: It's a girls only society. Sorry boys.
You can check their upcoming events here
Tea House Theatre
Vauxhall
When you read tea house, don't be expecting some kind of Asian pavilion or the set of a John Woo shootout. This is quaint little England afterall, so we drink tea in cafes.
It's rare that you'll find a cafe that takes tea as seriously as this though. The people at the Tea House Theatre can't get enough of the steeped leaves. They stock over 50 kinds of them, and are happy to tell you all about them.
But wait, what about the theatre? Well the Tea House Theatre likes to stay open late, and when they do they throw in a bit of light entertainment. That comes in the multifarious forms of poetry slams, jazz performances, knitting nights and debate sessions – perfect stimulation for the sober mind.
The Sober Sommelier
Alex Norwood Hill, otherwise known as The Sober Sommelier cruises between bars and events to ply his trade as the leading booze-free bartender.
He uses a range of popular alcohol-free spirits in his cocktails and mixes up some truly excellent drinks, because of that he's in pretty high demand.
He has no fixed abode. You will not be able to track him down. You can only keep a close eye on his instagram account and work out where he's going to be next – something that makes finding him even more special an experience.
You're likely to see him at festivals, he (no coincidence, we're sure) has even been known to do guest nights at Club Soda Tasting Room.
Practical Tips for Exploring The Best Alcohol Free Bars and Activities in London
Check some of these venues' websites. Many of them will hold alcohol free events where you can meet other people that are also not drinking and get together for some good sober fun.
If you're attending sober events make sure you RSVP. There's more sober people than you think out there and these events will fill up quickly.
If we could recommend anything to you, it would be The London Alcohol-Free Club – the comedians are really talented and it's always a good laugh.
The Best Alcohol Free Bars and Activities in London: Map