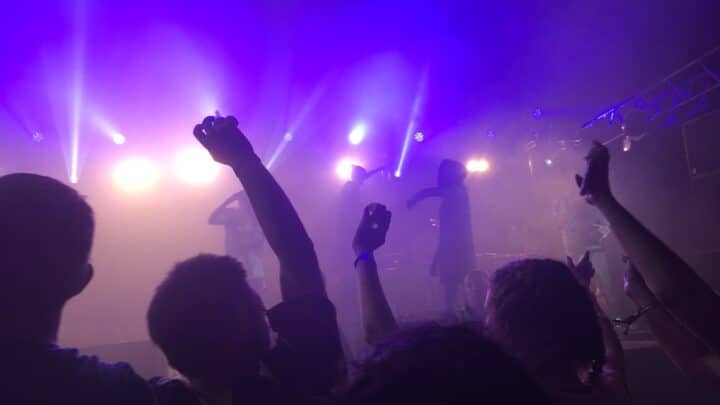 Looking for the best clubs in London? The capital is full of brilliant spots where you can grab a drink, have a boogie, and celebrate with your friends.
Some of the most iconic clubs in the world can be found in our hometown, and when the sun goes down London really lets loose.
Ready to explore London's riotous nightlife scene? It's time to party.
Best Clubs in London
Nightclubs in Central London
Heaven
Charing Cross
When it comes to nightclubs in central London, none are as iconic as Heaven.
The club and live music venue is home to G-A-Y evenings, live music, and their Popcorn resident nights, with an eclectic crowd to match the varied events. Upcoming shows include The Garden and Cautious Clay.
Thursday, Friday, and Saturday evenings sees G-A-Y bringing an array of Queer-focused fun to the venue. Expect drag queens, LGBTQ+ centred playlists, and an intensely welcoming environment where you can party until your heart's content.
Famed for its flamboyant LGBTQ+ partygoers, Heaven promises a wild night out. If some serious boozing and crawling into bed around 4am sounds right up your street, this is the perfect club for you.
Loop
Oxford Circus
Known for its rowdy, younger demographic, Loop is handily located right by Oxford Street. Four distinct rooms await, but you'll want to head straight for Groovy Wonderland, trust us.
Freshers-events are the speciality here, and Loop is home to some brilliant themed night outs (sassy Beyonce party, anyone?) and a rather fun Reggaeton spectacular every so often.
This will, by no means, be a sophisticated clubbing experience, but if you're looking for great music (classics, pop, RnB, terribly-brilliant remixes… you name it), cheap drinks, and a classic British student club, Loop is the one.
Club L8
Soho
Despite the hush-hush nature of Club L8 in Soho, this is a dazzling spot if you're looking to stay out until L8. 6:30am, in fact.
Dance along to hip hop, RnB, and commercial house in the main room. And keep your eyes peeled for the latest events, which include guest DJ's, LGBTQ+ nights, and Bollywood evenings.
You'll be stretched to find information about this club on the internet past its location and opening hours, but don't let that put you off. Head there on a Saturday night for an exclusive evening that stretches through until the sun comes up.
Nightclubs in North London
XOYO
XOYO is another world-famous venue in London renowned for crazy club nights and live music performances. Set across two floors, the weekend sees the nightclub transform into one giant party (it's a busy one, but it's so fun).
Over the next few months the likes of Too Many Zooz and CHIIILD will be bringing their sounds to the stage. Events range from afrobeat and reggae nights to house and hip hop evenings – you can check out the upcoming events here.
Saturdays are XOYO's resident Pleasurehood evenings – tickets are just a fiver and you'll spend the evening with the company of Dimitri From Paris, who will be blessing your ears with funk and disco.
Egg
Despite being one of the biggest clubs in the city, club nights at Egg still retain the feel of a grungy warehouse rave. This spot is popular with locals and tourists of all ages, although you'll usually find a younger crowd here on weekdays.
With special drink offers, student evenings (which are really decently priced, you'll be glad to hear), and events like trance and house nights, you're sure to find an evening out that suits you. Thursdays are particularly popular, with Cosmic Tiger: House & Disco bringing the tunes.
Fridays and Saturdays vary wildly, from the hottest DJ's playing house and techno to the likes of Late Replies serving clean, electro-funk.
If you want no-fuss, just pure party vibes, Egg has well and truly cracked it.
The Underworld
It's no secret that Camden's drinking scene is pretty spectacular, so it's only right that The Underworld gets a mention.
Hidden underneath The World's End pub, the basement live music and venue club dedicated to alternative rock thrives. Delve deep into The Underworld and enjoy an alternative clubbing experience in London, sans cringy pop.
Acts like While She Sleeps, Slow Thai, and The Meteors have played shows here, and you'll often find some tongue-in-cheek cover bands (Sack Sabbath and Guns 2 Roses are particular faves).
Nightclubs in South London
Ministry of Sound
Elephant and Castle
If you're only in London for one night, a visit to the Ministry of Sound is a must – after all, it's famous for a reason.
You'll need to grab tickets to get in, but boy is it worth it. Thumping bass and strobe lighting set the tone for a fun night out. In fairness, the drinks are so so, but that's not what you're there for. What the alcohol lacks, the music makes up for.
Popular events include Rave Every Tuesday, which is easily London's biggest midweek rave playing grime and hip hop, and Future Presents, an event dedicated to specific DJ's and artists set to make it big. See them here first.
It's not too hard to come across dance clubs in London, but this is undeniably the best.
Corsica Studios
Elephant and Castle
Hidden under two railway arches, Corsica Studios is a smaller, though no less impressive, music and club venue in South London.
Boasting a variety of independent events, it's similar in style to Ministry of Sound, though a little more lowkey. Expect everything from trance, house, RnB, and afrobeats from indie artists and underground DJ's to be played here.
Corsica Studios is home to two rooms, one is used for the live music events and the other for the more ravey affairs – complete with walls of speakers and a more intimate setup.
Aquum
Clapham
Set over four floors, Aquum is a giant bar and nightclub in South London, boasting a basement bar, a two-in-one mezzanine club, and if that wasn't enough, a dazzling rooftop bar. The club feels somewhat reminiscent of a grown-ups resort.
If you're fancying a weekday night out, Thursdays are excellent here – laid back but with the best tunes that you can dance along to.Weekends see the more relaxed vibe ramped up, with live DJ's playing commercial house and RnB.
Oh, and there's also a Greek restaurant onsite that serves up a brilliant bottomless brunch, if you fancy starting the party a little bit earlier in the day (we won't judge).
Le Fez
Putney
Sure, London has heaps of stylish dance clubs, but ever dreamed of having a jamboree in Marrakech? Le Fez allows you to do just that – it's a swanky Moroccan-themed joint nestled in Putney that deserves a whole lotta love.
The popular Saturday nights are Le Secret, with a mysterious rotating line up of DJ's playing a range of commercial genres until 4am.
Head to Le Jardin first, an Instagram dream filled with botanical installations and golden birdcages, before making your way to Le Club for a glamorous evening of boozing to classic pop and dance tracks underneath neon lights.
Bussey Building
Peckham
There aren't too many spots hosting club nights in Peckham, but the ones at the Bussey Building more than make up for it. The centre is actually a multi-level space dedicated to all things arty, but evenings are when the Bussey Building really comes alive.
The venue is unfussy and community-focused, but that's what makes it so brilliant – and the DJ's spin everything from underground garage, techno, and hip hop.
Once a month on a Thursday, Bussey Building hosts a Late Lunch night, which sees the best of up-and-coming electro-music scene take to the decks. This one's very popular with students, though expect a more mixed crowd on the weekend.
Phonox
Brixton
Although Phonox is a more recent addition to the London nightclub scene, it has quickly secured itself as one of the top places in Brixton to go clubbing.
Fridays and Saturdays see a range of DJ's playing extended sets with one thing in mind: getting you onto the dance floor ASAP.
Once a month the much-loved Mantra.sw9 event is held, with Residents Skinny Macho, Tommy Gold, Bossy LDN and p-rallel providing the tunes – this one's really fun so you'll need to nab tickets well in advance.
Sunday evenings are dedicated to global-diversity, with all the best dance tracks from across the globe taking you through to Monday morning.
Omeara
London Bridge
Known for being one of the coolest live music venues in the capital (and you should totally check out a show), Omeara also hosts some rather brilliant club nights in their distressed-looking warehouse space.
If you're a hip hop and RnB fan, Supa Dupa Fly needs to be on the top of your list. This regular club night is a cult favourite amongst Londoners, with many attending religiously each week.
Room one plays modern tracks, so expect lots of Kendrick, Drake, and Rihanna, or opt to go old-school in room 2, where the sounds of Biggie, Nas, and TLC evoke plenty of 90s nostalgia.
Electric Brixton
Brixton
Electric Brixton is one of the most famous nightclubs in London, and for good reason. Londoners from across the city will trek here for the impressive club nights and live music performances. The crowd is as varied as it comes.
Events-wise, Electric Brixton has it all – classic freshers nights, dancehall and reggaeton showdowns, liquid drum and bass raves, and even evenings dedicated to Abba. Events are known to sell out well in advance, so snap up tickets before it's too late.
It's also a cracking live music venue, with Chance the Rapper, Liam Gallagher, and Craig David just some of the superstars who have previously attended.
Nightclubs in East London
93 Feet East
Brick Lane
Set inside an old brewery, 93 Feet East's two large club rooms and twinkling outdoor terrace has helped the venue firmly cement itself as one of the best nightclubs in East London.
It's everything you would expect from a Brick Lane spot, with an ultra-cool industrial feel and high-tech lighting taking you through to the morning.
Music-wise, 93 Feet East plays everything from underground acid jazz to well-known party hits, and you can check out the upcoming club nights here.
Friday nights are the most popular here, with the Parade club night getting everyone bouncing along to the freshest DJ tracks – you can even book a food and drink package to sustain you all evening, if you want to go the whole hog.
Pier One
Canning Town
As the longest serving Afro-Beat nightclub in the capital, Pier One tops the list of African nightclubs in London.
The club manages to attract a wide range of cultures to the dance floor, all after one thing: an evening filled with incredible afro-beats and an ultra-fun atmosphere.
Not only is the energy inside the club off-the-charts, but the club DJ's are some of the best in the biz. And if you happen to be there for a DJ Ruffcutt evening, count yourself very, very lucky. Weekly themed nights span European, African, and Caribbean takes on African music.
Drinks-wise, there's enough African-inspired cocktails (as well as your regular spirits and beers) to keep you busy.
The Glory
Haggerston
The Glory takes the crown as East London's most popular LGBTQ+ nightclub, attracting a diverse range of partygoers.
As far as club nights go, Thirst Trap is by far the most popular. Saturday nights welcome electro, house, and disco to play out in the basement club, with special guests and rotating live DJ's to really kick things off. Entry is a tenner (or free if you get there before 10pm).
Other nights vary, from pride-based sets playing the best of LGBTQ+ artists to camp cabaret and drag queen bonanzas.
Oval Space
Bethnal Green
When it comes to basement clubs, Oval Space is among the most impressive in East London. The large space is pretty much a blank canvas, so don't expect impressive interiors or fancy decoration – the music is the priority.
Events span trance, indie, and dance music, with Boiler Room London being one the most highly anticipated. Running until 5am in the morning, the freshest DJ's and producers provide the high-energy soundtrack to a night out in the capital.
Some of the other upcoming acts include US electro and hip hop producer Egyptian Lover and popular grindcore group, The Locust.
The Pickle Factory
Bethnal Green
Not content with having just one brilliant nightclub in London, the team behind Oval Space also launched The Pickle Factory opposite in 2013.
Like its larger counterpart, The Pickle Factory hosts a number of popular club nights, though the focus here is on smaller and more intimate evenings with the venue's amazing acoustics.
As well as other Boiler Room London events, you'll find label showcases from Hooversound and the likes of DJ Storm, Sicaria Sound, and Club Fitness on the impressive line up.
Village Underground
Shoreditch
Is there anything cooler than an arty club venue housed in a couple of tube carriages, shipping containers, and a warehouse? Definitely not.
Luckily, Village Underground also walks the walk, with a whole host of club nights spanning label parties, techno nights, and the much awaited return of Channel One Soundsystem to their home venue.
Anyone in need of roots and culture, skanking, and uplifting vibes will want to add this spot to their calendar.
Night Tales
Hackney
Night Tales sits underneath Hackney station's railway arches, offering one of the best nights out in the capital. Though it's possible to have a more chilled evening on the terrace bar, the club nights are really special.
DJ events run pretty much every week, with the likes of Mousse T and Natasha Kitty Katt gracing the decks, and themed nights are also a common occurrence.
Paraiso Disco Events are also popular, which sees Patty & Bun and Only Jerkin' serving up delicious street food on the terrace, fuelling partygoers before attention turns to the club from 10pm.
Nightclubs in West London
Notting Hill Arts Club
In true Notting Hill style, the Arts Club is a celebration of all artists weird and wonderful. Club nights span many genres, from classic jazz to RnB and soul – and the crowd is just as varied.
Fridays and Saturdays are dedicated to live jazz, but don't worry, the crowd is still ready to rock. It couldn't feel further from a laid-back jazz club, with the likes of We Bring Vibez and NHAC ensuring that unique, funky renditions of old classics and new favourites play out into the night.
Reasonably-priced drinks, an electric atmosphere, and brilliant music, Notting Hill Arts Club can't be beaten.
Practical Tips for Visiting London's Nightclubs
Nightclubs have fully reopened, though the Government will soon be introducing a vaccine passport system which grants you entry. Make sure you check the Gov website for the latest information.
Note that you'll need to book tickets well in advance for specific club nights as they sell out fast. If you opt to be spontaneous on the night you'll probably end up being turned away from the popular clubs in London.
Make sure you check the dress code of the club as many won't allow you to enter in trainers or hoodies – in other words, dress to impress.
I'm sure you probably don't need us to tell you to stay safe, but just in case – stick with your friends and don't leave your drink unattended, yadda, yadda, yadda. You know the drill.
Map of Clubs in London