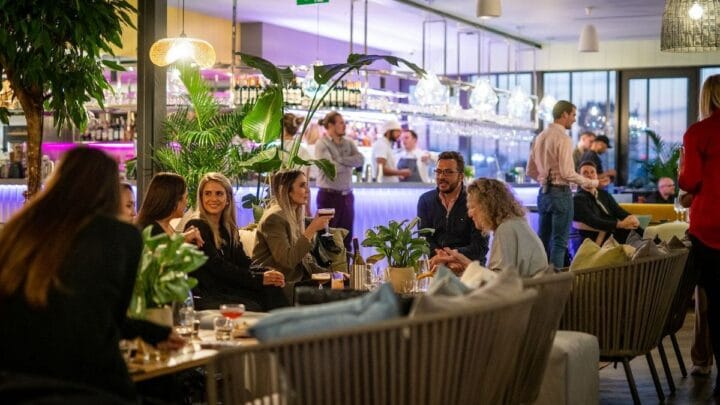 Looking for the best rooftop restaurants London has to offer? Luckily, the city boasts quite a few.
Whatever the occasion – from date night to girl's night – there are so many restaurants in the capital boasting fabulous views, booze, and food.
Whether you love the understated cool of Forza Wine, or want the all-out glamour found at Aviary, you're only a short hop, skip, and a jump away from a brilliant rooftop spot.
Ready to discover our rooftop dining London guide? These are the spots you shouldn't miss…
Best Rooftop Restaurants in London
Boundary
Shoreditch
When it comes to rooftop restaurants, London's Boundary Bar & Grill might just top the lot.
Whether you're getting together with the girls for a midday catch-up fuelled by cocktail and charcuterie, or are all dressed up for a dreamy date night, Boundary has got all bases covered.
If it's chilly you can retreat in the heated Rooftop orangery though, if the sun decides to make an appearance, the outdoor terrace boasts stunning views of the London skyline.
Top picks from the grill include the mouthwateringly tender 35 day-aged sirloin steak drizzled in red wine jus, which comes with a healthy portion of fries, as well as the ultra-indulgent tiramisu.
Aviary
Finsbury
From the luxurious velvet sofas perched outside to the marbled lights illuminating the evenings, Aviary might just be the most beautiful roof terrace London offers.
The menu is equally as delicious as the decor and views, filled with the likes of roast cornfed chicken breast, truffle and parmesan terrine, an elevated burger made from British beef, and freshly-caught oysters to sink your teeth into.
Drinks-wise, there's a four-page wine list filled with a wide selection of whites, reds, and rosés, as well as an extensive selection of beers and cocktails to choose from.
Skylight Peckham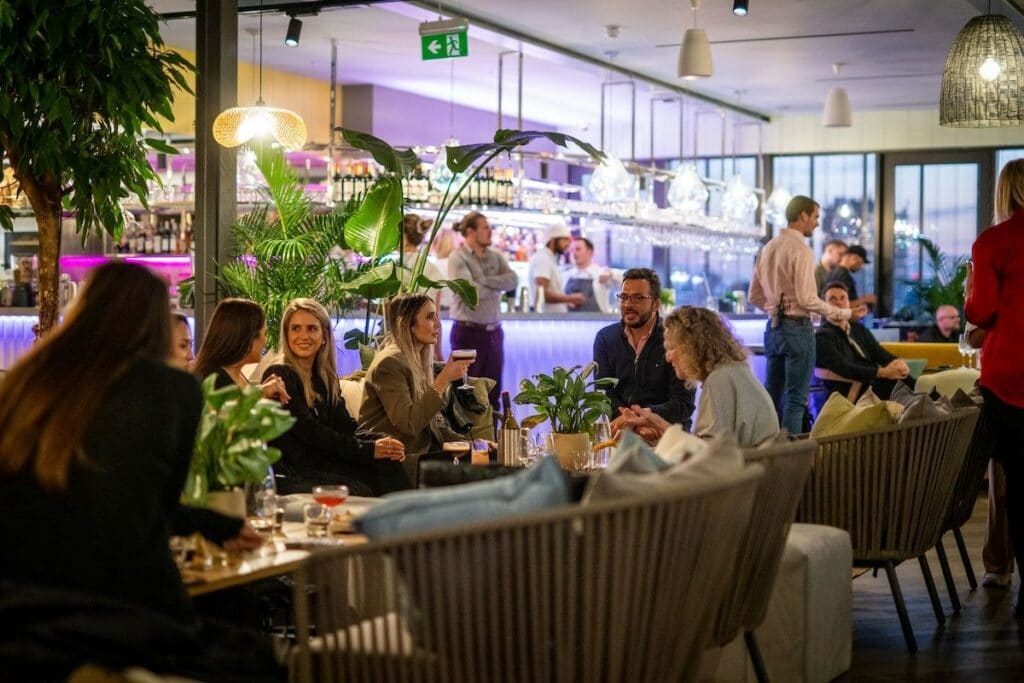 Both Skylight locations get a mention in this guide, because both are perfect places for rooftop dining in London. We think that Skylight Peckham might just have the edge over its sister location (mainly because we are huge Peckham stans), but both are well-worth a visit.
On the menu is an array of innovate nibbles, small, and big plates taking inspiration from around the globe.
The cumin-spiced lamb skewers get our vote, though we're 100% ordering truffle fries on the side and the drool-worthy pistachio cake for dessert. We're putting our triple-carbed-up hands in the air like we just don't care.
Skylight Tobacco Dock
Tobacco Dock
Tobacco Dock's offering is equally as wonderful, though the menu is slightly different – and we ain't mad about it.
Drawing inspiration from Latin America, the menu is a selection of nachos, poke, and burgers. Everything is delicious, though the chilli beef nachos are our go-to. Wash down with one of their excellent cocktails and you're in for a treat.
If it's raining, head under the covered (and heated!) pergola or, should the sun decide to make an appearance, get your pals together for a game of croquet out on the terrace.
Forza Wine
Peckham
There's a surprising lack of Italian rooftop restaurants in London – but that's ok, because Forza Wine tops them all.
The food menu changes almost daily, but expect a wide selection of small Italian plates to share, including the likes of flatbreads, olives, and vegetable fritters.
Hungry? Order the whole menu. Literally. For £120 you'll have a full-on banquet to chow down on with pals – along with four portions of soft serve to end things on a sweet note.
As expected from a joint dedicated to wine, the Italian wine selection is *chef's kiss*.
Radio Rooftop
Covent Garden
We've spoken about Radio Rooftop time and time again – including in an in-depth review here – but there's no denying that this bar and tapas spot situated above the ME Hotel on Aldwych is one of the best rooftop restaurants London has to offer.
We recommend heading there for lunch, when you can choose from a wide selection of small plates to share, as well as a hefty selection of mains. We love the chicken poke bowl, the surf and turf, and the lobster roll if we're feelin' fancy.
The cocktails are also brilliant – though expensive. That said, the views are incredible and it's well worth the higher price point.
Seabird
When it comes to romantic rooftop restaurants, London has its fair share. Though, none are quite as romantic as the aphrodisiac-inducing oysters on offer at Seabird.
Situated atop The Hoxton, this restaurant transports you far, far away, the lush tropical decor makes it feel like you're aboard a ship in the Caribbean.
While oysters are the star of the menu here, there are plenty of options for those who don't enjoy them. That said, the vast majority of the menu is fish-based (not that we're complaining) bar from a tasty grilled iberico pork or aubergine offering.
Angler
Finsbury
Another rooftop restaurant dedicated to seafood is Angler (there's nothing fishy going on here, we swear).
This is a Michelin-starred restaurant, so the food being tasty is a given. Though, one bite of the hand-picked Devon crab and you'll be asking why Angler doesn't have ten more Michelin stars.
So… the food is good, but what about the views? The Angler Terrace is a sun trap, a chilled-out retreat with decent views (we'll level with you, it's not the best out of the list).
Though, with food this good, who cares?
Mercer Roof Terrace
If it's views you're after, Mercer Roof Terrace doesn't disappoint. With panoramic views that include St Paul's Cathedral and The Shard, this is the place to come if you seriously want to impress your date.
Mains are conveniently split into Land, Sea, and Earth, making it easy to navigate the fairly substantial menu. Though, whatever you opt for, make sure to order the ham hock and chicken terrine to start (be warned – the starter options are very limited for plant-based eaters).
Round off your meal with the rhubarb and pistachio trifle, and enjoy as the sun sets over London.
Garden Rooftop
Escape the madness of Leicester Square proper's restaurant scene and head up to the beautiful floral paradise that is the Garden Rooftop.
The menu is filled mainly with cicchetti and tapas – picky bits to enjoy with a drink or two. We recommend the crab ravioli, braised beef tortellini, and the tempting Tuscan sausages.
There's a decent selection for vegans too, with the vegan gnocchi and grilled asparagus tasting every bit as delicious as their meaty counterparts.
Bokan 37
Situated in Canary Wharf, Bokan 37 describes itself as an informal hideaway – in other words, if you're looking for the perfect spot for a low-key date, chilled catch up with friends, or birthday celebration, this is the one.
With indoor and outdoor seating available, you can appreciate the wonderful views over central London no matter the weather.
The huge sharing plates prove popular – and at 2 for £20, they're a decently priced lunch for two.
The rest of the menu is fairly small, with a select few dishes created from British ingredients – we love the Bokan Burger, beef patty topped with cheese, crispy onions, rocket, smoked mayo, and a ginger glaze.
The Culpeper
Shoreditch
Around the corner from Brick Lane, The Culpeper quietly boasts one of the top rooftop restaurants in East London.
What's on the menu? To put it simply, British dishes served with French flair. The likes of stuffed savoy cabbage, ham hock terrine, and the daily fish fillet with pink fir potatoes and veggies prove popular.
Save some space for the indulgent chocolate bread pudding, which comes smothered in Crème Anglaise, and you won't be disappointed.
Alfie's Rooftop Kitchen
Marylebone
Looking for the tastiest cheap rooftop restaurants London has to offer? Alfie's Rooftop Kitchen may not be as expensive as the other spots in this guide, though the food and views are no less impressive.
Whilst peering over at the busy streets of Marylebone, you can enjoy an array of British comfort food. Think hearty soups served with generous hunks of bread for dipping, chunky beef burgers, and the classic fry-up to kick start the day.
Roof Garden at Pantechnicon
Belgravia
Whether you're in the mood for casual drinks, a light bite, or something more substantial, Pantechnicon is the best location for rooftop lunch London boasts.
The roof garden is Japandi, personified – a blend of Japanese and Nordic cooking and style served to you in a breathtaking botanical garden.
Head there for the beef short rib sando or Norwegian cod – but save room for the dreamy hassleback potatoes on the side.
Smith's of Smithfield
Farringdon
This London rooftop restaurant has had quite the transformation over the years, starting out as a humble market warehouse soon blossomed into a four-story dining hotspot.
Smith's of Smithfield serve seasonal, British dishes ranging from a delicious Southern fried vegan burger made from BBQ jackfruit, vegan cheddar, and a Jack Daniel's sauce, to a devilish flat iron steak sandwich. Enjoy whilst revelling in swish city views.
Bottomless brunch anyone? This is also the top spot for rooftop breakfast London offers, with unlimited bubbles available on Saturday mornings.
Aqua Kyoto
Soho
We can't think of a better spot to chow down on sushi and sake than in Aqua Kyoto's impressive restaurant perched above the capital.
Not only is it one of the best rooftop restaurants central London has to offer for its location and views, but the menu is stellar. It truly is epic – a colossal selection of tempura, sashimi, sushi, and Wagyu.
Our favourites? The pumpkin tempura treads the line between sweet and savoury perfectly, while the black cod, pickled veggies, and yuzu curd always goes down a treat.
Practical Tips for Exploring London's Rooftop Restaurants
Rooftop restaurants in London are high in demand – for most you'll need to book in advance to secure yourself a table.
Wondering what our top picks for quality and value for money are? We are huge fans Aviary and Forza Wine, while the Skylight offerings are fun for girly get-togethers.
London Rooftop Restaurants: Map