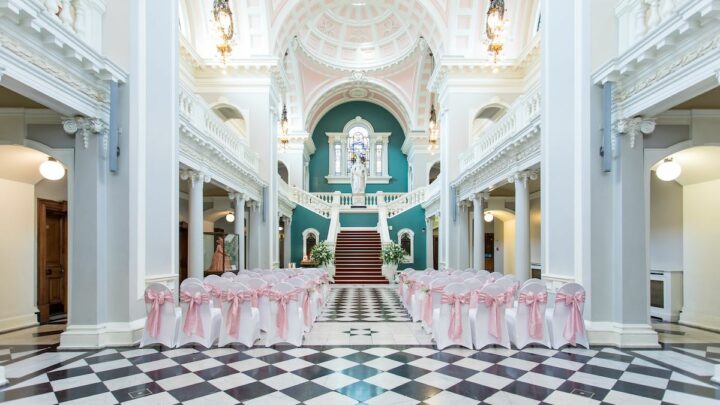 Planning on getting hitched? These gorgeous (and unique) London wedding venues are the perfect backdrop for your special day.
Let's face it – there are a tonne of things that are out of your control when it comes to the big day. Whether it's wedding jitters or bridesmaids having one too many glasses of celebratory champagne, there's always something to (gently) rock the boat.
That said, there is one factor you can control – and that's having a kick-ass wedding venue.
Not sure where to find London's best wedding venues? Settle in and check out these unique and unusual London wedding venues for you to celebrate your big day in style.
Cool and Unique Wedding Venues in London
Wilton's Music Hall
Tower Hamlets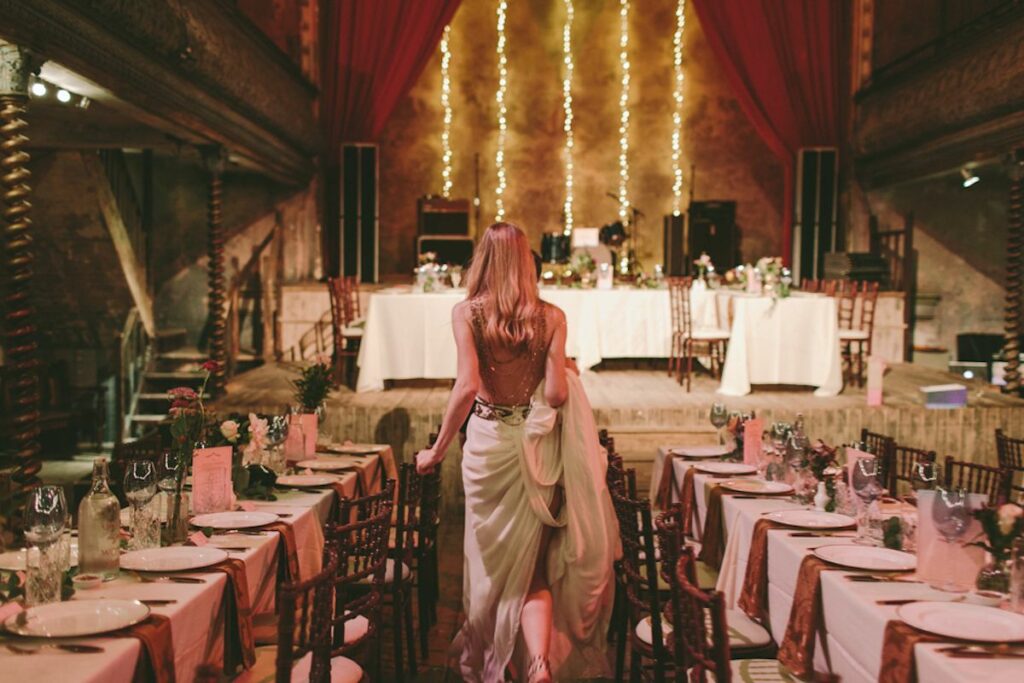 Since the historical Wilton's Music Hall opened its heavily embellished doors in 1858, a sense of showmanship and flair has remained embedded within its walls.
This iconic music hall will transport you back to the golden age of the glamour-filled affair of going to the theatre, the perfect sentiment for an opulent wedding.
You won't need to skimp on guests either – this wedding venue in East London can accommodate around 134 to 144 guests, depending on the table size.
Price: You can expect to pay around £7,000 to £10,800 to hire the building.
Asylum Chapel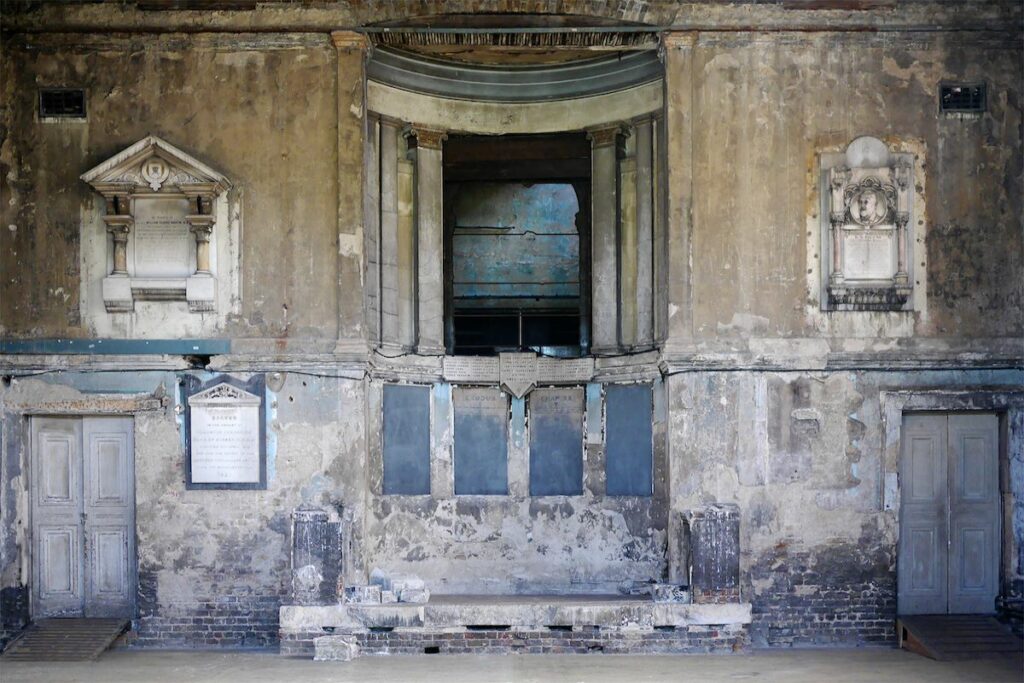 One of the best cheap wedding venues London has to offer AND a spot that will satisfy your Corpse Bride fantasies? It's true – Asylum Chapel is where decaying decor meets a dormant space ready to become alive once more.
From the peeled paint on the walls to intact glass-stained windows, you can ensure your guests will never forget this seemingly otherwordly wedding location.
This venue can hold around 120 guests, and this wedding package in London includes a dazzling display of candles to see your silhouette dance on these historic walls. It's one of the more unusual London wedding venues, but it's one of our favourites.
Price: This wedding venue in South London often starts at around £1,650.
Syon Park
Hounslow
Known to be the London homestead of the great Duke of Northumberland in Isleworth, Syon Park (located in Syon House) is the personification of a traditional British celebration.
From flower-dotted courtyards to the glass-domed splendours of the Great Conservatory, you're in for a sensational shindig like no other.
The venue has various spaces available depending on your wedding size, ranging from 150 to 600 seated guests capacity – it's one of the top luxury wedding venues london has to offer.
Price: The venue's cost starts at £3,000 and can go up to £18,500. This is an excellent pick for couples looking for the best wedding venues West London offers.
Cecil Sharp House
With a red-bricked facade and an artsy painted mural on the interior walls, this art centre is the perfect mid-range priced wedding location with a regal edge. Cecil Sharp House has various unique rooms to cater for all wedding types and sizes.
From the ample space of Kennedy Hall (in a 200 seated banquet-style room) to the smaller area of Trefusis Hall with direct access to a charming garden, this prime location has it all.
Only a stone's throw away from Regent Park, you'll have the ultimate opportunity to take some memorable wedding photos in one of the best parks in London.
Price: Booking this venue will cost around £4,650.
Oxo Tower
Looking for the best intimate wedding venues London has to offer? We've found what might just be the very best.
A magnificent tower forming part of London's skyline, Oxo Tower is a contemporary area with sublime riverside views of the Thames. You'll be able to say your "I do's" with the sun setting over one of London's most iconic aquatic marvels.
While this space caters for around 160 seated guests, you'll be able to drink the night away with some of your closest compadres and family in attendance.
Price: Available upon request.
Barbican Conservatory
City of London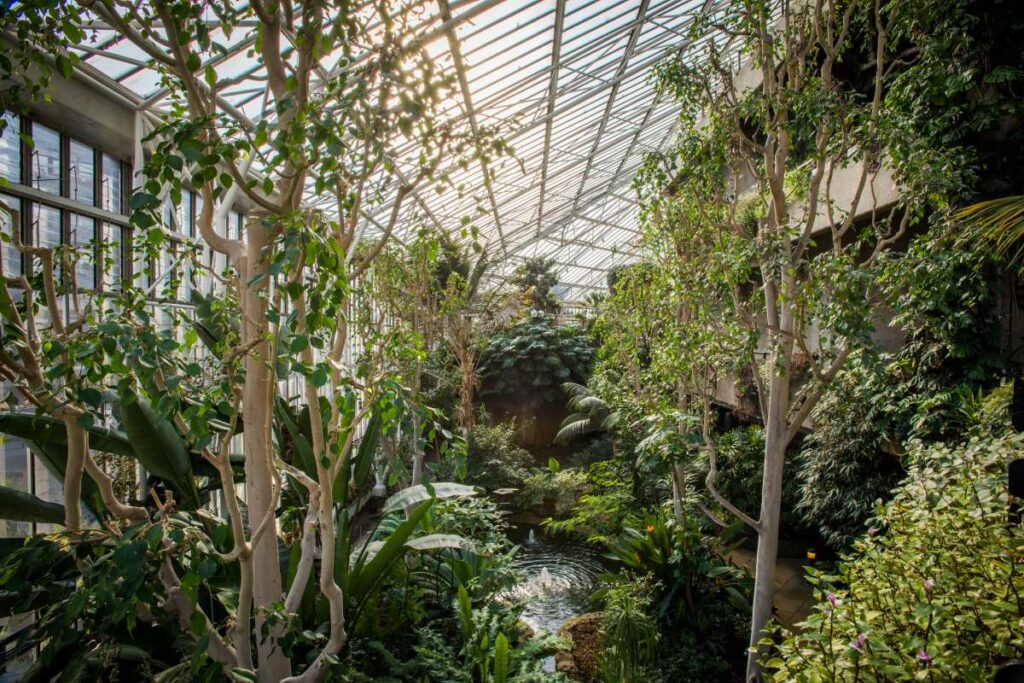 A quirky wedding venue in London that will have you walking down the aisle surrounded by gorgeous greenery?
The Barbican Conservatory is a must for nature-lover couples – or anyone who appreciates a great Instagram feed.
From hanging plants to exotic fish habitats peppered around the vicinity, this space holds up to 220 guests who will be sure to experience a wedding like no other.
With a wedding coordinator provided by the venue and all required staffing at your service, you'll drift through your big event feeling like a Queen (or King).
Price: The space alone costs £6,200 to hire (making it a lavish option and one of the more expensive wedding packages London offers).
Cutty Sark
Ahoy there, matey! A nautical wedding venue that will exchange your cold feet for sea legs, Cutty Sark is a museum ship and one of the most unusual London wedding venues.
When it comes to interesting wedding venues, London's very own ship cannot be beaten. With a 450 reception and 120 wedding guest capacity, you can set sail with a sea of family, friends, and plus-ones.
Price: You'll need to raid a treasure chest to book this venue, as the price starts at £7,000.
Woolwich Town Hall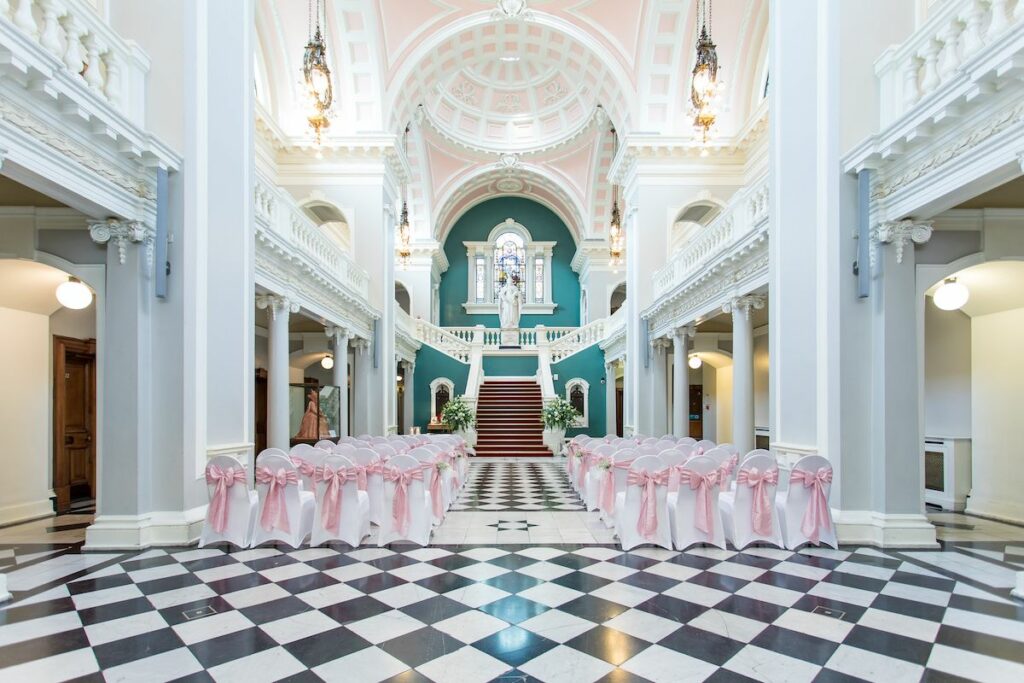 With so many eye-wateringly expensive spots, you'll be glad to know that those looking for the affordable wedding venues London has to offer can rely on Woolwich Town Hall.
Though cheap certainly does not mean lacklustre – from its cascading staircase to the cathedral-like ceilings, the awe-inspiring decor of Woolwich Town Hall will be sure to put your wedding nerves at ease.
Whether it's an in-office ceremony with a maximum of two witnesses or a 24 to 90 guest event, you'll be able to keep it simple or go all out at this spectacular site.
Price: From £230 to £2,860, depending on the ceremony type and date.
Pembroke Lodge
On the fringes of the capital, Pembroke Lodge is the perfect place for a divine occasion, as this Georgian mansion will allow you to experience the essence of enchantment in full bloom.
Boasting 11 acres of lush grounds, this groomed space (which can accommodate 200 guests) holds the key ingredients for a truly dazzling wedding.
The wedding package includes a team of administrators to ensure your day runs smoothly, from catering issues to reigning in an inevitably overbearing mother-in-law.
It's our favourite among the many, many wedding reception venues London has to offer.
Price: The cost for this refined setting can go up to £4,500 to book the venue alone.
The Grand Junction
Located in the St. Mary Magdalene Church, The Grand Junction tops the list of cool but small wedding venues London has to offer with its spell-binding feel.
This sacred space will put a Gothic spin on any modern-day wedding, known for its memorable scenery (some of which features in the heart-wrenching Les Misérables film).
With 200 years' worth of stories captured within its finely decorated walls, you'll be able to spend the day (and night) in the magical presence of various worlds once lived.
Price: This wedding venue in Central London ranges from £500 to £3,700.
Tower Bridge Engine Rooms
Intimate? Check. Affordable? Check. Ridiculously cool? Also, check.
All aboard the fun train, as the Tower Bridge Engine Rooms is definitely on track to be one of the most interesting wedding venues in London.
From Victorian steam engines to the panoramic walkways, you'll have a splendid array of boast-worthy backdrops for your wedding pictures.
The engine room has space for up to 60 guests for a sit-down dinner, making it an excellent small wedding venue in London.
Price: The cost is around £1,635 (excluding VAT) for the venue hire.
Freud Museum London
It doesn't get much weirder than tying the knot in a museum commemorating the father of psychoanalysis. However this ivy-covered building and its elegant garden is London's perfect wedding reception venue.
Whether you prefer the video room embellished with Sigmund Freud's furniture or would rather have your reception dotted with roses in full bloom in the garden, the choice is yours.
With a 60-seat guest capacity, this wedding venue in London is perfect for smaller weddings.
Price: Around £300 for this wedding reception venue in London at the Freud Museum.
Practical Tips for Booking Wedding Venues in London
What is the busiest season for the best wedding venues in London?
From May to October, you'll find that venues will be booked up with lovely couples looking to get hitched. So, be sure to book well in advance for these months.
How long before the date should you book the venue?
It depends on the venue and the date you're looking to book. Just to be safe, you can book a year in advance to secure your dream venue.
Best Wedding Venues in London: Map