Looking for some fun date ideas in London? I've got you covered.
Although it may not be famed for romance when compared to some of the other cities in Europe (ahem, Paris and Venice), London has its own charm – not to mention a helluva lot going on.
From sophisticated wine bar dates and cultured museum mornings to hiring your own canal float and taking a cable car ride across the impressive skyline, London is filled with fun and romantic things to do.
Whether you're planning your regular date night and want to spice things up, or if it's going to be the first time you meet someone – even if you don't fall in love with your date, you'll definitely be head over heels for this beautiful city.
29 Cool Date Ideas in London
Admire the View From the London Eye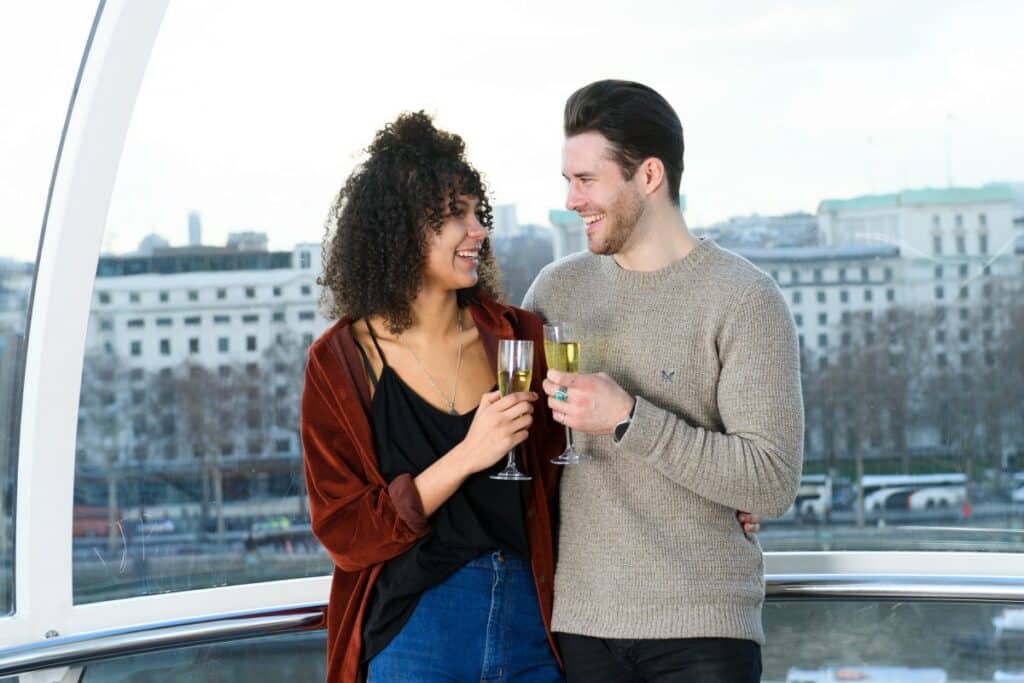 Looking for ultra-romantic date ideas in London? There's nothing quite like a good view to kick off a little romance – and the people at the London Eye know it.
This Valentine's Day, they're offering a special experience for couples turning up the heat.
Skip the queue and go take in the stunning London skyline with a glass of bubbly in your hand and a few Hotel Chocolat champagne truffles to aid the mood.
Feel like being stuck in a pod with a bunch of other people isn't actually that romantic? There's always Cupid's Pod. A whole pod to yourself, chocolates, and a bottle of champagne with a personal host to serve you.
No wonder the place has been the setting for over 5,000 proposals.
Head to a Swanky Cinema
First up, we've got the classic cinema date. But don't just go to a standard chain – no no, that will never do – London has plenty of swankier options that will really impress.
Everyman Hampstead is a top pick: the chairs are unbelievably comfy and the cinema resembles a luxe theatre. Oh, and you can have cocktails and food while you watch? Sounds like a winner to me.
If you're lucky with the weather, you could always visit an outdoor cinema in the capital – my personal favourites are Rooftop Film Club and Secret Cinema. Whilst these cinemas often don't show newly released films, they usually have fun events that can make for an elevated cinema date.
Hire Your Own Canal Boat
For an afternoon of fun, hire a boat and float you and your date around London.
There are a few companies that let you rent their canal boats, but GoBoat is the best. Start at Merchants Square and navigate your way towards Camden Lock along Regent's Canal.
You'll pass Little Venice, Maida Vale Tunnel, and London Zoo on your way through, so there will be plenty to talk about with your date. And once you've finished, there's lots to do in the Regent's Canal area – finish with a drink in a nearby bar for the ultimate date experience.
Scoff Your Face on The Cheese Barge
If you like the idea of a barge date, but don't fancy controlling one yourself, The Cheese Barge in Paddington is one of the best date ideas London offers.
Not only is the menu focused on cheese dishes, with everything from posh toasties to decadent Spätzle making the cut, but you chow down whilst on a 96ft double-decker barge docked at Regent's Canal.
For a really special date, opt for the roof terrace that treats you to views of Paddington Basin and order 3 cheese boards for £10 to share – absolutely divine.
Play Crazy Golf
A round or two of crazy golf at Junkyard Golf is a fail-safe option, and especially perfect if you're still getting to know your date. For one, it's brilliant at avoiding any dreaded awkward silences that can occur in the early days, and it's also really fun.
I'd argue this is one of the best first date ideas London has to offer, but leave your pride at the door… because you will probably be really terrible. And your date will definitely laugh at you.
Have a Park Picnic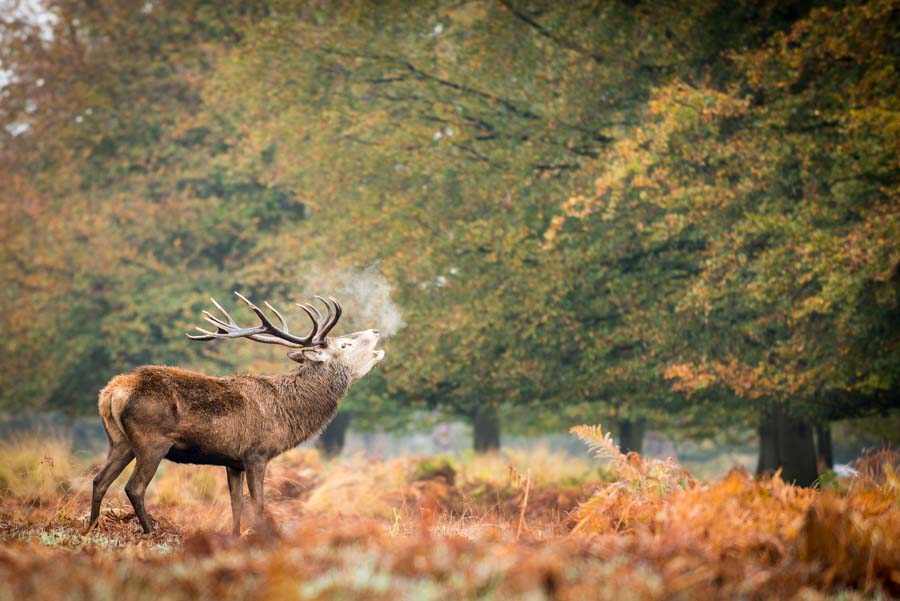 If you're looking for a budget-friendly date in London, a park picnic in one of London's many parks is great.
Not only is this a really thoughtful date idea (bring their fave snacks and flowers for bonus points) but it also allows you to get to know someone in a relaxed environment.
Personally? I would opt for Richmond Park as there's also lots of things to see and do there once you've enjoyed your picnic, including spotting deer together. That said, Victoria Park and Dulwich Park are very pretty options too.
Relax in a Wine Bar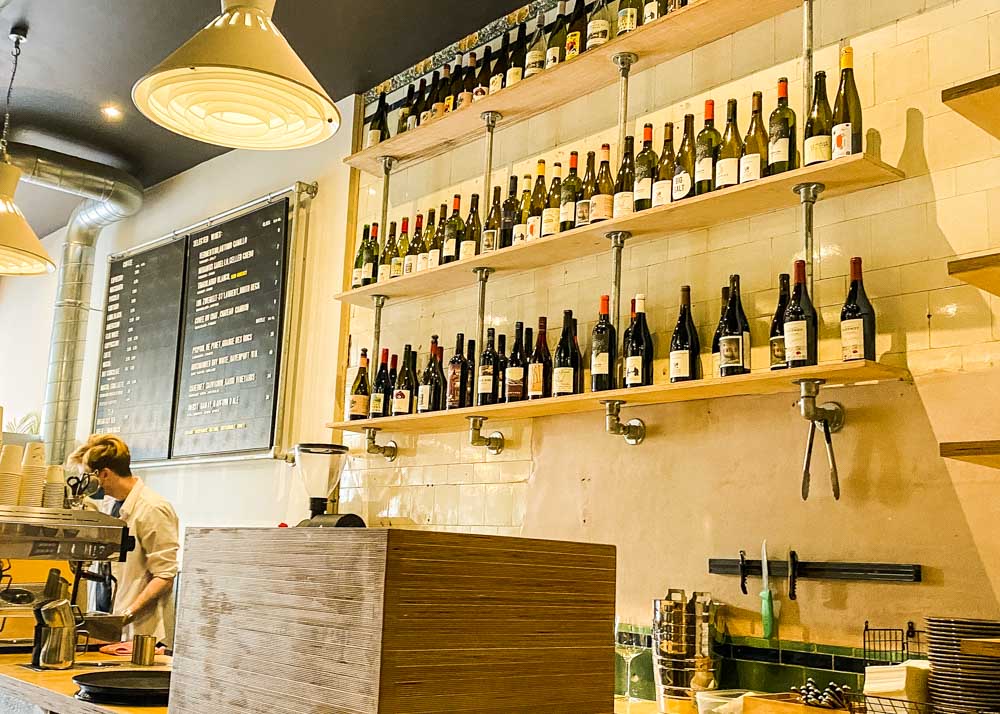 An impressive wine bar date isn't too hard to pull off in the capital – there are so many bars to choose from.
What better way to soothe first date jitters than by throwing a little bit of alcohol into the equation to calm the nerves?
I jest. But sophisticated date nights in London are really fun. I suggest The Cellar King's Cross, a new stylish wine bar in central London serving up some of the finest wines in the capital.
Make sure to swot up on wine knowledge in advance to really impress your date.
Wander Around a Museum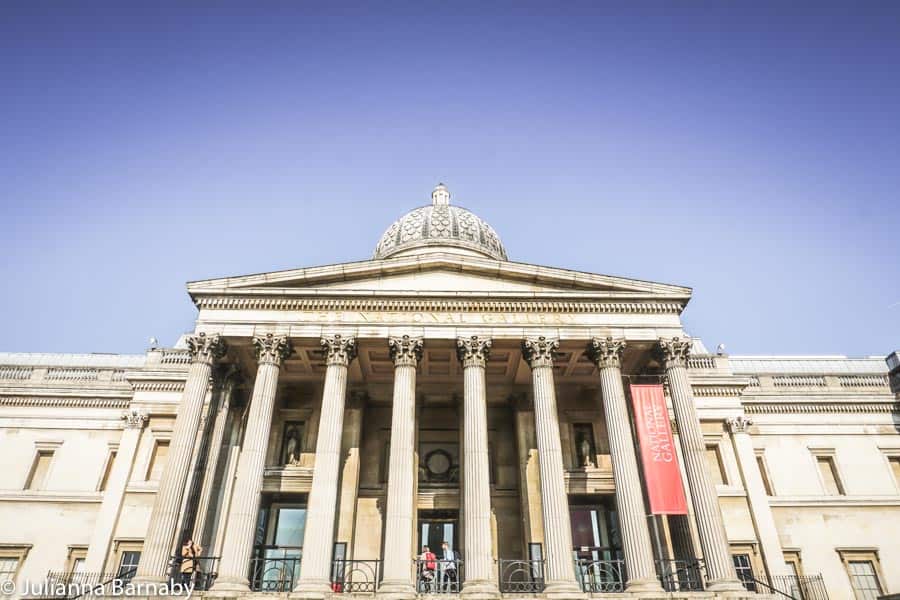 If you're after cheap date ideas in London, it doesn't come any cheaper than the free entry at most of the major museums in the capital.
A safe option would be the National Gallery – handily located in Trafalgar Square and with some pretty famous artwork adorning the walls. Or go to the Natural History Museum, and spend an afternoon together learning about some incredibly rare artefacts.
Chat Over Coffee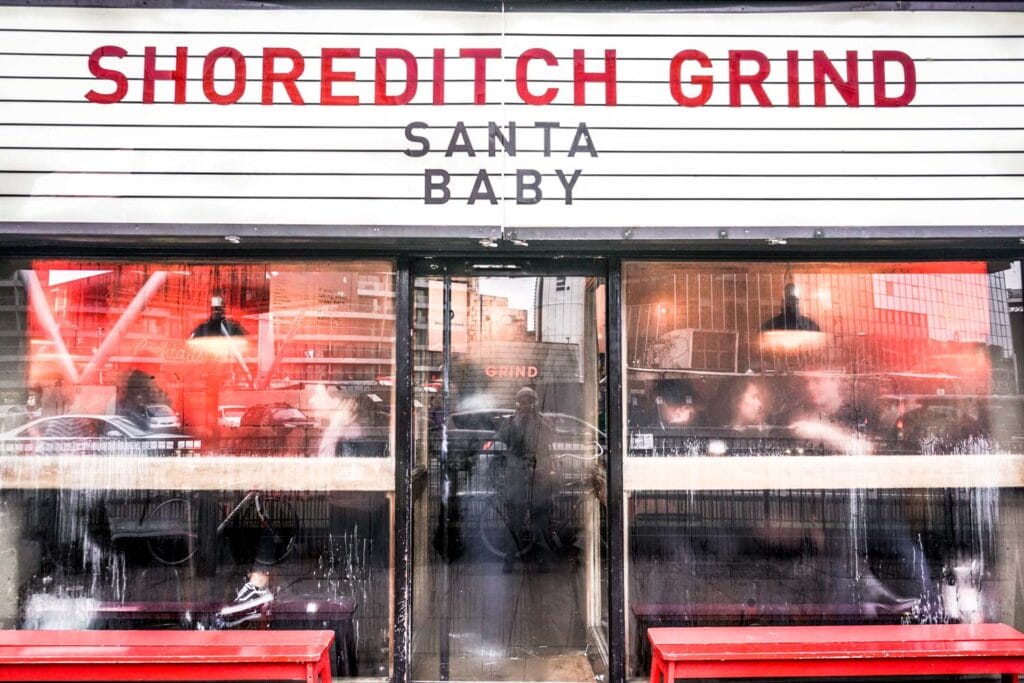 Another classic date idea. If you want to impress, head over to Shoreditch and spend a few hours chatting over coffee in one of the uber-cool coffee shops in the area.
I would go for classic London chain Grind as the coffee shop is large enough that you don't feel like everyone is listening in to your conversations and, more importantly, the coffee is great.
Marvel at the Sky Garden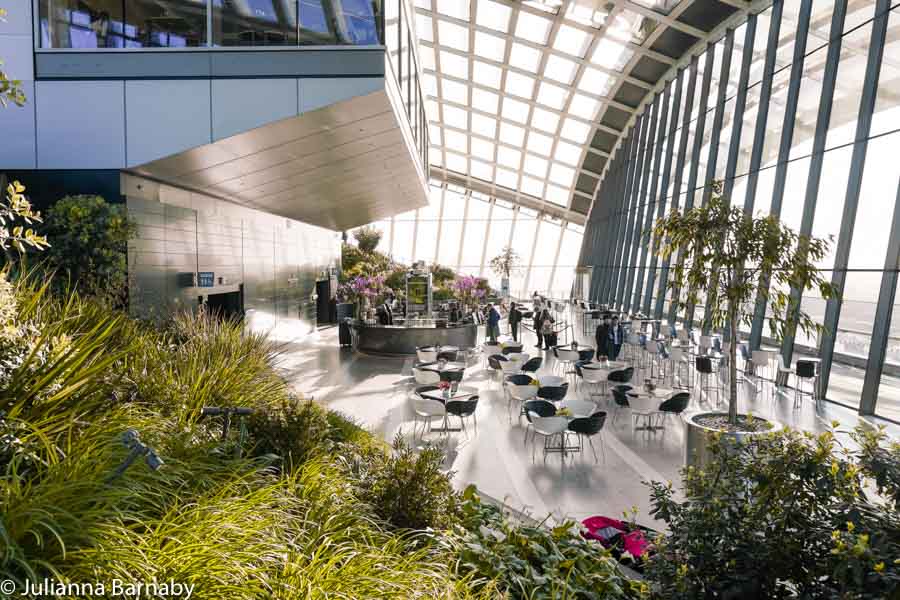 In my opinion, the Sky Garden is one of the top date places in London.
Many people don't actually realise that it's free to enter the Sky Garden – you can treat your date to stunning views from London's highest public garden without paying a penny.
If you want the complete low down on the Sky Garden, including how to beat the queues and the best food spots, read this guide.
Take a Cable Car Ride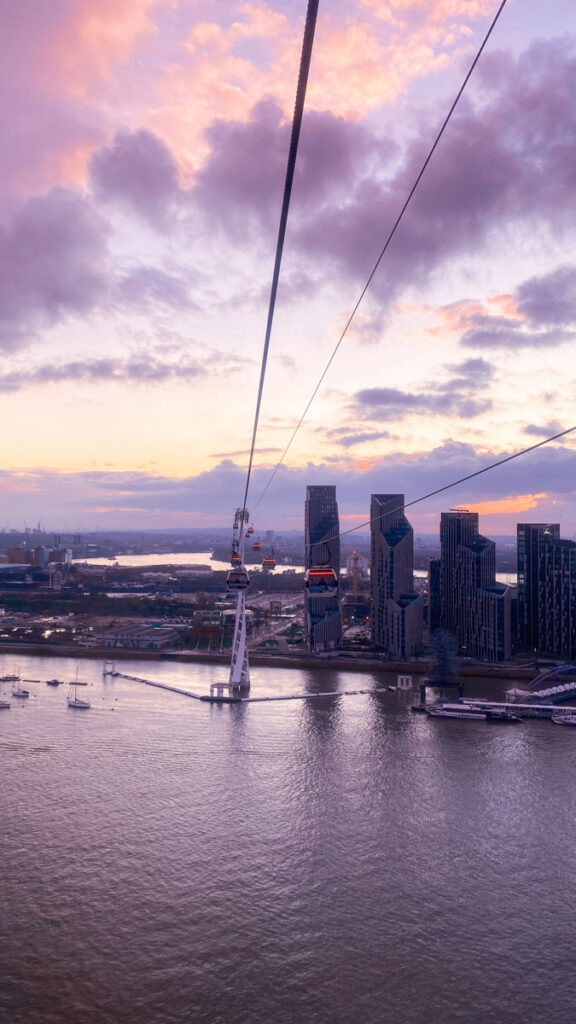 Whilst it's not really long enough to class as a whole date, taking a cable car ride in London is a brilliant way to kick things off.
Book your tickets for the Emirates Air Line and be transported across the Thames via cable car. It's just £4 per person each way, so this is a very affordable experience (especially if you pair it with one of the other cheap date ideas).
Honestly, I can't believe romance and the TFL go together either, but here we are.
Look up at the Stars at Greenwich Planetarium
Remember that super romantic moment in Friends when Ross sneaks Rachel into the planetarium after hours to have a romantic picnic under the stars? Well you can't do that, but you can visit the planetarium in its normal business hours.
They do daily tours of the night sky, and even if you don't have the whole place to yourself it's still pretty magical. Then afterwards you can take in the view from the top of Greenwich park and talk about how one day you might own an apartment together out there somewhere in the big city.
You can even tie this in with our suggestion of the cable cars for a full day out.
Do an Immersive Cocktail Experience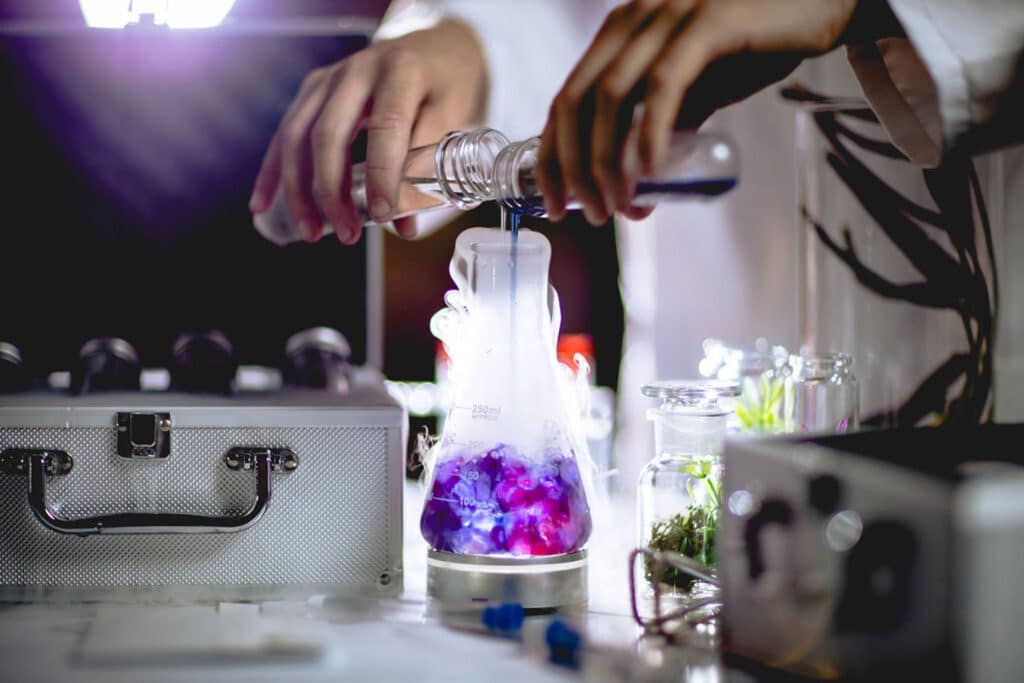 Cocktails are a pretty standard go-to when it comes to dating. The booze helps oil those social cogs, it's also a chance to show a little class. But if you really want to get to know someone you have to see how they act under pressure.
The ideal place to do this won't be in one of London's fantastic cocktail bars, but in one of its immersive cocktail experiences.
Is your date the kind of person that would crack under the pressure of having to solve an Alan Turin code to get a drink? Would they help out the natives in an Avatar-esque realm? Can they handle themselves in a gunfight?
These are the kind of questions you should really be asking about your next romantic interest.
Make Chocolate
Chocolate is a romantic device as old as, well, who knows how old. All we know is that it works.
In the cutthroat world that is London dating, sometimes just a box of chocolates isn't enough. So maybe the answer is to provide your date with the skills they need to make chocolate whenever they fancy it. Give a man a fish 'n' all that jazz.
At this chocolatier you can take classes in how to make the most romantic food of them all. No doubt your interest in kitchen-related activities will also score you some major points with your date. Just try not to do all that licking the melting choccy off each other's fingers in public ok?
Explore Camden Market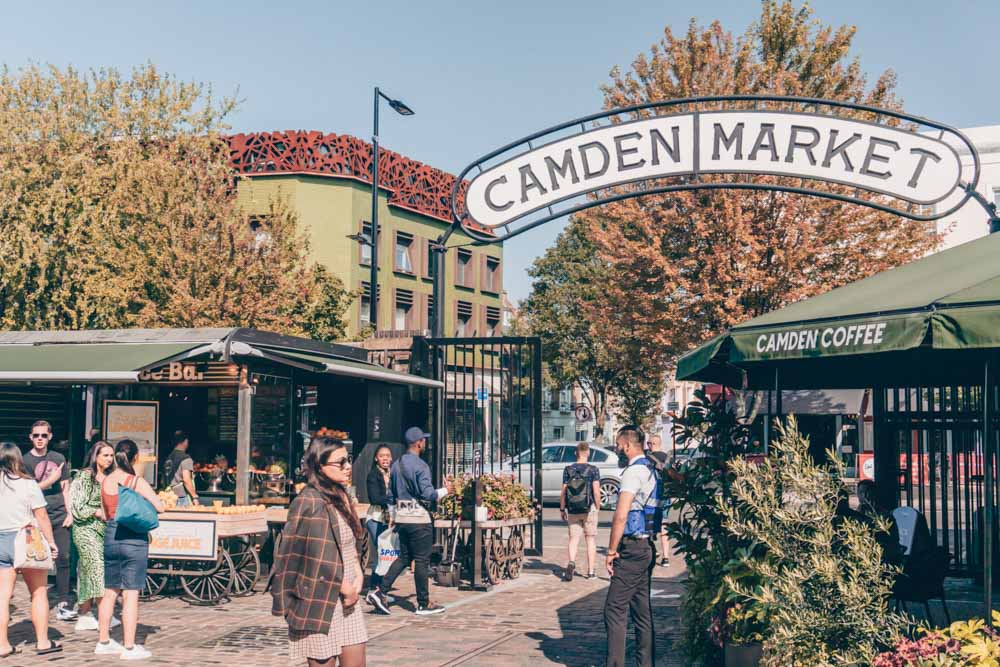 Okay, so exploring Camden Market maybe a tad overdone on a date. But it's a classic for a reason.
There's plenty to do, you can stop for some street food, shop at Buck Street Market, or head over to Inverness Street Market. Make sure you go during one of the quieter times – I recommend Friday morning – or your date will be crashed by hordes of visitors very quickly.
Quaff Drinks on a Rooftop Bar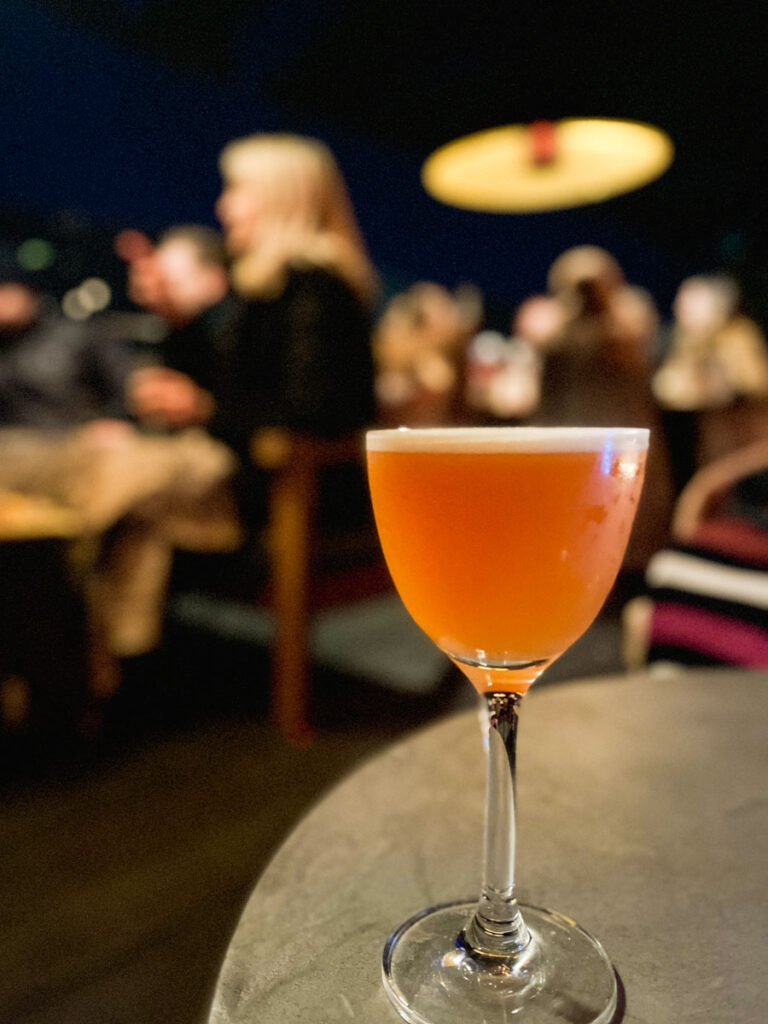 Sipping champagne whilst being treated to stunning views of the skyline is one of the most luxury date ideas London has to offer.
Luckily for you, we've compiled a handy guide to our favourite rooftop bars in London – everything from cool joints offering craft beer and games of table tennis to swanky bars with a matching price tag.
Top picks include The Nest at the top of the Treehouse Hotel and The Castle in Islington for their incredible Aperol Spritz.
Rent a Bike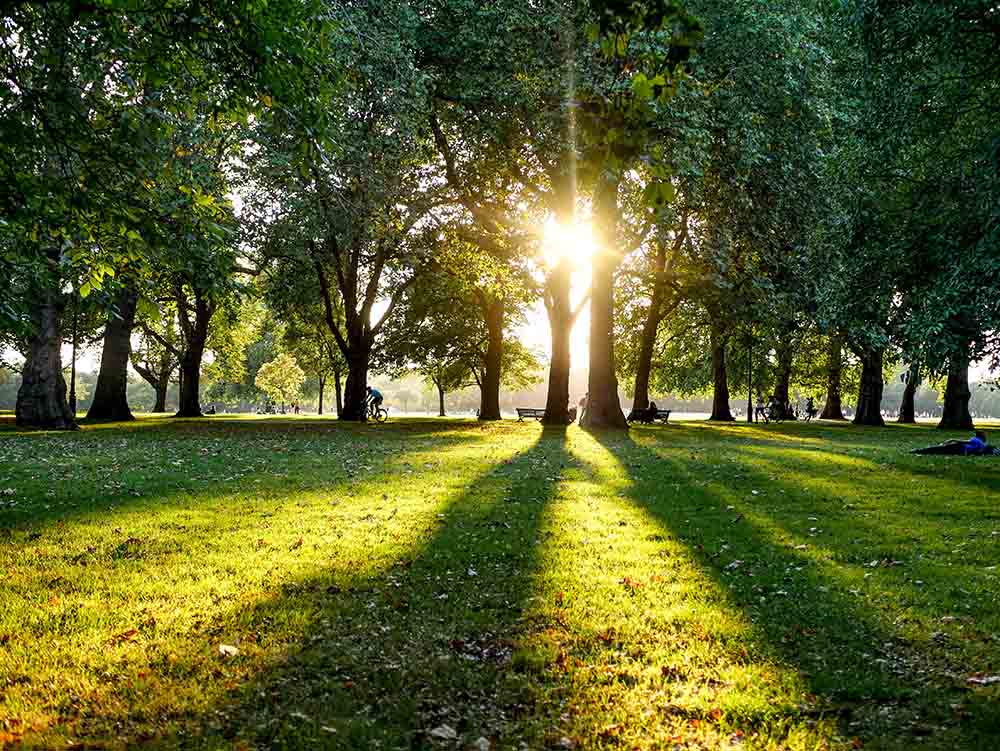 If you're looking for a London date to break the ice, rent a bike and cycle your way through Hyde Park – chaos and laughter are pretty much guaranteed.
The easiest way to do this is to use the Santander Cycles – there are locations dotted around the outside of Hyde Park. You just need to tap your card like you would the tube and you'll be charged through there. It starts at just £2 for unlimited journeys up to 30 minutes.
Lose Yourselves in a VR Experience
If you're looking for a totally unique date, book a VR experience at Otherworld.
You and your date will get taken to a private experience room where you will, quite literally, be transported to another world. Don your VR headset and explore your virtual island – which is fully customisable, by the way.
The best part? You can earn currency in the game which can be spent on real life drinks at the bar.
Discover Columbia Road Flower Market
For a relaxed weekend date, head to Columbia Road Flower Market and check out their gorgeous blooms.
Enjoy a leisurely stroll and marvel at the rows of tulips and roses on offer…. and I'm sure your date would love it if you picked them up a bouquet.
This East London gem is one of the best places to go on a date – once you've finished at the market you can check out some of the cafes and bars nearby.
Indulge in Bottomless Brunch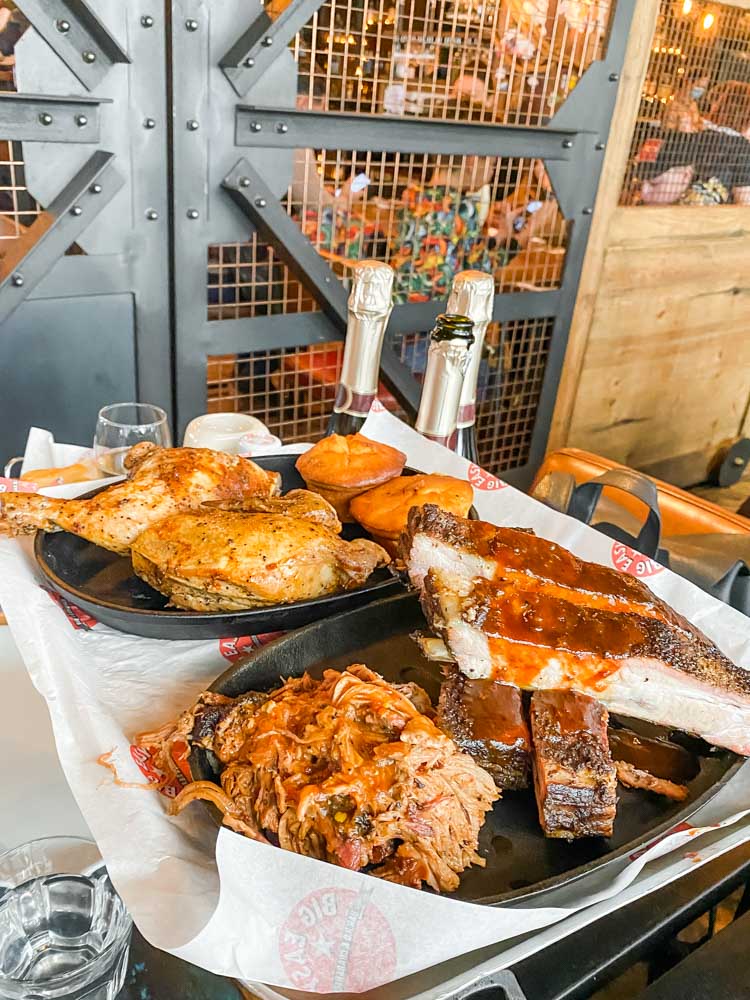 Is there anything more fun than day drinking with someone you fancy? I would argue no.
These brilliant bottomless brunches in London allow you to do just that. From high-class prosecco and avo toast to fried chicken pancakes, there's something to suit all budgets and tastes.
Get Lost in God's Own Junkyard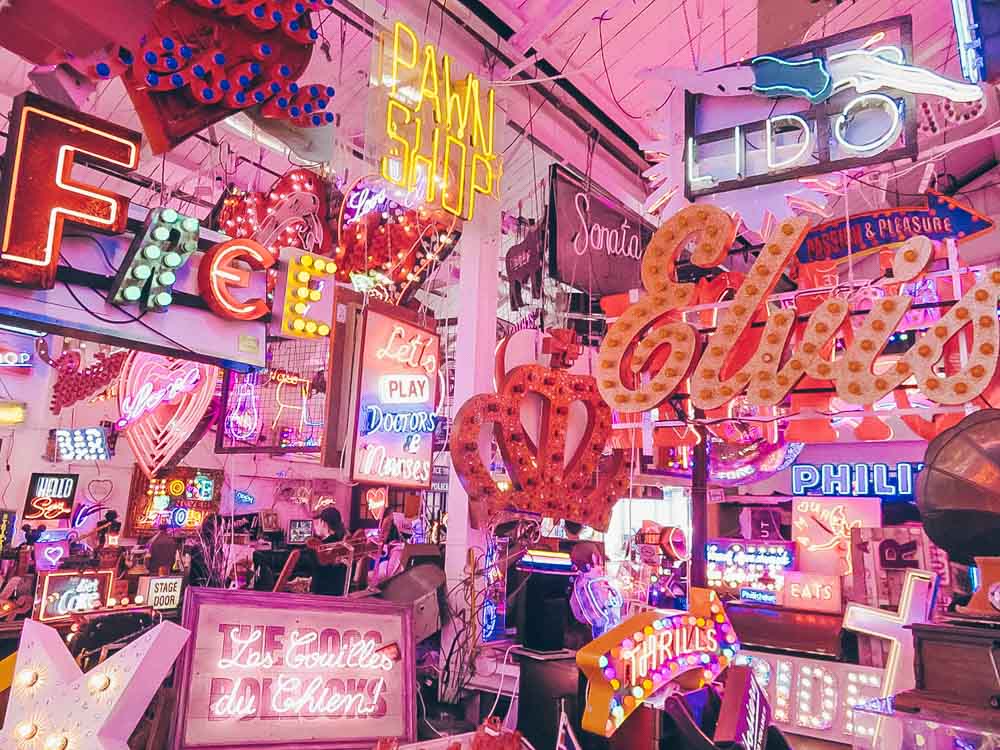 It's no secret that I'm a huge fan of God's Own Junkyard – there's something so fun about oohing and aahing over the neon lights at the warehouse.
Situated in Walthamstow, this funky joint is filled to the brim with catchphrases and images, which makes it so fun to explore. You can also grab a drink at the Rolling Stones cafe onsite.
It has to be said that it can get a little busy here as the warehouse is only open on weekends – but get here early and you should have a really enjoyable date.
Get out of Your Comfort Zone at Kitchen Theory
Embark on a multisensory experience at Kitchen Theory's Chef's Table Supper Club.
Chef Jozef Youssef guides you through a weird and wonderful 10-course meal, nestled away in a private Victorian loft.
This is perhaps not the ideal place for a first date as there's not much chance to get to know each other, but it is a really cool experience that I highly recommend.
Head to the Beach
Looking for outdoor date ideas in London? Head to the beach in Ruislip.
So, this one is definitely weather dependent, but if you find yourself looking for an impromptu date location on a hot day, what better way to relax with someone than on the beach?
It's free to enter, so bring a picnic along too and you've got a very cheap (but unique) date.
Ride the Sunset Steam Express
For a luxury date experience, board the Sunset Steam Express and tour the Surrey hills whilst having a fine dining experience (or bring a picnic along).
Trains depart from London Victoria, with tickets starting at just £59 per person. The journey takes around 3 and a half hours, allowing you to soak in all the sights that this Area of Outstanding Natural Beauty offers.
Book a Restaurant with a View
This is another date idea in London that suits all budgets. Book one of these restaurants with a view and enjoy great food while perched in an ideal spot.
From people-watching at Lockside Camden to sweeping views of the city from a table at Aqua Shard, this is a date that impresses.
Paddleboard Along Regent's Canal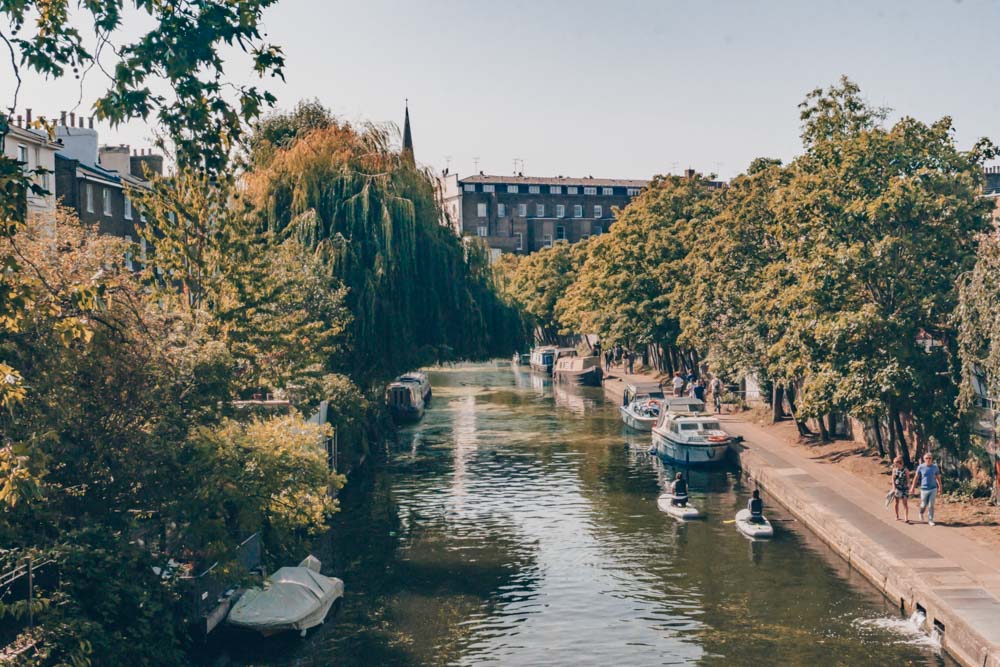 Paddleboarding is possibly one of the most fun (and random) date activities London has to offer. Surprisingly, there are actually many companies that offer paddleboard rental in the capital, and many areas in which you can go.
If you're a beginner, head to Kew Bridge or Limehouse Basin for easy waters and a relaxed experience.
Play Ping Pong at Bounce
With a few locations all across London, Bounce is a quirky bar that allows you to play ping pong.
Prepare to unleash your competitive side and take on your date in a few games of table tennis – all while you sip cocktails.
After you've built up an appetite, you can order a pizza from the bar, which is totally delicious.
Watch the Sunset from Primrose Hill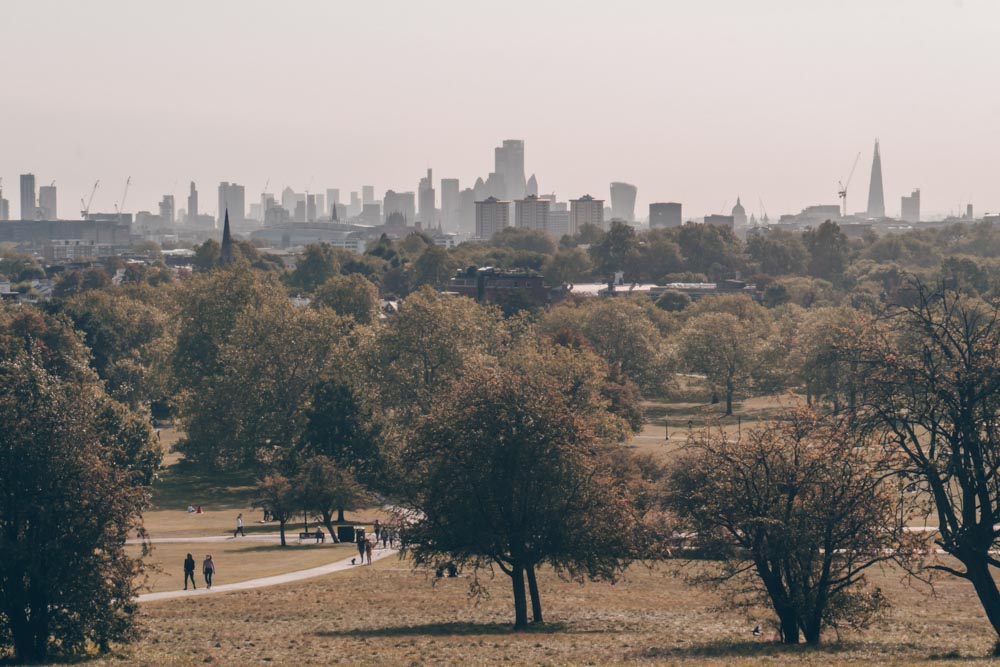 A total cliche? Yes. Ultra romantic? Also yes. It just wouldn't be a London date guide without including at least one sunset spot.
The Primrose Hill area itself oozes romance – filled with pastel houses and charming cafes where you can grab some snacks before setting up camp on the hill.
Bring a blanket to perch on and a bottle of wine, and you've got yourself one of the cheapest date ideas London has to offer. All it costs is the tube tickets to get there and the bottle of wine (and if you go Dutch it's even cheaper!).
Visit the Theatre
London has plenty of theatres, mainly in the infamous West End area, and a visit to the theatre is the perfect way to spend a date night (especially if you go for drinks after).
Whilst a trip to the theatre can be quite expensive and requires advanced planning, this is one of the most fun date nights in London.
My top picks? You can't go wrong with Les Mis at the Sondheim, or opt for Pretty Woman at The Savoy – the ultimate guilty pleasure. Or, I recently watched Six at The Lyric Theatre and it was a night filled with pure LOL's and girl power.
Take a Romantic Stroll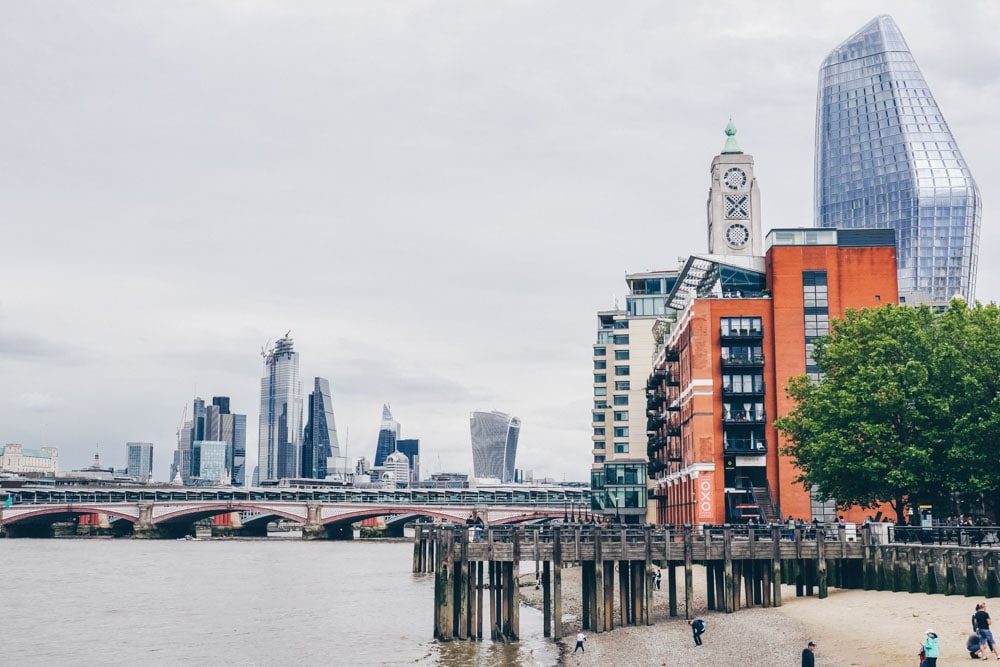 London is filled with pretty walks that provide the perfect backdrop to a casual date. Low fuss, free, and as long as you want to make it, what's not to love?
Whether you fancy getting off the beaten track in Sydenham Hill Wood, or want to explore more of the city via Southbank, there's a walk to get everyone's hearts racing.
Visit London Zoo
A date at London Zoo is as adorable as it is fun. Spend an afternoon wandering around and admiring some of the funniest, cutest, and rarest animals in the world.
Keep your eyes peeled on the website for special events too – this summer the zoo is opening their doors for twilight sessions with champagne (which sounds like a great date, if you ask me).
Try Your Hand at Pottery
Pay a visit to Skandihus and spend a morning attempting (I say attempting because mine ended in disaster) to make your very own piece of pottery with your date.
If the pressure of being in a class is too much, grab one of their clay kits and make the pots at home. Either way, it's a great way to get creative and lose your inhibitions.
Date Ideas in London: Mapped
Looking for More Date Nights in London?