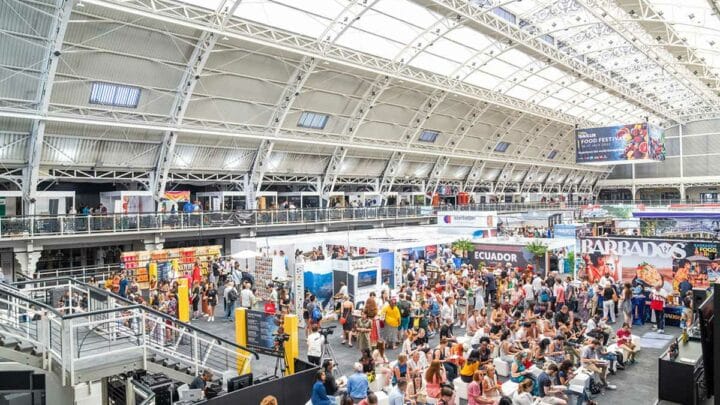 Looking for food festivals in London? Look no further – we've got you covered with this guide to the top foodie events in the capital.
When the sun starts to show itself after months of hiding away through Winter we at
London X London get excited. Not just for the chance to groove on down at some of London's world-class music festivals, but to eat ourselves silly at some of its excellent food festivals too.
From old favourites like Taste of London to lesser known culinary adventures. From whole festivals dedicated to BBQ and others set aside entirely for chicken wings, London never leaves you lacking for choice. But which ones should you hit?
Read on for the best London food festivals.
Best London Food Festivals
Marylebone Food Festival
25th – 30th April 2023
With an opening night feast hosted by the best chefs in the neighbourhood, and none other than top-foodie Jay Rayner, Marylebone Food Festival doesn't mess about.
The five-day affair then devolves to the restaurants and bars of Marylebone where you'll be able to eat off limited-edition menus, catch pop-ups on everything from masterclasses with top chefs, to butchery lessons and sophisticated wine tastings.
Obviously, you're going to be feeling pretty good about doing a bit of the above, but you can feel even better when you know that all the proceeds from Marylebone Food Festival go to The Food Chain, a local charity dedicated to making sure people with HIV have access to nutritious meals.
Pub in the Park
Multiple locations
Multiple dates from May – September 2023
Pub in the Park is now officially the biggest touring music and food festival in the UK. They drop by towns, villages and thankfully for us, London in 2023 to do more of what they do best.
That is getting some of the UK's most talented chefs to knock up delicious examples of what they prepare at their restaurants and pubs. The lineup regularly features faces you might recognize off the old tele box – Ainsley Harriot and Tom Kerridge to name a couple.
The London Locations for 2023 are Wimbledon (12th-14th May), Dulwich (9th-11th June) and Chiswick (1st-3rd September).
Taste of London Festival
Regent's Park
14th – 18th June 2023
Probably the biggest food festival London has in the calendar, Taste of London takes over a segment of Regent's Park in mid-June to bring the whole city's foodie community together for a five-day feast.
Attendance regularly reaches around 50,000 and it's no surprise why. The festival gathers all of the hottest restaurants from around London, seeks out those up-and-coming chefs, plus a couple well-established big-hitters and has them cook up a storm under afternoons of (fingers crossed) beaming sun.
Naturally, the cocktails flow too and the thing turns into something like a party where the host went way OTT on the catering. If you're into eating, you'll want to be at this one.
London Restaurant Festival
Citywide
June and October 2023
Returning for its fifteenth year running in 2023, London's Restaurant Festival is a cornerstone of the high-end food fest schedule in London.
During the month-long event restaurants all around the city will offer limited edition menus where you can sample the best of what each restaurant offers. We're not talking peanuts here either, chefs often involved helm Michelin-starred kitchens or came at the forefront of their chosen cuisines cooking worldwide.
They run two every year so you can sample the best of all the seasonal ingredients. The first is throughout June and the second in October.
Taste of the Caribbean Food & Drink Festival
Multiple locations
Multiple dates in July 2023
Taste of the Caribbean has quite an accolade to its name: it's the largest festival of Caribbean food and drink in Europe. How do you get stuck into a bit of that action, we hear you ask…
Well, the festival travels around six locations across London in July taking the best of Britain's Caribbean chefs, drinks and dishes with them as they go.
It's not all about the food though. Taste of the Caribbean lay on the entertainment too. There are performances, cooking demonstrations, activities for all ages, funfairs and even the odd eating competition.
Nat Geo Traveller Food Festival
Angel
15th + 16th July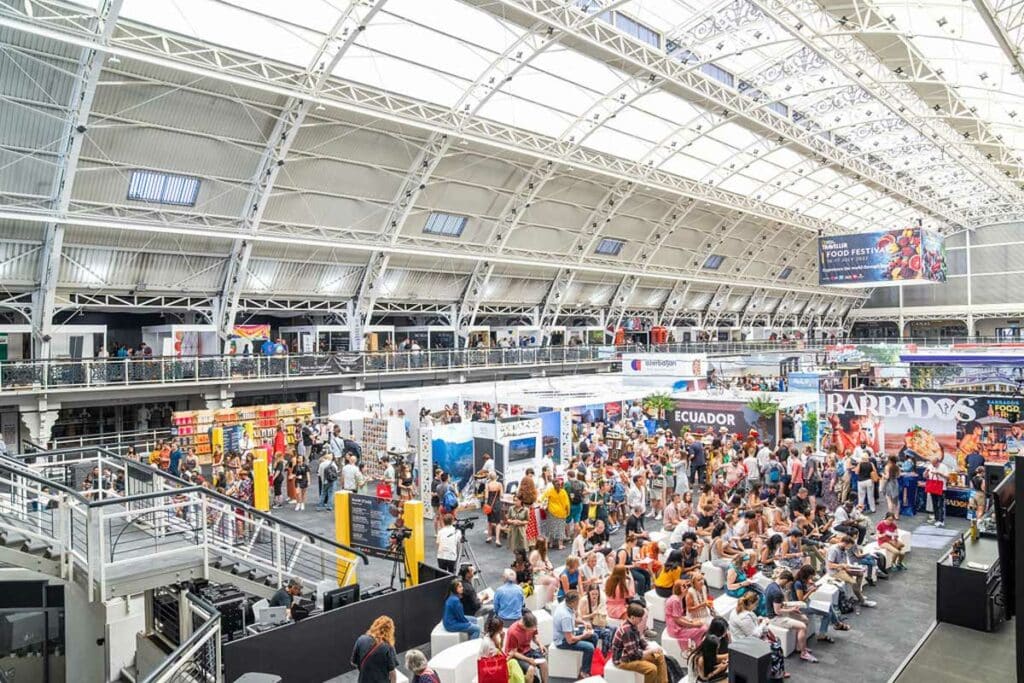 A great meal, they say, can transport. It can send you halfway around the world to the place where you first tasted the dish on a holiday decades ago. No surprise then that some of the biggest travel fanatics out there are throwing a food festival.
Yep, National Geographic Traveller is getting close to 80 independent stalls together where you can sample the best from all over the world under one roof.
Stalls at The National Geographic Traveller Food Festival even get the backing of their home nation's tourism board so you know they've gotta be legit.
London Wing Fest
Stratford
28th – 30th July 2023
Even the title of this one has our mouths drooling. London Wing Fest is exactly what it says it is: a festival of all things wing.
They take over the London Stadium in Olympic Park and turn it into wing paradise. From the Korean to the Cajun and everything in between, you'll be dolloping hot sauce on a variety of wings from the best of London's businesses.
Entertainment wise things take a turn for the wild with games like axe throwing done under the influence of killer bourbon cocktails and live music to be enjoyed with more of the same.
Meatopia
Tobacco Dock
31st August – 3rd September 2023
Meat lovers, listen up! This one's for you. Meatopia is a whole food festival built around a love of meat and its varied cooking methods, special attention here is paid to the naked flame and the hot coal.
The festival is pretty special. They get in over 70 naked-flame chefs from all over the world to showcase their take on the oldest cooking method in the book. Meat, fish and veg are all on the menu and are all guaranteed to be sourced sustainably.
Previous alumni of Meatopia include Francis Mallmann, Fergus Henderson and Yotam Ottolenghi to name a few. Yep, they really don't mess around.
Tickets and more information here
Hampton Court Palace Food Fest
Kingston-Upon-Thames
26th – 28th August 2023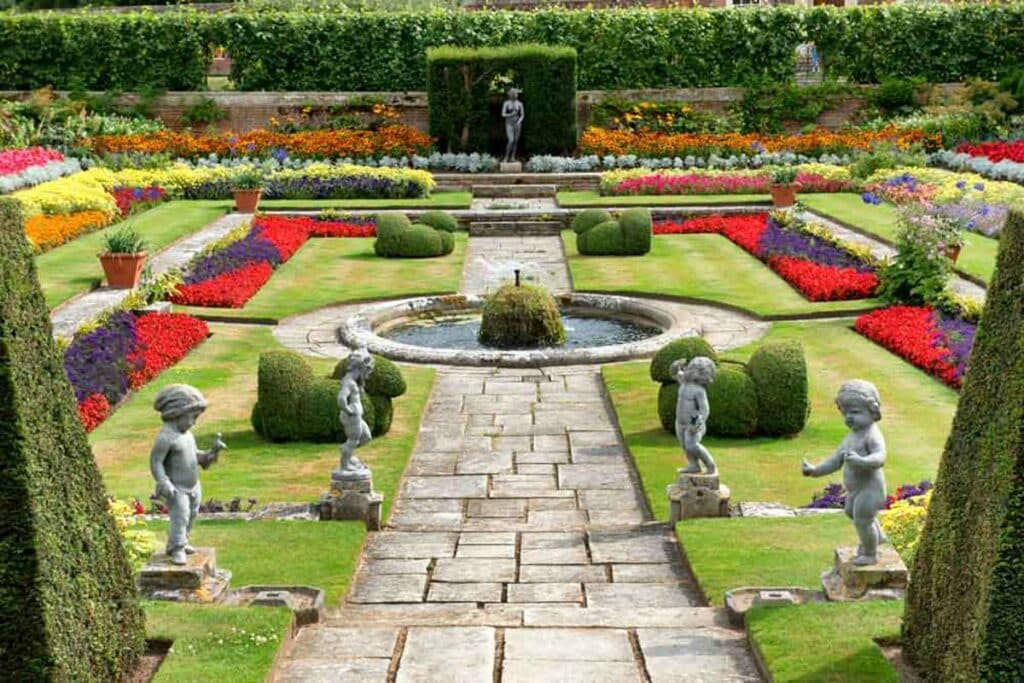 Ready to put a new spin on the term eating like a King? Hampton Court Palace opens their royal grounds up to a festival of all things food when the summer swings around.
This one has the bonus of feeling a bit more like a traditional English fete than a full on festival like some of the others in our guide. There's plenty of activities and entertainment to give the event a real celebratory feel.
That, combined with a spread of delicious eats, French wines and the chance to explore Henry the VIII's palace makes for quite the day out.
London Halal Food Festival
Stratford
Dates TBA
Like the sound of swanning around a food festival in the sun with your friends but worried they might not serve that good halal grub? Worry no more. The London Halal Food Festival has announced that they will be back for 2023.
Though they haven't announced the exact dates but based on the previous seven years of their operation we can guess that they'll be taking over Olympic Park's London Stadium and for one day, and one day only, turning the place into a veritable Mecca of halal eating.
There'll be cuisines from all over the world, as well as mocktail bars and even a halal eating competition for anyone who thinks they've got what it takes to out eat the competition.
Vegan Life
Hornsey
9th + 10th March 2024
If you've been to a food festival in London you've probably noticed how vegan-friendly some of the food on offer can be. Never is that more true than at Vegan Life Festival where literally all you can get is vegan.
Now that may not sound like everybody's cup of tea, but wait till you feast your eyes in the Ally Pally filled to bursting point with 200 stalls slinging vegan food that's good enough to stand up to its non-vegan rivals.
Practical Tips for Exploring the Best London Food Festivals
Make sure you book a ticket and do so well in advance if you can. Some of the smaller festivals have limited spaces and will sell out of tickets.
Some tickets come with food tokens but expect to spend more than your ticket price once you're in.
Suncream, folks. Most of these events happen at the peak of summer. You don't want to end up as red as the lobster on your plate as you dine out under the sun.
London Food Festivals: Map