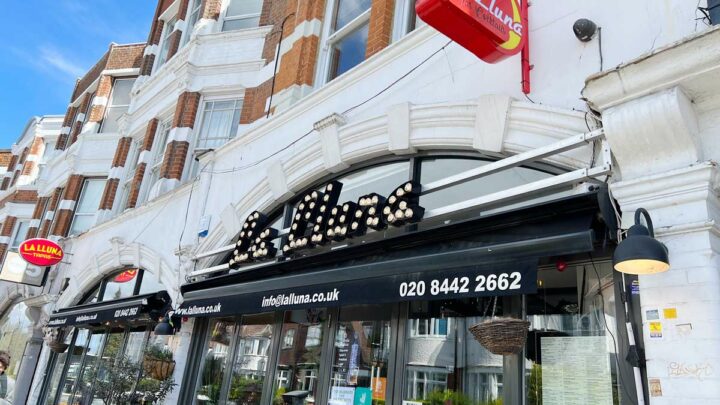 Muswell Hill is a beautiful North London suburb with a stellar reputation for its independent and international restaurants and cafes. Here are some of the best restaurants in Muswell Hill.
Muswell Hill is an urban hilltop village with wonderful views across the London skyline.
This super-desirable area has attracted some superb restaurants over the years, many of which are packed along the beautiful stretch of Muswell Hill Broadway.
From fancy French spots to cosy tapas joints, here's our pick of the very best restaurants in Muswell Hill.
Best Restaurants in Muswell Hill
La Lluna
££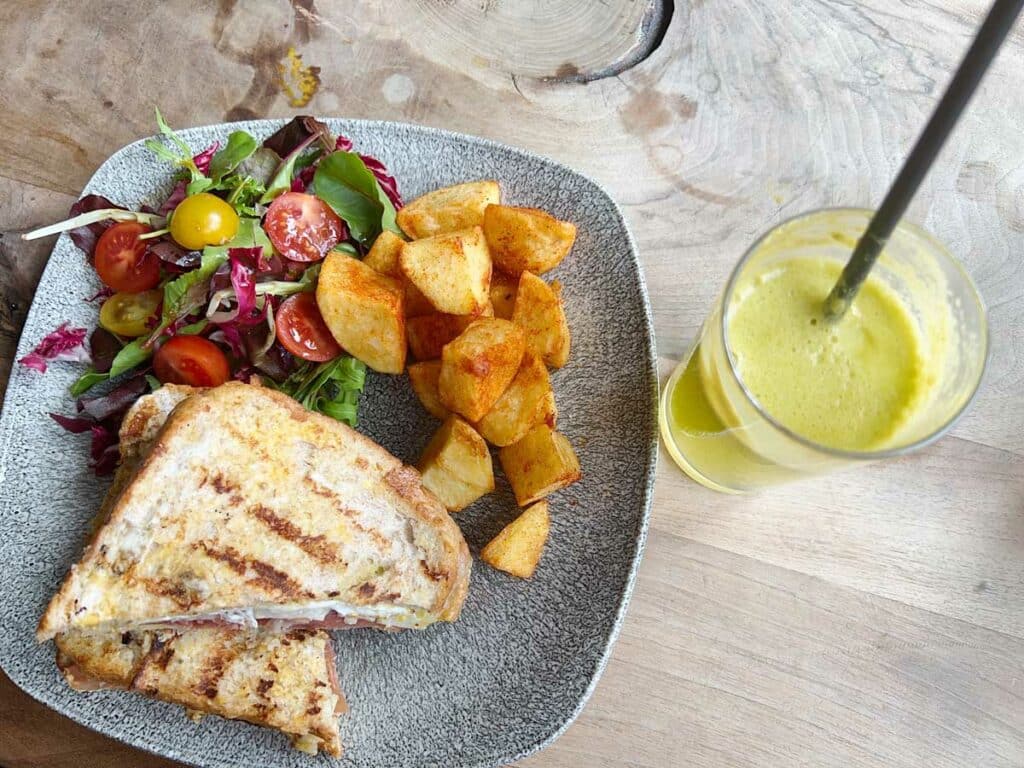 A beautifully authentic Spanish restaurant in the heart of Muswell Hill, La Lluna has a warm ambience and is a relaxed venue with plenty of space indoors and out.
The modern tapas menu is extensive and diverse, with fish, veg and meat dishes. Paella, churros, tortilla, jamon iberico, sangria, cava and all your go-to Spanish dishes and drinks are well-represented. Even those fussy with tapas will find ample plates to tuck into here.
La Lluna is a Spanish restaurant to savour and remember – it's no surprise it's rated as one of the best restaurants in Muswell Hill.
Fasta
£
Fasta is pasta that doesn't mess about. It's fast (hence the name), it's affordable and it's delicious.
The menu offers a massive variety of pasta types and sauces, so you can build and customise your pasta to your heart's content. Start with the likes of penne and tagliatelle and top it off with sauces like bolognese, pesto, caprese and alfredo.
Who knows – you might just rustle up your new all-time favourite pasta dish.
A healthy quantity of snacks, including garlic bread, pitas and hummus, back up the pasta menu.
Côte Brasserie
££
Super-successful chain, Côte Brasserie brings a taste of Paris to Muswell Hill. The diverse menu features classic French dishes, such as coq au vin, bouillabaisse and steak frites. Try the set menu if you're up for a proper three-course meal.
The steaks and fish are fantastic, but to be honest, you can't go wrong with a modern French menu like this – it's all pretty damn good. Of course, the menu wouldn't be complete without a fancier-than-average selection of French and international wines.
Set inside an intimate venue on the Muswell Hill Broadway and with a commitment to fresh, high-quality ingredients, Côte Brasserie offers a delicious and reliable French dining experience that rarely misses the mark.
Korto
££
Korto blends Southern Mediterranean, North African and Middle Eastern flavours with a diverse menu. The venue has a stylish and cosy atmosphere, perfect for a casual lunch, dinner, or weekend food and drink with friends and family.
Their breakfasts are awesome, with rancheros, sandwiches and shakshuka all on offer. Head there a little later in the day and you'll discover that the lunch menu includes a range of sharing plates, salads, sandwiches and delicious homemade desserts. They also sell high-quality coffee from small-batch roasters Fireheart.
Be aware – Korto is only open for breakfast and lunch, with the lunch menu running from 12 to 3 pm. Don't make the mistake of heading there for a late lunch or dinner, as they won't be open.
The Real Greek
The Real Greek is a highly successful small chain that any Greek food fan will likely be familiar with already.
The restaurant offers a variety of meze, souvlaki and grilled dishes, all made with fresh ingredients and traditional recipes. A cracking range of authentic Greek wines and ouzo add that little extra authenticity.
It's inexpensive with generous portions and stellar service – and don't sleep on the brilliant souvlaki wraps, which are great to eat in or take away.
Bar Esteban
Though somewhat south of the Muswell Hill area, Bar Esteban is more than worthy of its place in the list with its selection of delicious tapas and fine Spanish wines.
This much-loved tapas bar offers a range of traditional tapas dishes, such as croquetas, patatas bravas, and gambas al ajillo, as well as more innovative contemporary tapas options. The cocktails and drinks menu is also superb, which gets many people hanging around the bar for hours after finishing their meals.
With a warm atmosphere and friendly service, Bar Esteban is an outstanding tapas bar south of Muswell Hill in Crouch End.
Midori Japanese Restaurant
Muswell Hill restaurants are an eclectic bunch. Midori is no exception.
This fantastic Japanese restaurant offers classic dishes like tempura, donburi and sashimi – but that's not all, as Korean and other Asian cuisine is represented, too, with a delicious selection of udon and rice dishes.
The venue itself is totally unfussy and relaxed, which many visitors love. A superb Japanese restaurant Muswell Hill.
Cilicia Cafe & Restaurant
Ready for yet another superb internationally-inspired restaurant on the glorious Muswell Hill Broadway? Cilicia focuses on flavour-packed Mediterranean dishes, with kebabs, mezze, grilled meat and cassoulet making up the majority of the menu.
Cilicia has established a rock-solid reputation among locals and foodies from across London. And we can see why. The main courses are wonderful – super meaty and filling, with plenty of veggie dishes, including falafel, halloumi and salads.
We think this is one of the most exciting places to eat in Muswell Hill – and the competition is hot.
La Porchetta
A guide to the best restaurants in Muswell Hill wouldn't be complete without a top-notch pizzeria.
La Porchetta hits all the right notes if you want delicious pizza or pasta. The pizza and pasta menus are enormous, with all your typical favourites represented, along with some inventive options that might tickle your fancy.
The venue is warm, relaxing and not too fancy or pretentious. Every neighbourhood needs a quality pizzeria, and La Porchetta ticks all the boxes.
Other Places to Eat in Muswell Hill
Toff's of Muswell Hill
Toff's is a fantastic fish and chips shop that has been serving locals since 1968.
With a commitment to using high-quality, sustainably-sourced fish and freshly-cut chips, Toff's has a cod-like reputation and has firmly established itself as the plaice to go for authentic fish and chips in Muswell Hill.
But wait, it's not just a fish and chip shop – you can sit down and enjoy your meal with tables and chairs, which is great. The service is faultless, and prices are reasonable given the price of fish right now.
Toff's is a must-visit for anyone seeking traditional fish and chips in Muswell Hill.
Bob's Café
A fun Muswell Hill restaurant and cafe, Bob's Café is a relaxed, all-day eatery that offers a mix of delicious dishes in a comfortable and friendly environment.
The menu includes a range of breakfast options, such as eggs Benedict and French toast, sandwiches, salads and heartier dishes for lunch and dinner.
Dinner is covered by a diverse selection of curries, tacos, pasta, burritos and nourish bowls, too. The café also offers a selection of homemade cakes and pastries – the perfect accompaniment to afternoon drinks.
ChrisKitch
ChrisKitch – founded by Gordon Ramsey-trained chef Christian Honor – focuses on creative, modern dishes made from the freshest local ingredients.
It's developed into a much-beloved local establishment with a reputation for its delightful brunch menu, which includes offerings like avocado toast, shakshuka and a variety of homemade pastries.
The menu is mega fresh and so colourful – a must-visit if you're a fan of super-vibrant dishes bursting with unique flavours.
Crocodile Antiques Café
Located within the Crocodile Antiques shop, the Crocodile Antiques Café serves a selection of homemade cakes, sandwiches, and salads in a unique environment.
Surrounded by vintage furniture and décor, diners can enjoy a leisurely lunch or afternoon tea while enjoying this quirky shop's atmosphere.
The pastries and cakes here are the headline act, and it's a delightful location – an excellent option for those looking to support small independent businesses.
Practical Tips for Exploring The Best Muswell Hill Restaurants
Muswell Hill food is abundant along its main artery – Muswell Hill Broadway. Head there and you'll be spoiled for choice. It's a stunning street too, with superb views of London.
If you're searching for a quality restaurant, Muswell Hill is a great place to eat in London, away from the inner city. Muswell Hill is a gorgeous suburb, and it's not a surprise that it's such a desirable place to live. Restaurants in Muswell Hill are super-diverse, catering to small businesses, independents and chains.
Muswell Hill doesn't actually have a tube or overground, so you'll probably need to bus there. It's not far from Alexandra Palace.
Muswell Hill Restaurants: Map
Muswell Hill Restaurants: Read Next