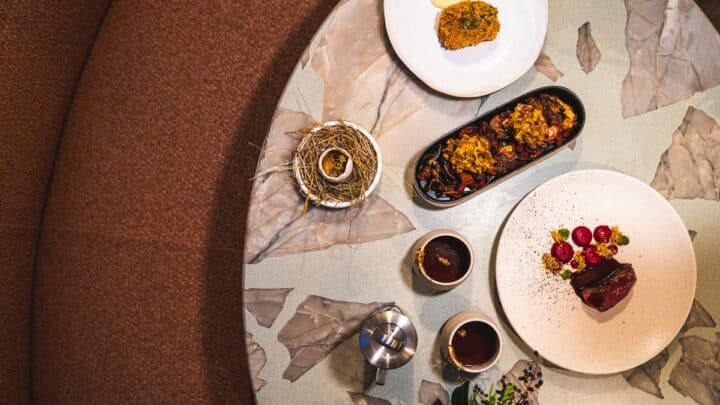 Want to eat out but don't want to contribute to planetary destruction? We feel ya. Here's the pick of sustainable restaurants in London.
Did you know that one third of the world's food gets wasted? And that one third alone contributes to 8% of greenhouse gas emissions.
Yep, it's a tough pill to swallow.
Luckily there are a fair few restaurants serving food that goes down easier. Here's our pick of the best sustainable places to eat in the city.
Native
Mayfair
£££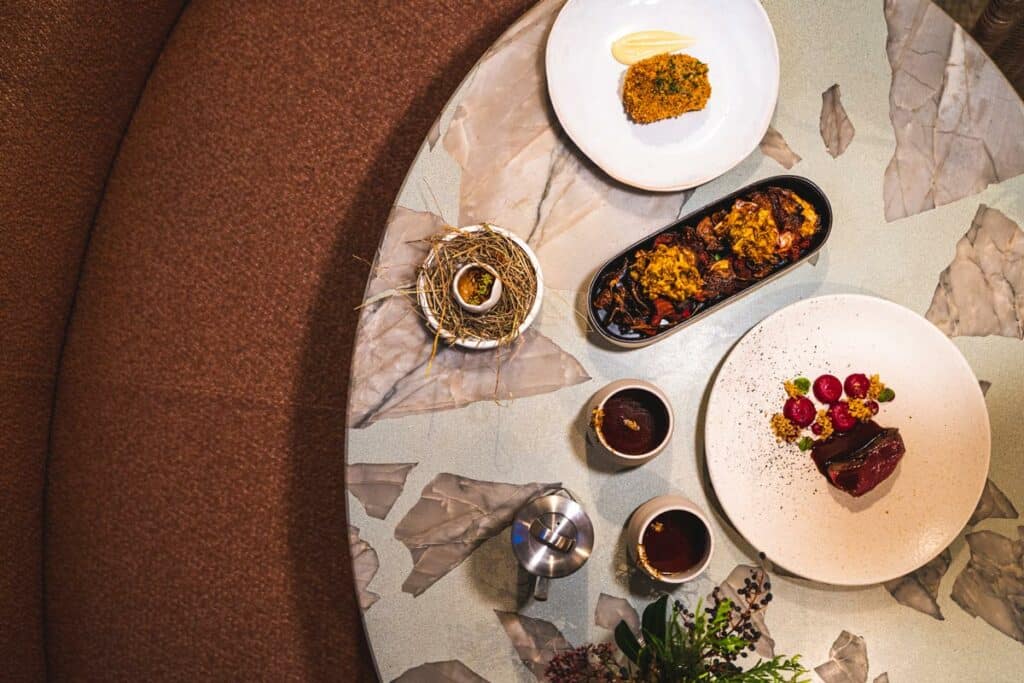 Wild food enthusiasts Ivan Tisdall-Downes and Imogen Davis – the duo behind Native – are the pioneers of wild food in the UK.
After some time spent traversing the city, they've carved out a permanent home in Brown's boutique in Mayfair where they continue their stint as one of the most sustainable restaurants in London.
We love them for their carrots with the tops still on, their fine selection of natural wines, their zero-waste pre-dinner snacks. Oh, and the fact that they lead foraging trips around local parks they donate £1 from every bill to Farms for City Children.
So much to love and we didn't even mention the seasonally-changing of reasonably sourced meat and foraged veg. How could you resist?
Fallow
St. James's
£££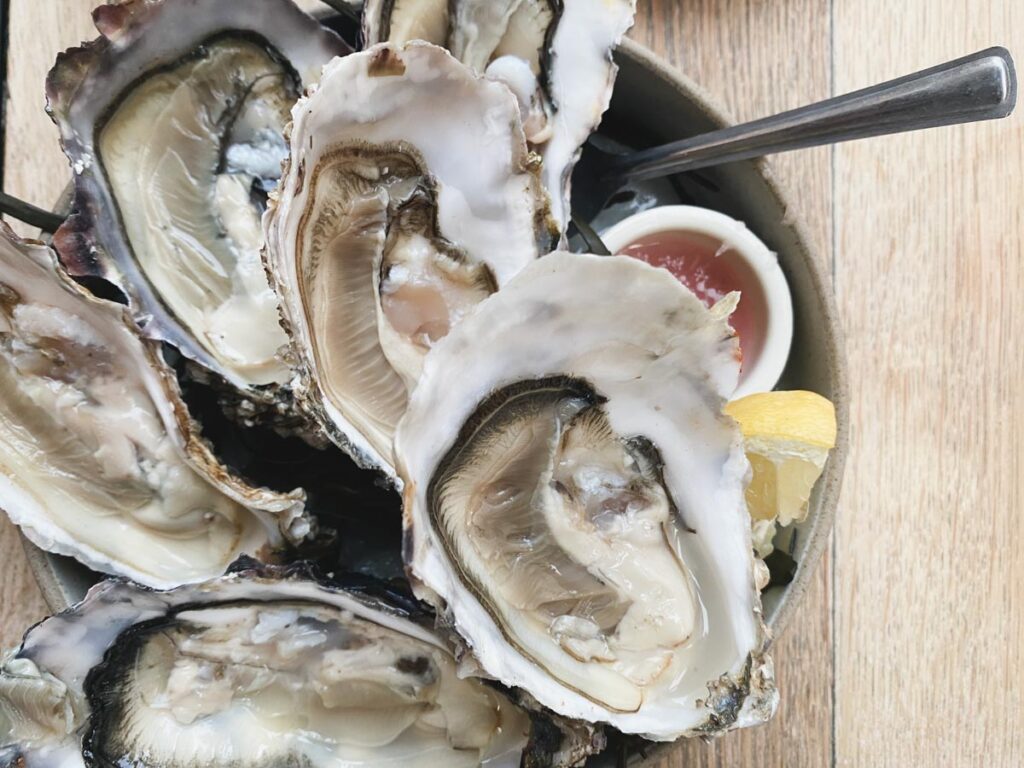 Following some eye-wateringly popular pop-ups Fallow set up permanent residence in St. James' Market in 2021 and then went on to clean up in awards circles, taking home both the Marie Claire and GQ sustainable restaurants of the year awards.
It's even slated to grab a Michelin star. Yes, really.
Their open kitchen takes a root-to-stem approach, but to us it's more like a Midas touch (have you tried that dairy cow burger? Eeeek!). What's more – they don't shy away from the cut-offs – try their smoked cod's head with home-made sriracha sauce to see what we mean.
Read Next: Dining At… Fallow
Hawksmoor
Citywide
£££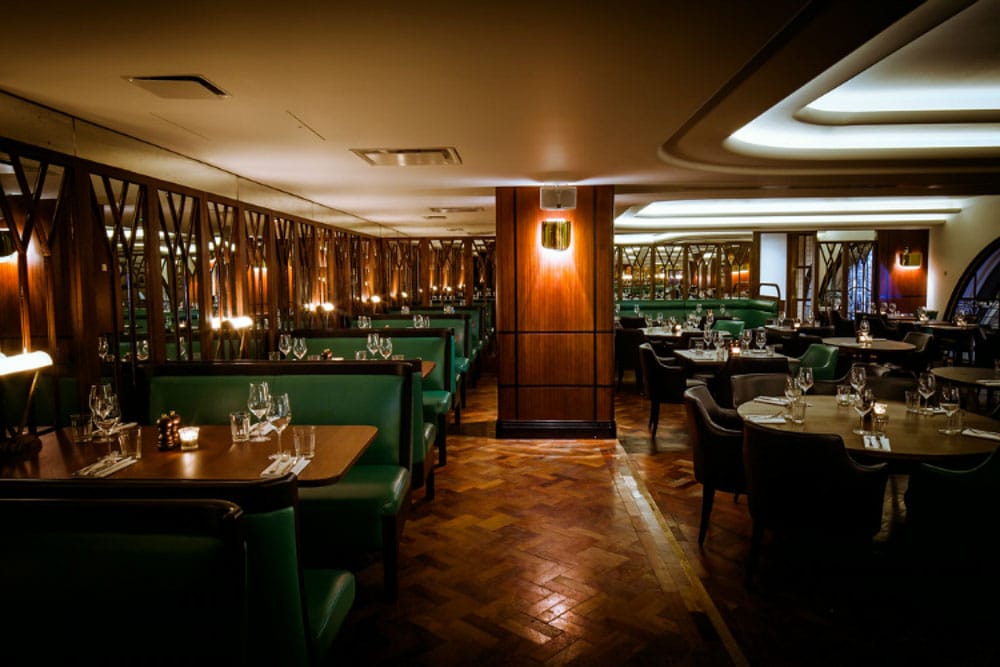 Good joke, right? No, we're not kidding. Apart from serving up brain-meltingly good steak, and a sticky toffee pudding that will have you leaping over tables to declare your love to the chef, Hawksmoor is one of the most sustainable restaurants in London.
They are the world's first carbon neutral steak house chain, setting themselves the target to be so by 2022, and completing it a year early.
They ensure all their meat is reasonably sourced and have made continued commitments to regenerative farming (that's a big one, btw).
All this got them three stars from the Sustainable Restaurant Association's Food Made Good program. Kudos.
Frog
Covent Garden
£££
What's in a name? A lot actually…
For Frog, it's because its owner followed the logic that frogs live in water and either sink or swim, and that's what would happen to him if he opened his first restaurant.
Swam he did, and now Adam Handling is the princeling of sustainable fine dining.
All the food on both his vegetarian and non-veggie tasting menus adhere to his zero-waste principles without sacrificing in the flavour department. The man from the tire company (Michelin ya know) certainly thought so and awarded him with one of his fancy prestigious stars this year.
Silo
Hackney Wick
£££
Silo claims to be designed "back to front" i.e. with the bin in mind.
This place was probably the first zero-waste restaurant in London, and arguably, the world. They opened up in 2014 and have kept at it (very successfully) ever since.
They make everything they can on site. That includes churning their own reasonably sourced butter, making their own oat milk, and indulging in mirriad fermentation processes.
Silo trades only with local farmers for their produce, and even has its own flour mill where the team grind ancient varieties of wheat for their breads.
If that's not thumbing your nose at an over-industrialised food industry, we don't know what is.
Spring
Somerset House
£££
Skye Gyngell knows her food. She's done stints at The French House (as has another Chef mentioned here. Top marks if you know who) and was the Independent on Sunday's food writer for 5 years.
That was all before Spring, her groundbreaking sustainable restaurant set in a wing of iconic Somerset House. All her produce is sustainably sourced and she's eliminated single use plastics in her kitchen.
The star of the show though, has got to be her Scratch pre-theatre tasting menu. Three courses for £25, and entirely zero-waste.
Jikoni
Marylebone
£££
Jikoni was the first independent restaurant to go carbon-neutral in the UK.
How did they do it? By switching to green gas in the kitchen, using only sustainable, local suppliers, and teaming up with Climate Neutral to turn their kitchen waste into green energy.
The food is "cross border", meaning it doesn't fit neatly into one category. Instead it nods its head eastward and draws inspiration from Asia, the Middle East, and whatever other homely delights inspire chef Ravinder Bhogal.
Pizza Pilgrims at Selfridges
Oxford Street
££
Pizza Pilgrims went eco with their Selfridges branch. They're using hydroponic basil, making dough from regenerative wheat and sourcing organic wines made in reusable kegs.
But the buck doesn't stop with the food. The decor is put together from vintage or recycled furniture. The upholstery on those sofas is Pinatex, a leather alternative made from pineapple.
They promise that this spot is a blueprint for how they want the rest of their pizzerias to look, and we fully support them in this.
St. John
Citywide
£££
We'd be making a right pig's ear of this article if we wrote about sustainable cooking without mentioning St. John. But that would probably be right up Fergus Henderson's street.
He's the pioneer of the 'nose-to-tail revolution' – and was using icky cuts of meat at this cornerstone of London dining back when everyone else's kitchen bins were still piling up with offcuts.
Henderson's cooking celebrates the best of British. Think gorgeously presented venison steaks in red wine jus, pork pies using bits of pig most people don't want to think about, veg from local gardens and bone marrow – normally destined no further than the butcher's floor – melted to perfection and served with freshly baked, home-made bread.
It's not for nothing they've quietly held on to a Michelin star since 2009.
AT feast
St. John's Wood
£££
Looking for something highly homely? The food at AT feast is just that. Founder Maggie Bolger started out cooking for her family, then other people's families and then just went ahead and opened her own restaurant.
The cooking hasn't changed though. It's hearty home cooking with beautifully fresh ingredients.
Maggie B works closely with her suppliers to make sure everything is grown, fished or farmed sustainably, and is this (holds up fingers to show miniscule amount) close to being zero-waste. It's not as easy as you might think.
The Three Stags
Kennington
£££
Apart from having a killer menu of customisable pizzas and a Sunday roast so good it probably deserves an article all to itself, Kennington gastropub The Three Stags has a roof garden where they grow their own organic veg that will ultimately end up on your plate (or pizza).
To create a wholesome circle of life the garden is also composted by food waste from the pub's kitchen – a kitchen that is dedicated to reducing its environmental impact. But by far the coolest thing about the Three Stags are the beehives they keep on the roof.
Yep, this pub produces its very own, all-natural urban honey.
Apricity
Mayfair
£££
Yep, we had to google it too. Apricity means 'warmth of the sun in winter'. And a meal there means you'll be eating all local produce down to the wine list.
Some sustainable restaurants can't resist the pull of fancy french wines, or bottles shipped in from the new world. Think of the air miles!
At Apricity they champion the English winemaker and have an extensive list of low-intervention wines, that's wine made by people with a close connection to the land rather than big industry names.
The food – excellent of course – comes from a chef that held a Green Michelin Star in her previous restaurant Treadwells, and uses British veg, regeneratively farmed meat, and fresh, sustainably caught local fish. Can you ask for more?
Farmer J
Citywide
££
After a burst of Tik-Tok-fuelled popularity, everyone seems to be eating at Farmer J's, us included. Their commitment to fresh, well-sourced ingredients goes so far it's damn-right laudable and the food is all the better for it.
They cook from scratch, wasting nothing and adding nothing, just letting those ingredients shine. The food is seasonal and reasonably priced, making this a perfect sustainable spot for a work-day lunch.
The Culpeper
Shoreditch
£££
Ask anyone in Shoreditch about a sustainable restaurant and they'll point you in the direction of The Culpeper.
It boasts, alongside a beautiful rooftop bar, a wonderful rooftop garden. They grow to harvest and the chances are that if you've had a drink there, or eaten in the restaurant downstairs, you've tasted something that came off their roof.
Of course there's not enough space up there to stock the pantries of a fully working kitchen, but they make sure that everything they buy in comes from farmers that put soil health first, and fishermen that don't put fish stocks at risk.
Practical Tips for Visiting London's Sustainable Restaurants
Book book book. This is London, people! You'll be hard pressed to get a table at any of these sustainable beauties without a booking – especially at the weekend.
Sustainable Restaurants in London: Map
Eco Restaurants in London: Read Next