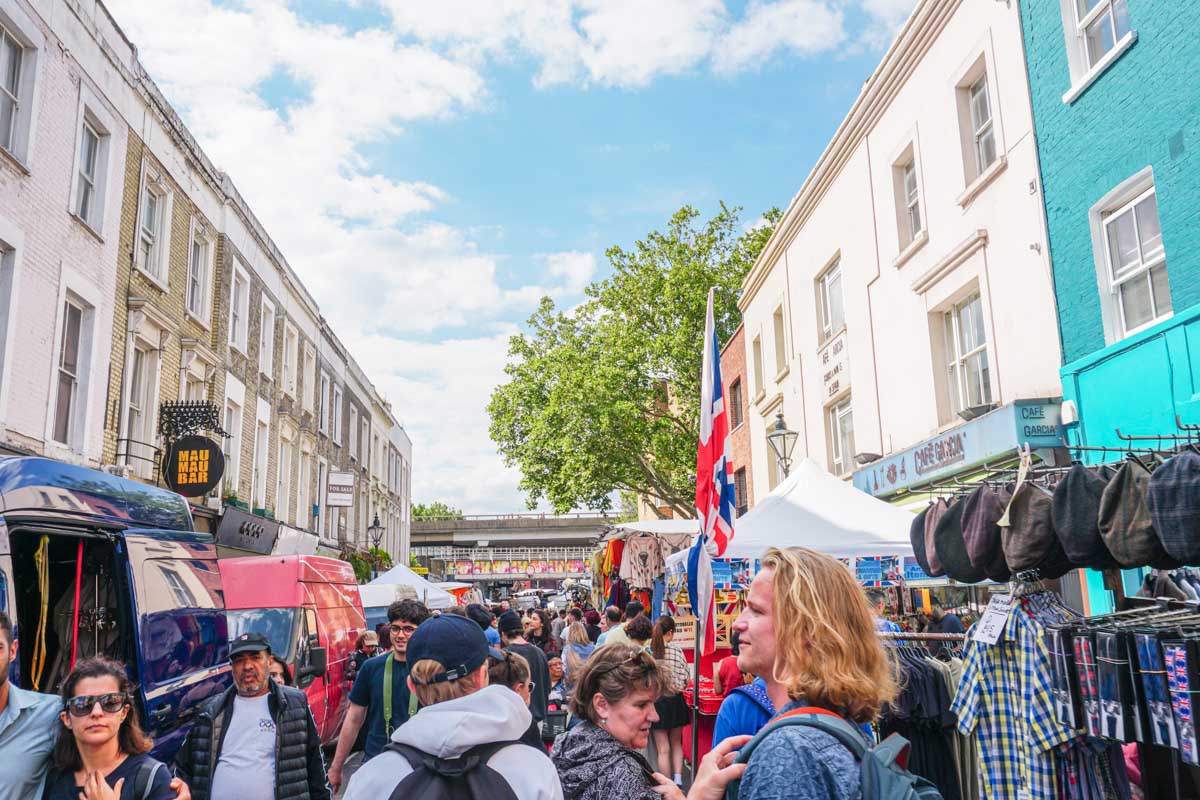 Portobello Road Market is the famous antique market in London that you need to visit.
Filled with everything from vintage trinkets and pre-loved games, to fresh fruit and flowers, it's no wonder that this market is adored by locals and tourists alike. Who knows what kind of treasure you'll dig out of this not-so-little trove?
With most of the antique traders located in the nearby arcades, it's worth making your way past the thrum of people and venturing into the area's independent shops and passageways, as well as exploring the stalls, in order to make sure that you don't miss anything important on Portobello Road.
Not sure where to start? We've compiled this handy guide to help you get the most out of your visit to this charming Notting Hill market.
The Portobello Road Market Guide
Where is Portobello market, we hear you ask? Situated to the north of Notting Hill Gate tube station lies a stretch of road brimming with brilliant market stalls. If one thing's for sure, it's that the world's largest antique market certainly lives up to its impressive reputation.
In fact, when we boast that it's the world's largest antique market, we don't mean it lightly – over 1000 stalls line the road, selling absolutely everything you could ever want (as well as plenty of things you didn't even know you needed).
This London's market's main attraction, however, is the antique portion of the bustling market.
Open on Fridays and Saturdays, Portobello Road is the perfect place to stock up on pretty homeware and vintage jewellery, as well as for picking up a unique gift for someone you love (or for yourself, self-care and all that jazz).
The Different Sections of Portobello Market
Fancy braving the crowds and scooping up a bargain? While Portobello Market is, and will always be, primarily an antique market, there's plenty more on offer if you don't fancy yourself as the next Julia Bradbury.
In fact, if you don't get that reference, you'll probably not be too fussed about antiques at all. Have no fear…
Once you've explored the antique section of the market, we suggest dipping over to the food area that stretches out onto Golborne Road (what can we say? We're always thinking with our stomachs). Here you'll find plenty of fresh fruit and vegetables, as well as stalls piled high with bread, oh-so-tempting cake, and fancy cheese.
Friday and Saturday also welcome the addition of snacks, and oils, as well as meat and seafood to feast your eyes (and belly) upon.
Hot food from around the world also joins the lineup on Saturday. Our advice? Go hungry and tuck into some of the delicious African and Caribbean food on offer once you've finished perusing the stalls.
But make sure to save room for the churros – they're divine. After all, Portobello Road Market food is among some of the best in the capital.
Another large section of the market is dedicated to fashion; you can browse everything from your typical tourist t-shirts to vintage gems (we've certainly snagged a designer label here before!).
It's also common for young designers to head to Portobello Road to sell their ultra-hip designs and gain exposure – go check them out and support local talent.
You'll also find the classic bric-a-brac and second-hand goods on offer at Portobello Market. It's true – you never quite know what you're going to find, so go with an open mind and you might just pick up something rather special.
The History of Portobello Road Market
While today Portobello Road Market is a vibrant hub for all things hip and cool, it has a long and interesting history that proves it hasn't always been one of London's trendiest spots.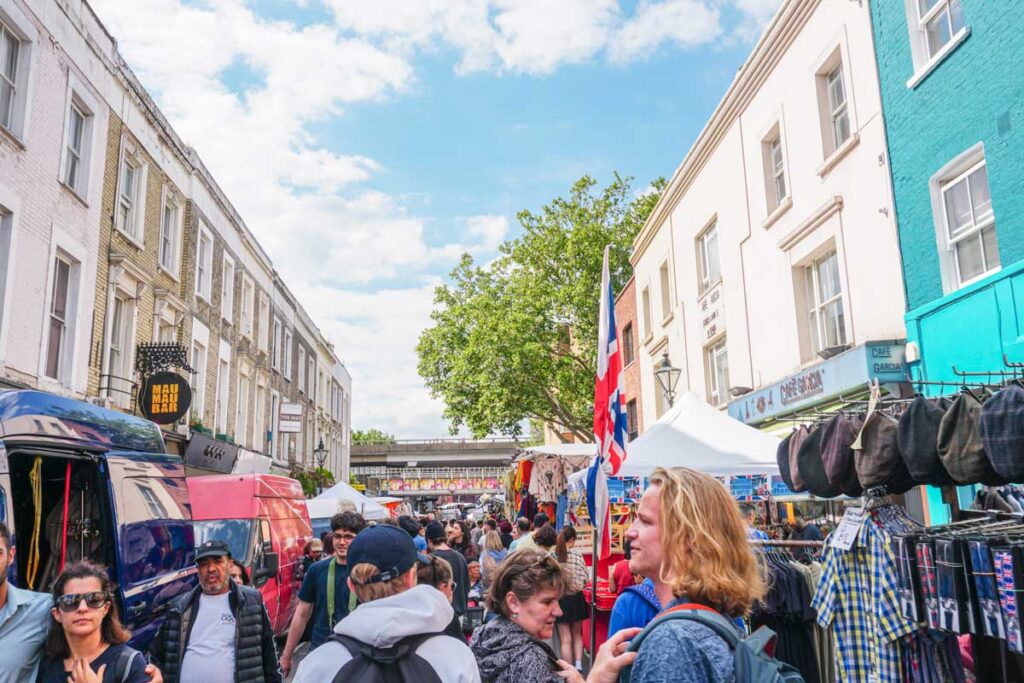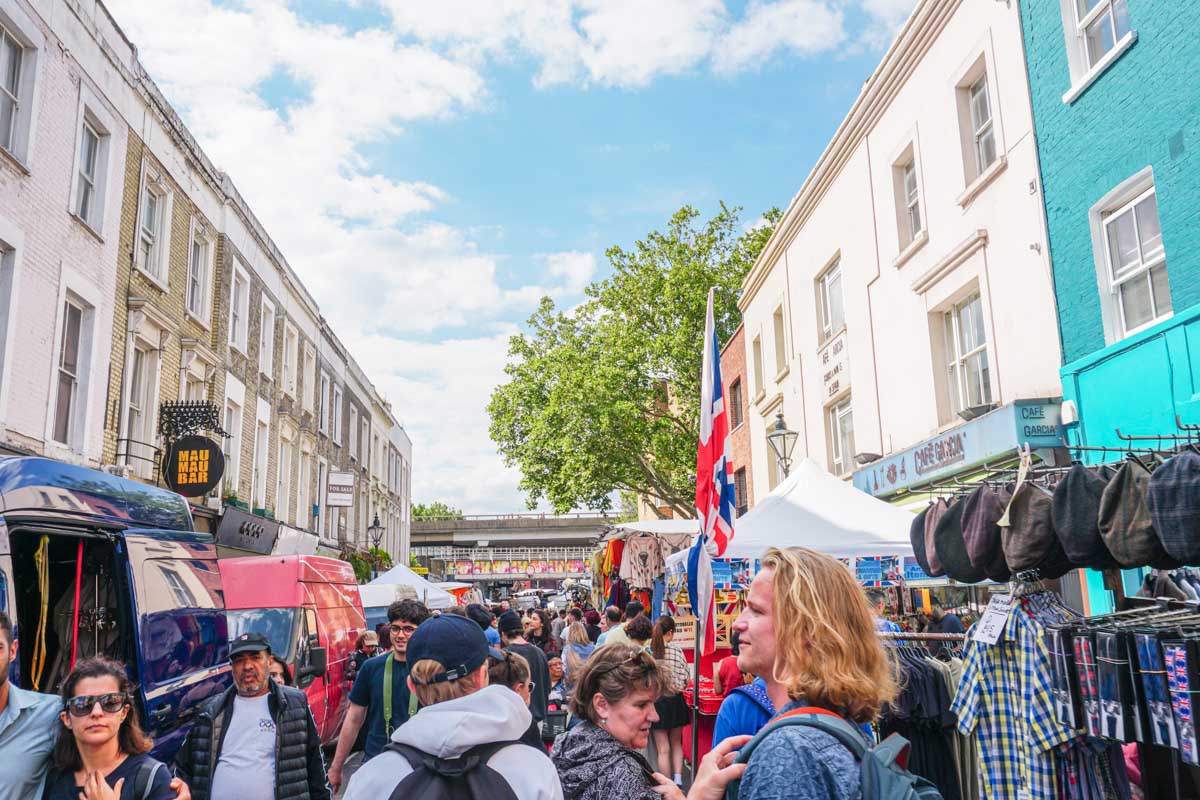 The area (and market) started off life as a simple country path known as Green Lane. It actually took its name from the nearby Porto Bello Farm – which sat on what is now known as Golborne Road – and was named after Porto Bello in Panama, an area captured by the Brits in 1739.
For much of the 18th and 19th centuries, this winding country path remained just that. The area that would eventually become Portobello Road was yet to see similar extensive redevelopment that was happening in other areas such as Paddington.
Instead, the building taking place in Notting Hill was totally random, with small shops and markets popping up all over the place.
The market was mainly a food hub for residents up until the 1940s, where 'rag and bone' men started selling bric-a-brac. This led to the beginning of Portobello Market carving out a name for itself as an antique hotspot.
And so, the Portobello Road Market that we know and love today was born.
Practical Information and Map for Visiting Portobello Road Market
How to Get to Portobello Road Market?
Address: ​​Portobello Rd, London W10 5TY. However, to make things simple, we recommend getting the tube.
Nearest Station to Portobello Road Market?
The market is pretty much smack-bang in the middle of Notting Hill Gate and Ladbroke Grove. From either it's less than a ten minute walk away.
Portobello Road Market Opening Times?
The market's current opening hours are the following: 9am – 6pm Monday to Wednesday; 9am – 1pm Thursday; 9am – 7pm Friday and Saturday; Closed on Sundays.
Practical Tips
Friday and Saturday are the market's busiest days – but for good reason. We recommend dragging yourself out of bed early and heading over for when it first opens to beat the mid-morning crowds.
Notting Hill is filled with pretty cafes and cool things to do. Make sure to check out the area while you're there. And if you're planning your trip to the capital and/or market, try to time it just right for Notting Hill Carnival.
Map of Portobello Road Market
Looking for More Notting Hill Guides?