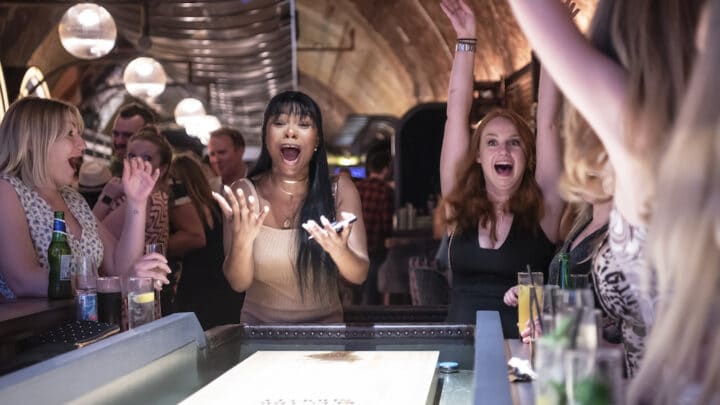 Looking for the best activity bars in London? From channelling your inner Phil Taylor at Flight Club to diving into Ballie Ballerson's euphoric ball pit, these are the top spots in the capital.
Games + booze = the ultimate night out.
One thing's for sure: London isn't short of brilliant bars. But, if there's anything better than a cracking cocktail spot, it's an activity bar where you can booze as you play, right? Right.
Ready to discover the bars with activities London offers?
Brilliantly Fun Activity Bars in London
Ballie Ballerson
£
Nostalgia-inducing Ballie Ballerson is Shoreditch's hotspot when it comes to activity bars. If you've ever reminisced about days spent playing in Wacky Warehouse (oh, life was so much simpler then), you'll want to head there pronto.
Book an entry ticket online and you'll be granted two hours access into the ultimate 'Gram-friendly ball pit of dreams.
Not content on being the most fun bar in the capital, but Ballie Ballerson's stellar line up of cocktails and pizzas ensure you're well-prepared for your ball pit session. We personally recommend the Skittles Sour cocktail, though if you've got a more refined palette (we certainly don't) the Elderflower Garden is delightfully refreshing.
Top Tip: If you can, head to BB between Sunday and Thursday, where entry tickets cost just £4, compared to £12.50 on Saturday night.
Flight Club
Multiple Locations
££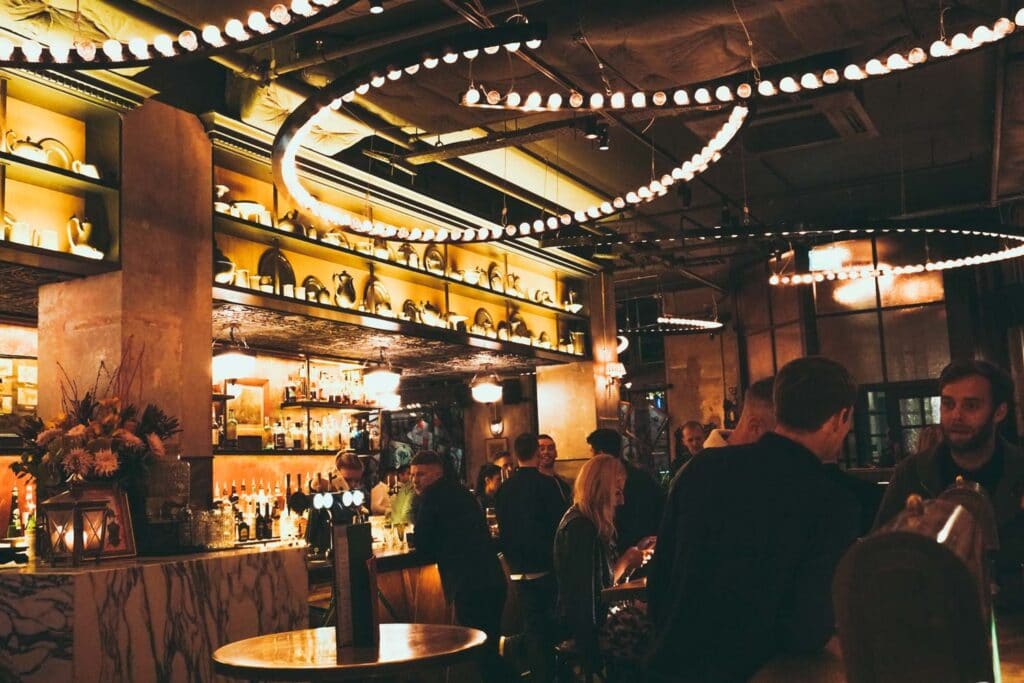 Classic pub darts has been given an elegant twist at Flight Club's four London locations. You can choose to go and simply drink, or book you and your pals a private oche playing area, where you can battle it out in a game of darts.
Whilst the drinks can often seem like an afterthought at many of London's activity bars (which is pretty dreadful, in our opinion, as this is half the experience) the cocktails at Flight Club have been carefully thought out.
The salted caramel espresso martini is a particular favourite that goes down oh-so-easily.
Electric Shuffle
££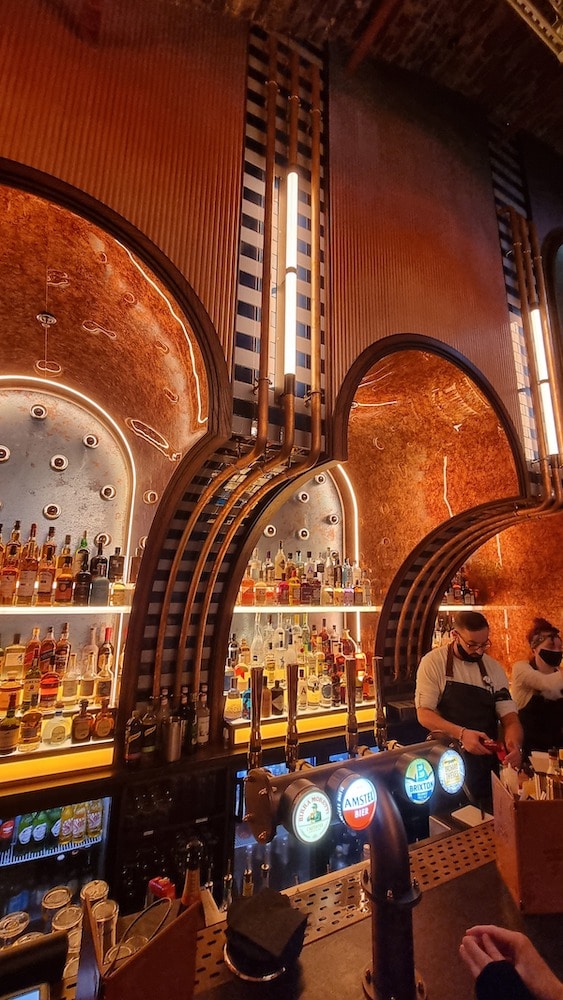 Much like their sister brand Flight Club, Electric Shuffle takes a classic pub game and shakes it up. This time it's the turn of shuffleboard – a tactical game where you're tasked with sliding coloured pucks down a long table in order to beat your opponents.
Not convinced? Add to this a cracking selection of cocktails, craft beers, wines, and soft drinks, and we promise you're in for a good night. London Bridge is their newest location (and our favourite).
Hijingo
Shoreditch
£££
Bingo, booze, and bento are on the cards at Hijingo, a Tokyo-inspired bar in Shoreditch.
This isn't just regular-shmegular bingo though. Oh no. Hijingo's offering contains video, futuristic graphics, LED lighting, and a soundtrack that will leave you totally entranced. Dabbers at the ready – this is high-tech bingo like you've never seen before.
Food-wise, this Japanese spot doesn't disappoint. Do yourself a favour and order the truffle mushroom spring rolls and a plate of fried chicken.
Bounce
Multiple Locations
£££
Unleash your inner champion at one of Bounce's multiple locations across the capital. This ping pong bar is filled with tables so that you can play a game of table tennis (or two) while you drink.
We're speaking from personal experience here: be prepared to make a few enemies – the minute those bats come out, it's game time.
Hungry? The food menu is stuffed with pizza (including a pineapple offering for all you winners out there), so you can grab a slice in between games.
Hackney Funhouse
£££
If one fun bar isn't quite enough, head to Hackney Funhouse where you'll find an array of brilliant activity bars to get involved with.
ABQ is the most popular of offerings – it's a Breaking Bad inspired cocktail bar where you get to channel your inner Walter White and cook up your own molecular concoctions whilst dressed in a hazmat suit.
Hackney Funhouse is also home to Dear Sunny, East London's best bar dedicated to espresso martinis, as well as a pizza joint serving up some of the top slices in London.
All Star Lanes
Multiple Locations
££
Technically All Star Lanes is a bowling alley, but each location in London has a stellar bar that's worth visiting on a night out.
The Brick Lane location is, without a doubt, our favourite. Maybe It's something to do with the orange espresso martini, but maybe it's because it oozes coolness and boasts an art deco bar that wouldn't look out of place in a fancy boutique hotel in the capital.
Sixes
Fitzrovia + Fulham
£
Social cricket and cocktails are on the menu at Sixes.
Book yourself and up to 14 friends a net at Sixes and you'll be able to to play for up to 90 minutes, with a designated table nearby where you can chow down on the likes of mini beef brisket buns and nachos between runs.
The drinks menu is reasonably priced (a rarity in the capital) and contains a mix of classic cocktails, craft beers, wine, and some inventive non-alcoholic drinks.
Pssst… Keep your eyes peeled for the White City location opening in August 2022.
The Four Thieves
££
Is it a bar? Is it a pub? Is it a retro arcade? We're not quite sure, but what we do know is that The Four Thieves is one of the most unique places to drink in London.
Once you've had your fill of craft beer, head to the arcade for a mix of totally-nostalgic games and brand new VR experiences ranging from shoot-outs to treasure-hunting.
Though the moonshine raceway, which sees you battle it out on a scalextric-style track after earning your licence, proves to be the most popular game amongst drinkers.
Loading
££
Board game cafes have exploded in popularity in recent years, and Loading has taken it one step further by adding alcohol into the mix.
The bar boasts a wide selection of games, including the likes of Monopoly and ObamaLlama, and a dazzling selection of cocktails to go alongside this. Whether you fancy a margarita, a craft beer, or a bottle of pop, there's no better place to nerd out over a drink with friends.
Swingers
West End + City
££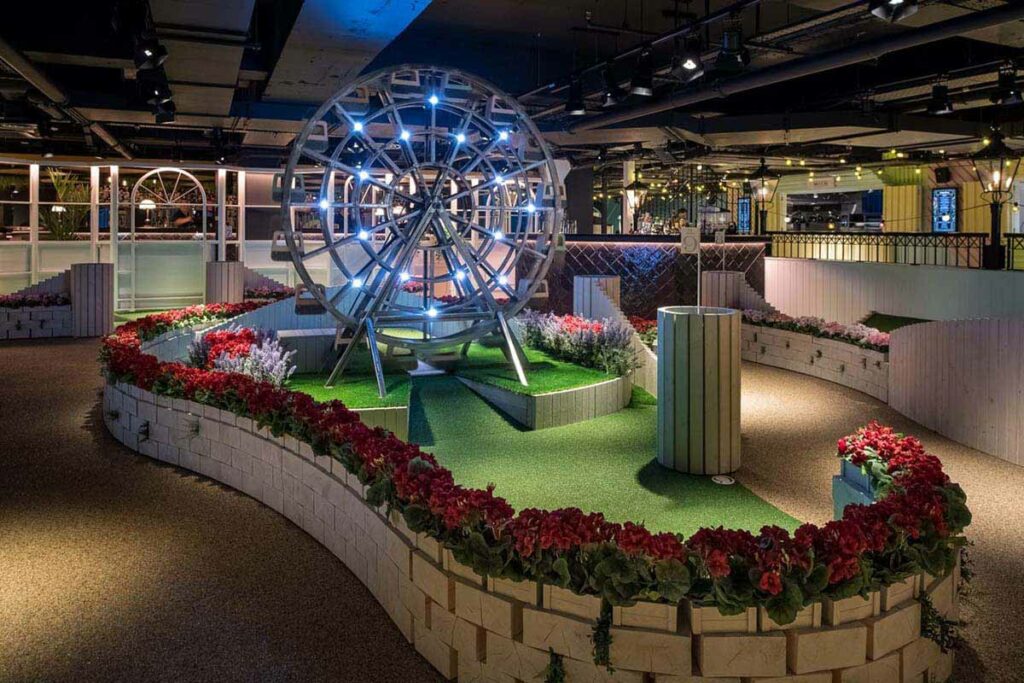 Crazy golf bars are not exactly a new concept, however, Swingers does it best. In fact, we would argue that it's one of the best activity bars London boasts.
The space is filled with street food vendors (Patty&Bun, Pizza Pilgrims, and Crosstown, amongst others), multiple bars, live DJs, and, of course, a wacky golf course for you to potter around whilst you booze.
The best bit? Absolutely no need to wear ugly golf trousers, unless of course you'd like to.
Practical Tips for Booking the Best Activity Bars in London
These bars can get incredibly busy – it's worth booking a table in advance, especially on weekends.
Double check whether you'll need to pay extra to get involved with an activity or whether it's free for those purchasing drinks. Bear in mind that most will incur extra charges.
London Activity Bars: Map