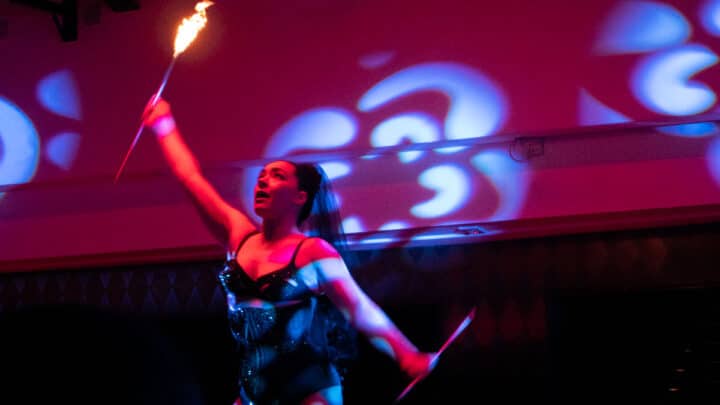 Get ready to discover the most lively restaurants in London – fun, food, and booze are all guaranteed.
Fancy something a bit different? Bored of the usual dining experience? Well, we've got you. Here is a list of all the hottest lively restaurants in London for you to try.
Think dancing on tables, acts, singalongs and that lingering feeling that you never quite know what's going to happen next.
Ready to discover the best fun London restaurants?
Lively Restaurants in London You Have to Try
Bunga Bunga
££
Think karaoke, spectacular shows and a lot of late night dancing. This Italian restaurant is all about an immersive experience, they want you on your feet and laughing and they won't stop until they've achieved it.
Bunga Bunga has to be one of the most entertaining nights in London. It's wild, it's captivating and the food is pretty sensational as well.
They've even started a new event 'Bunga's Buff Brunch', showcasing the hunkiest men in boylesque… Yes, you read that right. Think topless, think dancing, think pizza. Bunga Bunga is, without a doubt, the most lively Italian restaurant London boasts.
Circus
Covent Garden
£££
A quirky and very unique cabaret restaurant and cocktail bar in Covent Garden – this is the best venue for after dinner drinks or if you're looking for something a little bit more entertaining.
Circus is a restaurant and show with a difference, all shows are totally unique brought to you by some of the best pop up circuses' in town. Aerialists, contortionists, hand balancers, fire-breathers, hula-hoopers and more will dazzle as you chow down.
The menu is pan-Asian and you can even go for brunch. This has to be one of the most fun restaurants central London has to offer.
The Act
££
New to Notting Hill, The Act is a cocktail bar with a twist. The wonderful and talented staff are in fact, "the cast" of The Act.
Singers, actors, and West End performers are all there to bring you a theatrical immersive experience with solo performances of some of your top favourite songs. They've also got a DJ to keep you on your feet all evening.
The Act is the best place for great food, drinks and entertainment – not to mention they serve some of the best cocktails in London.
The Act almost feels like the theatre of Soho has been bought to Notting Hill. Great atmosphere and wonderful staff.
Los Mochis
Notting Hill
££
Although Los Mochis hasn't got any "proper" entertainment, we've had to add it purely for its atmosphere and vibe. It's one of the best Mexican spots in London.
Again, a new addition to Notting Hill and one of the liveliest restaurants in London, the colourful interior, incredible food and buzz around it is something to take note of.
If you're getting the girls together or even going on a boys night, this is your place. It's fun, serves some of the best Mexican food in London and you're sure to start talking to the person next to you.
Inamo Covent Garden
Covent Garden
££
Take a leap into the future with Inamo, it's tech savvy and we're loving it. Use tablets to place your dinner orders, interact with tabletop projections, graffiti your table with a sketch up or watch a live video from the kitchen on chef-cam.
Oh, you can also play games. Ideal for a first date if you're looking for a little more organised fun but also want to eat incredible pan-Asian food.
Be sure to check out their events as you can book in for Sushi & Sake Classes or Cocktail Classes… Yeah, we're sold.
The Rum Kitchen
£
Ultra-cool and quirky bar The Rum Kitchen is nestled between Kingly street and Carnaby, right in the heart of Soho.
The bright coloured Rum Kitchen Cocktail Bar & Caribbean Restaurant stands out in bright blue and does exactly what it says on the tin, it knows its rum. After all, it has over 100 rums to choose from.
And if that doesn't lure you in, the funky music and smell of jerk chicken most certainly will.
Blues Kitchen
£
Blues music and hearty Texan BBQ food, the Blues Kitchen is your ticket to southern soul right bang in the heart of Camden. And we think it's one of the best lively restaurants in London.
We love this place, from the mix and match lamps to the groovy vintage posters plastered over the walls and the smooth music enticing you in, Blues Kitchen is the perfect London escape.
Blues Kitchen has to be one of the most legendary places in London with music icons such as Seasick Steve and Gary Clark Jr having played there.
Forge
Bank
££
A bold venue in central London that's all about drinking and dancing. Stripped back brick, leather booths and a big open plan restaurant this is the perfect spot for a lively drink in London.
Forge suits anything from a quick dinner to a sit down meat-feast with all your friends. Check out the cocktail lounge for some old school pop or if you're feeling extra fiery, head down to the club room to shake some moves.
Also available for private hire if you're at loss on what to plan for a hen do or big birthday party, Forge will take over all the planning.
Flight Club
Multiple Locations
££
Flight Club is the best darts spot in London – and the best activity bar in London. Think darts for the 21st century games addict, along with a few drinks, and that's where Flight Club comes in.
The drinks are easy to order straight to your table, there's multiple different games and a fantastic photo booth perfect for catching you right in the action.
Flight Club is about more than just music and darts – they also have a beautiful outdoor terrace. Either take a seat, explore the bar or get stuck into a good game of darts, there's absolutely something for everyone. The food and cocktails are also delicious (and quite strong).
Also, there's cocktails in a trophy. We approve!
Burdock
Finsbury Square
££
On the ground floor of the Montcalm Royal London House, Burdock place is a seriously cool place to drink and eat. The industrial-esque interiors and modern furniture creates a fancy yet relaxed atmosphere.
Whether you want to just pop in for a quick juice, meeting or an after work beer, Burdock is one of the top lively restaurants London has to offer.
Aeronaut
Acton
£
Apparently the best night out in London, and we have to say that we agree.
A pubbing experience like nothing else in London, Aeronaut is 100% one of the best lively places in London. The name was born because it pays tribute to the airborne feats of circus performers.
Boasting not one but two beer gardens, and with an outside bar serving craft beers and cocktails, Aeronaut is on a quest to bring back the circus vibes and it is succeeding.
And we haven't even started talking about what happens at night… an entire transformation. Aeronaut becomes AN ARENA! A stage appears, performers run around in hula-hoops, and the disco ball of all disco balls arrives. Do we need to say anymore? We don't think so.
Day or night, Aeronaut is ready for you.
Dirty Bones
Carnaby
££
Dirty Bones is like walking off the streets of New York straight into the coolest apartment you've ever been to. It's relaxed, playing old-school funky music alongside some incredibly tasty cocktails.
Pure comfort-food heaven, think chicken and waffles or cheeseburger dumplings. This place is a serious vibey hot spot.
Did we mention there's a happy hour? Yep. No brainer. Go there.
The Piano Works
Farringdon
££
A hidden gem in the heart of Farringdon, this is one of the best and liveliest nights out in London. Why? Because you get to choose the music.
Write your music requests down on little slips of paper and hand them nicely (no throwing) to your waiter or the singer to be performed. We mean come on… When was the last time you got to have a say in the music!? Never.
The cocktails are bizarre but wonderful, there's human jukeboxes and you can sing until there's nothing left to sing. Enjoy!
The Windmill Soho
Soho
£££
The Windmill is fairly new to the Soho scene and it hasn't failed to make a serious entrance. A night at the Windmill is one to remember.
The Windmill is all about immersive theatre, pushing all elements of mesmerising never-seen-before performances alongside one of the best menu's London has to offer. Chef Michelin star, Andrew Mcleish, has designed the menu.
There's also an invitation-only speakeasy under the restaurant – who knows what goes on in there? We would very much like to go.
The Box
Soho
£££
Probably the most exclusive club in London, a cabaret style entertainment venue full of the coolest and weirdest acts you could imagine.
The box isn't easy to get into, so loses a few points for us there, but wow does it try. The Box is lively, exciting and like walking into an entire new world of entertainment.
Think weird, and then tone it up by 100 and in there somewhere you'll find the box. The key to eating at The Box is to get there early.
Floripa
££
Floripa is a fun Brazilian beach bar with some of the best music London has to offer. There's an essence of hedonistic boho fusion in this place, and they never turn down a party.
The food is Brazilian (obviously) and the cocktails are a wonderful mismatch between a little bit of everything.
We'd suggest heading down there on the weekend for an early dinner and a dance before a night out. Floripa is up there with the liveliest places in London.
The Candlelight Club
Secret Location
££
The Candlelight Club is a 1920s pop-up party in secret locations all over London. And yes, it's lit by candles. Expect Gatsby vibes, lively crowds, jazz music and a crew dressed in the best of the best 1920s outfits.
The ticket situation is pretty simple, you either buy an entry ticket for drinks and dancing or go for the full shebang and choose a 3 course meal. You know which one we'd choose!
We love the secret aspect to this place and the energy the people bring. It's never the same but you're promised one of the best dinners and vibes in London.
Only Food and Courses
££
A restaurant in a 40ft repurposed shipping container? Only Food and Courses is the liveliest restaurant in South London!
Think 80s vibes, 26 seaters and some of the best food you'll ever taste. It's fresh, it's different and it's in an actual real life shipping container. What's not to love?
Sketch
£££
Some say Sketch is one of the most beautiful restaurants in London and we might have to agree. The atmosphere is electric, there's a magical forest, hot pink sofas, chairs wearing ballet shoes and everything else that feels somewhat unimaginable.
Sketch is for the Instagram lovers as pretty much every piece of furniture was made to show off on the 'gram. Not only that, the food is delicious and cocktails even better.
Make sure you check out the egg shaped loo's for a cheeky selfie, it's been done before, but so what?
Beach Blanket Babylon
Notting Hill
£££
One of Notting Hill's most popular restaurants and one where you can totally lose track of time. You pretty much can't go wrong with eating at this restaurant.
Beach Blanket Babylon is in an old Georgian Mansion in the centre of Notting Hill. We recommend sitting outside for an al fresco lunch in the summer and enjoy some people watching whilst sipping on tasty cocktails.
Think French Country style vibes – it's a weekend must go if you're looking for a lively spot in London.
Bob Bob Ricard
Soho
£££
You can press a button for champagne and have one of the best meals in London, of course it's worth it.
Yes this one is slightly more on the expensive side but the atmosphere in Bob Bob Ricard is one to remember. Add to that beautiful interiors and excellent cocktails and you're in for a great night.
A British-Russian restaurant with a brilliant explosion of food, we suggest the streak tartare – this isn't an easy dish to get right but this restaurant totally nails it.
Practical Tips for Nabbing a Table at These Amazing Restaurants in London
The vast majority of these spots will book up well in advance – we suggest calling the restaurants directly or going through Open Table to book a spot.
If you've only got time to visit one lively London restaurant, make it Bob Bob Ricard for date night or Sketch with your pals.
London's Lively Restaurants: Map
More Fun Food and Drink Guides in London