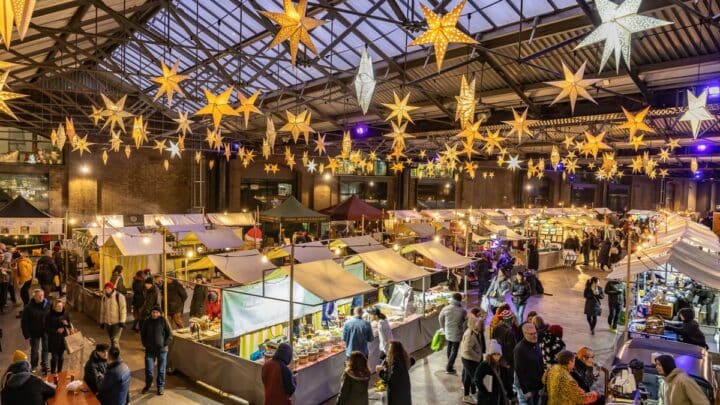 London's always packed with cracking things to do, and that's especially true in December when the Christmas lights are blazing and the city is at its merriest. Get your festive socks on, it's time for a seriously fun December.
As the festive season sets in there's more than enough things to do, but no doubt with all the Christmas parties and arrangements with family and friends you'll be short on time for the rest of the stuff London has to offer.
That's where we come in. We've put together a guide of all the best bits and pieces so you can know just how to make the best use of your valuable December downtime.
This year there's plenty to look forward to. From iconic ballets, and pyjama party movie marathons to Madonna taking the stage at the O2 and a very special carol concert on top (yes on top) of that very same venue, it's looking to be a very exciting month.
Here's the best of it…
Things to do in London in December
Check out an Exhibition of Photographs Inspired by Wes Anderson
Kensington
Opens December 1st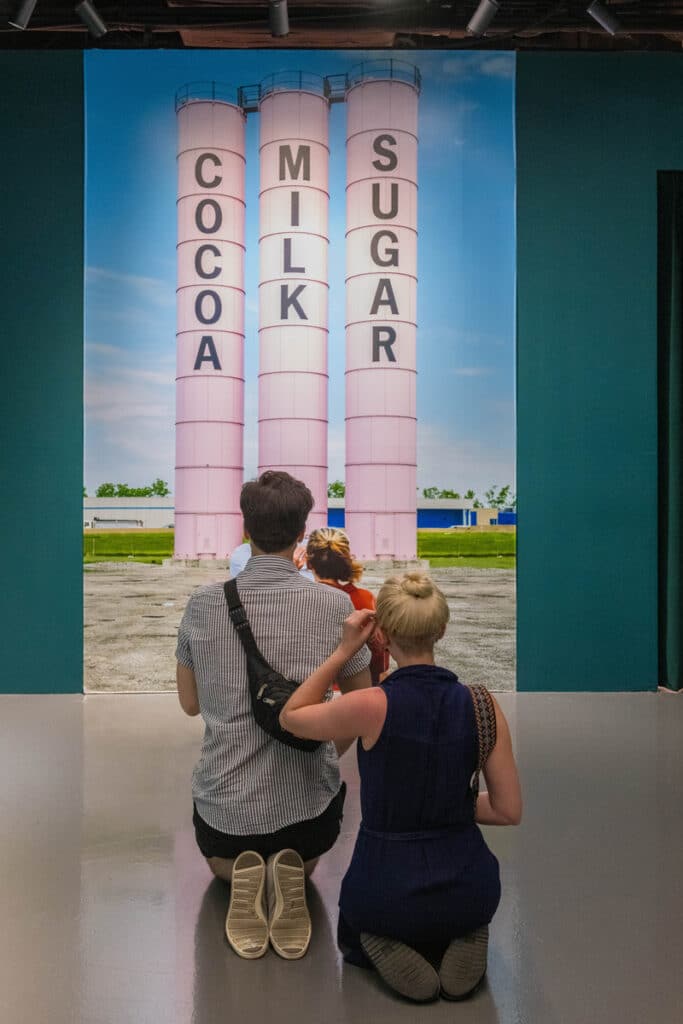 Wes Anderson's distinctive style has become a pretty common sight on social media these days – and not always a welcome one. But between the hack-job TikTok vids of people mimicking the director and the beanie-wearing hipsters there are a few gems to be found.
Take the account Accidentally Wes Anderson for example. This sharp-eyed photographer travels the world picking out locations that could be in a Wes movie and photographing them in the straight-on style that the director would.
There's an exhibition of the work opening this month and it looks like one any Anderson fan won't want to miss.
Grab Tickets for Madonna at the O2
Greenwich
5th + 6th December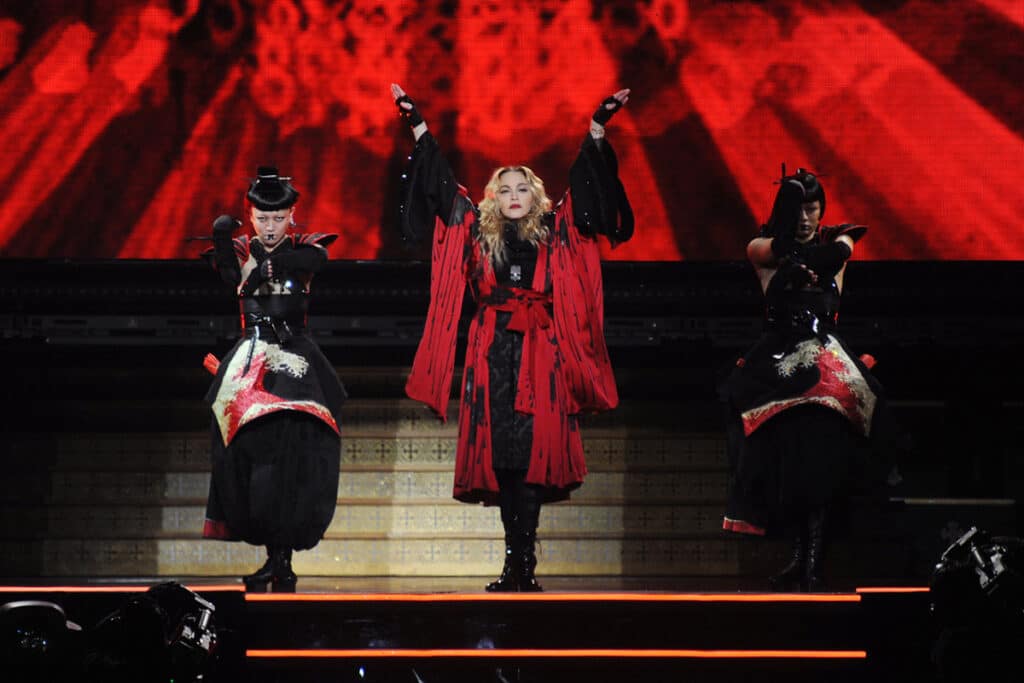 Yep, you read that right. Madge herself is coming to London to play one of the city's most iconic venues.
She'll be at The O2 Arena in Greenwich on the 5th and 6th and (at least when we were writing this) there are still a few tickets available. Obviously we don't need to tell you how popular this gig will be. The second date was actually added due to high demand.
If you're a fan jump on it ASAP.
Hit Aldgate Winter Festival
Aldgate
8th December
The annual winter festival at Aldgate is now entering its seventh year and quickly becoming a mainstay in the winter calendar.
It's a lovely celebration with lantern parades and heaps of entertainment, from Bollywood dancing to craft workshops in the local church. One of those craft workshops even involves making a lantern you can then take into the parade.
There's also a free community feast where you can enjoy a hot dinner with some other happy folk. If you're after some wholesome vibes, you'll find them in spades in Aldgate on the 8th.
See London all Lit Up for Christmas
London-wide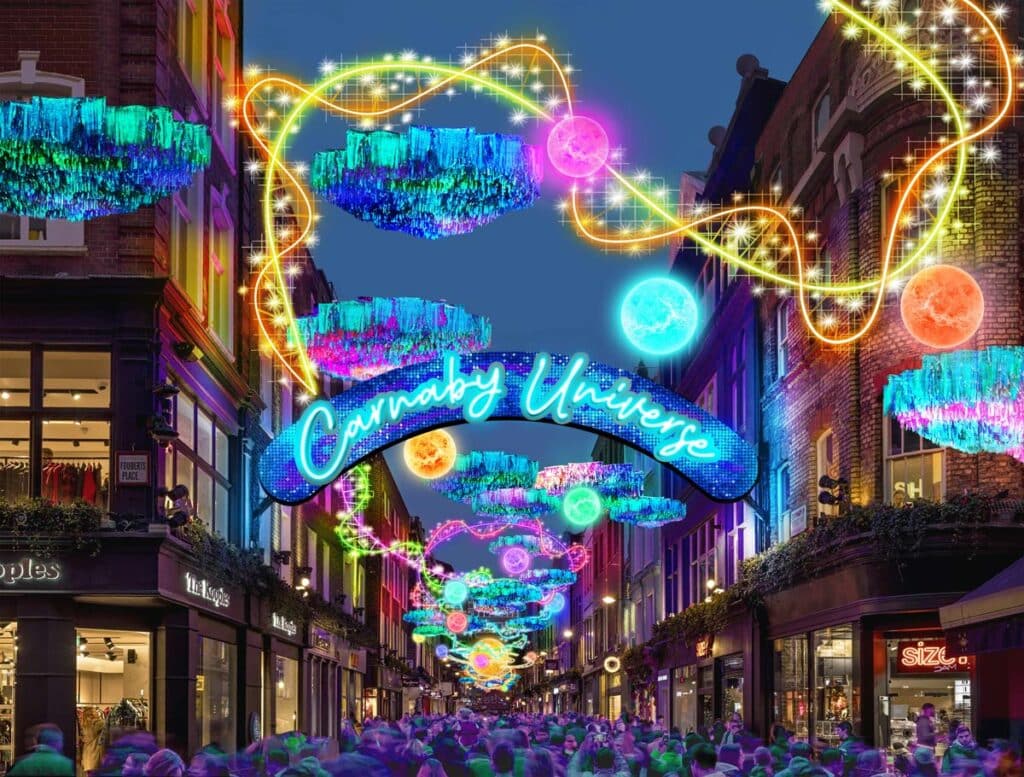 December is always sooo busy, but if all your Christmas shopping is done (bravo!) and you just happen to have an evening free, take time to wander around the glittering London streets while you can.
From Oxford Street to Hyde Park, the city is drenched in sparkles at this time of year, and you can find all the best spots in this handy guide.
Our favourite spot? It might just have to be Carnaby Street. They always do something funky with their display and this year is no exception.
Catch Woody Harrelson and Andy Serkis on Stage
Riverside Studios
From 4th December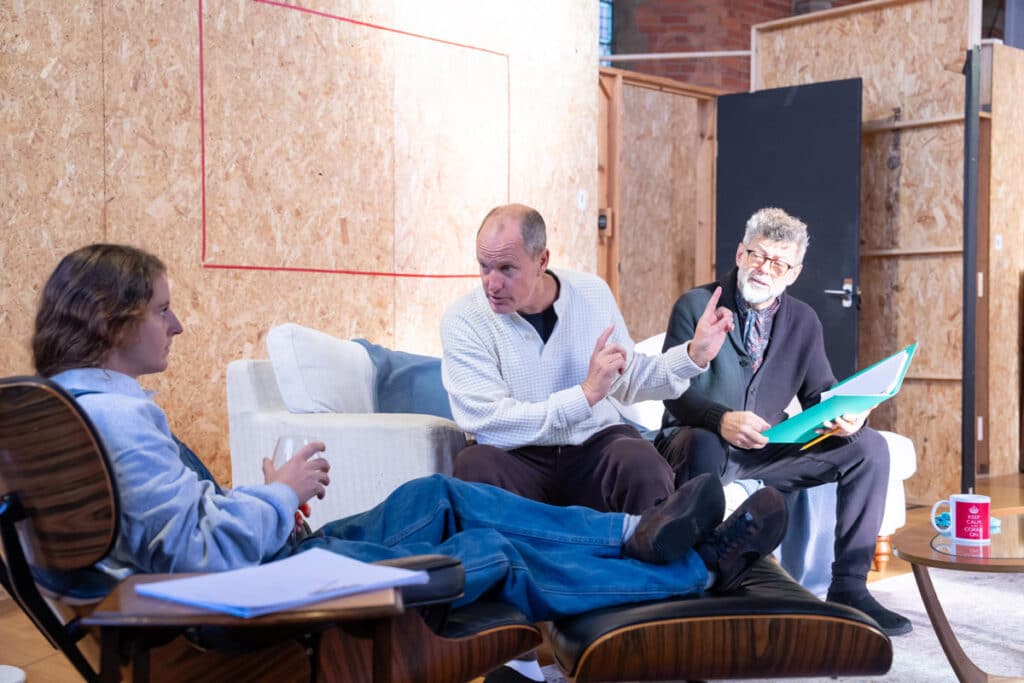 This month the curtains open on a new play that's got a pretty star-studded cast. The legendary Woody Harrelson is in London for an eight-week run of Ulster American.
It's a play about a play and the troubles that brew between the American actor, a Northern Irish script writer and an English director that are trying to bring the production to life.
Harelson is joined on the stage by the equally legendary Andy Serkis, probably best known for his role as Smeagol in Lord of the Rings even though he's enjoyed plenty of fame elsewhere in recent years.
Sing Along to Carols (Both Traditional and Not)
Multiple dates
London-wide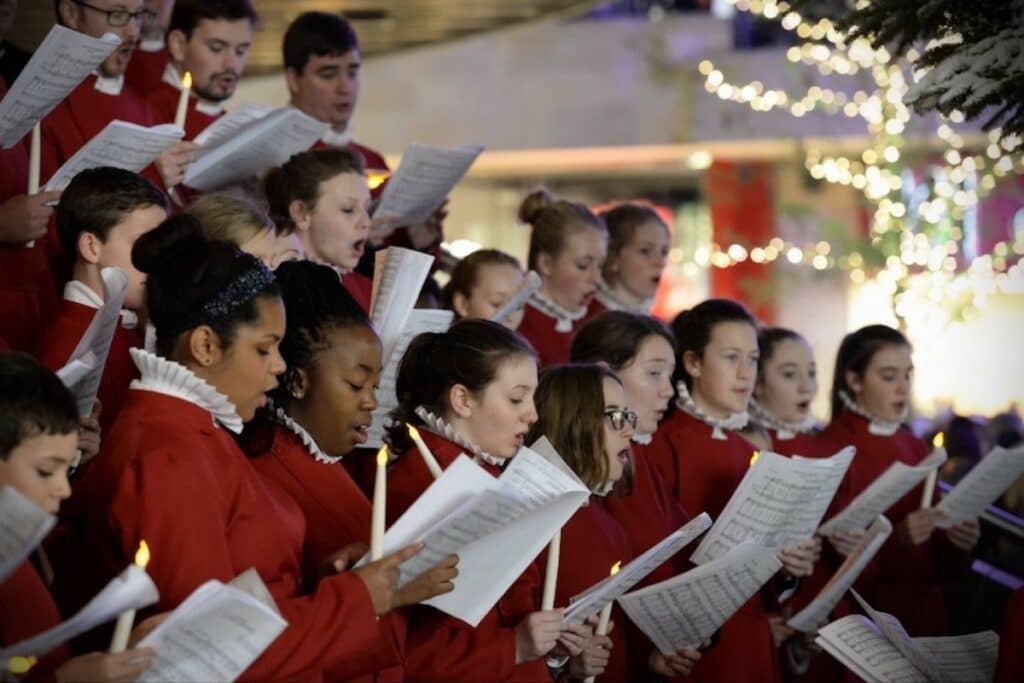 We cannot wait to sing out the 'fa la la la las' this festive season. With stunning venues such as St Paul's Cathedral and the Royal Albert Hall, we're spoilt for choice when it comes to carol services in London.
There are even some new events like a giant carol-singing mass karaoke session… yep, you read that right. Perhaps it's not the traditional way of doing things but belting out The Darkness' Christmas hits with hundreds of other (probably half-cut) singers doesn't sound too bad to us.
With all that choice it can be hard to know what you wanna hit. Why not check out our festive carol singing guide for all the best spots.
You can thank us later.
Or Catch a Carol Concert at a Special Location
Greenwich
9th + 10th December
This year there's a carol concert so special we think it deserves its own special mention. It's taking place not in, but on a very iconic London venue: The O2 Arena.
Yep, you read that correctly. You can climb to the top of what us oldies call the Millennium Dome and watch a carol concert with a cup of hot chocolate in hand. It's only running for two days in December but you'll have multiple chances to get up there on those days.
To book, pick a 'Twilight Climb when booking the activity Up at the O2.
See a City Made of Gingerbread
Shepherd's Bush
2nd December 2023 – 7th January 2024
The Museum of Architecture is fast becoming one of our favourite spots to visit when the festive period kicks in. That's because they do something we haven't seen anywhere else, basically ever.
They construct entire cities out of gingerbread. It's a five-city frenzy that hits on a number of different regions and climates for inspiration. What's more they genuinely get some top architects in to design the thing.
It's truly a sight to behold – just make sure you don't go hungry…
Rave into the Night to Joy Orbison
Whitechapel
16th December
If you fancy a bit of a knees-up in December, look no further than this night at Troxy. It's headlined by the techno master Joy Orbison and runs deep into the wee hours of the morning.
Orbison is backed up by Calibre and Jossy Mitsu – the latter playing a 140 bpm set for the first time in his career. You've been warned: it will get loose.
Get Some Festive Shopping Done at Crafty Fox Market
2nd + 3rd December
No doubt some of you like to get ahead on your Christmas shopping. If you're part of that crowd, heading down to the Crafty Fox's annual market is one of our favourite ways to stay ahead of the game.
The Crafty Fox folk bring together London-based designers, makers, and suchlike for markets of artisanal creations and hand-crafted delights. It's a good mix of the well-established and just-starting out.
One thing's for sure: this is the best place to go if you want to get someone a gift that's unique and imbibed with more meaning than something found on the great shop in the sky – Amazon.
Eat, Drink and Be Merry at the Christmas Markets
London-wide
Multiple dates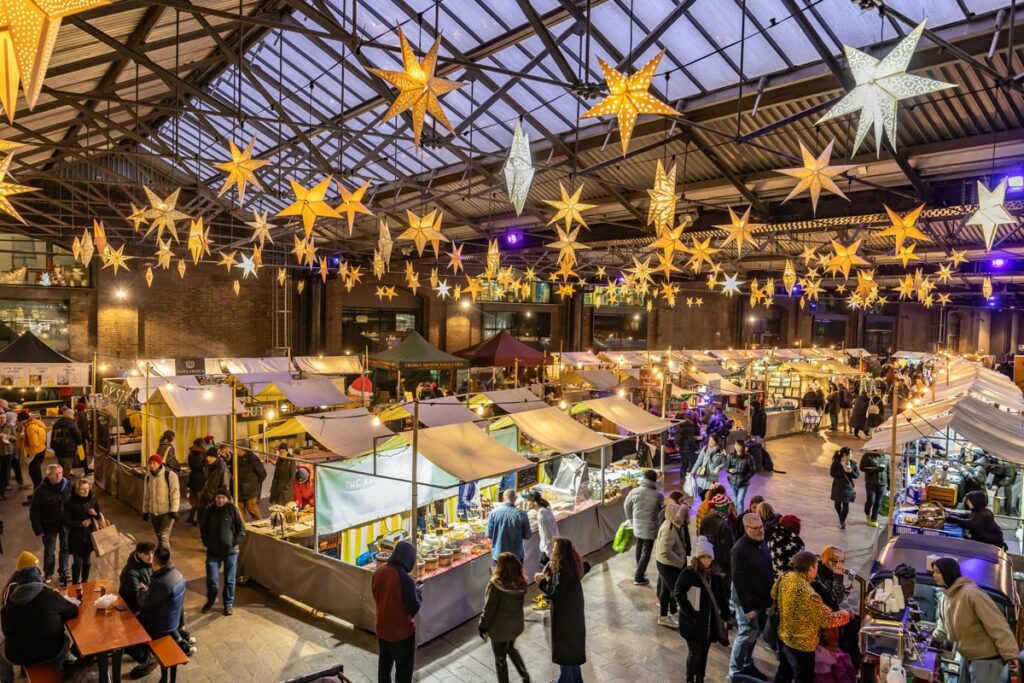 Christmas markets – a staple festive cheer builder. There's nothing like scoffing bratwurst and sipping on mulled wine to get you through the cold weather and up your levels of festive cheer.
Our top picks include Hyde Park's Winter Wonderland (if you can handle the crowds) and the Southbank's Winter Festival. The market at the Finnish church is also a great one if you want things to be nice and traditional.
Make sure you go hungry because there are just too many tempting foods to try. We'll also be checking out The N4 Makers Market for local art and craft from independent North London makers.
Dine Out on a Slap-Up Christmas Dinner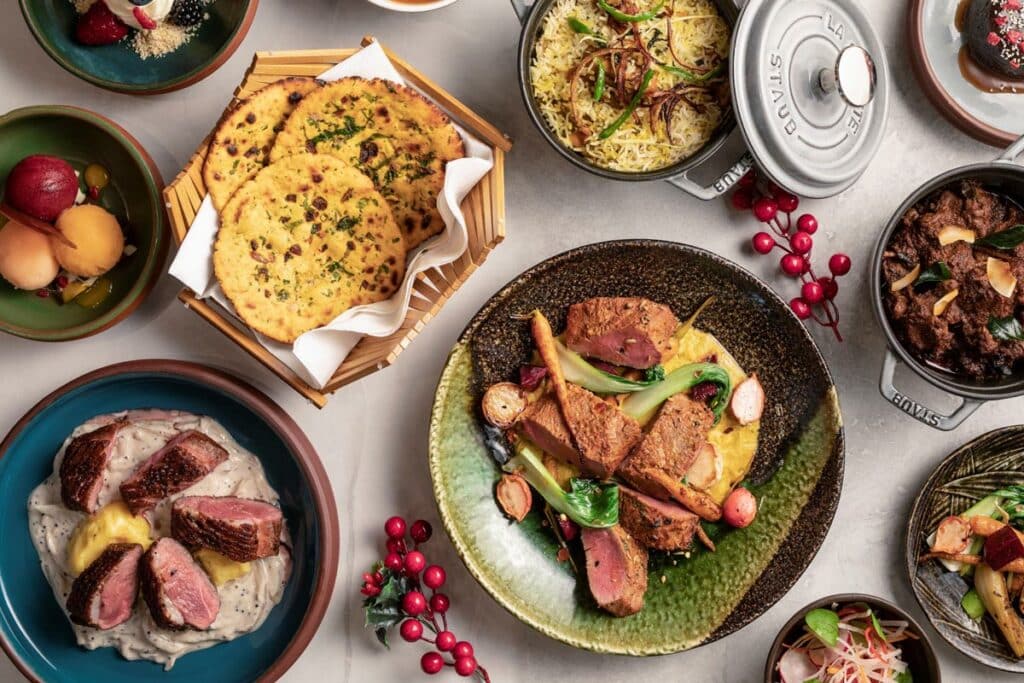 With the festive season upon us it's time to throw away the hopes of completing that diet, or keeping to your exercise routine and get out there and eat. Eat, we tell you!
London's awash with festive deals for food and drink, Christmas dinners or variations thereof. You don't have to commit to the big day – that can still be spent peeling spuds and counting down the hours for the turkey to cook – but if you're feeling like getting out, there'll be deals all month.
We wrote a big ol' guide here. Perhaps there's something on it that tickles your fancy. The Indian take on the traditional dinner at Cinnamon Club has our interests piqued. It's also a good option for trying something new and saving the expectation of a regular turkey dinner for the 25th.
Go to the Cinema in Your PJs
2nd December
Never mind theatre, The Prince Charles is putting on some of the best shows this December.
We're here several times a month for their run of classic films, but for December the big screening is always the annual Christmas Pyjama Party.
That's an all-night Xmas movie marathon screening Elf, Home Alone, Die Hard, The Muppets Christmas Carol, and Gremlins.
Watch the Nutcracker at the Royal Opera House
6th December 2023 – 13th January 2024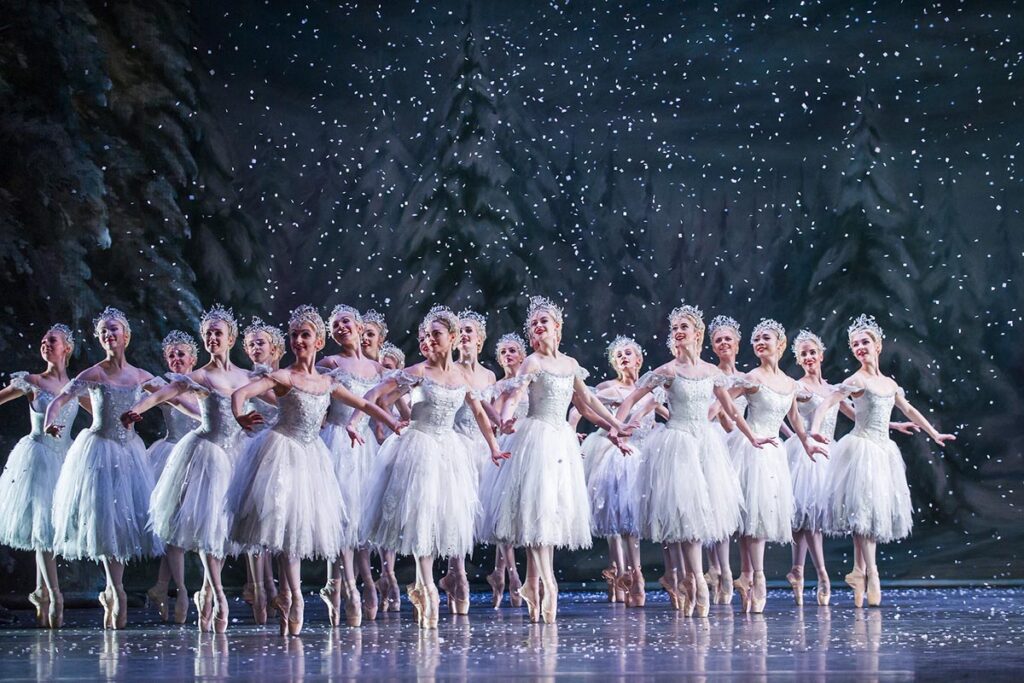 The return of Tchaikovsky's The Nutcracker is always something to look forward to as December nears.
The must-see family favourite is choreographed by Peter Wright for The Royal Opera House – a glittering spectacle with all the charm of the Russian classic. A stunning and thoroughly festive treat.
They put it on every year and it's always a sell-out. If you haven't seen it yet, you should, but make sure you book those tickets plenty far in advance otherwise you're liable to miss the boat.
Dress Up as Santa and Go for a Run
17th December
Santa needs to lose weight, but it would be wrong to deny him the mince pies and glasses of whisky on Christmas Eve. How about donning his outfit and going on a bit of a jog, instead?
It's Battersea Park's annual Santa run on the 18th. You can opt for a 2.5k, or 5k jog, but Santa outfits are a must. It's free to enter but there are a limited number of spots and you'll want to book fast to make sure you get one.
Snap up a Bargain at the Sales
London-wide
Throughout December + January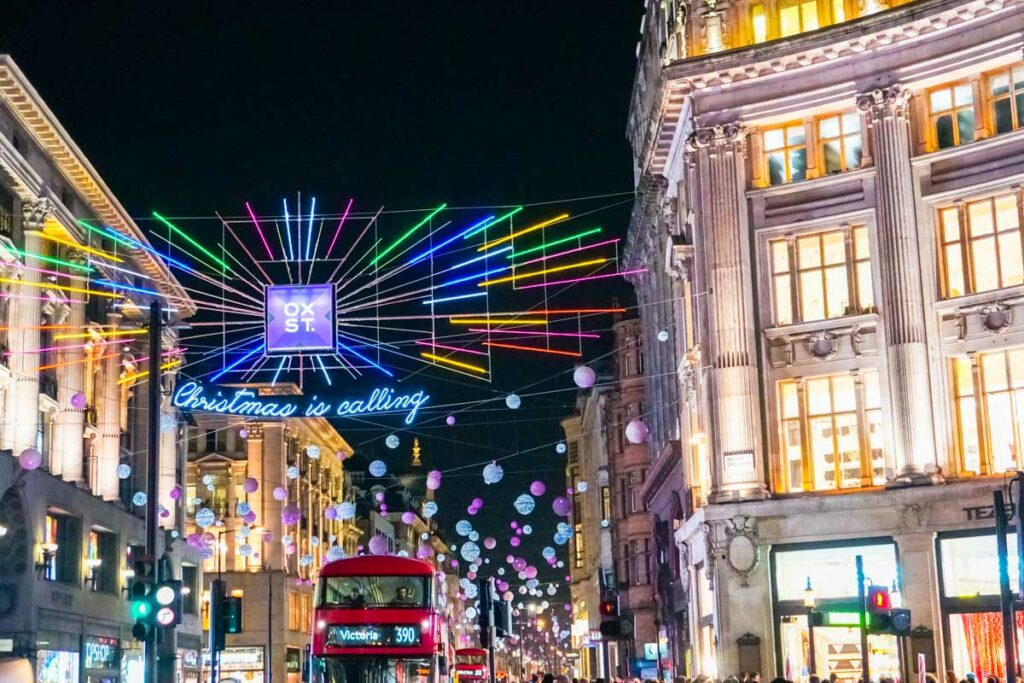 December is the month that we spend, spend, spend, so you can expect to see plenty of pre and post-Christmas offers. Boxing Day is traditionally sale day, but many start much earlier now.
And if the thought of Christmas shopping on Oxford Street makes you shudder, opt for late-night shopping – it's a lot calmer.
If you need a bit of inspiration for where to go shopping till you're dropping, check out this guide of the best spots for it in London.
Try a Winter Sport
King's Cross
Throughout December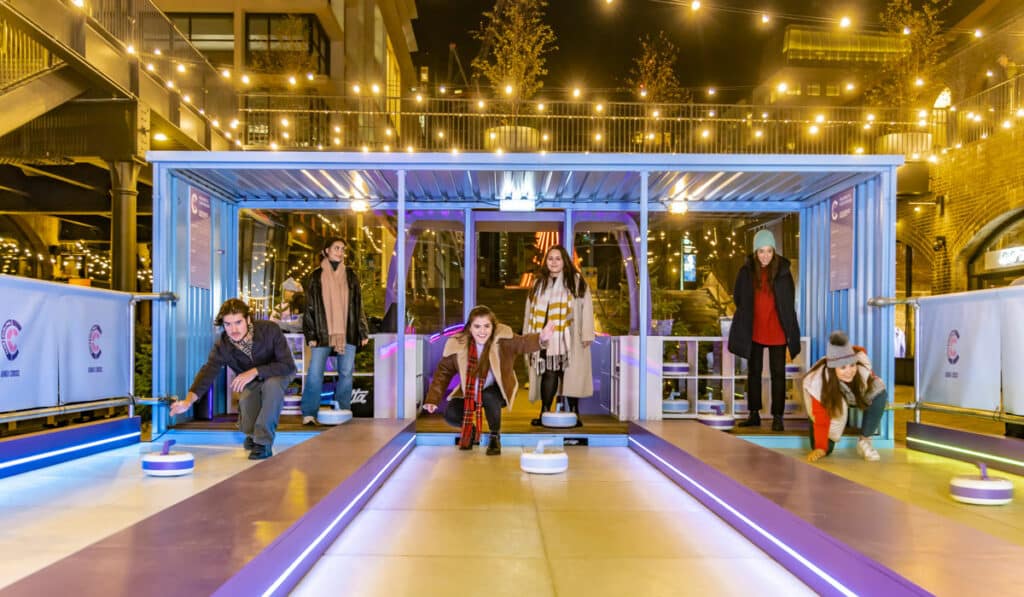 What sport do you think of when you think of winter? Curling. Coal Drops Yard certainly thinks so. Each year in December they open up a curling pitch (is that what you call it?). It's a great spot to head to with groups of friends as they also run a bit of winter-warming food and drink from the sidelines.
Though if you're looking for some romance this December we would say it does well as a date spot too. The place is all lit up and you'll certainly be able to get a laugh or two out of how bad you are at the game…
London in December: Map