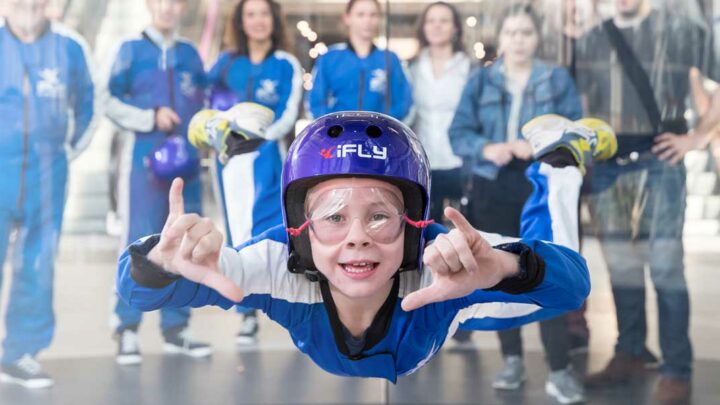 London's always packed with things to do, and that's especially true in December. Here's our guide to everything you need to know about this month.
As the festive season sets in there's more than enough things to do, but no doubt with all the Christmas parties and arrangements with family and friends you'll be short on time for the rest of the stuff London has to offer.
That's where we come in. We've put together a guide of all the best bits and pieces so you can know just how to make the best use of your valuable December down time.
There's ballet, movie marathons, wild immersive art exhibitions, and more food that you should probably attempt to eat.
Read on for our December guide.
Things to do in London in December
Hit the Wild New Reality-Warping Exhibition at Frameless
Marble Arch
If you haven't already checked out Frameless you'd better go and poke your head in. Some pretty out-there minds have put together a show so multi-sensory it's almost like you've been sucked into another dimension.
It features a bunch of classic art from masters like Canaletto, Cézanne, Dalí, Kandinsky, and more, then uses some hi-tech wizardry to project, distort, warp and melt their images into cavernous spaces that, well, basically dwarf you.
Apart from being one of the most immersive art installations we've seen in a long time, it's also highly photogenic. Get down there and splash it across your Instagram before everyone else does.
Look up at the Christmas Lights
London-wide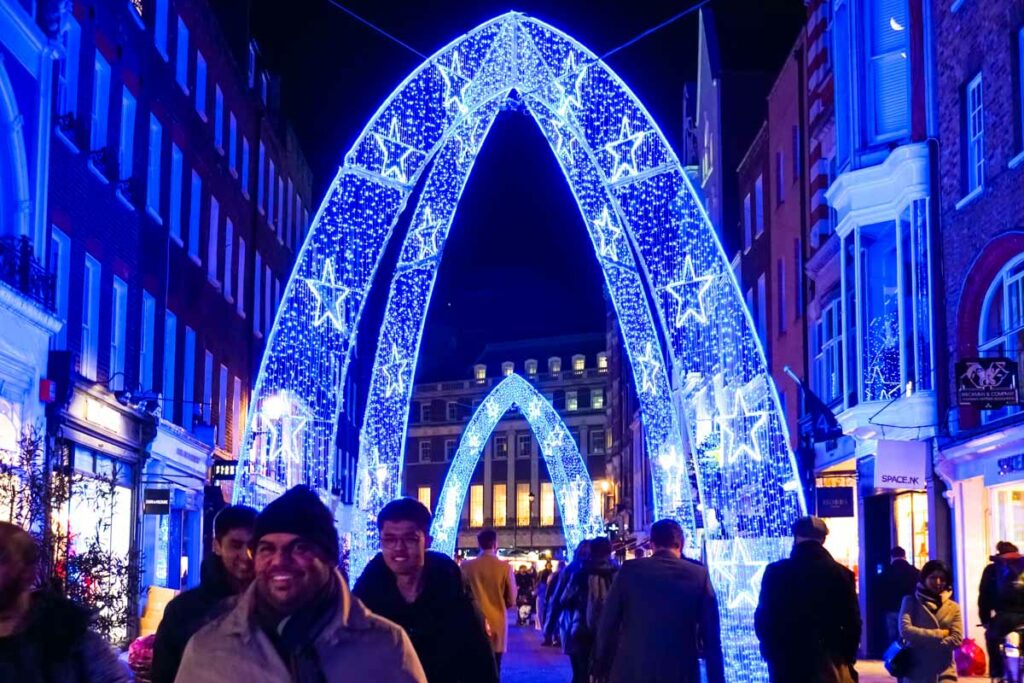 December is always sooo busy, but if all your Christmas shopping is done (bravo!) and you just happen to have an evening free, take time to wander around the glittering London streets while you can.
From Oxford Street to Hyde Park, the city is drenched in sparkles at this time of year, and you can find all the best spots in this handy guide.
See the Skies Light Up Over Crystal Palace
Crystal Palace
17th November – 2nd January 2023
The stunning Lightopia light festival is coming to Crystal Palace Venture down to see the Dinosaur Park brought to life with (buzzword alert) immersive light exhibitions that will blow your mind.
They've got enormous elephants, water feature shows, magical fairy lands and a heap more that's best experienced first hand.
Sing Along to Carols
Multiple dates
London-wide
We cannot wait to sing out the 'fa la la la las' this festive season. With stunning venues such as St Paul's Cathedral and the Royal Albert Hall, we're spoilt for choice when it comes to carol services in London.
With all that choice it can be hard to know what you wanna hit. Why not check out our festive carol singing guide for all the best spots.
You can thank us later.
Tour the Christmas Markets
London-wide
Multiple dates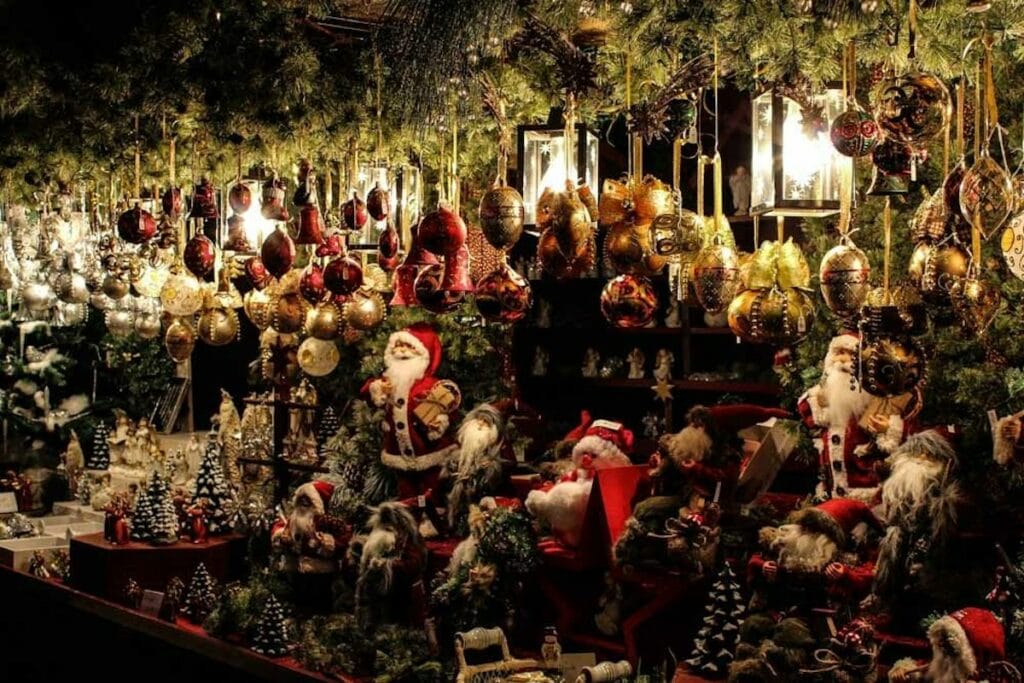 Christmas markets – a staple festive cheer builder. Favourites include Hyde Park's Winter Wonderland, and the Southbank's Winter Festival.
Make sure you go hungry because there are just too many tempting foods to try. We'll also be checking out The N4 Makers Market for local art and craft from independent North London makers.
Watch the World Cup
Citywide
Until the 18th of December
The World Cup is in full swing, if you hadn't already noticed. The games will go on well into December and culminate (hopefully with an England win) on the 18th.
Yes its corrupt, and yes its happening in a slave state with a barbaric legal system. But let's not forget that last time round it was in Russia, and the time before that Brazil had armed police clearing out shanty towns. In '78 it was hosted by a brutal Argentine junta.
The world's a mess. We'd complain, but who'd listen? Let's have a pint at one of London's best sports bars and try to squeeze a little joy out of it before the armageddon.
Have a Slap-Up Christmas Dinner
With the festive season upon us it's time to throw away the hopes of completing that diet, or keeping to your exercise routine and get out there and eat. Eat, we tell you!
London's awash with festive deals for food and drink, Christmas dinners or variations thereof. You don't have to commit to the big day – that can still be spent peeling spuds and counting down the hours for the turkey to cook – but if you're feeling like getting out, there'll be deals all month.
We wrote a big ol' guide here. Perhaps there's something on it that tickles your fancy.
Catch a Festive Film at the Prince Charles
Never mind theatre, London's best cinema is putting on some of the best shows in London in December 2022.
Apart from their full roster of excellent classics, they've got a spread of Christmas films to get us in the festive mood. And they'll be bringing back their annual Christmas Pyjama Party.
That's an all night Xmas movie marathon screening Elf, Home Alone, Die Hard, The Muppets Christmas Carol, and Gremlins.
You can book tickets here. See you in your fave pyjamas.
See a City Made of Gingerbread
Belgravia
3rd December 2022 – 2nd January 2023
The museum of architecture is bringing back their festive biscuit town. It's a five-city frenzy that hits on a number of different regions and climates for inspiration.
They'll also be holding gingerbread house making classes every day over the month the exhibition is on.
Spaces are getting gobbled up. Book a slot here.
Hear the Best of John Williams' Film Scores at the Barbican Centre
Barbican
27th December
John Williams has pretty much been the soundtrack to everyone's movie lives for the past gawd-knows-how-many years. His credits include Harry Potter, Jurassic Park, Jaws, Star Wars and, among many legendary others, a little-remembered hand in the killer soundtrack to Robert Altman's Long Goodbye (cinema buffs, that was for you).
This month the Barbican Centre will be hosting a concert of the best of his works played by the London Concert Orchestra. The film list includes some of the names mentioned above, plus a couple other gooduns that really deserve a play (Indiana Jones).
No word on the mariachi arrangement we get as Marlowe stalks the washed-up Mexican pueblo looking for his dead friend, but "that's OK with me, lady".
Watch the Nutcracker at the Royal Opera House
6th December 2022 – 14th January 2023
The return of Tchaikovsky's The Nutcracker is always something to look forward to as December nears.
The must-see family favourite is choreographed by Peter Wright for The Royal Opera House – a glittering spectacle with all the charm of the Russian classic. A stunning and thoroughly festive treat.
Always a sell-out, and always one of the best shows in London in December. If you haven't seen it yet, you should.
Visit New Avatar-Themed Cocktail Bar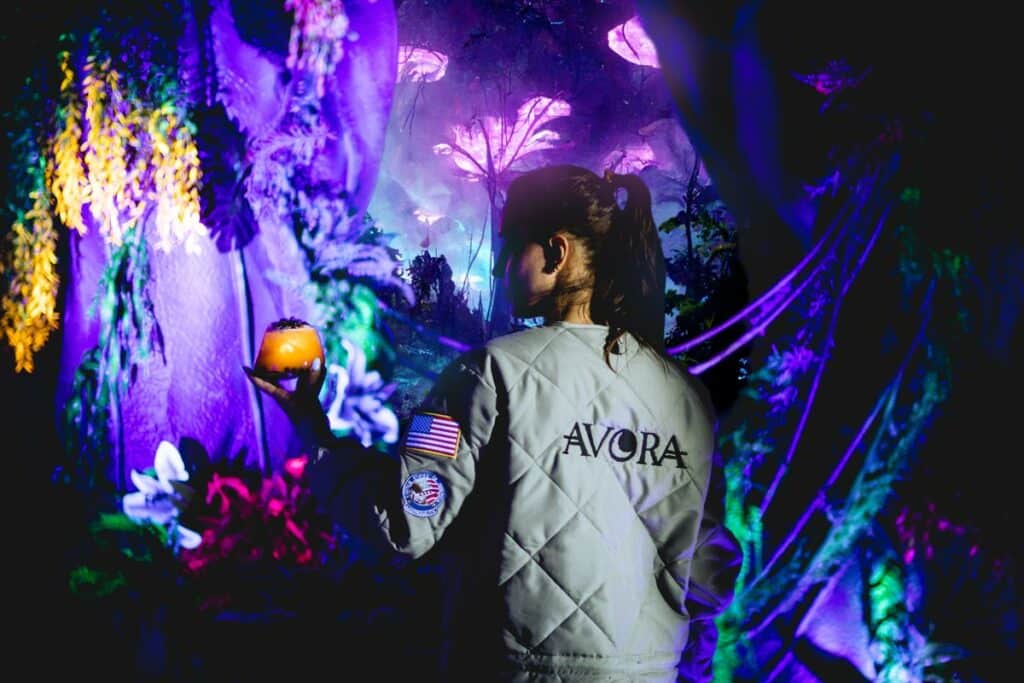 It's a fast-paced world, and a fast-paced city. It's like every week some wildly interesting thing is coming to London, and they're all new and exciting and… Oh look something else cool!
Avora is the latest in a craze of immersive cocktail bars that have swept London over the past few years, and its arrival is perfectly timed with the release of the new Avatar movie. Why perfectly timed?
Because Avora will drop you right into the bioluminescent jungles of the Na'vi where you'll be jumpsuited, plied with delicious cocktails and immersed into a 3D experience with professional actors in a set that shifts from night to day.
It comes from the minds of the other excellent cocktail experiences, Alcotraz, and Moonshine Saloon. If you've not heard of those, give 'em a google. They deserve a second of your over-stimulated attention span.
Get Philosophical at Sophia Club
St Martins in the Fields
5th December
Sophia Club is the new kid on the philosophical block. They formed this year and have been filling our calendars with events that combine philosophy, music, wine, and art.
The 5th of December is all about goddesses. It's full of poetry on the ladies that dominated the Roman and Greek pantheons, as well as talks from classicist Edith Hall, food, beverages and live music.
Sounds like a true symposium.
Get Some Festive Shopping Done at Crafty Fox Market
2nd + 3rd December
No doubt some of you like to get ahead on your Christmas shopping. Heading down to the Crafty Fox market could be a good place to do just that.
The Crafty Fox folk bring together London-based designers, makers, and suchlike for markets of artisanal creations and hand-crafted delights. It's a good mix of the well-established and just-starting out.
One thing's for sure: this is the best place to go if you want to get someone a gift that's unique and imbibed with more meaning than something found on the great shop in the sky – Amazon.
See Ian McKellen in a New Production of Mother Goose
Covent Garden
15th December 2022 – 19th January 2023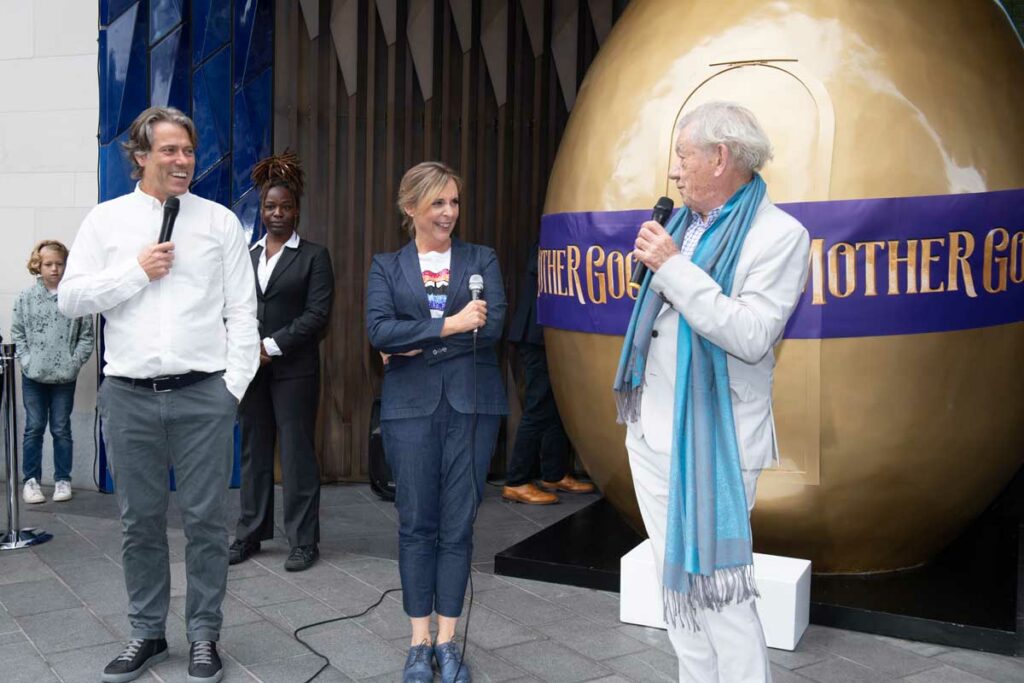 Christmas is the season of the panto, and this is one that should be on your radar. Sir Ian McKellen himself is starring in a production of Mother Goose at the Duke of York's Theatre.
Mother Goose's comfortable life as proprietor of an animal sanctuary is sent arse over tit by the arrival of a magical goose. Will Mumsy manage to keep a cool head, or will dreams of fame and fortune get the better of her?
Sure to be unrivalled panto fun.
Go Indoor Skydiving
From 21st December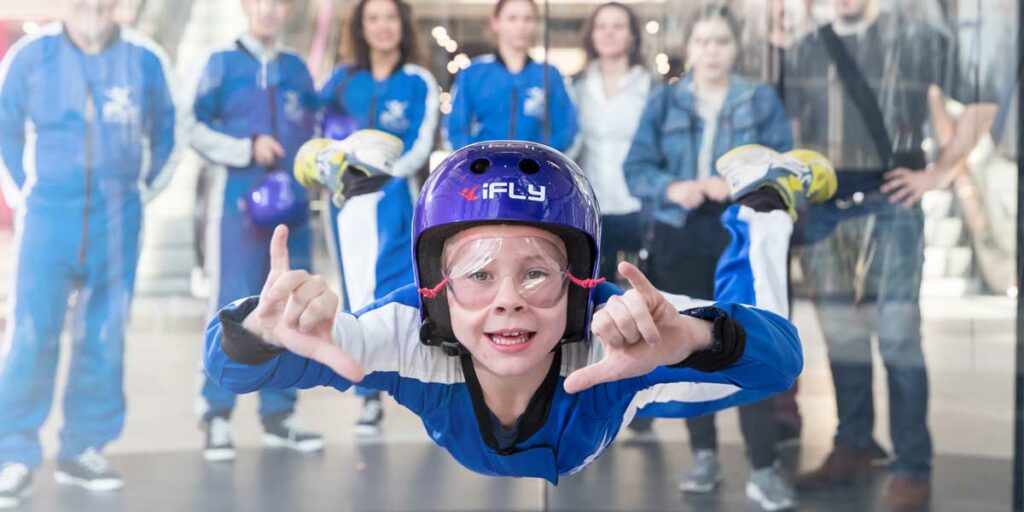 If you hadn't already heard, this December you'll be able to experience the magic of skydiving without all the hurtling-toward-pancakeification that puts most sane people off.
iFly, a US-based indoor skydiving company with a few branches in the UK, will finally be bringing their experience to London. It opens in the O2 Arena in Greenwich just in time for you to get an action-shot of your face all wind-warped to stick on the front of your Christmas cards.
Oh yeah, and they have VR skydiving options… Needless to say, we're excited.
Watch Avatar on the Newly Reopened BFI Imax
From Friday 16th December
The BFI reopened their IMAX theatre last month and have slowly been upping the schedule since. The biggest release, without a doubt, has to be the new Avatar film coming out this month, which is probably the definition of films made for the big screens.
And their screen is BIG – almost higher than five double decker buses stacked on top of each other, which makes it the biggest in the UK. The reopening follows a refurbishment that ups their sound system game and sharpens the screens image resolution.
When it comes to cinema, they're top of their game.
Check out schedules and book tickets here
Attend a Beer and Cheese Pairing Session
Wimbledon
15th December
We've all heard of cheese and wine, but that was soo last year. 2023 will be the year of cheese and beer. To get a taste of what that might be like, head down to Wimbledon Brewery.
You'll be sipping on freshly-brewed foamers and learning about the cheeses that suit the beer palate in the atmospheric setting of the brewery towers. The night includes a tour of the brewery.
Snap up a Bargain at the Sales
London-wide
Throughout December + January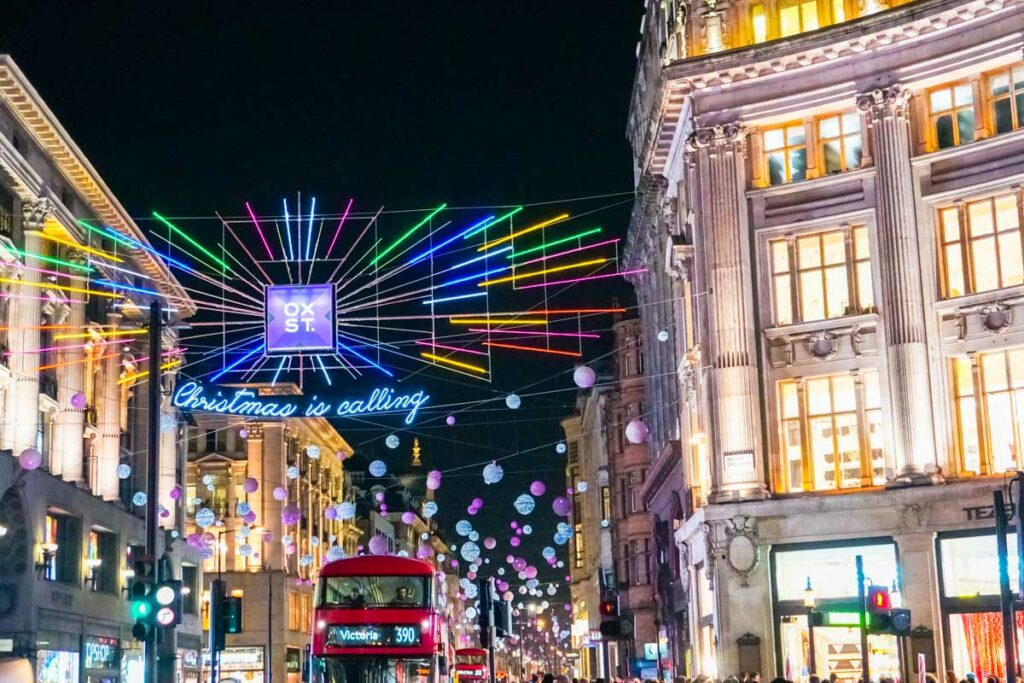 December is the month that we spend, spend, spend, so you can expect to see plenty of pre and post-Christmas offers. Boxing Day is traditionally sale day, but many start much earlier now.
And if the thought of Christmas shopping on Oxford Street makes you shudder, opt for late night shopping – it's a lot calmer.
Explore Psychedelics with a Doctor
7th December
Curious about what happens to your mind when you chomp down the kind of mushrooms that won't make it into the Christmas party vol au vents? Christopher Timmermann from the Centre for Psychedelic Research in Imperial College London is on hand to give you the low-down.
He's a real doctor (as in not like Dre or Who) and he's going to be talking about what psychedelics, especially DMT, can tell us about the mind and consciousness.
If you're interested, book a ticket here
See the Return of Disney on Ice
Greenwich
22nd – 31st December
Not one, not two, but loads of Disney heroes gliding about on ice singing. Sounds pretty magical, right? It is. This show comes through the capital on its UK tour about once a year and cleans up in ticket sales without fail.
If you're the kind of big kid that is excited by this, or perhaps the kind of parent who'll sleep through it while the little kids unleash sugar-fueled screams of magical disbelief, you'd better act fast and book up.
Catch Pusha T at the Brixton O2 Academy
Brixton
19th December
Pusha T hits the capital hot off the back of the release of his fourth major album It's Almost Dry.
The album is a stark warning against the dangers of desertification through climate change… Just kidding, it's more head-banging hip hop from one of the biggest dons in the industry, and widely hailed as his best work yet.
His latest tour, in conjunction with the release of the album will see him stopping at music mecca, the Brixton O2 Academy in a month that also sees rap legend The Game stopping by a few days earlier.
Go Curling
King's Cross
What sport do you think of when you think of winter? Curling.
The newly-opened pitch(?) at Coal Drops Yard is suitable for groups of up to six but could also double up as an original date spot. Tie it in with a stroll around the Christmas market and glass or two of mulled wine and you're on for a winner.
Attend a Beer Festival in Hackney
2nd, 9th, + 16th December
As you may have noticed from the arrangement of dates (all weekends), the smart people behind this beer festival know that they're probably going to induce a few hangovers this December. Check out the spread of beers on offer and you'll probably agree.
There's some of the UK's best craft breweries lining up under the railway arches at Bohemia Place and it's all part of a winder market full of delicious grub and stalls for inhibition-free shopping – the best way to find presents your loved ones will never use.
Dress Up as Santa and Go for a Run
18th December
Santa needs to lose weight, but it would be wrong to deny him the mince pies and glasses of whisky on Christmas eve. How about donning his outfit and going on a bit of a jog, instead?
It's Battersea Park's annual Santa run on the 18th. You can opt for a 2.5k, or 5k jog, but Santa outfits are a must.
It's free to enter but there are a limited number of spots. Sign up here.
London in December: Practical Tips
Make sure to wrap up warm (Obviously).
December in this city gets crowded. Big time. If that's not your thing, time your trips out accordingly.
Book restaurants, activities, hotels, and anything else you have planned well in advance.
London in December: Map
London in December: Read Next