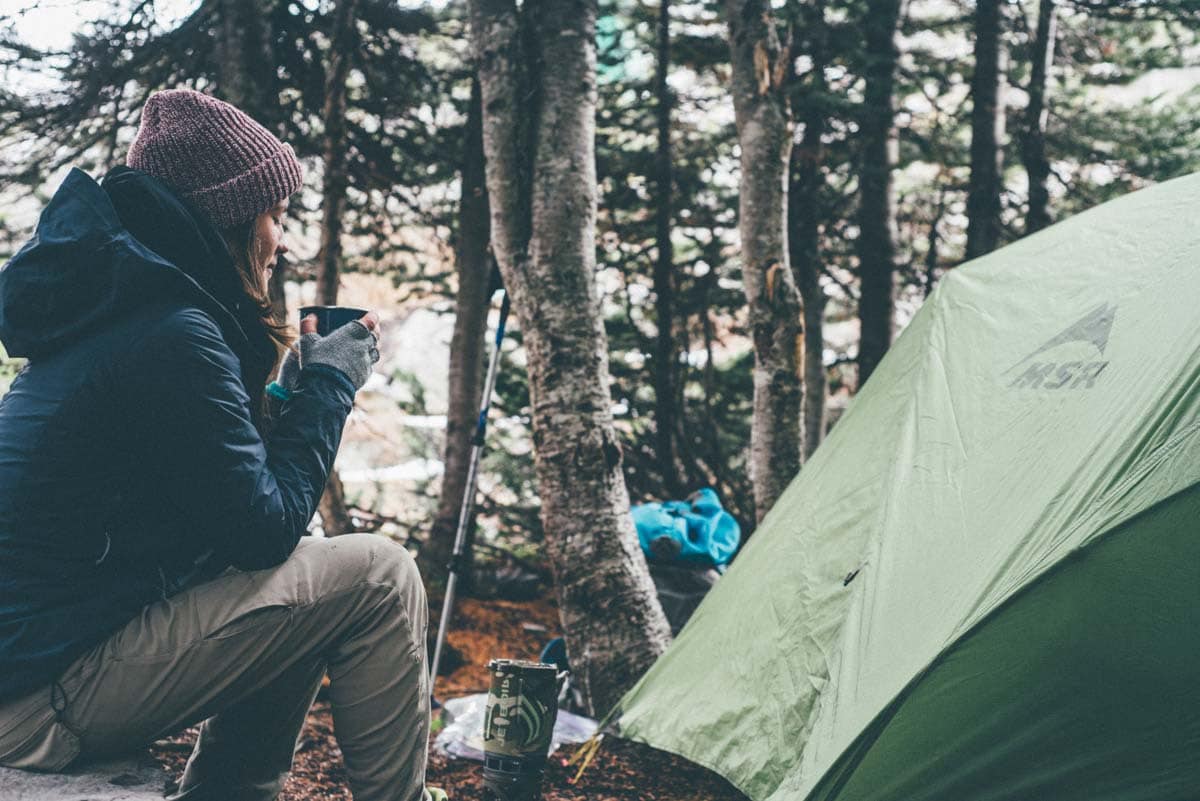 Cool campsites near London for next time you need a break from the city.
There's no denying that city life is fun, no one is going to blame you if – just once in a while – you want to escape. That's where these cool campsites near London come in.
Whether you're after the true camping experience, complete with mud and laughs, or if luxe glamping is more your style, this guide has got you covered. So pack your bags and pick one of these cool camping spots near London. Just don't forget your tent!
Best Places to go Camping Near London
Firle Campsite
South Heighton, Lewes
For the ultimate camping experience with campfires and nature aplenty, Firle Campsite is the best spot, just 20 minutes from the Brighton seaside.
With safe wooded areas, giant swing trees, and a woodland play trail, this is a great campsite for families who are looking to really get off the grid and escape the hubbub of modern life.
Easily bored? You've got plenty of stunning walks on the hilly South Downs, as well as the quaint Firle village just around the corner waiting to be explored.
If you enjoy a drink, there's a farm around the corner brimming with delicious local cider and the local pub, The Ram Inn is a total beaut, complete with hearty Sunday lunches that would be worth the trip alone.
How to get there: A 2 and a half hour drive from central London, or Glynde is the nearest train station.
Lee Valley Campsite
Sewardstone, Essex
Now, Lee Valley has plenty of campsites dotted around near London, but the Sewardstone spot is our favourite.
If you're after a jam-packed trip full of sports and outdoor fun, Lee Valley is the place for you. From cycling through the local area to a civilised round of golf, there's plenty of activities for you to sink your teeth into. Or, you know, you can always take it easy and spend the weekend horizontal with a good book.
The site is dog friendly too, so bring your furry friend along to complete the family holiday. We highly recommend hiring a fire pit and cracking out the marshmallows for the complete camping experience.
How to get there: An hour's drive from north London, or, take the Victoria line to Walthamstow Central and catch bus 215 towards Sewerstone.
Woodfire Camping
Petworth, West Sussex
Surrounded by plenty of National Trust properties, stunning landscape, and historic towns filled with fun museums and activities, Woodfire Camping is a great all-rounder. You're close to a number of local beaches, as well as being only 20 minutes from the Isle of Wight dock.
This is a brilliant spot for foodies – throughout the week the campsite rustles up some dishes in the great outdoors, from classic bacon rolls for breakfast to delicious flatbreads and grilled meat in the evening. If this sounds right up your street, you'll be glad to know that, they also offer fire-cooking classes, so you can get stuck in and learn the tricks of the trade.
How to get there: Located in the heart of the South Downs, less than 2 hours away by car from central London. Or, take a train from London Victoria to Pulborough.
Rankins Farm
Maidstone, Kent
Looking for total relaxation? Head to Rankins Farm for a nearby countryside escape.
With some of the bougiest glamping pods we've ever seen, this campsite offers the best of both worlds – a rural farm retreat with all the comfort of a wooden chalet.
Or, book the spacious old wagon lodge, and experience a farmside getaway with modern amenities and lots of privacy.
Despite the name, they don't have animals on site, but nearby you'll cross paths with local wildlife. And with Kent close by, you won't feel too cut off from the rest of the world.
How to get there: Take an easy 90 minute drive from south London, or take a direct train from London Bridge to Marden in Kent, followed by a short taxi ride to Rankins Farm.
Gravel Pit Farm
Tonbridge, Kent
For a weekend of BBQ's, campfires, and wildlife, book a stay at Gravel Pit Farm.
Enjoy the sunset from your private terrace with a glass of bubbly, and be sure to brush up on your constellations as the clear skies in the area mean it's the perfect place to do some star spotting – sounds like heaven right?
Top tip: if you're with kids, book the safari tent for an endless amount of fun. You're also near a Go Ape experience, as well as a leisure centre offering paddleboarding and cycling, so there's plenty to keep them occupied.
How to get there: A 90 minute drive from central London, or similarly to Rankins Farm, take a train to Marden.
Chigborough Farm
Maldon, Essex
After complete tranquillity? Fine dining? Arts, crafts, and an abundance of activities? Chigborough Farm has it all.
With its stunning lake the main feature of the farm, and the spacious pitches and gorgeous wooden pods perfect for a getaway, Chigborough Farm is a popular spot for camping near London. It's close to Chelmsford for convenience, but with all the charm of a countryside escape.
Primarily used by keen anglers as Chigborough's lake is the perfect fishing spot, but if you're not too keen on the idea of fishing then there's plenty more on offer, including yoga, pottery, and rowing.
How to get there: Just an hour's drive to Chigborough from north London, or take the train to Chelmsford, followed by a bus to Maldon.
Wild Boar Wood Campsite
Haywards Heath, West Sussex
As the ultimate eco-adventure, Wild Boar Wood encourages you to reconnect with nature during your stay. With pitches dotted throughout the woodland, the morning birdsongs are your alarm and facilities are basic but everything you need for an authentic camping trip.
Whilst the campsite doesn't offer too many activities, there's lots to get involved in nearby, including a llama park, wine tours, and plenty of pools to cool off on a hot day.
The best part? You can have your own campfire in the woodland, so get ready to channel your inner Ray Mears.
How to get there: The most convenient train station to the campsite is Haywards Heath. Or, alternatively, it's a 2 hour drive from central London.
The Nut Plat Retreat
Sevenoaks, Kent
For vintage glamping in Kent, Nut Plat Retreat offers the most unique experience.
With 2 vans, each kitted out with kitchen and bathroom facilities, old-school card and board games, and a wooden hot tub perfect for an evening soak, Nut Plat Retreat allows you to get totally off-grid (you even have to charge your phone in the main barn, as the vans have no electrical sockets!).
How to get there: An hour's drive from south London, or take a train from Victoria to Borough Green, followed by a short bus ride to the site.
Manor Farm
Alton, Hampshire
Manor Farm sits on the outskirts of the South Downs National Park, surrounded by farm animals, an array of crops, and even a farm buggy that zips about to guests' delight.
With accommodation ranging from a modest log cabin to a glamorous canvas lodge complete with a private outdoor terrace, you can tailor your experience accordingly.
There is a ridiculous amount to do at Manor Farm – get involved in a pizza evening, take a tour of the farm, or unwind with a glass of red in a hot tub. You can even get married here!
Whilst there's not too much to keep the kids occupied, this is the perfect escape for couples or a group of adults.
How to get there: An hour from West London, or take a train from Clapham towards Alton.
Sunninglye Farm
Tunbridge Wells, Kent
Nestled in an area of outstanding beauty, Sunninglye Farm is potentially the prettiest campsite in our guide.
Fully-equipped canvas lodge tents offer a somewhat luxury glamping experience – though, bear in mind that there's no electricity or wifi on site, so the luxury ends there.
With a small pond perfect for boating activities, donkey rides, and the Rocky Fields (a perfect animal lookout) nearby, this is a great site for families with young children.
How to get there: Near to Royal Tunbridge Wells, just an hour's drive from south London, or a short train ride from London Bridge.
Southey Creek Glamping
Maldon, Essex
With plenty of local pubs, beautiful hikes, and even a campsite kestrel, Southey Creek Glamping makes for a lovely Essex escape.
Whether you opt to stay in the Shepherd's Hut (which looks a little bit like a mini-barn on wheels) or the modern camping pods, you'll struggle to find a location more relaxing than at Southey Creek.
Whilst they don't accommodate dogs or children, couples can enjoy cycling and picturesque walking trails nearby.
How to get there: Just an hour's drive from north London, or take the train to Chelmsford, followed by a bus to Maldon.
Knepp Wildland Safaris & Camping
Billinghurst, West Sussex
Now, this is an animal lover's paradise. Knepp Wildland Safaris & Camping is much, much more than just a campsite – it's like a mini-resort.
The safaris are the main pull here, whether you fancy an evening drive out to spot some of the nocturnal animals that emerge at night, or a tracking tour so you can learn how to spot wild animals yourself.
You can opt to stay in tree house accommodation or wooden yurts, but for the true experience we recommend packing your own tent and booking one of the pitches in the meadow, which comes with a private fire pit and BBQ grill.
How to get there: A scenic 90 minute drive from south London, or Pulborough is the closest train station.
Wowo
Uckfield, East Sussex
For whole-family fun (dogs included!), head to Wowo for a weekend of rural escapades. As they stress, camping without a campfire is absolutely no fun – so make sure to purchase some logs from the small onsite shop and prepare to gorge on s'mores.
Wowo have created their own village at the heart of the campsite, which acts as a hub in the evenings, where campers can gather and eat, chat, and shelter from the unpredictable British weather.
With a multitude of activities available nearby, you have opportunities to cycle, fish, horse ride, and, of course, wander your way through the pretty local countryside.
How to get there: Wowo has a completely rural location, so I highly recommend driving the two hours from London, if possible.
Watercress Lodges
Winchester, Hampshire
Watercress Lodges is next, offering up a camping experience that's a little bit less rural, and a whole lot of wonderful.
In close proximity to Winchester, you're near to the historical UK city known for having the Cathedral with the longest mediaeval knave in Europe – cool right? There's also plenty to explore here, with interesting museums, galleries, and lots of traditional pubs and quirky boozers.
While we'd usually recommend you take your own tent and camp for the most exciting experience, the lodges here exude cuteness and offer a little bit of luxury during your stay.
How to get there: Either take a 90 minute drive from central London, or take a train from Clapham to Alton followed by a short bus ride.
Little Fleece at Folly Farm
Newbury, Berkshire
Camping experiences don't get any more authentic than the one offered at Little Fleece at Folly Farm, in the quaint market town of Newbury. With just one small hut situated on the farm, this is the ultimate off-grid experience that allows you to escape absolutely everything, including people.
Whilst this is not an ideal spot for kids, a wood-fired outdoor bathtub and beautiful country-house interior make this the perfect romantic getaway.
How to get there: A short 45-minute drive from west London. Or, take a train to Newbury and then a short taxi to the farm.
Big Hat Bushcamp
Chertsey, Surrey
Fancy channelling your inner Bear Grylls? Part campsite, part experience, Big Hat Bushcamp offers a wild weekend where you can literally learn how to survive in the wild.
Whether you're new to camping, or have years of experience under your belt, you are sure to learn something new at Big Hat Bushcamp – activities range from wood carving to fire building, and with no age limits, you're never too young or old to learn the ways of the woods.
Sounds fun right? Make sure to book well in advance as weekends get booked up very quickly!
How to get there: Situated close to Thorpe park, less than an hour from central London.
Sumners Ponds
Billingshurst, West Sussex
Looking for the ultimate fishing experience? With an onsite tackle shop and multiple lakes with an abundance of fish, Sumners Ponds has just that.
Choose to pitch your own tent, stay in a camping pod, or opt for a lakeside lodge, it's totally up to you – no matter which accommodation you choose, you're guaranteed a relaxing weekend of fishing. Or if fishing isn't your thing, head to the nearby cities of Guildford and Chichester for a weekend of cultural exploration.
There's even a vast onsite meadow, perfect for letting your pooch roam free.
How to get there: Whilst you can get there by taking a couple of trains, I recommend the easier 90 minute drive from south London.
Lee Valley – Almost Wild
Broxbourne, Hertfordshire
Don't want to venture too far? Sitting just outside of London is another Lee Valley campsite – and this one offers you the chance to have your own wilderness adventure.
With guests above 12 years old welcome, the wild camping experience includes solar panelled lighting (it can get dark in the evening!), composted toilets, and just a cold water tap (you have to figure out how to heat it yourself).
Whilst you're pretty much left to fend for yourself on the site, you won't feel totally savage – there's plenty of places nearby to grab some food if you don't feel like cooking.
How to get there: From Tottenham Hale station, take a train to Broxbourne.
Finchingfield Camping
Halstead, Essex
For a campsite all about stunning views, visit Finchingfield Camping and be treated to some of the prettiest landscapes that the UK boasts. Seriously, the Instagram opportunities here are endless.
Pay a visit to the funny farmer Kiley for a tour of a local farm and have the opportunity to nurse lambs in spring and flounce around with alpacas, or embark on a unique experience through the onsite lavender fields. There's also plenty of opportunities for scenic hikes and boating trips nearby.
Choose whether you want to camp or glamp, either way you'll be treated to wonderful views.
How to get there: The drive from central London takes just under 2 hours, or you can take a train to Chelmsford and catch a bus towards Finchingfield.
Wingbury Farm Glamping
Aylesbury, Buckinghamshire
Wingbury farm is all about the glamping – perfect for a girly weekend away.
Each pod is modern and cosy, with a kitchenette and private bathroom. They even come with a Scandinavian hot tub perched on the terrace outside, for the ultimate luxury experience.
The Buckinghamshire location means that you're not very far from great nightlife, delicious food, and plenty of museums and sporting activities during the day. The village of Wingrave, which has absolutely anything you'd need during a weekend away, is within walking distance to the farm (no need to lug bags of food shopping with you!).
How to get there: Take a train to Aylesbury, and then a short bus journey onwards to Wingbury Farm. Or, an easy 90-minute drive down the M1.
Plush Tents Glamping
Chichister, Sussex
As you might have guessed from the name, accommodation at Plush Tents Glamping doesn't mean you've got to leave the life of luxury in London when you embark on your camping trip.
The tents here are actually yurts, and come spacious enough to park two cars in (not that we recommend you try it). They're as cosy as a hotel room and just as warm, and if you need any proof that these places might actually be better than your apartment in London, know that they've got a hot tub on site.
Oh yeah, and you'll only be a short stroll from the sea. What more could you ask for?
How to get there: Driving or taking the train takes about 2.5 hours. For the train, leave from Victoria Station and go to Chichester, then take the 54 bus a short ride to the campsite.
Holden Farm Camping
Winchester, Hampshire
If you fancy getting close to nature and camping the old fashioned way (i.e. not in a luxury tent that's basically just a fancy outdoor hotel room) then head down to Holden Farm.
They've got a 700 acre tract that's home to flocks of sheep and the gorgeous rolling meadows of the South Downs. With all that space you'll have plenty of room to make yourself at home and get away from the crowds of the big city.
Best thing about this campsite? The walks. Ask at reception for some tips and they'll point you in the direction of a nice route.
How to get there: You'll have to drive but it will take just under two hours from central London.
Campsites Near London: Practical Tips
Setting off at the right time can make all the difference in London, especially if you're driving. Beating the rush hour is key. Sometimes it's even best to set off very early in the morning to avoid it. You'll also get more time at the campsite when you arrive.
Many of these spots will have on-site shops where you can purchase supplies but it's worth bringing any comforts you want from home – marmite, that special brand of tea, a bottle of something nice – with you yourself.
Bring clothes for all weather types. You're in England remember. Though it's forecast sunny the weather can turn in an instant and there's nothing worse than being soggy and wet in a tent.
Map of Campsites Near London