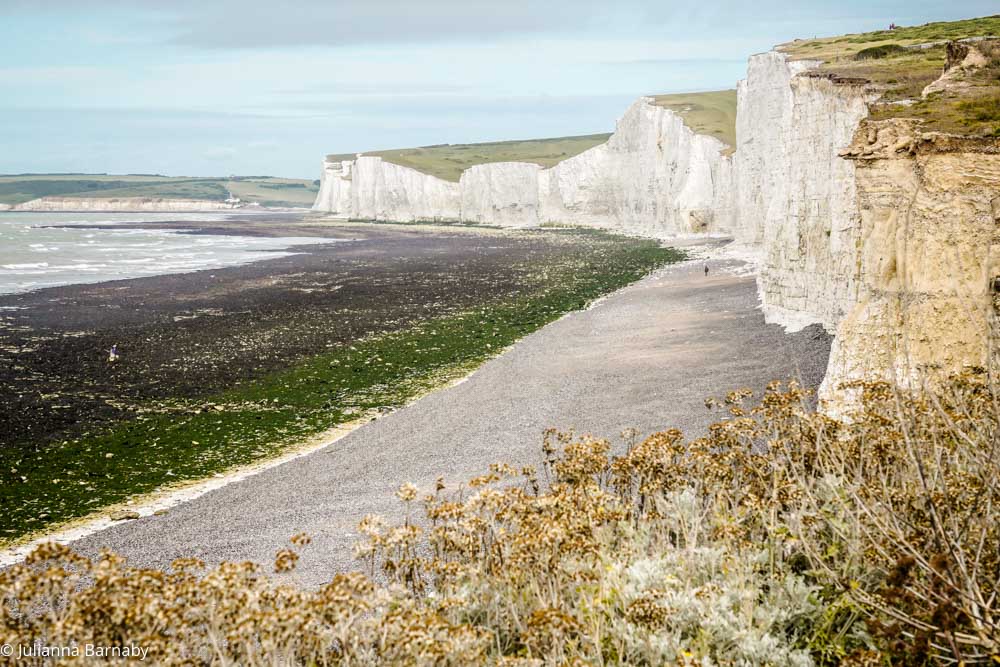 There's nothing quite like strapping on your hiking boots and going for a gorgeous country walk is there? Want to go hiking near London and not sure where to start? Don't miss this guide to the best hikes and walks near London.
Much as I love London, there's something so enjoyable about heading out of town bounded for the great outdoors.
Call it a hangover from the many childhood days I spent with my family catching slow, puttering trains to Box Hill and the like, a picnic we could barely carry in tow, aiming to escape the concrete jungle and enjoy our little slice of rural life.
Today I still spend many a weekend gulping lungfuls of fresh air as I tramp my way across south east England's extensive network of footpaths.
Why not? IMHO There are few things better.
Luckily for all of us, London is blessed with a number of spectacular hikes and country walks in close proximity. Simply hop in your car and you can shape your day's adventure.
Need a few ideas? Here are ten of my favourite spots to go hiking near London.
PS, you should also check out my guide to the best walks in London too.
15 Perfect Routes for Hiking Near London
Seaford to Eastbourne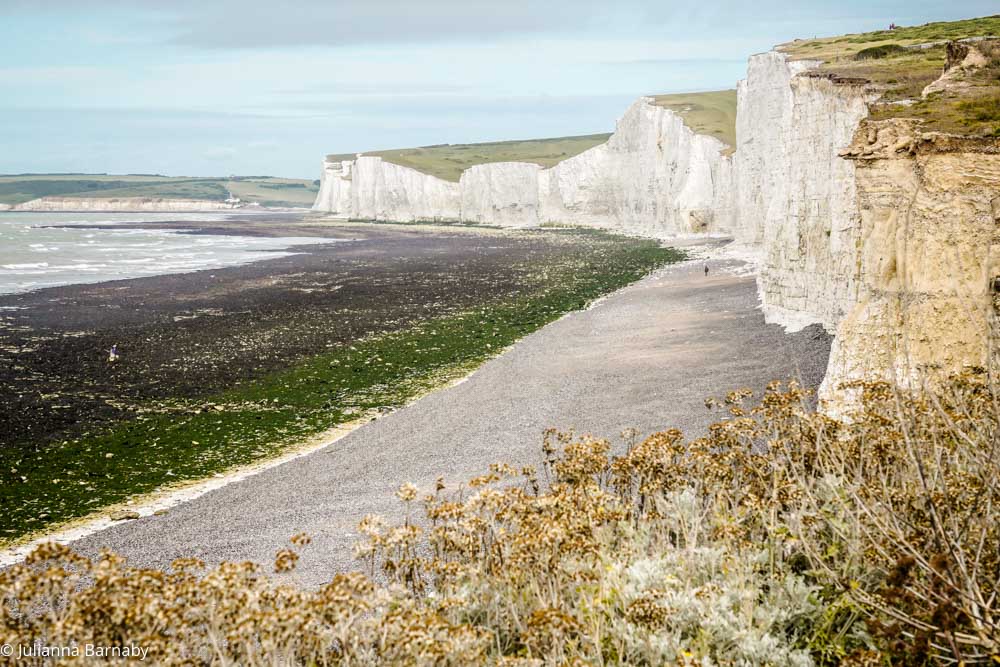 This is one of the most spectacular day hikes near London, with views of (and plenty of hiking on) the distinctive chalk cliffs that form the Seven Sisters.
Where many of the other walks in this list are all about gentle pleasures, this one is all about the dramatic views.
There's no gentle suggestion of beauty – set off on the walk and boom – you're looking at one of the most iconic panoramas in the UK.
You'll pass the infamous Beachy Head, wend your way down to Birling Gap (where I'd very much recommend sitting down for a picnic with the best views of the Seven Sisters spread out before you).
There aren't really any flat sections – but who needs flat sections and an easy ride when you have gorgeous panoramas instead? It's no surprise that with so many ups and downs, your legs are in for one hell of a workout too.
Distance: 13.6 miles
How to Get There: Trains run from London Victoria & London Bridge to Brighton, where you need to change for the train to Seaford – takes around 1 hour 30 minutes. Trains run from Eastbourne to London Victoria and take 1 hour and 30 minutes.
Approximate Time to Complete: 7 hours
Read Next: Amazing Day Trips from London
Hampton Court to Staines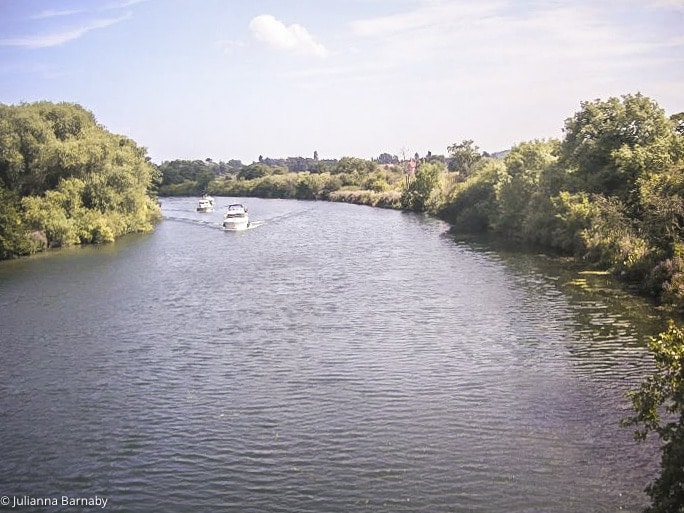 Hampton Court may be one of London's famous historic palaces, but it's also the starting point for this gorgeous Thameside walk.
The walk is a part of the Thames Path, which runs the full length of the River Thames from its source to the Thames Barrier (I'd highly recommend taking a week and a half to walk the full path if you have the time, it's beautiful).
This is the first section of the path from London that really takes you into the countryside – you wend your way past locks, boat clubs, small Surrey towns and reservoirs and through quiet fields – there's even a quaint ferry crossing to shuttle you from one part of the walk to the next.
Distance: 12 miles
How to Get There: Trains run from London Waterloo to Hampton twice an hour and take 40 minutes. Trains from Staines run frequently and take between 30 to 40 minutes.
Approximate Time to Complete: 5 hours
The Oak Trail, Epping Forest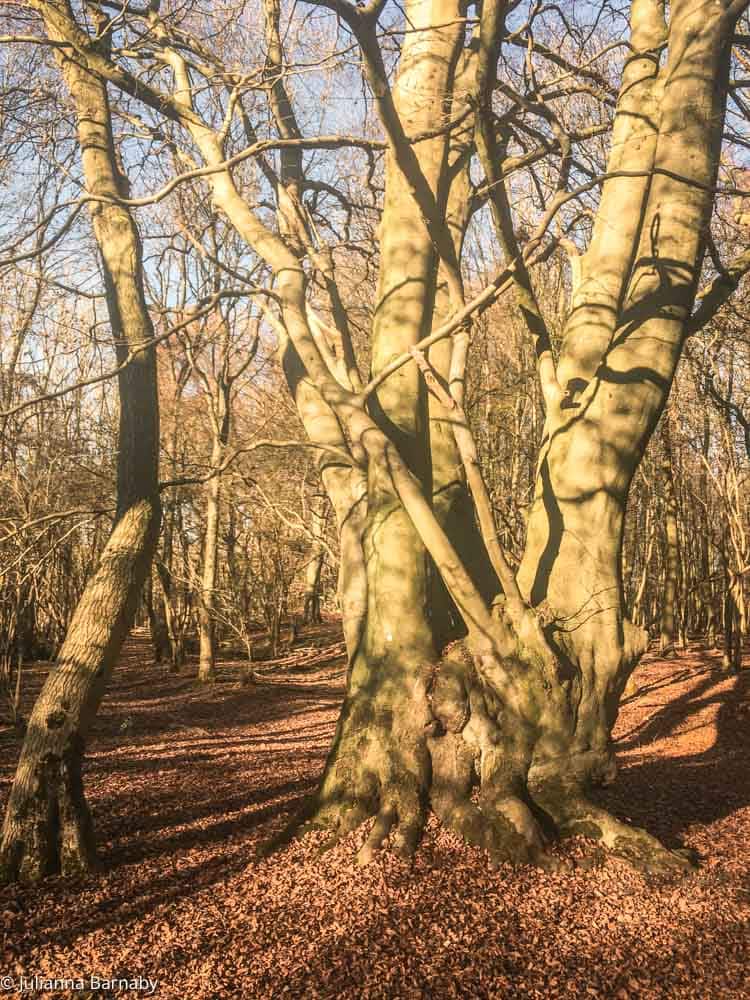 Starting from Theydon Bois, The Oak Trail leads you through parts of Epping Forest – complete with a deer sanctuary and a great pub (The Old Bull) for a pub lunch at the end.
There's something so civilised about being able to catch the tube to take a walk.
Although it's only 12 miles from the centre of London – the nearest you'll get to hiking in London – there are times on The Oak Trail when you feel much further away.
The walk is nicely varied – meandering between wide open spaces and through the oak trees that give the trail its name – the perfect way to explore one of the most expansive forests near London.
Distance: 6.39 miles
How to Get There: Underground to Theydon Bois (Central Line)
Approximate Time to Complete: 2.5 hours
North Downs Way
One of the most famous and oldest known hiking routes in the country is the North Downs Way. It runs all the way from Farnham in Surrey to Dover in Kent and also joins part of what was once the route that pilgrims would take to get to Canterbury Cathedral, known as the Pilgrim's Way.
To walk the whole length of this trail would take weeks – but apart from passing through some areas of outstanding natural beauty, it also passes through some places that are easily accessible from London.
If you did manage to make the whole route though, you'd encounter a whopping eight castles, three cathedrals, three archbishops' palaces and more stately homes than your feet may allow you to visit.
Distance: 153 miles
How to get there: Pick a starting point and take trains from St. Pancras or Waterloo depending on where you start. You can find all the jump-off points in the maps and directions link below.
Approximate Time to Complete: 12 days (if you do it all)
Ashridge Estate
The idyllic Ashridge estate in Hertfordshire, with its thousand acres of meadows and woodlands, makes for some of the best routes to stretch your legs on.
The meadows are full of bluebells (as in there's literally an ocean of them) come spring, and the leaves turning orange in the autumn also offer plenty in the natural beauty department.
What it lacks in proper hiking routes, the estate more than makes up for in its many winding paths and a nice cafe for a bit of refreshment after your walk.
How to get there: Take the train from Euston to Tiring and then walk about half an hour from Tiring to Ashridge Estate Visitor centre where you walks begin
Approximate Time to Complete: 2h45 mins
A map of the estate can be found here.
Leith Hill
One of Surrey's most popular and most beautiful walks can be reached from London with ease, making this an ideal spot to reach for a day walk without spending the whole day in transit.
The hike can be arduous at times and involves a good stretch of uphill climbing, but we can assure you that the view from the top is worth the effort you'll have to put in, and the untouched nature you'll find on the route is quite something, to say the least.
Once at the top, keep your eyes peeled for the 18th-century Leith Hill Tower which can be reached for a visit along part of the route. It's also got a cafe if you need to re-energize before heading back to the big city.
Distance: 9½ miles
How to get there: Take the train from Vauxhall Station to Holmwood Station where the trail begins.
Approximate Time to Complete: 4 hours
The Chess Valley Walk
This 10-mile stomp through the Chilterns takes you through beautiful natural scenes, picturesque villages (with a good pub or two) and follows the River Chess.
The Chess River is actually a chalk stream, meaning it's exceptionally clear and a rather lovely sight as it pops in and out of view along your hike.
We love the Chess Valley walk for its accessibility. And, although it does get pretty strenuous at points, the route is waymarked so it's hard to get lost. Oh, and the starting and end points are linked to the underground, making it quick and easy to get to.
Distance: 10.3 miles
How to get there: You can actually take the Metropolitan Line to Chesham station. The hike ends at Rickmansworth Station – also on the metropolitan line – so you can choose which direction you want to take.
Approximate Time to Complete: 4 hours
Box Hill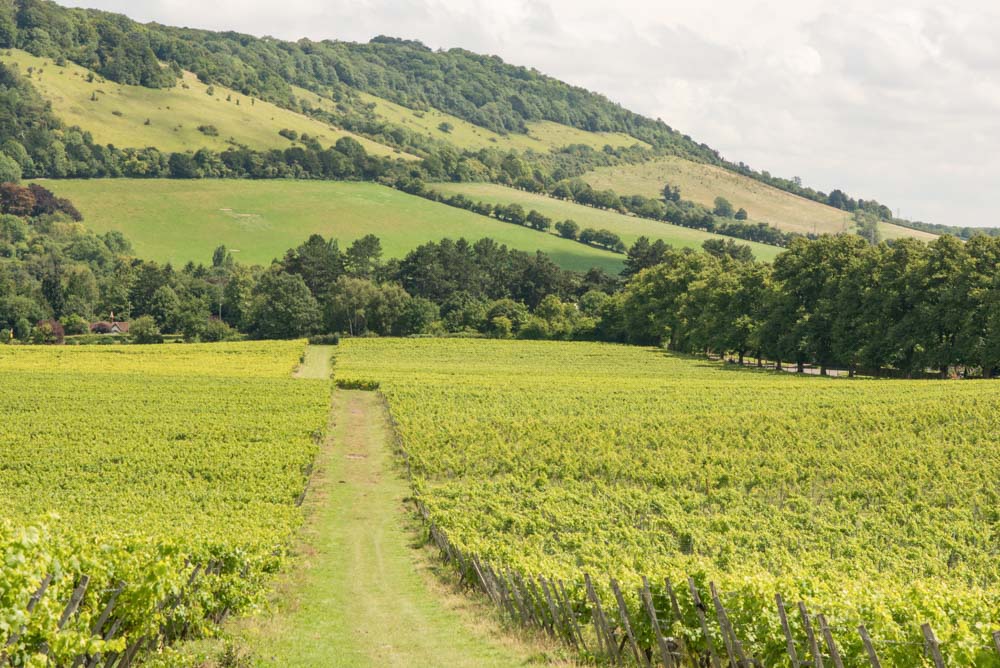 Ah, Box Hill. I have many fond memories of going on long hikes here as a child (it still amazes me the paths my mother could tackle with a pushchair in tow) and I still think it offers some of the best walks near London today.
Box Hill and the nearby Headley Heath are managed by the National Trust, both offering the chance to see a different side to rural Surrey.
What's more 40 of the 58 species of butterfly found in the UK can be found in the area.
There are a lot of hikes in and around Box Hill (check out the National Trust's guide here) but my favourite is the Box Hill Circular from the Saturday Walkers Club.
Be warned. The walk is only 9.2 miles long but there are few very strenuous bits here – just remind yourself that the views you'll get from the top are totally worth the huffing and puffing as you slog your way up the steepest stretches. They totally are.
Distance: 9.2 Miles
How to Get There: Trains run from London Victoria and London Waterloo to Boxhill & Westhumble Station. Journey times vary between 1 hour 20 – 1 hour 40 minutes.
Approximate Time to Complete: 4 hours
Abingdon to Oxford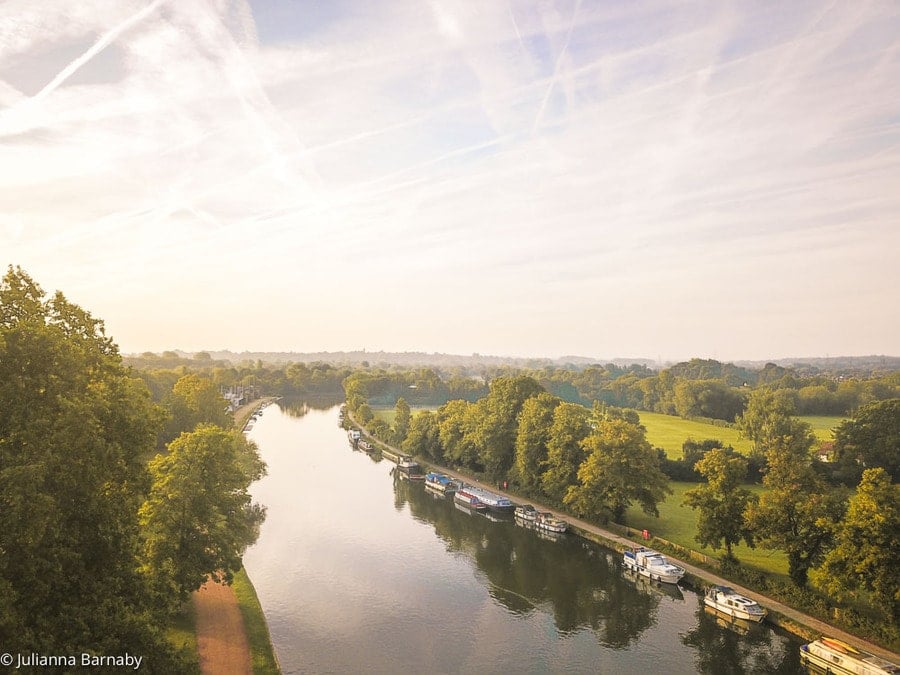 OK, so I'm cheating slightly as this is also another section of the Thames Path but believe me when I say that you should give it a try.
There were many afternoons while I was at university where my friend Patrick and I used to skive off of studying, hop on the bus from Oxford and tackle this walk to clear our heads – and I still find myself popping up from London to do it once a year or so.
The picturesque ancient market town of Abingdon is often overshadowed by Oxford, but it's a nice place to spend some time pottering around before you set off to walk this section of the Thames.
The walk itself is surprisingly quiet, wending its way alongside the river and past a series of locks and charming pubs before entering into Oxford from the south.
Oxford is a beautiful place at the best of times, but the sight of the city of dreaming spires rising from beyond the river as you finish your walk ends the experience on the very best note.
Distance: 10 miles
How to Get There: Catch the train from London Paddington to Didcot Parkway and then the X2 bus to Abingdon. Total journey time is approximately 1 hour 30 minutes. Direct trains run frequently from Oxford to Paddington and take around 1 hour.
Approximate Time to Complete: 4 hours
Read Next: The Best Things to do in Oxford – 24 Cool Spots You Shouldn't Miss on Your Trip
Berwick to Exceat Bridge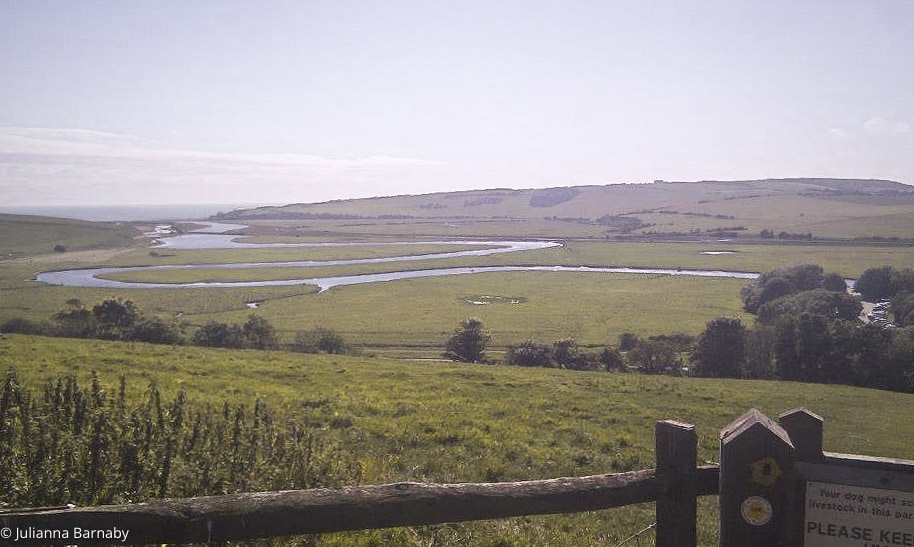 The Vanguard Way is one of the south-east's many hidden treasures – an underrated walk that leads from Croydon (literally from my doorstep) to Newhaven. Though the whole walk takes quite a few days, this section from Berwick to Exceat Bridge is one of my favourites.
Cute Berwick is a nice place to start the walk but it's Alfriston, a small and rather twee ye olde village that you pass through later on the walk that is bound to steal your heart.
After Alfriston and a pretty chunter along the Cuckmere River things get tough, with a steep climb up to Friston Forest (see if you can sneak a peek out to the sea from the vantage point) before you descend down to Exceat Bridge.
If you're feeling energetic, you can extend this walk to Cuckmere Haven for a glimpse of the stunning Seven Sisters (recommended).
Distance: 6.5 miles
How to Get There: Trains run from London Victoria to Berwick (with a change in Polegate) and take around 1 hour 40 minutes. From Exceat Bridge you can catch the bus to Brighton, Eastbourne or Seaford for a return train to London.
Approximate Time to Complete: 4 hours
Belchamp Brook Walk
Head to a quiet part of Essex to the pretty Stour Valley for a walk along Belchamp Brook and then back through landscapes much-loved and immortalised by the English paintersThomas Gainsborough and John Constable.
Much of the walk is through tranquil common land – starting and finishing in the historical town of Sudbury.
Distance: 9 miles
How to Get There: Take the train from London Liverpool Street to Marks Tey and change for the Sudbury train. Takes approximately 1 hour 45 minutes.
Approximate Time to Complete: 5 hours
Southease Circular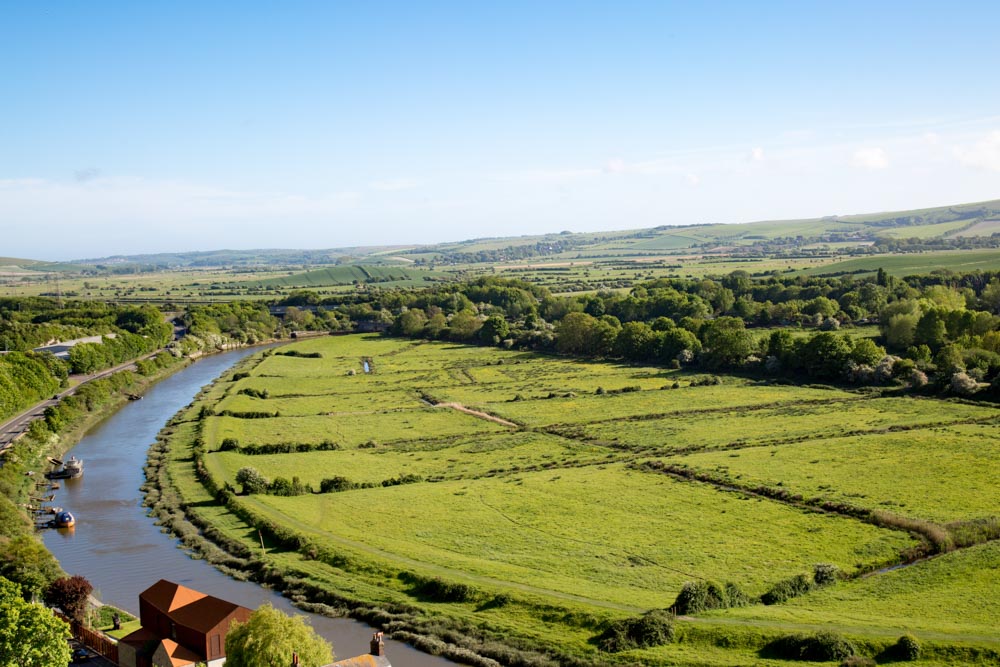 There are so many pretty villages tucked away in East Sussex but this walk takes you to one of my favourites – Rodmell – distinguished not only for its looks but also for Monk's House, former home of Virginia Woolf.
You start and finish at Southease Station.
The walk along the River Ouse comes with views of chalk downs and cliffs of the South Downs National Park before you towards Rodmell and then climb up to join the South Downs Way before popping back down to Southease again. It's only 5 miles so is an easy one to do on shorter days.
Distance: 5 miles
How to Get There: Train to Southease Station from London Victoria and London Bridge (change at Brighton). Journey time is approximately 1 hour 20 minutes.
Approximate Time to Complete: 3 hours
Alton Circular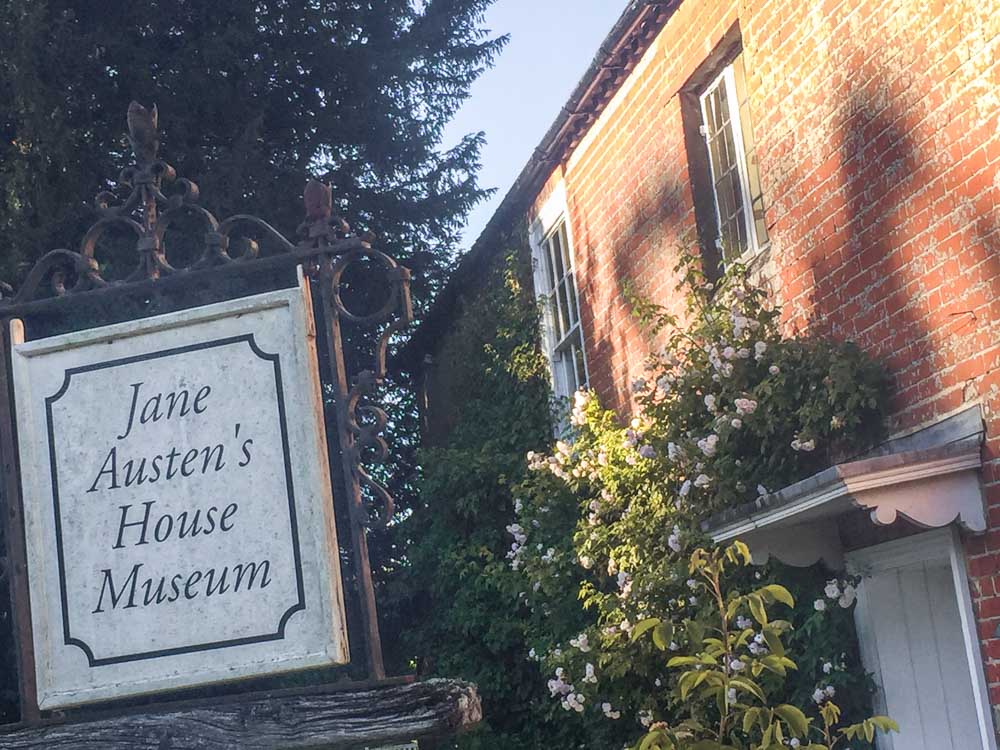 Fans of Jane Austen (me!) will love this walk – a delightful hike through the part of Hampshire that Austen called her home for the last eight years of her life.
You can't help but channel your inner Lizzy from Pride & Prejudice as you tramp along muddy footpaths and through quiet towns.
You can even visit Chawton, Austen's old home (but beware of timings as it does tend to close quite early).
Distance: 12.7 miles
How to Get There: Catch the direct train from London Waterloo to Alton. Trains take roughly 1 hour 20 minutes.
Approximate Time to Complete: 6 hours
Bodiam Castle Walk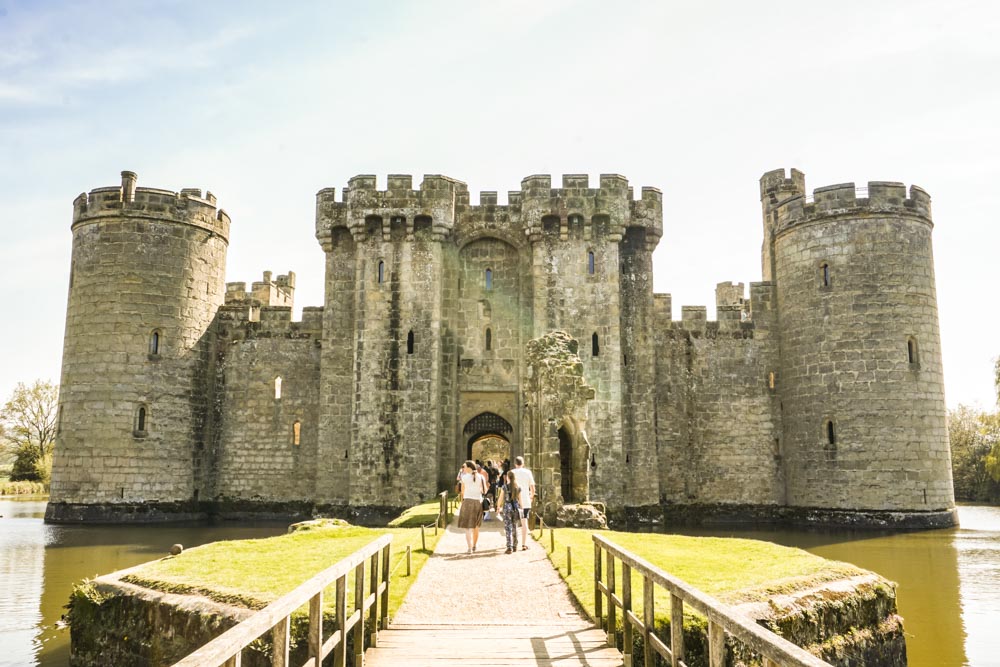 There are so many castles dotted around London that it seems silly not to combine a visit to one with a long walk.
Bodiam Castle is one of Sussex's most striking castles – it's not difficult to imagine people living in the imposing moat-lined fortress, which has been remarkably well preserved.
This is an easy walk – although it can get very muddy. The biggest attraction is the castle itself – other than that, the walk is just a nice chance to stretch your legs and escape the crowds.
Distance: 5 miles
How to Get There: Train from London Bridge to Robertsbridge (5 miles) or Battle (10 miles). Both take around 1 hour 15 minutes but you need to catch a taxi from the station to the castle. There's no taxi rank at Robertsbridge so you need to book ahead.
Approximate Time to Complete: 2 hours
Read Next: Castles in and Near to London You Need to Explore
Ankerwycke Park Circular Walk
This delightful stroll is one of the easier routes in our guide. You'll be hard-pressed to get a full afternoon of walking out of it but you can always bring a picnic and make the most of nature while you're there.
You can also find plenty of off-the-beaten-track-type paths around the reservoirs that border the route.
The main reason why we love this walk is the little slice of history it holds about halfway along. That comes in the form of a very old tree – two and a half thousand years old to be precise.
How to Get There: train from Waterloo station to Wraysbury, then take a bus to Magna Carta Lane.
Approximate Time to Complete: 2 hours
Country Walks Near London: Practical Tips
If you are planning on tackling one of these hikes near London, here are a couple of practical tips to help you plan your trip.
Start early. Though none of these walks are particularly long, it pays to start as early as you can (generally by 9 / 10am). This is particularly important during the short days of winter unless you want to find yourself hiking in the dark!
Bring a waterproof jacket with you. I've learnt the hard way that even the sunniest day can hold a surprise rain shower or two.
Wear proper hiking boots, particularly during the muddy season. The quality of footpaths can vary hugely and they can get very muddy when it's wet – save yourself the soggy feet and wear proper footwear.
Brush up on your countryside code. Close gates behind you, don't litter etc etc. It seems so obvious doesn't it.
Bring a refillable water bottle and fill it up at every opportunity you can. Nothing worse than being stuck in the middle of nowhere with a tongue that's drier than sandpaper and no prospect of refreshment for hours to come.
It is advisable (though not necessary) to have the OS Map of the area before you set off. That way, if you do stray from the prescribed route, you can negotiate your way back to it (or to the nearest town) without difficulty.
Looking for More Hiking Around London Ideas?
Time Out's Country Walks Near London Volume I and Volume 2 are invaluable for planning a nice walk or two – ours are well-thumbed and so well-used but always lure us in with the potential for more adventures.
So, there we are… the best hikes near London. Now all that's left for you to do is hop on a train and go do them!
Looking for More Hiking Spots Near London?