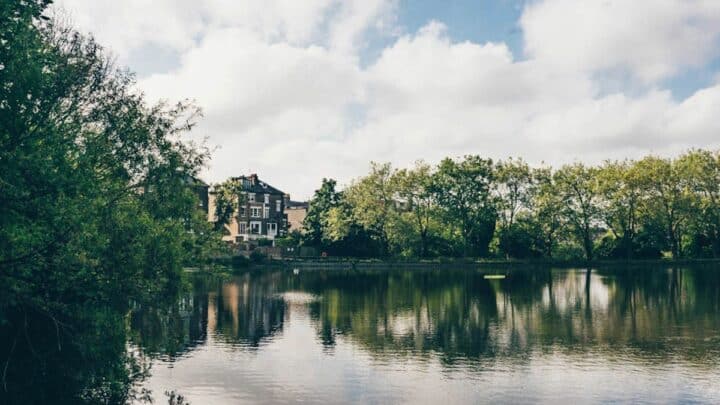 Feeling brave? Get ready to take an al fresco dip in the capital at one of these brilliant wild swimming spots london has to offer.
Wild swimming in London? We wouldn't be surprised if you have a few reservations about it.
With its enormous physical and mental health benefits, many would argue that wild swimming is the best way to keep fit in the capital, especially in the summer months. But… (there is always a but isn't there?).
We have all heard the stories of those whose morning routines involve plunging themselves into freezing lakes at 6 am (ugh).
You'll be delighted to learn that's not what we're talking about here.
Instead, we will show you a much more relaxed and enjoyable way to experience wild swimming in London.
13 gorgeous spots for open water swimming in the capital. Time to don your swimmers and explore.
Where to go Wild Swimming in London for a Refreshing Dip
Beckenham Place Park
Beckenham Place Park is a gigantic green space, offering fabulous woodland walks, and an astonishing Georgian Mansion. However, the highlight of the area is the 285m-long swimming lake that attracts thousands of visitors over the summer months.
At its deepest, the water reaches 3.4 meters – but every swimmer will be able to confidently stand near the edge of the lake. The current rules permit no more than 60 swimmers at once, making Beckenham Place lake the ideal location for those new to wild swimming.
Those that get bored easily will be happy to learn that there is more than swimming available in leafy Lewisham. PTP Coaching offers paddle boarding, boating, and canoeing – plenty to keep the whole family entertained.
Unfortunately, under 8's are not allowed to swim here but are more than welcome to paddle in the water when supervised.
Top Tip: Following refurbishment, the swimming lake is now ticketed (£5 adult/£2 child) and is entirely cashless – be sure not to miss out by booking your slot beforehand here.
Getting There: Beckenham Hill station is just a five-minute walk from the park entrance. Alternatively, there is a pay and display car park off Beckenham Hill Road, but spaces here are very limited.
Hampstead Heath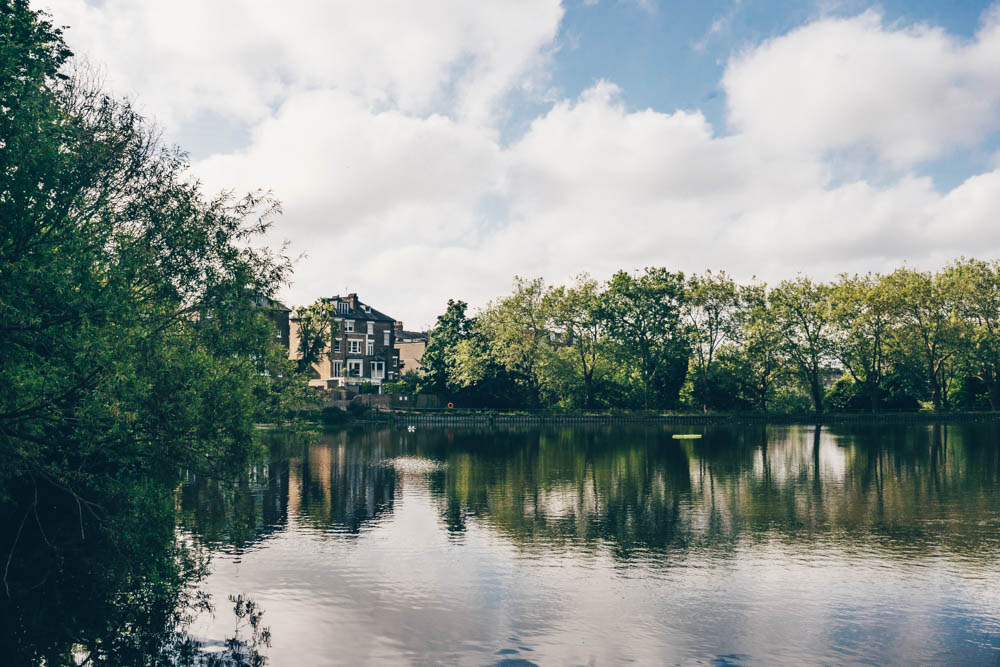 Hampstead Heath is extremely popular with tourists and locals alike, looking to enjoy the cool waters and relax in the beautiful green spaces.
Swimming is available from 7 am – 7 pm throughout the summer, but incredibly, the park sees a surge in visitors on Christmas Day. Each year when most of us are sitting around the tree opening gifts, hundreds of people gather to watch the annual Christmas Day swimming race, which helps bring the community together and add a buzz to the festive period.
Those who love spontaneity were delighted to see the ticketing restrictions dropped at the start of 2021. However, as the warmer weather brings more swimmers, visitors here must once again pre-book their tickets.
There are basic showers and changing facilities to freshen up after your dip before exploring everything Hampstead has to offer. For those that prefer something a little less 'wild', try the nearby Parliament Hill Lido.
Top Tip: There are actually three ponds at Hampstead Heath. The first is a mixed pond, the second male-only and the third female-only, so be sure you're heading to the correct one.
Getting There: Hampstead station is a 15-minute walk from the swimming lakes. However, we would recommend the beautiful cycle through Regent's Park instead, from central London this takes less than 30 minutes.
Serpentine Lido, Hyde Park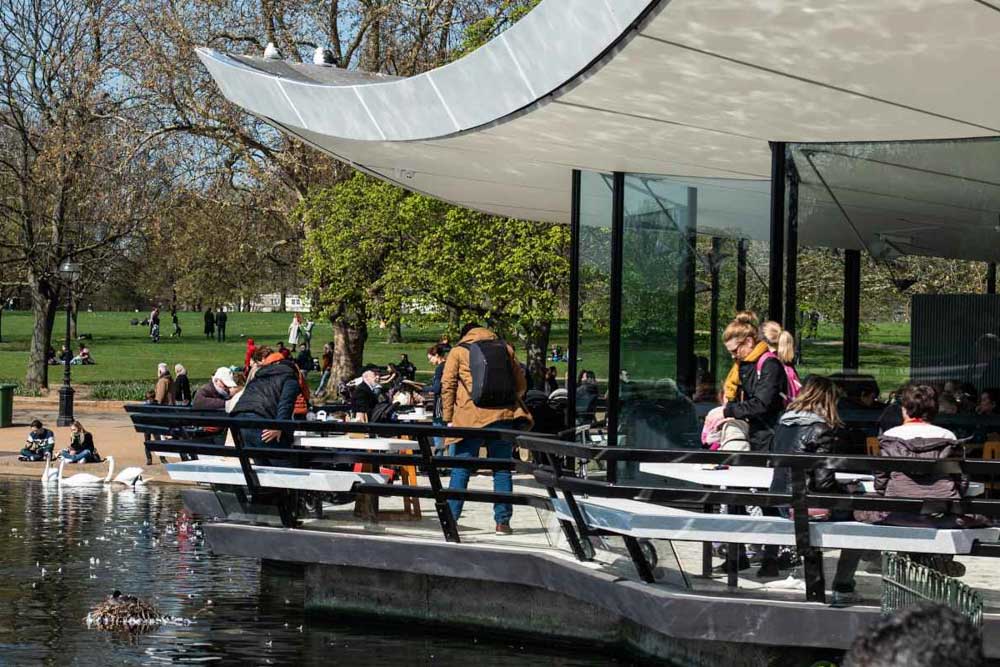 The Serpentine Lido is a cordoned off section of Hyde Park Lake which attracts hundreds of daily visitors. Plug in any search for lakes to swim in London and this park always finds a spot at the top of the list.
For most of the year, the Serpentine Lido is reserved for those in the swimming club (the oldest swimming club in the UK in fact). However, from the 1st July – 5th September these incredible waters open for the general public to enjoy.
The water here is not heated, and you will regularly find yourself swimming with the local birds and ducks. However, the facilities are among the best, and there is plenty to do in the area for those who want to spend the whole day.
Sessions here must be pre-booked, and admission is £5 per person.
Getting There: Knightsbridge underground station is a 14-minute walk from the lido. The central location also makes Hyde Park perfect for cycling.
West Reservoir Centre, Hackney
True paradise in East London.
The West Reservoir Centre offers many water sports, including kayaking, sailing and open water swimming. This venue in Stoke Newington is not for the faint-hearted, with 400m and 100m loops laid out within the 23 acres of water.
Not the ideal location for the casual dipper, but perfect for those hoping to elevate their wild swimming experience.
Book through the Better app to secure a spot. The app offers online inductions for anyone new to London open water swimming, running through all the basics before you take the plunge.
Top Tip: If you plan on becoming a regular here, signing up to Better's annual membership plan can offer significant savings.
Getting There: Manor House station is the closest to the West Reservoir Center. However, a cycle from central London only takes 30 minutes and shows you all the delights of the northeast.
Ruislip Lido, Hillingdon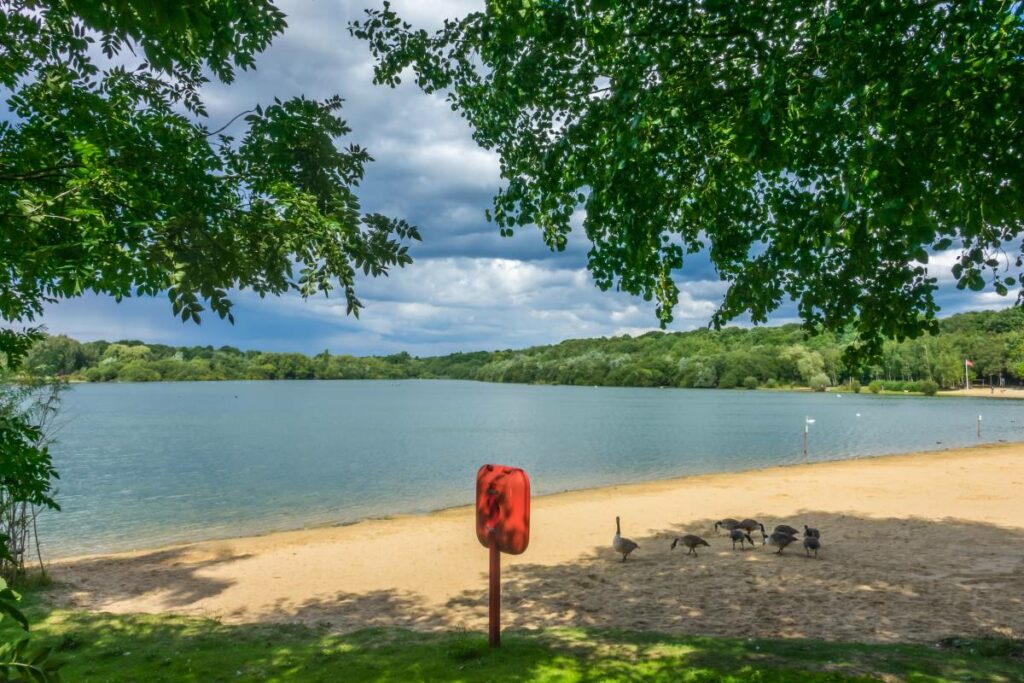 OK, technically, this is more of a paddling spot than a swimming experience. But, the golden sandy beach on the edge of a 726-acre nature reserve made it impossible to leave off the list.
Ruislip Lido should be added to every Londoner's summer bucket list. This spot in zone six is especially popular with families, with the numerous playgrounds and climbing frames, as well as the miniature train offering trips around the lake.
Getting There: Take the Metropolitan line to Northwood station, followed by the 331 bus to the aptly named Reservoir Road.
London Royal Docks
With the iconic Canary Wharf skyline dominating one bank, and tall dock cranes lining the other, London Royal Docks is a wonderful open water swimming spot in east London.
Safety here is imperative, and the venue has a clear focus on ensuring anyone who visits is confident in the water. Coaching sessions are readily available, including 1-1 practices and cold water inductions.
For more experienced outdoor swimmers, London Royal Docks host an annual dock2dock event, with races ranging from 1.5km to 15km for the very fittest among us.
Open water swimming at London Royal docks is a fantastic way to get fit, meet new friends, and enjoy remarkable city views.
Getting There: Canning Town station is a 15-minute walk from London Royal Docks. Alternatively, if you're heading from south London, take the scenic Emirates Air Line for superb views of the city.
Pangbourne Meadows
Pangbourne is ideal for those who want to escape the hustle and bustle of central London to swim in a place of serenity.
If you prefer to wild swim without a building in sight, then Pangbourne will be the perfect spot for you. It is far enough out of central London to escape the pollution, yet close enough to make the journey worthwhile.
The rolling Chiltern Hills provide an idyllic backdrop to the calm, clear waters. This area rarely becomes overcrowded, especially on weekdays. Be sure to take a picnic to make the most of this countryside spot.
Top Tip: When you've had enough of swimming, head to the picturesque pubs in Goring-on-Thames, which are just four miles north of this idyllic spot.
Getting There: Pangbourne Meadows is a 1 hour and 45-minute drive from central London. Alternatively, there is a direct train from Paddington station, which departs every hour. This takes just 1 hour 15 and drops you a 10-minute walk from this beautiful swimming spot.
River Wey, Surrey
For those brave enough to venture further than the M25, the River Wey is a stunning wild swimming London location.
The water here is shallow, slow-moving and relatively clean (as clean as any river in the UK gets, anyway). Meaning, the River Wey is perfect for those less experienced who would love a taste of wild swimming.
In addition, the banks of the river are peaceful – great for the all-important post-swim picnic.
Getting There: Guildford station is a 33-minute journey from Waterloo. From here, it's just a short walk to the river.
Grantchester Meadows, Cambridgeshire
Cambridgeshire might not boast sandy beaches, but its swimming spots are second to none. Interestingly, the deep banks make diving possible, a rarity for wild river swimming in the UK.
As you would expect from the area, it is green and leafy, dotted with quaint pubs and cafes. However, if you're planning a visit here we strongly recommend making it soon, the college who own the area are currently discussing banning swimming in this popular location.
Getting There: This popular spot is a 1-hour and 18-minute drive from central London, but well worth the trek for a quintessentially British swimming experience.
Henley-on-Thames
Henley is a spectacular spot just west of London, popular with both swimmers and rowers.
With low hanging trees and miles of wildflowers, you would be forgiven for forgetting you are just an hour outside central London. Henley-on-Thames is just about as wild as outdoor swimming in London gets.
Top Tip: Enter the river near the Flower Pot Hotel for calmer waters, perfect for the entry-level swimmer.
Getting There: Take the train to either Henley-on-Thames or Marlow to begin your dip.
Canary Wharf
London's hottest new place to take a dip is in the Thames, at Canary Wharf's brand new open swimming pool.
Throughout the summer, you've got the opportunity to cool off in the swimming zone, complete with lifeguards and up to 600 metres of space to enjoy.
Anyone over the age of ten who can swim confidently is welcome to visit – to access the swimming pool, you need to book online in advance.
Purchase a £15 NOWCA membership card which gives you access to more than 40 pools.
Getting There: Take the Tube or the new Elizabeth Line to Canary Wharf.
Luxborough Lake
Situated near Walthamstow, Luxborough Lake is a popular spot for wild swimming in northeast London.
This is a great place for finding a like-minded group of swimmers and making new friends – in fact, we think it's one of the best places for open water swimming London boasts.
The area surrounding the lake is rather gorgeous, too. Make sure you spend some time exploring the park – keep your eyes peeled for the abundance of wildlife that live nearby.
Top Tip: Fancy getting involved? Join the member's community here who often arrange wild swimming meetups at this lake.
Getting There: Take the tube to Roding Valley, from there it's a short walk to the lakes.
Chipstead Lakes, Kent
Just outside of the capital, right next to the M25, is one of the best places to go open water swimming near London.
Chipstead Lake is operated by TriSwim and boasts 750m, 400m, or 200m circuits – as well as a shallow bay area for less confident swimmers.
All ages are welcome and training is available if you're looking to improve your swimming skills, or teach a little one the ropes. These are the best lakes near London to swim in, we think.
Getting There: Take a train from London Bridge to Sevenoaks, followed by a short bus journey to Braehead Avenue. Or, it's just over an hour by car.
Practical Tips for Wild Swimming Near London
You will see plenty taking to the open waters in nothing but a bikini or speedo. However, those with less experience will benefit from a full wetsuit for a more enjoyable (and much warmer) experience.
Be sure to check the changing facilities beforehand as they differ dramatically across the city. Some venues have state-of-the-art spaces, and others involve changing under a towel on the riverbank.
Water is unpredictable. Even those with vast swimming experience should take great caution, especially in areas with no lifeguards.
Map of Wild Swimming Spots in London
Wild Swimming in London: Explore More Outdoor Guides