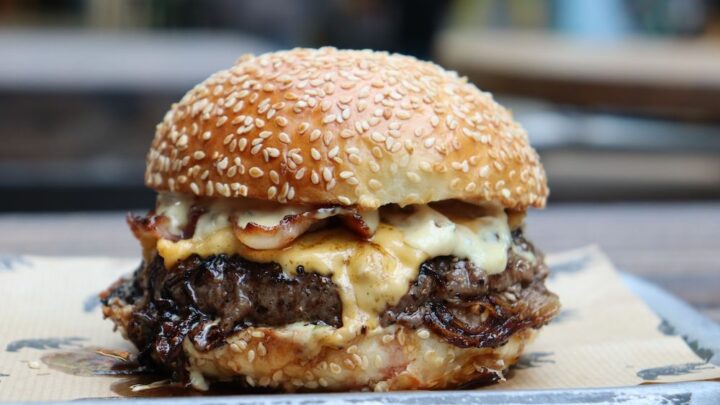 Looking for the best burgers in London? You're in luck…
We don't need an excuse to round up some of the juiciest and filthiest offerings in the capital for you to feast your eyes (and stomach) upon. It's something of a passion of ours.
Whether it's a fancy-pants burger with a whole host of crazy toppings you're after, or a simple but delicious bun to hit the spot, London has a wide variety of burger joints for you to choose from. These are our favourites.
Price Guide:
£ – Less than £10 for a meal
££ – Between £10 and £15 for a meal
£££ – More than £15 for a meal
Where to Find the Best Burgers in London
Hawksmoor
Multiple Locations
£££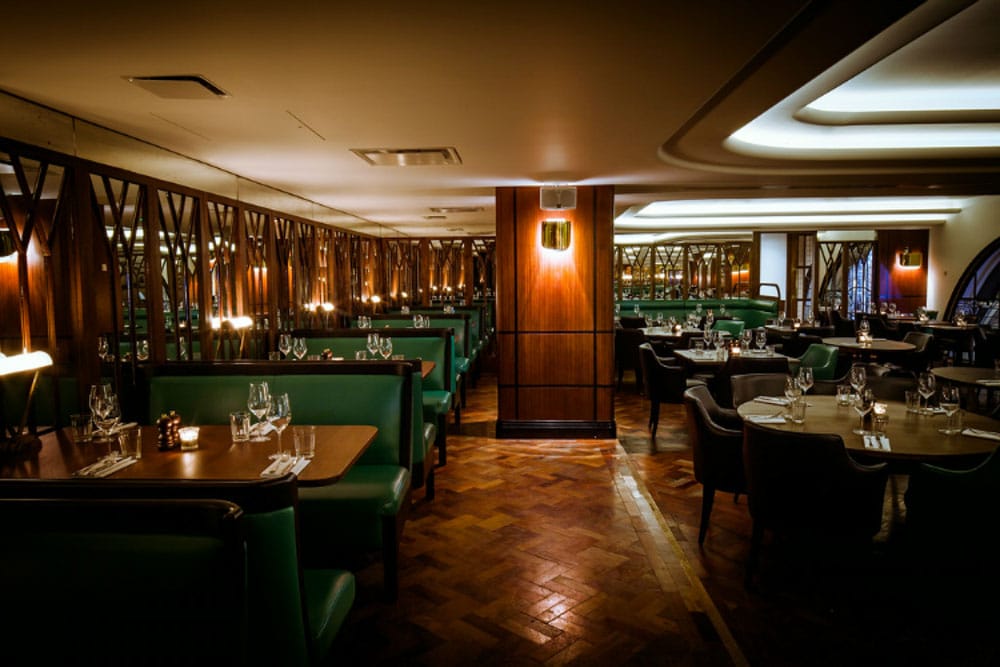 With a few restaurants dotted across London, Hawksmoor's menu really shines, though the Hawksmoor Hamburger is easily among the most impressive options.
The steak specialists have taken their signature meat and transformed it into a delicious burger, complete with a choice of creamy Ogleshield or the more tangy Stichelton cheese.
There's also the Kimchi burger – beef short-rib with cheese and kimchi to balance out the flavours. Add to this a side of beef-dripped triple-cooked chips and you're onto a winner.
Lucky Chip
Multiple Locations
££
Nothing is worse than an overcooked burger patty, which is why Lucky Chip cooks theirs like a steak – to absolute perfection.
Fancy a classic option? The hilariously-titled Kevin Bacon burger consists of, you guessed it, a patty, cheese, and smoked bacon. If you want to try something new, the Gus Fring's burger has fried chicken and buffalo sauce, and it's pretty darn delicious.
The vast range of sides include a lobster mac n cheese of dreams and jalapeno coleslaw, alongside some classic fries options.
Neat Burger
Multiple Locations
££
Let's be honest, plant-based burgers can be really hit or miss. But Neat Burger stands proudly as the best vegan burger London has to offer.
Menu faves include The Big Stack, a hefty combination of a double patty and a triple bun with all the trimmings, as well as The Smoke Stack, which adds BBQ sauce and onion rings to the mix.
There's also some meat-free chick'n and fish options (also delicious, may we add), so you're covered, whatever your burger of choice.
Coqfighter
Boxpark Shoreditch/Croydon/King's Cross
££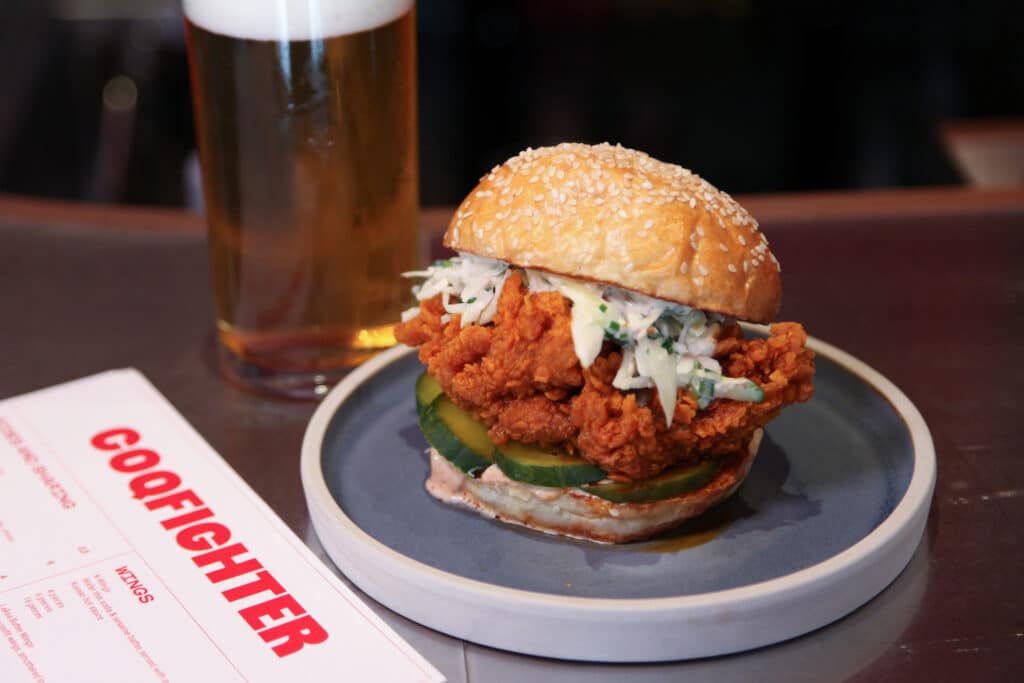 Aside from the hilarious name, Coqfighter and their small selection of burgers mean business.
Coqfighter boasts some seriously naughty chicken burgers – when the Original burger includes fried chicken thigh, pink pickled onions, sambal mayo, and Korean spicy sauce, you know you're in for a wild ride.
Should you wish to take it a step further, the Honey Ginger and Green Chilli Cheeseburgers both pack a serious punch.
Sides include dashi and smoked paprika fries, Korean chicken wings, and boneless bites, putting you at serious risk of the meat sweats… but I promise it's worth it.
Salt Shed
Multiple Locations
££
Pastrami fans will likely have heard of Salt Shed and their deliciously-cured meat pop-ups before, but their burgers are not to be sniffed at either. If you're a meat lover, Salt Shed is among the best burger places in London.
Usual offerings include a classic cheeseburger with an aged British beef patty, American cheese, and dripping mayo, alongside a chunky pastrami-topped option and plenty of steak items.
Salt Shed has just introduced My Sweet One – a special edition burger featuring a 45-day aged beef patty, apple and bacon jam, smoked pancetta, dripping mayo, and American cheese. Put your tongue back in your mouth and get yourself to a Salt Shed RN.
Honest Burgers
Multiple Locations
££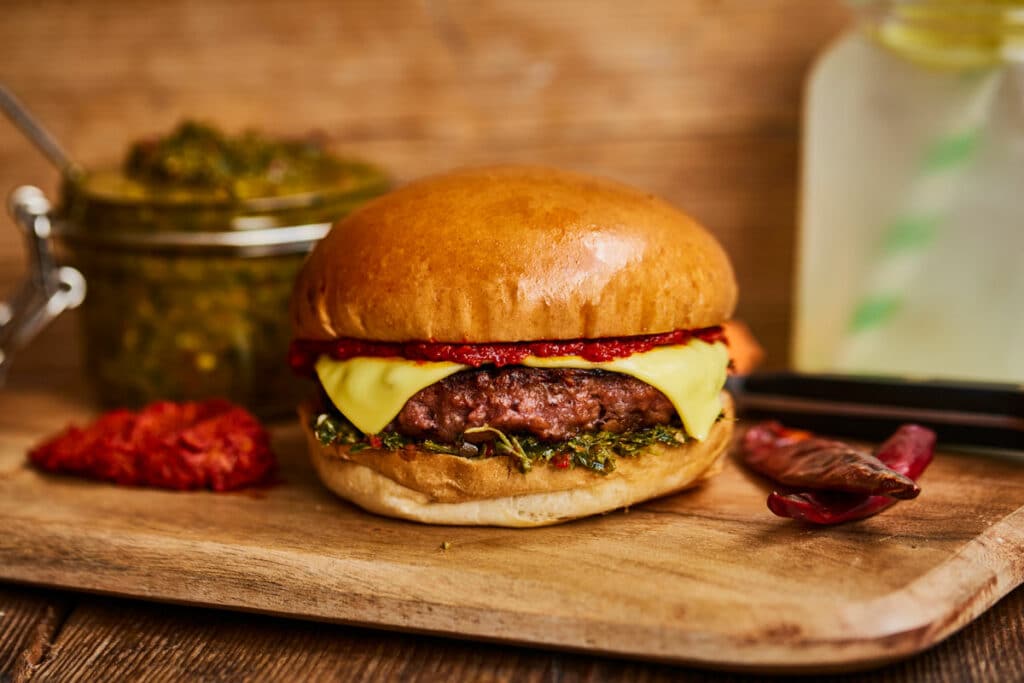 If you're unsure of where to go for dinner, Honest Burgers is a classic option with something for everyone.
Top picks include the delicious chicken and pesto burger, and a chilli-cheese beef burger, though the veggie fritter burger is also divine. They also have monthly specials, which range from Asian-inspired burgers to eye-wateringly spicy patties.
All of their burgers come with a side of rosemary fries, which might just nab the top spot for the best fries in London… although that's a totally different article altogether.
Burger & Lobster
Multiple Locations
£££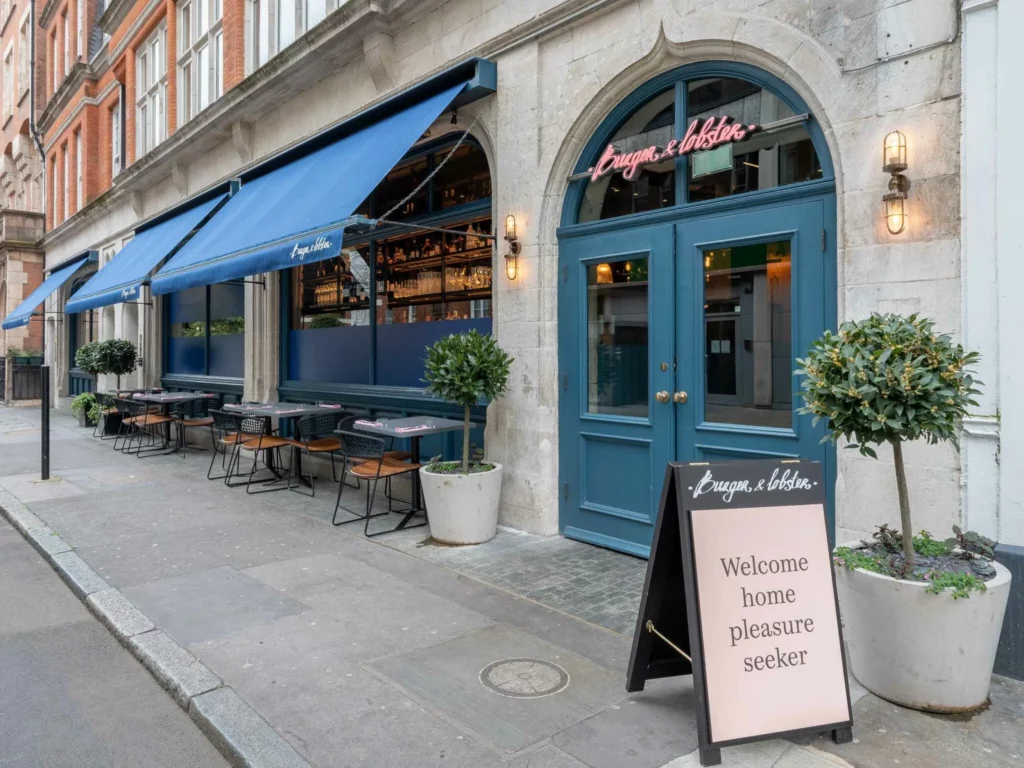 While we strongly believe the majority of the best burgers in London can be found in more humble-looking restaurants, there's something so funny about eating a messy burger in a more civilised setting.
Enter Burger & Lobster, and some of the most gourmet burgers London has to offer.
Their bougie take on a finger-food classic doesn't disappoint – for example, the Beast burger with Nebraska beef, lobster meat, brie and fennel slaw, sandwiched between the softest of buns is mouthwateringly good.
You can also opt for a lobster roll or, if you're feeling extra hungry (and frivolous) throw caution to the wind and order the combo meal. This features a lobster roll and a juicy burger, served with fries and salad.
The Rocket
Acton
£££
From an upmarket restaurant to ultra-cosy gastropub The Rocket, which serves up rustic, home-style burgers.
Despite having a huge menu, you've only got three burger options here. Though they are all spectacular – pulled pork, beef brisket, or a classic halloumi take for any veggies in the party. All accompanied by chips and saffron garlic mayo, perfect for dipping.
Got kids? You pay their age for a child's portion at The Rocket – so get your money's worth while they're young.
MeatLiquor
Multiple Locations
££
If you're after a weighty burger, MeatLiquor just can't be beaten. As their name suggests, meat and liquor is king here – though vegetarians need not be too put off.
The Dead Hippie burger is a favourite among visitors, a French-mustard fried patty with Dead Hippie sauce, pickles, and white onions. Although the blue cheese-based 1924 doesn't go amiss either.
The menu is surprisingly dotted with green options, so veggies and vegans will definitely be able to find something to chow down on. And if not, the drinks menu boasts plenty of cocktails that make it worth your while.
Bonfire
Barbican
££
Situated on the first floor of the Barbican, Bonfire is one of the coolest burger places in central London.
The classic Bonfire burger consists of a beef patty, pickles, Bonfire relish, and mayo. Or opt for the veggie Squeaky Cheese – a delightfully fun affair. If none of those take your fancy, there's a few other beef, chicken, and vegetarian options to pick from.
You can also choose between a cloud-like brioche bun or a lettuce cup for your burger, and you've got the option to add guac, cheese, or an extra patty if you fancy it.
Smash n Slide
Northolt
£
Taking the title for best burger in West London, Smash n Slide is a little takeaway joint with a big following.
Many of these fans come for the 12 hour smoked brisket bun: Deliciously tender brisket packed into a toasted brioche, along with sriracha BBQ and dill pickles.
And their Smash n Slide meal deal – with the original burger, fries, and a drink for £8.50 is an absolute BARGAIN.
The Greedy Cow
Mile End
££
This family-run restaurant nestled in the heart of Mile End specialises in steak and burgers, and the cosy interior makes it feel like you've stepped straight into an old American cowboy film.
The most impressive burgers here are easily the Pulled Lamb and Wagyu offerings – Cornish lamb shoulder on a beetroot bun, and Japanese-style beef with truffle mayo, respectively. Though you've also got a couple of more simple burgers to choose between, as well as a generous selection of vegan options.
The Greedy Cow's sides are also impressive, with the likes of truffled mash, truffle chips, and mac n cheese making the cut.
Butchies
££
First a couple of disclaimers… Butchies has a couple of locations in the capital, but the Shoreditch one is easily the best.
Also, they technically describe themselves as a fried chicken sandwich shop, but I think you'll agree that they definitely fall into the burger category.
Ok, with that over, let us introduce you to the best fried chicken burgers in London. Don't believe us? How does the El Diablo sound – Butchies very own salt and spice blend, house pickles, and buffalo sauce. With the option to double up on the fried chicken if necessary (totally necessary).
The rest of the burgers are just as good – tantalisingly crispy and so-naughty-they're-nice.
Dirty Bones
Multiple Locations
££
As you would imagine from a stylish NYC-inspired restaurant and cocktail bar, Dirty Bones do great burgers. Scratch that – Dirty Bones do spectacular burgers.
If you're feeling wild, order the Chicken Waffle Bun, which includes fried chicken in between two waffles with peanut butter mayo and crispy bacon. If you prefer less faff, the classic beef burger made from double-aged beef brisket is for you.
For the ultimate American vibes, get one of the boozy shakes to accompany your burger (or have them sans-alcohol, but where's the fun in that?)
Pssst! If you head to the Shoreditch location during the week, you can snag a main and a side for just £10 between 12pm and 5pm. Go on… treat yourself to one of the best burgers in East London.
Black Bear Burger
Brixton
£££
Head to Brixton for the most indulgent burgers in the capital (FYI, you can also find Black Bear Burger in Boxpark Shoreditch).
Bigger really is better here, with even their simplest burger a whopping offering as big as your head – dry aged beef, cheese, bacon, onion jam, and garlic mayo, sandwiched between a classic burger bun.
They also do a brilliant vegan version of the classic, and it's one of those ones where you doubt it's vegan with every bite – it's just too good.
Thunderbird Fried Chicken
Multiple Locations
££
Looking for the best halal burger in London? Look no further than Thunderbird Fried Chicken.
They stick to what they know, with four relatively simple burgers making the cut (well, as simple as a fried chicken burger can be). The OG Thunderbun, a Chipotle-Buffalo option, an uber-spicy jalapeno burger, and finally, a good-old BBQ burger.
Veggie? There's a totally separate menu boasting 6 (!) burgers for you guys. Everything from a BBQ jackfruit patty to their iconic Chipuffalo burger. In other words, you're not missing out on anything.
While you're there, make sure to nab a portion or two of fried chicken wings – the salted caramel ones in particular are so weird, but work so well.
Buk Burger
£
We couldn't write a guide to the best burgers in London without including a cool Camden joint – and Buk takes the top spot.
Beef, chicken, and veggie options are available, but the standouts are the teriyaki chicken burger and the truffle and bacon mayo beef burger. A small kids menu is also offered, with a beef or chicken patty served in a brioche bun.
You've also got 7 types of fries to choose between (good luck), including halloumi, sweet potato, and cheesy hand cut. Perfect for dipping into one of their house-made sauces.
Tommi's Burger Joint
Soho
££
An Icelandic diner might not be your first thought when it comes to delicious burgers, but Tommi's Burger Joint is pretty brilliant.
The small but perfectly formed menu of burgers includes a classic beef burger, a steak burger, grilled chicken, and a veggie spicy bean offering. Tommi's isn't winning any prize for innovation, but if you want fuss-free burgers that taste darn good, this is the spot for you.
The milkshakes at Tommi's Burger Joint are also outstanding – opt for the salted caramel or banana versions and you won't be disappointed.
Mother Flipper
Brockley + Victoria Park Markets
££
You'll need to head to Brockley's Food Market on Saturdays or Victoria Park Market on Sundays to find Mother Flipper, but their tantalising array of burger options are completely worth it.
Mother Flipper's classic burger is good, but the Candy Bacon Flipper is the star of the show – they've taken a simple cheeseburger and added bacon fried in maple syrup, a zing of sweet to balance out all the savoury.
The team at Mother Flipper also tends to do pop-ups, so keep your eyes peeled across the capital's markets.
Patty & Bun
Multiple Locations
££
Another London-based chain that has gained a cult following over the last few years is Patty & Bun. And with gluten-free, vegan, and halal options available, this is a real winner for those with lots of different dietary requirements in their group.
You'll need to arrive starving – their burgers are huge. Even their smallest of buns boasts 8 ingredients!
Trust us when we say that the Lambshank Redemption is the daddy of all burgers, a massive hunk of lamb layered with feta, pickled aubergine and courgettes, drizzled in a cumin aioli.
It's messy, it's delicious, it's everything you could ever want in a burger.
Itaewon Burger & Chicken
Maida Vale
££
Korean fried chicken is the best. And that is a hill we will gladly die on. And it just so happens that Itaewon Burger & Chicken easily serves up the most authentic Korean-style fried chicken in London.
It's all about the marinades here – if you want to try a more traditional offering, go for the Black Honey Garlic Butter, which comes with slaw in a charcoal bun. Say hello to a whole new world of flavours you never knew existed.
If you fancy something slightly easier on a western palette, the Stupid Cheese Burger (their words, not mine) with KFC and melted cheddar cheese is your best bet.
Burger and Beyond
Multiple Locations
££
We absolutely love Burger and Beyond. There's something about the burgers that just totally hits the spot. They absolutely pack in the flavour and they aren't so monstrous that you'll feel like a slob for doubling up the patties.
The sides they do here are pretty awesome too. You'll find Canadian classic poutine on the menu (it's slutty as hell but very much worth an order) and things like loaded tater tots too (also worth an order). Extra pots of Burnt Butter Mayo and Bone Marrow Gravy are a must.
In spite of the spot's somewhat North American leanings, they are actually a solidly British success story. The brand began as a food truck in Essex and would grace the streets of London from time to time. After a while they grew the brand, and with it the following. Now you can find them in Soho, Borough, Shoreditch and even Manchester.
Beer + Burger
Coal Drops Yard
££
Tucked slightly off the main action of Coal Drops Yard and Granary Square, you'll find the excellent Beer + Burger. Any guesses as to what they serve? That's right. Beer. And burgers. They take both elements of their name very seriously so that the result is something like a hybrid between a craft beer brewery and a burger joint.
You'll be picking your brewskis from an extensive fridge of things by bottle and can, including some off-the-wall brands you probably haven't tried before, or from the ever changing menu of things by draft they have written up above the bar.
As for the burgers. Take one look behind that bar at the open kitchen and you'll see why you're here. The bacon and cheese burger is a very good shout (when is it not) but make sure you check their special – a regularly changing burger that tends to get pretty creative with its construction.
Bleecker Burger
Spitalfields Market
££
Bleecker Burger is a passion project gone dream come true. The concept begins in New York City in 2012 when the founder tasted the best burger of their life. Now just to clarify, we're not joking about any of the next part. So obsessed was the founder that they got a job at the burger restaurant just to be around that legendary burger more.
When they moved back to London a couple of years later they recreated what they knew and Bleecker Burger was born, at first just a food truck but then moving into a booth at Old Spitalfields Market.
The burgers have a touch of the fairground to them – obviously far higher in quality but with that same touch of nostalgia. That may not be to everybody's taste but it certainly ticks the right boxes with us.
Best Burgers in London: Practical Tips
If you've got your heart set on one of these places it won't hurt to book ahead, especially at the weekend. Obviously some of these spots aren't actual brick-and-mortar restaurants so for those just rock up and get eatin'
Don't wear white – this could get messy.
Looking for burgers on date night? Burger and Beyond has nice environs that add a touch of class to the evening. Just eating out with your mates? MeatLiquor has a great selection of drinks to compliment the meal
Map: Best Burgers in London