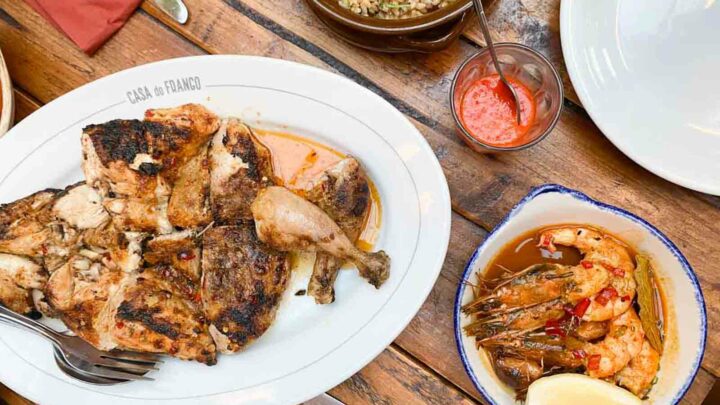 Looking for the best Portuguese restaurants in London? These fabulous joints hit just the right spot.
It's safe to say that Portuguese cuisine boasts some of the world's best seafood dishes. Salted cod, fresh fish, and prawns straight off the grill all spring to mind when you think of traditional Portuguese food.
Of course, there's also those tempting little egg tarts – or pastel de nata – too.
In fact, we think that Portuguese cuisine is criminally underrated, often outshined by its Spanish counterpart. Luckily, London has quite the selection of Portuguese restaurants.
Grab your hungry friends and vamos comer…
Must-Try Portuguese Restaurants in London
Bar Douro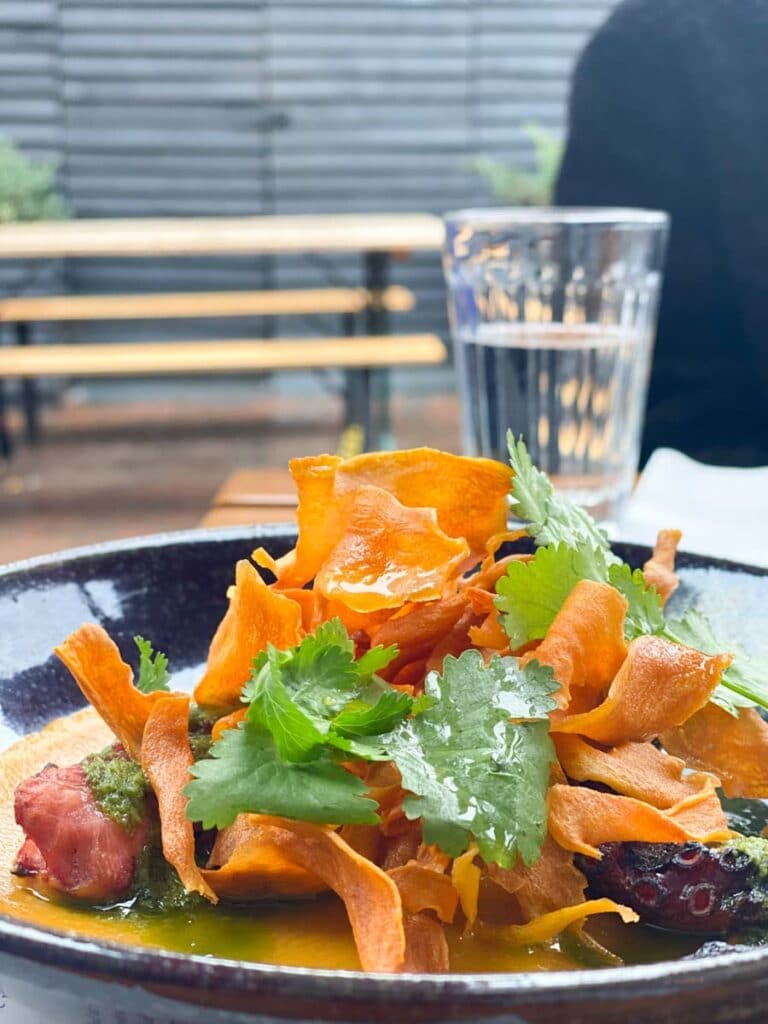 Discover authentic Portuguese flavours at Bar Douro and explore its varied regional wines. Both its City and London Bridge restaurants are decorated with traditional blue Portuguese Azulejos tiles, and you can choose to sit by the open kitchen or dine alfresco on the heated terrace.
Portugal is famed for delicious seafood and Bar Douro's Cavala Alimada (marinated mackerel) is a tasty traditional dish from the Algarve and will give you those holiday feels from your very first bite.
Bacalhau abras (salted cod hash) is Portugal's most famous dish, try this at Bar Dourou – we promise you won't be disappointed.
Casa do Frango
London Bridge + Shoreditch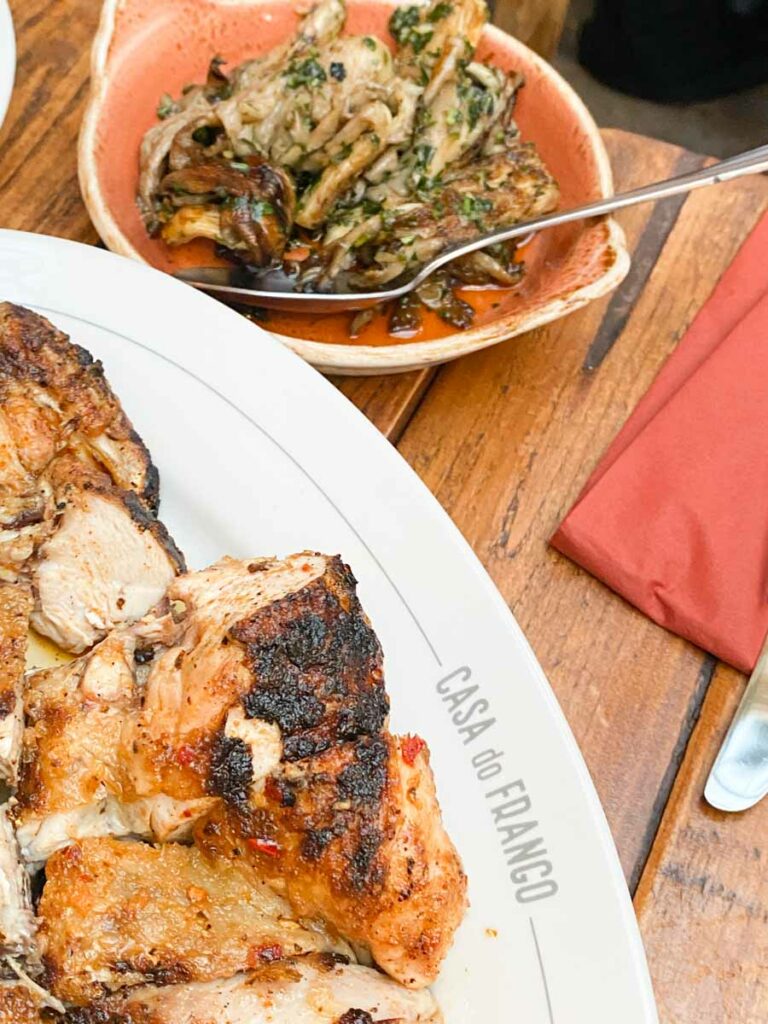 Bringing the spirit of Southern Portugal to London, Casa do Frango serves authentic unpretentious Portuguese food. It's no secret that we're huge fans of this spot – in fact, we think it's the best Portugese restaurant London boasts.
A Piri Piri lover's dream, the Frango Piri Piri is grilled over wood charcoal and brushed with a top secret piri piri blend– it's so delicious.
Sharing plates at Casa do Frango include Iberico Pork Croquettes, charred Cauliflower and Piri-Piri Garlic Prawns– though, we're not sure you'll want to share as they're incredibly moreish.
To drink, Casa do Frango's Port & Tonic is a good way to sample a sweet and refreshing Portuguese beverage.
Grelha D'Ouro
Stockwell
Nestled in South West's Stockwell, Grehla D'Ouro is a friendly and intimate Portuguese restaurant in London.
In traditional Portuguese style, wooden tables with white table cloths are surrounded with hungry diners and portions are big and hearty. If one thing's for sure, it's that you'll leave feeling completely stuffed.
Grelha D'Ouro's menu is freshly sourced from local London markets – if you like Paella you need to try the Cataplana, it's a pork seafood stew which can be found in the Algarve.
If you're visiting Grelha at the weekend, watch the restaurant come alive with live music– music and food, what more could you want?
O Tino
It doesn't get more traditional than O Tino, a cute family-run Portuguese restaurant in the heart of Camden. The restaurant is compact but there's plenty of seating for large groups, and the restaurant front opens up in true Portuguese alfresco style and tables spill out onto the street.
If you're going for a three course meal, start with Gambas a Tino (piri piri prawns), Bife a Tino (steak with mushroom cream sauce) and of course for dessert it has to be the Portuguese custard tart.
There are plenty of Portuguese wines to choose from on the menu too, as well as port or Portugal's favourite lager, Super Bock. O Tino really is the best Portuguese restaurant in London for dining and drinking.
A Toca Restaurant
Nine Elms
One of the most famous Portuguese restaurants Lndon has to offer, A Toca serves breakfast, lunch and dinner.
A Toca is a celebration of authentic Portuguese cuisine, from smoked Portuguese sausage, grilled pork belly to boiled octopus and grilled salmon, there's not a Portuguese dish you can't find on the menu.
The restaurant also is known for holding events in its large dining space and, in the mornings it serves tea, coffee and Pastel de Natas – Portuguese tarts – so you could even swing by on your morning commute for a sweet treat.
Estrela
Oval
Friendly, laid back, and family-run, Estrela serves up authentic Portuguese fare in a warm and welcoming atmosphere with an outdoor secluded garden and curb-side seating.
By day, this Portuguese cafe in London is a relaxed dining space and by night it's a vibrant bar and a great place to watch sports from Iberia. Looking for a bar snack? Chicken Gizzards may not be your first choice, but they are bursting with Portuguese flavour and you should try them– with a Super Bock in hand in case they're not to your taste.
Seafood stews and Monkfish are Estrela's speciality alongside Portuguese Paella, all of which are sure to be your new favourite dishes.
Casa Madeira
Vauxhall
Portuguese tapas is always a good idea and you should sample as many dishes as you can manage at Casa Madeira– its outstanding Portuguese food in London.
Chourico Assado, mussels, stuffed mushrooms and deep fried squid rings are not to be missed from the extensive tapas menu. Fish on your mind? Bacalhau com Natas, salted cod pieces topped with a cream sauce, is creamy and rich and a firm favourite at Casa Madeira.
Santa Nata
In the mood for sweet pastries? We always are. Santa Nata is not a Portuguese restaurant, but it does bake traditional and indulgent Portuguese pastries that you will keep on coming back for seconds.
Pastel de Nata's are handmade by the artisan chef using the finest quality ingredients– bringing you the true flavour of Portugal.
Located in Covent Garden Row, the artisan shop front is European by design and you can sit outside with your Pastel Del Nata and coffee watching the world go by. It's so popular that you should expect to queue, but we promise it's worth the wait.
O Cantinho De Portugal
Stockwell
A South London gem, O Cantinho De Portugal is a testament to traditional Portuguese food.
This family-run restaurant has been serving classic Portuguese cuisine for 20 years, and it's easy to see why when you've tasted the Arroz de Marisco, seafood rice with shrimp, squid, mussels and brown crab– seafood heaven.
Tuck into your Carne de Porco à Alentejana- marinated pork loin casserole, with a large glass of Vinho da Casa and dine inside or curbside and pretend you're in Portugal– try to forget you're zipped up in your coat and scarf.
Practical Tips for Dining at London's Portuguese Restaurants
Portuguese tapas dishes are designed for sharing and you should ask your server how many dishes your party should order– you wouldn't want to be left hungry.
A lot of Portuguese main dishes are intended to be shared, remember to check this before ordering so you avoid the disaster of ordering a meal for four just for you.
Portuguese Restaurants in London: Map