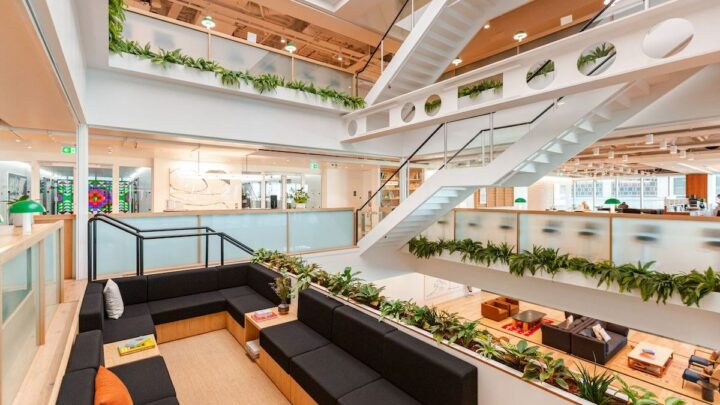 Are you looking for a space to help get the creative juices and productivity flowing? Here are a few of the very best coworking spaces in London to keep you on the right track.
If there's one thing we know for certain, it's that running a business can be TOUGH. Working from home is a blessing (and sometimes a curse), but there are effective ways to reduce cabin fever – namely opting for a seat in coworking spaces a couple times a week or month to spice up your surroundings and network with likeminded people.
But, if you've never checked out one of these spaces before, they can be ultra-intimidating. How do you book? Which one is best? Do you need a private office? And, most importantly, is the coffee free?
Have no fear, we've got a guide to the very best coworking spaces in London – many of which, we've spent time in ourselves. If you feel the siren song of procrastination at home, you'll love these various coworking spaces London boasts.
Best Co-working Spaces in London
Soho Works
With its focus on providing a collaborative space for individuals in the creative industry to thrive, Soho Works is the place to dally up some inspiration.
From the more relaxed lounge areas to the business-savvy meeting rooms available, this workspace is the perfect place to set up shop for the day. Not to mention, the networking opportunities are endless and the space itself is a designer's dream.
Top Perk: Podcast equipment for any brave office soldiers. This alleviates the humdrum mundanity of Monday mornings from this coworking space in central London.
Second Home Clerkenwell
As the name suggests, Second Home is a vibrant space with a warm and welcoming atmosphere. With colourful interior decor and dog-friendly policies, these coworking spaces in central London will put any dreary office atmosphere to shame.
A big part of this company's ethos is creating a space that leads to a community feel, so weekly wellness events and drinks for members are part of the norm. Be sure to grab a free coffee and chat with your neighbours to get that real 'water cooler banter' feel.
Top Perk: A Members' Slack channel to break the ice and send some memes to your fellow workers.
Uncommon
Fulham
This is the spot if you're in need of flexible environment for worker bees (that's you, FYI) to fulfil their daily duties and produce the sweet nectar of productivity. Whether you're looking for a day pass or prefer the stability of a dedicated desk, this space has got you covered.
With many locations to choose from, including the riverside splendours of Fulham, the best coworking spaces in London list is not complete without Uncommon.
Top Perk: The official website has great well-being tips in their online journal.
TMRW Hub Croydon
Within the bounds of the tech-centred mecca of Croydon, TMRW is the ultimate place to find your bearing in all things digital (word on the street is that the world is going virtual).
This establishment thrives on collaborative efforts from fellow members, from projects to business pow-wows and a coworking environment that fuels the flames of startup voyages. This place has a diverse range of spaces to fit your needs, from shared to private offices and cosy nooks to cook up some creativity.
Top Perk: The Byte Cafe is an excellent eatery to sit down and have an espresso (or three).
The Barbican
While not entirely outsourced to cater to flexible workplace seekers, the Barbican Centre is a performing arts centre that offers creatives the opportunity to book a space for free.
Desks and seats are available on the first floor for individuals seeking sanctuary for work – you just need to book and you'll be allocated a desk for the day.
Top Perk: With both AM and PM slots to choose from, this space caters to both early birds and night owls.
WeWork
Various Locations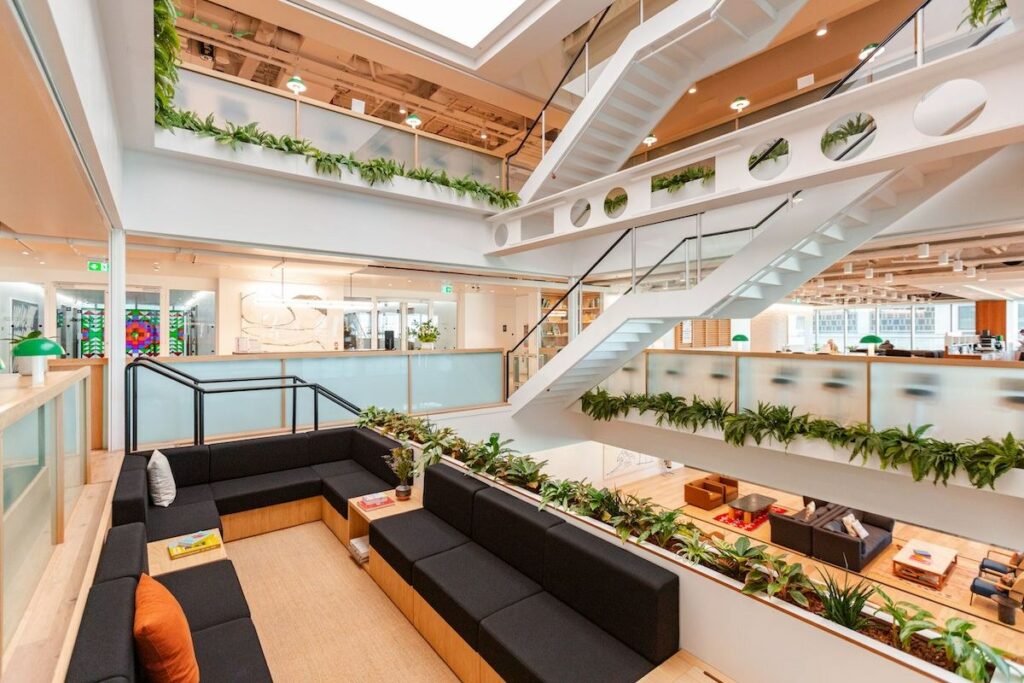 A fantastic coworking spot in various boroughs, WeWork is the perfect place for individuals on the move. Whether you're in Canary Wharf or the West End, this establishment has a kaleidoscope of locations to choose from.
From dedicated desks to private office spaces, there is something for every type of worker in these hubs. And with plenty of desks and sofas throughout each space, you'll have plenty of space to spread out.
Top Perk: Flexible and adjustable leasing agreements to ensure you're comfortable with your office setup. Day passes are available through WeWork On Demand, too.
Market Peckham
Market Peckham provides a working zone as well as a recreational refuge from the daily grind.
This establishment has various workspace options, such as fixed desks and studio offices, providing you with plentiful options to choose as your environment for the day.
With a roof garden and basketball on the premises, you'll never want to leave your temporary office — even after your workday ends.
Top Perk: The basketball court is the ultimate place to instil an effective conflict resolution strategy in this coworking space in London.
The Office Group
Various Locations
With various office and coworking spaces available in multiple locations throughout London, The Office Group is the ultimate utopia for meeting deadlines.
From Paddington to Liverpool, you'll have the opportunity to take control of your work day, opting to work in a different location each day if you wish to keep it fresh.
This establishment has a unique package, called the virtual office, which allows online businesses to register as a member to obtain an office address. This way, virtual enterprises have the ability to gain customer trust and legitimacy.
Top Perk: Various conference rooms to provide a comfortable option for all types of group sizes.
Impact Brixton
A coworking and collaborative space that allows you to mingle with a wide variety of working individuals, Impact Brixton will leave an impactful impression. This London coworking space has the best attributes a productive pod can have: fast wifi, printing facilities, and a dedicated kitchen to satisfy those late-afternoon cravings.
Let's face it — we all work differently. Impact Brixton has various designated spaces to cater to these unique attributes. This includes environments with light music and others with absolute silence.
With various essential oils diffusing in the air and natural light filtering throughout, you'll be able to work in an area dedicated to the well-being of its occupants.
Top Perk: Impact is a mere two minutes away from Brixton station, which makes getting to work in the mornings a breeze.
Work.Life Soho
From the floor to ceiling windows to the gold decor trimmings, you'll feel like a real Harvey Specter from Suits when spending the day at Work.Life. This establishment has an abundance of areas to spend your day without the gruelling placidness of a regular office.
The workspace has plenty of amenities that allow you to wind down from your 9 to 5 working hours. Whether it's for the weekly complimentary breakfast or the free yoga classes, you'll be sure to return to this land of leisure and productivity.
Top Perk: The weekly beer and pizza nights are the best way to let off some steam after work.
The Sandbox Workspace
If you're looking for a temporary space to start and grow your business, The Sandbox Workspace London Bridge is the perfect location to get the ball rolling. With office spaces available for four to 40 individuals, you'll be able to embark on this venture with a fully equipped workspace ready.
The various packages include 24-hour access to the building as well as beautiful sun terraces to enjoy.
Top Perk: The riverside views from the terrace.
Fora Soho
Soho
Fora Soho, with its preppy interior and wellness facilities, is a great place to go to disappear into your work for a few hours in a relaxing environment.
This London coworking space has a variety of packages to ensure you acquire the room you need, from private floors to individual desks. In fact, we think it's the best value shared workspace London offers.
With designated bicycle storage and hot showers on the premises, you'll have the perfect place to pull those dreaded all-nighters when push comes to shove (we've all been there).
Top Perk: An excellent event space available for office parties.
Canova Hall
Brixton
While Canova Hall might be the ultimate brunch spot, this restaurant is a tremendous free coworking space in London.
From the free bottomless coffee to the fast and reliable internet, you'll be able to work in an environment with a secluded coffee shop feel (without the screaming toddlers at lunchtime).
Top Perk: This coworking space in a south London restaurant has excellent lunch options. This is also the perfect place to experience a London bottomless brunch.
Working From_Southwark
With a slogan like 'A coworking space that feels like home', Working From_Southwark is a great space if you're looking for an inviting atmosphere without procrastination temptations (although, we can't guarantee you won't find something).
Working From_Southwark boasts a wonderful way to work with your team during the day, but the little details to make your life easier are where they truly shine. This includes wireless phone chargers on every desk – an often overlooked aspect.
Top Perk: Day beds with Apple TV added to supply a well-deserved indulgent break. Just remember to set an alarm in case you fall asleep!
Fora Borough
Borough
While this might be another separate entry for Fora, this location in Borough is a modern, fully kitted-out space that will be sure to knock your socks off.
From the tranquil terrain of the reading room to the rooftop area with magnificent views of the city at night, the Fora – Borough is a treat from sunrise to sunset. Who says work needs to be dull?
Top Perk: This work environment also has an annual wellness festival that focuses on approaching the anxiety-inducing workdays in a different and improved way.
The Fisheries
London Fields
This delightful coworking space in east London is a well-thought-out space where old meets new. This establishment is located in a historic Victorian warehouse fitted with simple yet modern decor, everything you could possibly need for a productive day.
Work among various plants dotting the workspaces, as well as friendly communal areas in this hustling hive.
Top Perk: The Fisheries allows 24/7 access to its facilities and has complimentary tea and coffee to ensure you can always benefit from a caffeine kick.
Mare Street Market
While not exclusively a coworking space environment, the Mare Street Market is the perfect location to work if you're looking to pinch some pennies — as it's free!
With large tables to set up your working gear, this establishment will have your gears of productivity turning with its vibey atmosphere and excellent coffee options. Grab a cup of the good stuff and get to work at this fabulous free coworking space London offers.
Top Perk: When the sun shines, be sure to move to the outside seating area to catch some rays while you work.
Practical Tips for Choosing a London Coworking Space
Book in advance – While many coworking spaces in London allow walk-ins, you won't be the only working gal/guy suffering from cabin fever. Many places offer online bookings, so be sure to secure your space.
Check the trading hours beforehand – We've all suffered from the impending doom of pressing deadlines, and many shared workspaces in London cater to the last-minute workers. If you're looking for a space to work late hours, check the opening hours to ensure the establishment is open 24/7.
Take the tube – Many of the best workspaces in London are near underground stations. Do some research in advance to make use of public transport.
London Coworking Spaces: Map
Discover More Working in London Guides