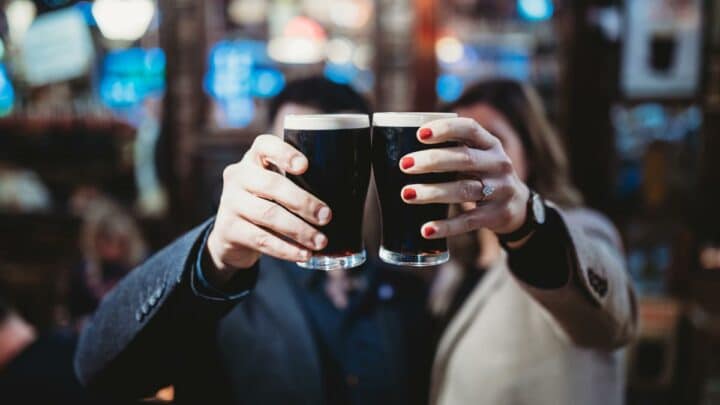 Looking for the best Irish pubs in London? These are the best Guinness-pouring pubs for that perfect Irish pint.
Irish pubs aren't just for St Paddy's day– we can enjoy them all year round.
We love Irish pubs for their warm and friendly atmosphere, Irish whiskeys and, of course, Guinness. We've found the best pubs with Irish memorabilia, live music nights and gallons of the good stuff.
Whether you're looking for a traditional Celtic pub or a lively Irish affair– here's where to get stuck into the best craic.
Best Irish Pubs in London
Auld Shillelagh
Stokey's lively Irish boozer, Auld Shillelagh, lures the crowds in with regular live music nights. Known for its exceptional Guinness, it's actually touted as the best Guinness poured in North London.
That's not the only reason why revellers fill the Auld's narrow space, the service here is outstanding. Staff are friendly and welcoming and have been known to bring beers to the table– we gasped too, surely not in London.
Auld Shillelgah's beer garden out back kind of seals the deal, it even gets the sun for most of the day. Watch all of your favourite sporting events at the Auld on the big screens with London's best Guinness in hand.
The Faltering Fullback
Finsbury Park
A Finsbury Park gem, The Faltering Fullback has always been a firm favourite Irish pub in London. Sports are shown on the big screen, but Irish teams do take centre stage (English rugby fans, beware!).
This well-loved Irish pub's beer garden is one of The Faltering Fullback's best selling points – that and the good stuff, Guinness, on tap. Full of lush greenery, wisteria covered from the outside and tables aplenty– there's even a covered smoking area.
Sunday's at The Faltering Fullback are lively with acoustic sessions starting from 9pm, ranging from a traditional Irish folk band to 70s and 80s classics.
Feeling hungry? A delightful Thai food menu is served every evening that's too delicious not to try. We're not quite sure why Thai either, but trust us when we say it's tasty AF.
The Toucan
Stepping into The Toucan near Soho Square you'll find this Irish pub is especially mad for Guinness.
Guinness posters are plastered over the walls amongst other Irish memorabilia. Perch at the bar and you might find yourself sitting atop a stool that resembles a pint of the black stuff.
The tiny basement bar is a Soho Square staple and you'll often find Guinness lovers spilling out onto the street. The Toucan also has lots of Irish whiskies behind the bar too, and a great food menu to match.
The Porterhouse
One of the largest Irish pubs in London, The Porterhouse in Covent Garden is best known for its award-winning craft beers and showcasing live music.
Beers, stouts and porters are imported from the homeland (Dublin). Although The Porterhouse is set over three levels with a number of mezzanine levels, it can still feel intimate as tables are tucked away in nooks and crannies.
The Porterhouse is big on food with hearty portions of Beef & Porter Stout pies and fiery Chilli Cheese Hot Dogs.
Also a late-night music bar, you'll find live music throughout the week at The Porterhouse showcasing emerging talent.
Waxy O'Connor's
It's more of a bar than a pub, but an Irish staple nonetheless– Waxy O'Connor's is a warm and friendly Irish bar.
Waxy O'Connor's is a labyrinth of four unique bars set over six levels with the iconic Waxy tree found in the heart of the pub. The best part about Waxy's is that there's a good mix of busy bars and cosy spots, like by the fire in the Cottage Bar.
If live music is your thing, Wednesday through Sunday the Irish bar comes alive with acoustics from rising stars and established acts.
Blythe Hill Tavern
Catford
Blythe Hill Tavern, a traditional corner Victorian pub with intricate wood panelling, boasts a huge selection of real ales – which is most of the appeal.
The Irish pub has the delicious Guinness on tap, poured to perfection by warm and friendly staff. Blythe Hill Tavern is best known for its welcoming staff creating that familiar relaxed Irish atmosphere.
Watch all of your favourite sports here, hang out with a pint in its large garden area in the summer months, or sit by the roaring fire keeping you warm in the winter months.
Enjoy quiz nights on Mondays and listen to traditional Irish music all evening long on Thursdays– it's the best place for live Irish music in London.
Boston Arms
Tufnell Park
Situated in a beautiful Victorian building in Tufnell Park, Boston Arms is one of the most popular Irish pubs in North London.
Opposite Tufnell Park tube station, this ungentrified corner pub is family-owned and dog friendly.
The secret bar garden– The Yard– is the best place to enjoy a pint all year round with toasty heaters. Irish food and spirits are easy to come by at Boston Arms, all poured by friendly and welcoming staff at this local's favourite.
The best night at Boston Arms is Saturday, where Irish music is played all night long.
MC & Sons
When it comes to traditional Irish pubs in London, MC & Sons fits the bill perfectly. In the heart of Southwark, this Irish pub with wood panelling and rustic seating has Irish and global beers on tap.
Stepping into MC & Sons is like stepping back in time with old-fashioned decor and welcoming staff members behind the bar happy to pour you a nice cold Guinness. Mouthwatering Thai food is also served here for lunch and dinner.
Make MC & Sons part of your Saturday plans, a host of live music is played here including the beautiful tones of Irish Trad music.
Sheephaven Bay
Just off Camden High Street, Sheephaven Bay is a warm and traditional Irish pub that welcomes its revellers with open arms.
The pub is spacious with two bars and three separate cosy seating areas. You'll never miss a sporting event here, 14 plasma screens showcase the very best sports and there's lots of Irish rugby of course.
Head through the conservatory and into the beer garden with your cask ale or draught beer.
Fancy something stronger? Sheephaven Bay has 30 malt whiskies to choose from– staff are happy to find you your perfect whiskey match too.
Full Irish and Irish stews can be found on the food menu for an authentic Irish experience or tuck into traditional British fare.
Gibney's London
From Dublin to East London, Gibney's is a popular basement pub in both Ireland and England. Its East End location is an eclectic mix of an Irish pub, restaurant dining and the warm welcoming of a local.
Restaurant Daffodil Mulligan sits atop Gibney's and captures the heart and soul of Irish culture but with tasty International food influences– it's worth dining here before heading downstairs for Irish drinks.
There are always events at Gibney's with a calendar packed full of live music events like Gibney's Stout Masterclass and stand-up comedy shows. All of which are accompanied by an extensive menu of Irish whiskeys, Guinness and the infamous Gibney's Stout– all served to frothy perfection.
Irish Pubs in London: Practical Tips
Choose your Irish pub wisely, some Irish pubs are quite lively and others are great for a quiet drink. Also, make sure to check if the Irish pub has events on before you visit.
It may be best not to ask staff to turn over sports if an Irish team is playing!
Irish Pubs in London: Map
Irish Pubs in London: Read Next