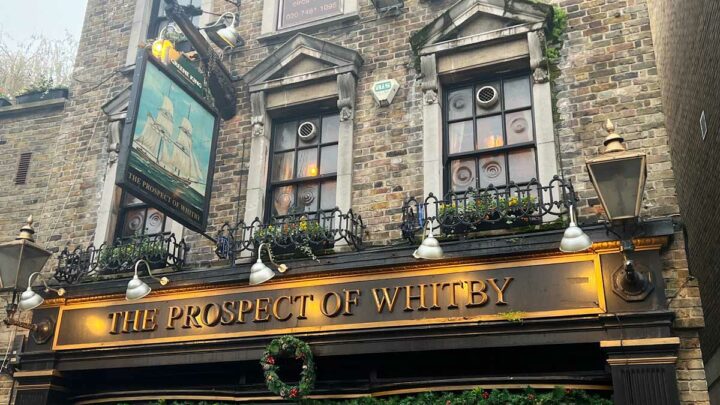 Nothing beats a pint, and nothing beats a pint in a pub that's got a story. Here's where you can find both in Wapping.
Wapping was once a thriving port on the Thames, and has seen more rises and falls than the tides. It's been neglected, bombed and burnt, but always came back strong. Wapping's most lasting feature? Its pubs.
Sure, they've got Wetherspoons and there's probably an All Bar One lurking round the corner, but if you're looking for a pint in Wapping you should be heading to one of its historic boozers.
From pirate hangouts to literal pirate hanging spots, and picturesque watering holes to wine cellar prisons, and with a combined age probably as old as London, Wapping's pubs are nothing if not historical.
Read on for our guide of all the best pubs in Wapping.
The Best Pubs in Wapping
Prospect of Whitby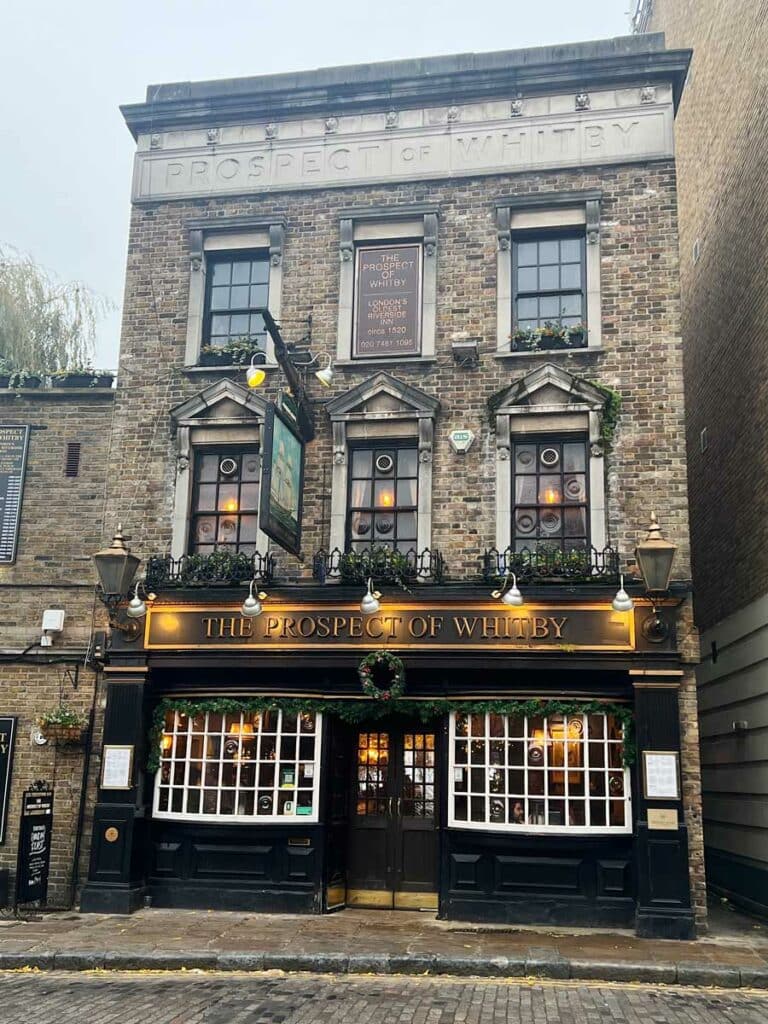 The Prospect of Whitby has claim to being London's oldest riverside pub. Then again it's pretty much everyday you walk past a pub claiming to be the oldest of something or other.
At the very least this is one of London's most famous boozers.
These days it's owned by Greene King, but don't let that put you off. Everyone from pirates to celebs have put money behind its bar in its 500 year history, including the great Charles Dickens, and a man whose name will show up later on this list, JMW Turner.
The walls are cluttered with trinkets and antiques from across the centuries that add oodles of charisma to this aged pub, but the real centrepiece comes in the form of a hanging rope that still dangles from the gallows outback.
Perhaps a quiet reminder to anyone thinking they can dodge their bar tab.
Town of Ramsgate
Tucked between two buildings, this jenga-box-like boozer is a must-hit for anyone touring the pubs of Wapping. Wood-panelled, oil-painting hung, the insides of the Town of Ramsgate give off all the historic mood the pub possesses.
And there's a lot. The first pub on this site probably dates back to The War of the Roses (1460's). It was in the late 1700's that the Town of Ramsgate got its name after the nearby wharf became a popular spot for Kentish fishermen to offload their catch, dodging the steep taxes up river.
Their cellars were used to hold prisoners before they were shipped off to Australia, and sailors being press-ganged into the navy. These days you'll only find them stocked full with real ales and fine wines.
Turner's Old Star
Turner's Old Star was founded by the artist JMW Turner (yep, the guy on the back of the 20 quid note) in 1830. The story goes that Turner was a bit of a womaniser and liked to visit the sleazy areas of Wapping for his thrills.
After meeting a widowed landlady from Margate, where he liked to paint, he instated her as the proprietor of his pub, the Old Star. Somewhere along the line the name's been changed to reflect its gilded history.
Not much else changed though. Turner's Old Star is often flouted as one of Londons' few unaltered pubs, and they do a cracking beer.
The Captain Kidd
This atmospheric boozer boats beautiful courtyard seating right on the waterfront, ideal for a summer's day session. The interior was once part of a coffee warehouse, and turned pub in the 80's.
The Captain Kid takes its name from the world's unluckiest privateer. Kidd was given government permission to operate as a pirate, raiding other nation's ships for loot. He made a pretty penny doing so.
He met his end when the business he'd been thriving in was outlawed in England and he didn't get the news. He returned home expecting a hero's welcome and was promptly marched off to the gallows.
The Dickens Inn
This hulking-great structure on the dockside was once a warehouse, probably for storing tea. In keeping with the theme for Wapping pubs it's got a good bit of history. Surprisingly for a pub named The Dickens Inn almost none of it has to do with the writer.
The structure was built in either the 17th or 18th century and served merchant shipping long before it became an inn. When the dockland area of Wapping was redeveloped, they actually moved the structure 70m to the place you'll find it now.
It only opened in 1976, with Charles Dickens' grandson cutting the red ribbon. And that, ladies and gents, is the only reason it gets its name.
The Turk's Head
The Turk's Head has been on its current site since 1899. Before that it was on Wapping High Street, where pirates would be taken for their last drink on their way to be hung at the dock. And the pub's history doesn't stop there.
As you'll see from the plaque on the wall, the pub was famed during WW2 for its landlady, Mog Murphy, who kept the pub open 24 hours a day so people could receive news from the frontlines.
The pub was then saved from demolition in the 80's by a bunch that became known as 'The Wild Women of Wapping' who fought to keep this historic boozer alive.
In the present day you'll find a pub that looks like it's straight out of another era, with a decent beer garden and a French bistro for a kitchen that turns out fancier grub than you'd usually find in an old London pub.
For that reason it's not a bad spot for a mid-pub-crawl lunch.
Wapping Pubs: Map