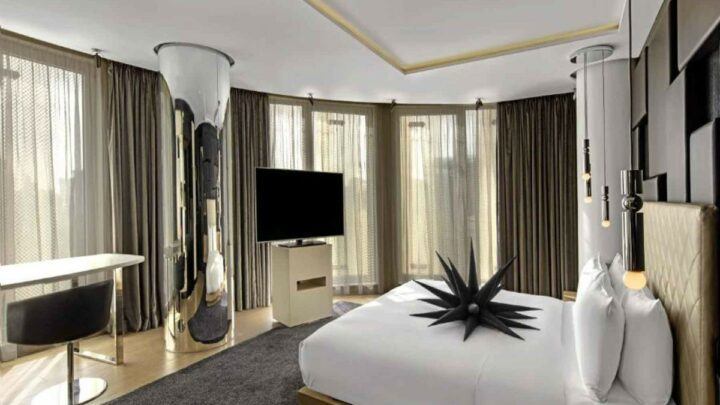 Celebrating your birthday in the capital? Look no further than these fabulous birthday celebration hotels in London.
A trip to the capital is a fabulous birthday present, if you ask us. Though, you can make your trip even more memorable with a hotel that knows how to make you feel truly special.
We've got you covered with some of the very best hotels to celebrate birthdays in London – pack your fanciest clothes and prepare to party.
Ready?
Brilliant Hotels for Birthday Celebrations in London
K West Hotel & Spa + Birthday Bundle
Hammersmith
£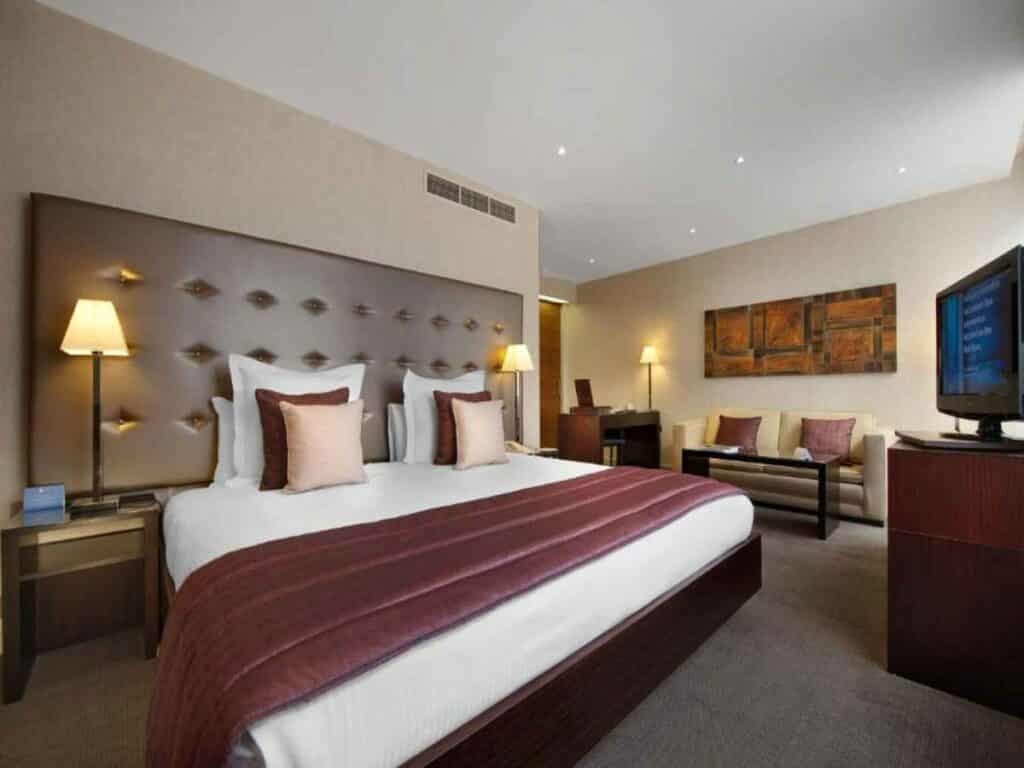 Potentially one of the best birthday deals you could get in London can be found at K West Hotel & Spa. The chance to stay at a gorgeous (and aesthetically stunning) 4* hotel with a very reasonable birthday bundle is too good to refuse.
The Birthday Bundle includes a chilled bottle of Prosecco on arrival for you to quickly open and begin the overindulgence immediately, a box of chocolates (because who doesn't love and NEED chocolate on their birthday?) and celebratory silver birthday balloons in your room so you can jump around the bed for that perfect IG piccy.
As former BBC offices and studios, the 219 guest rooms have a serious rock n roll type essence and you can sleep knowing that Bob Marley and The Kinks have walked the same corridors as you.
Their "smallest" room is over 200 sq feet. Enough said. Read our full review here – spoiler, we loved it.
London Marriott Park Lane- Customised Celebration Package
£££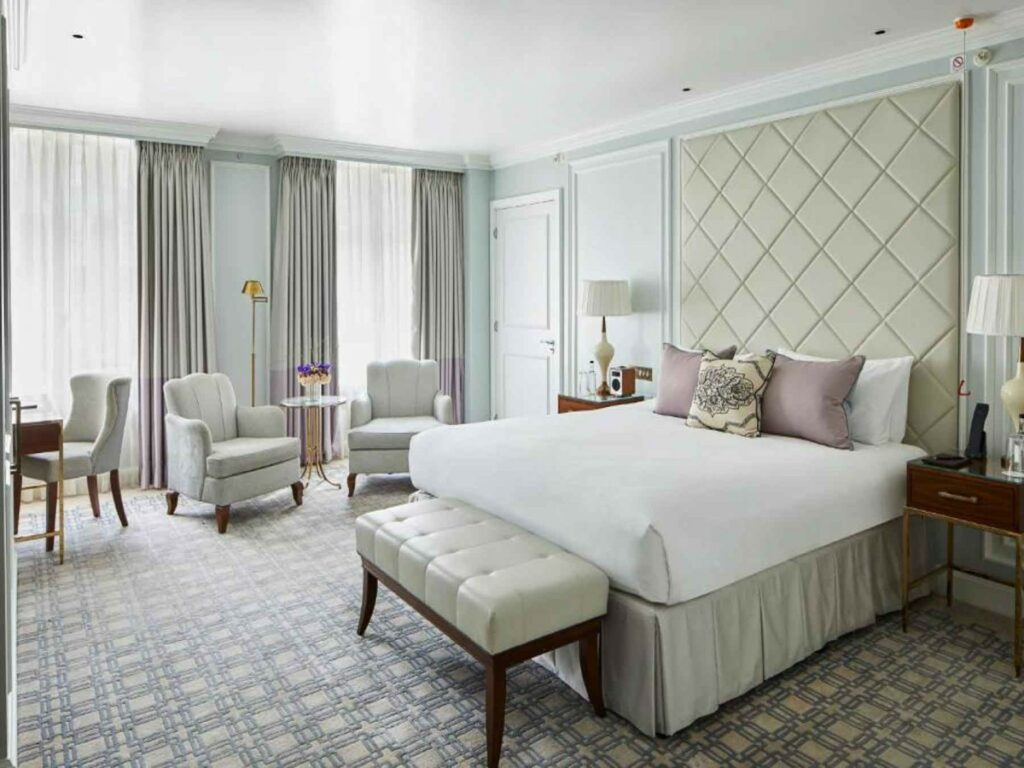 If you're looking to feel like a King or Queen on your birthday, then the Marriott Park Lane is your very best bet.
The great thing about the Celebration Package is that you can customise it! Not only is the prime Park Lane location one of the top spots in London, but you even get a private floor. Nothing is spared at this hotel, making it the most exclusive birthday package in London.
Think donut wall, bubbly bar, videographers – whatever you want. You can curate the exact party you've always dreamed of for up to 30 of your loved ones and make some of the best memories of your life.
Donut wall, definitely go for the donut wall.
ME Hotel + Celebration Experience
Strand
££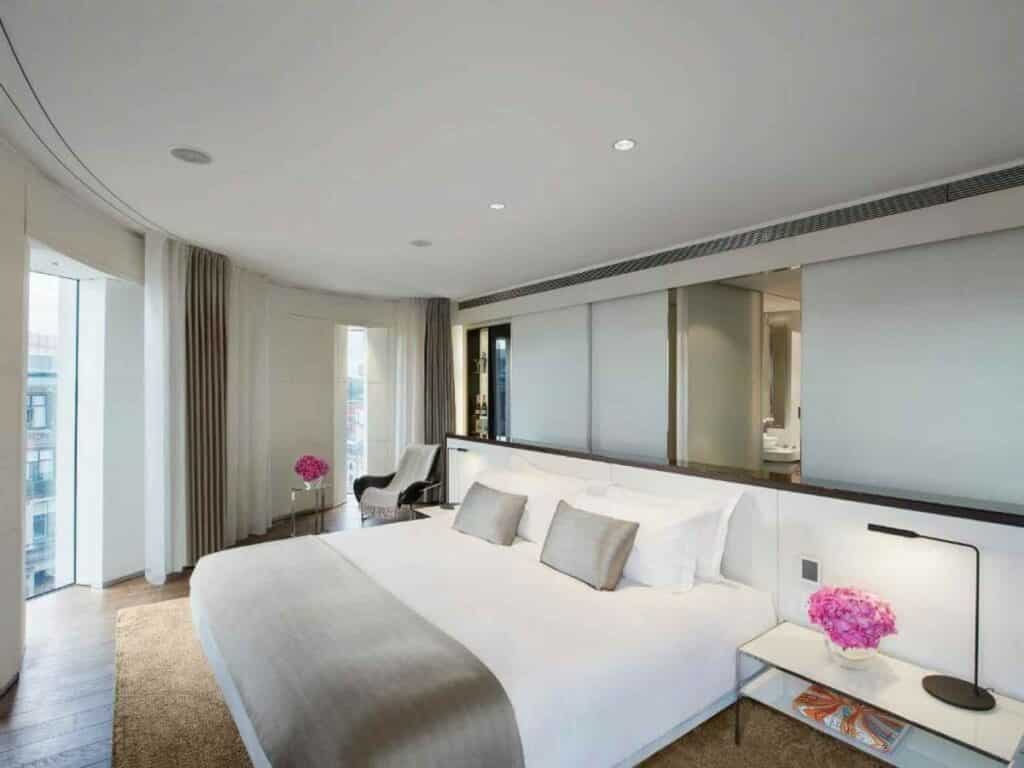 Choose from either the Celebration Experience or the Luxury Celebration Experience and indulge in one of London's best birthday hotel packages at the ME Hotel.
What's the difference, you may be asking?
Well the Celebration Experience includes a super cute mirror message of your choice, balloons, confetti and Champagne. You also get a pretty good box of chocolates too. Whilst the Luxury Celebration Experience is similar but the items are far more indulgent and of a higher quality.
This is the perfect hotel if you're looking to go out to a nice cocktail bar in Mayfair, Soho, or Covent Garden or even for catching a West End show. You can skip back to your hotel and enjoy your celebration experience package.
South Place Hotel + Luxury Package
Finsbury
£££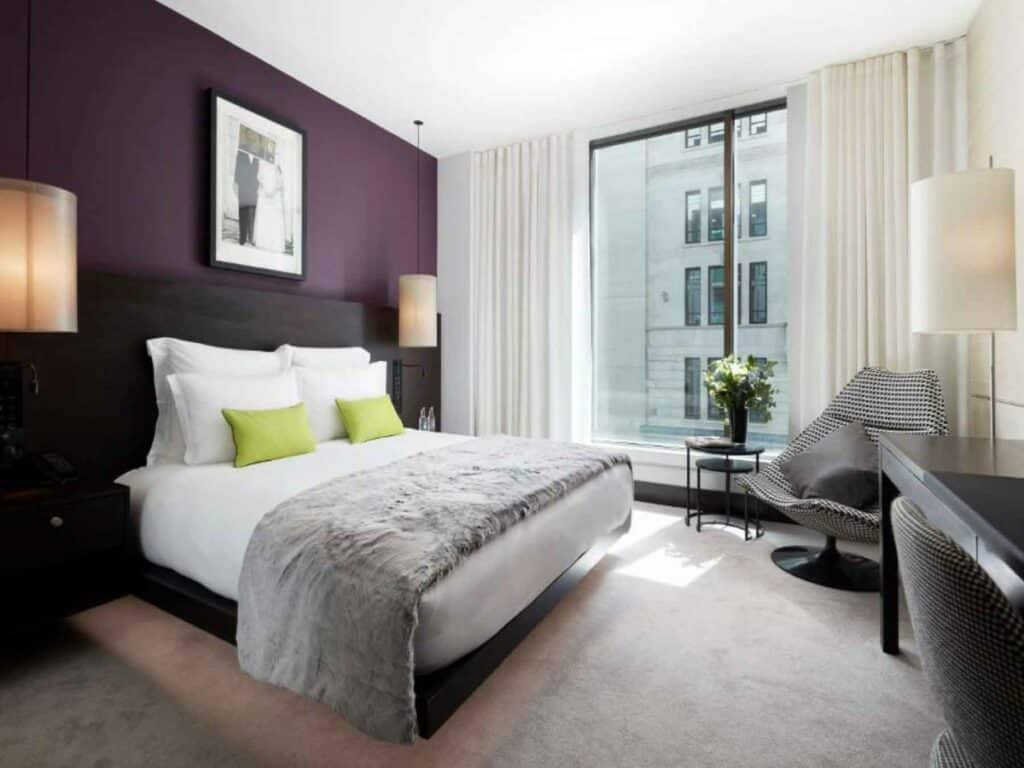 Looking for a romantic birthday experience? South Place Hotel offers the best package birthday experience if you're looking to treat your special someone to a romantic getaway at a 5* hotel.
You can choose between three wonderful options: The Romantic Turndown, the Romantic Turndown & More, and The ULTIMATE Luxury Experience.
Basically, they start from just rose petals, to rose petals and champagne, to the ultimate luxury experience of having not only rose petals and champagne but also a hand-written birthday card, a pastry from the hotel's award dining team and a one-hour spa treatment per person.
We know which one we'd choose.
The Langham + Spa Package
£££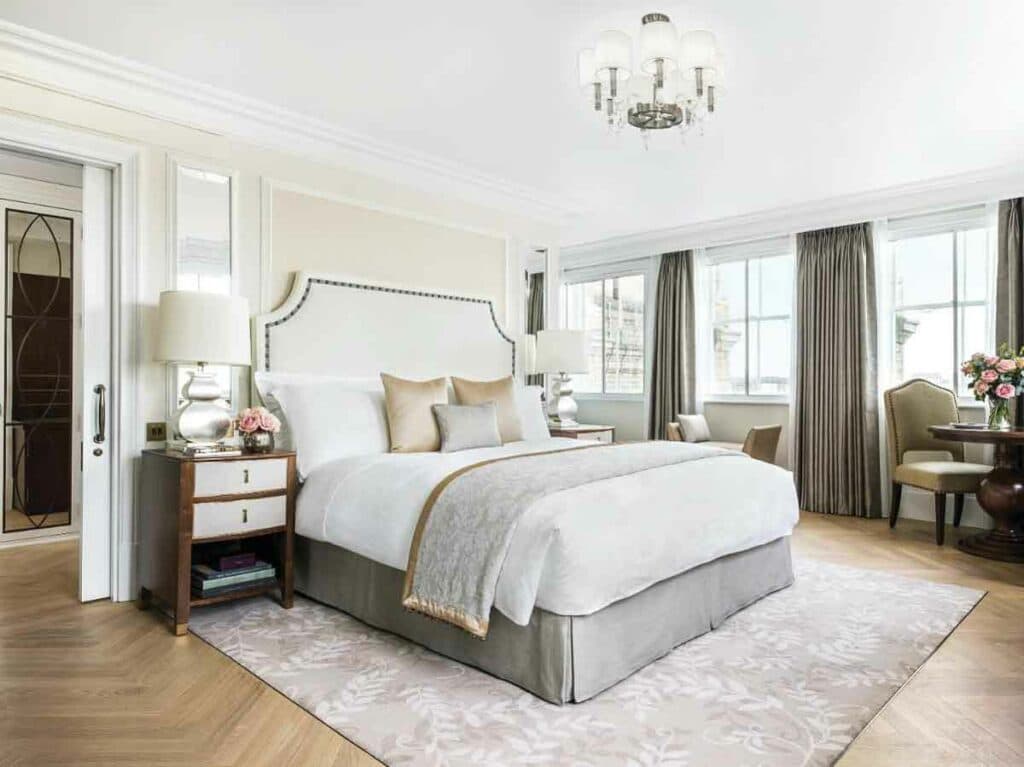 Right in the heart of London, The Langham is a bit of an institution and will forever go down in history. It's another 5* spot and one of the most exclusive hotels in London.
The Langham offers quite a range of packages, including a room with pink balloons! Adorable. Although, the big deal about this place is that the hotel gives you the option to choose a room type and gives you complimentary access to Chuan Spa wellness facilities (one of the best spas in London).
To go one step further, we suggest going for the options that give you a drink at the hotel's award-winning bar, Artesian, followed by dinner at 'Roux at the Landau' for some wonderful French cuisine.
W London + Birthday Package
£££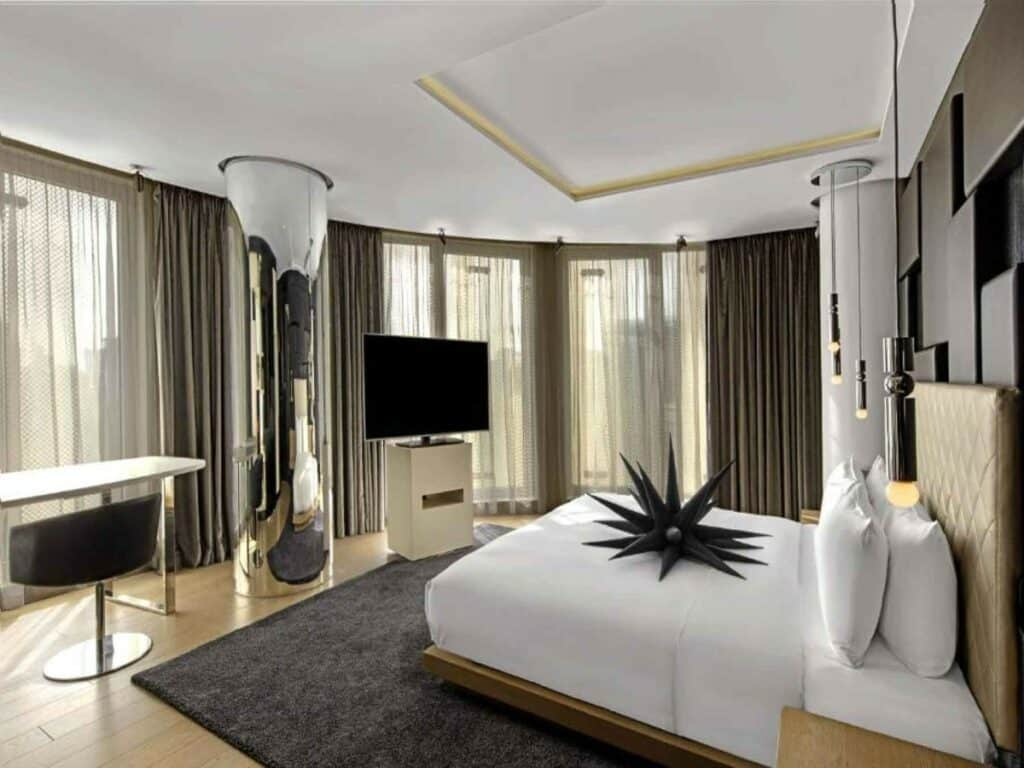 Slick and sexy, the W London has to be one of the best hotels in London along with a wonderful birthday package. This hotel is one of the best if you want a slightly bigger party – you can invite all your friends and family.
For birthday celebrations, the hotel allows you to head to The Perception Bar, situated on the first floor of the hotel with gorgeous high ceilings, private booths and DJ turntables.
The best part about this dazzling birthday celebration hotel is that you can also celebrate in the Color Me Bad room. It's as edgy as it sounds, neon lights and leather sofas. If you're feeling fancy and cool, this is the place for you. It's worth the splurge.
Blue Orchid Hotels Tower Suites + Romantic Package
Tower Hill
££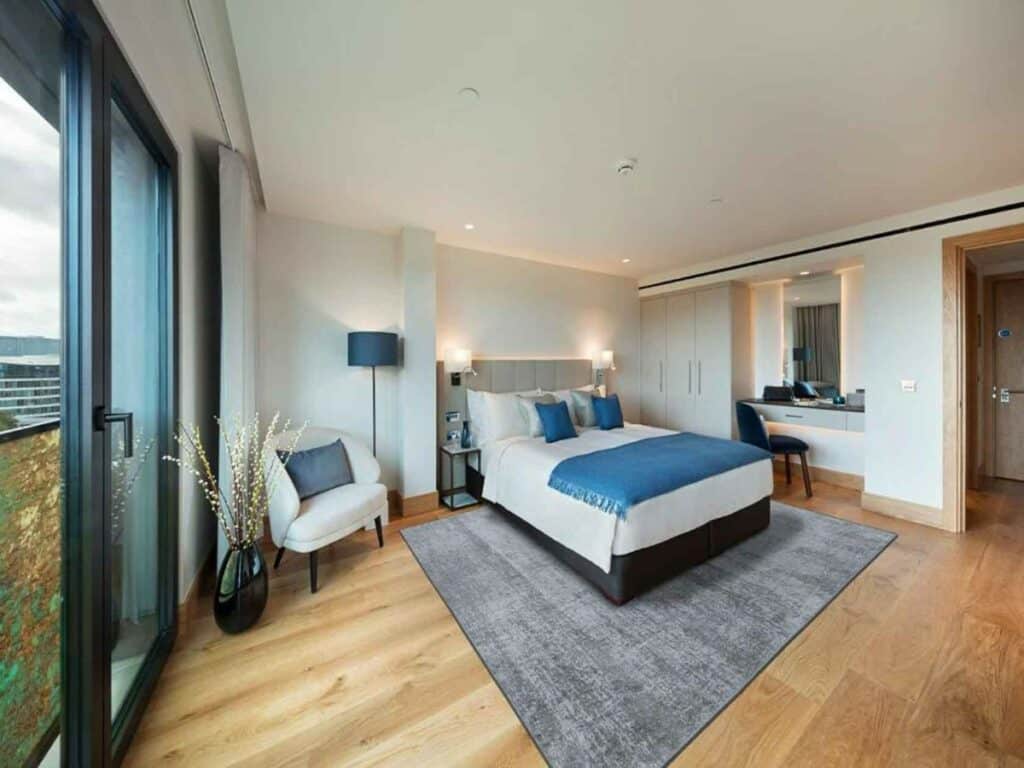 Blue Orchid's Tower Suites is a fantastic place for romantic birthday celebrations. The package is a mix of luxury experiences at the Tower Suites – think views over the River Thames with a glass of bubbly. You'll feel absolutely spoiled rotten.
You'll also be treated to a three-course dinner and breakfast in bed the next morning.
If you put value in photos, you'll even be offered a rooftop photoshoot to treasure your special day forever with professional pictures with London's skyline as an epic backdrop.
California Hotel + Birthday Package
££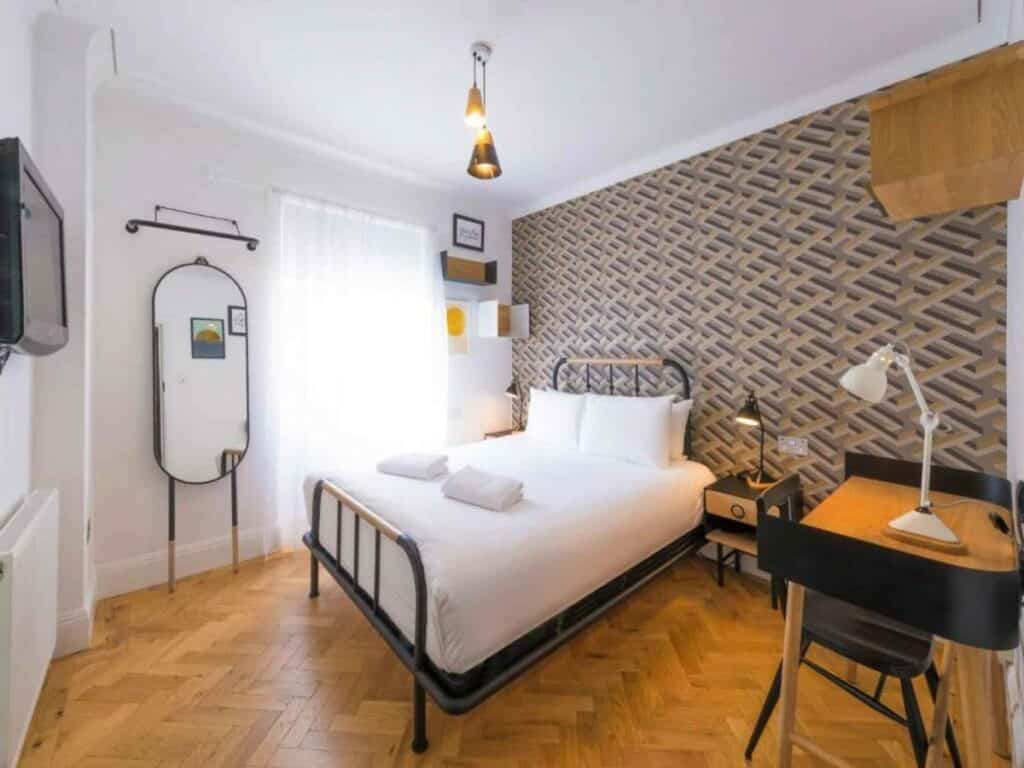 If you're heading into London via St Pancras train station, this hotel couldn't be easier to get to – it's right round the corner.
The California Hotel is a great hotel in its own right, although the added celebration packages make it even better. You'll be able to pre-order delicious homemade birthday cakes by the hotel's lovely chefs as well as receiving a personalised birthday card just for you!
The big thing about this hotel is definitely the location. St Pancras is the best spot to get around London with great transport links.
Practical Tips for Booking Your Birthday Party at a Hotel in London
If you're looking to book a hotel in London for a birthday package, it's a good idea to call up the hotel after you have booked your room to talk through add-ons. Who knows, they might be feeling generous and throw in a freebie!
London Hotel Birthday Packages: Map