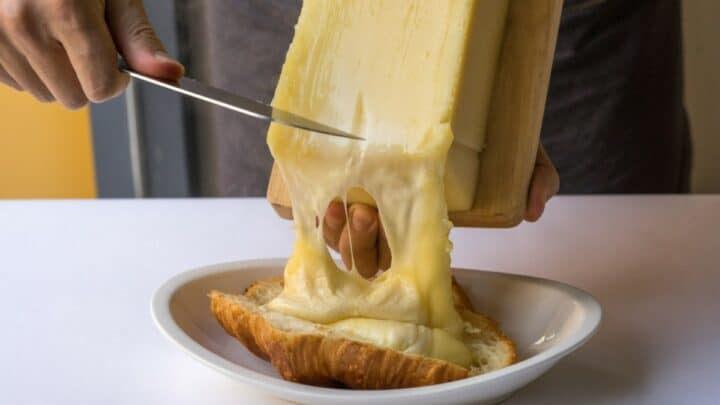 Feelin' cheesy? We've got one word for you: Raclette. These are the top spots for gooey Raclette in London.
If you ask us, the only thing better than cheese is… Raclette.
For those unaware, Raclette is a type of Swiss cheese that is melted and scraped onto an abundance of carb-heavy vessels. We're talking potatoes, bread, and more.
Lucky for you, you don't need to traipse across the continent to get your fix – there are plenty of top spots in London serving up oozy fondue goodness.
Ready to discover the best Raclette London boasts?
Where to Find the Best Raclette in London
Heritage Restaurant & Cocktail Bar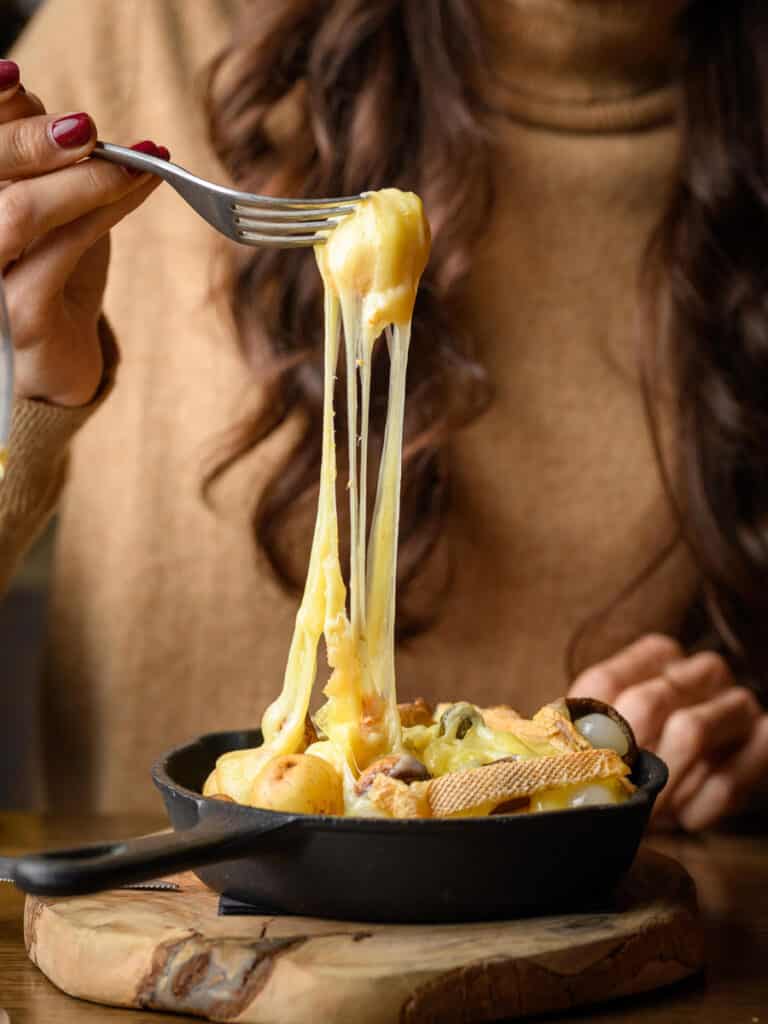 Bottomless Raclette? Yes, please. We adore Heritage's authentic Swiss offering. Not only is the beautiful restaurant and bar inspired by Alpine chalets of Switzerland, but the food is top tier.
Head to Heritage on Tuesdays for all-you-can-eat Raclette for just £21, with a complimentary glass of wine, prosecco, or beer to sweeten the deal.
Expect pearl onions, marbled potatoes, and cornichons lovingly drizzled in a never-ending river of cheese. And, as if that wasn't indulgent enough, you can opt for a truffled option for an extra-special touch.
Drinks-wise, choose between an impressive array of cocktails (we love the Signature Bubble Supernova, a gin-based aperitif), as well as a hefty selection of wines and beers.
Is it any wonder that this is our top choice for raclette in London?
Kappacasein
Kappacasein is one of those spots you return to again and again – a humble yet impressive stall in Borough Market.
Borough Market uses Ogleshield cheese for its Raclette offering, though the cheese toasties are equally as delicious. We cannot resist nipping in for a cheese-heavy treat whenever we're nearby.
The best part? You can purchase your own Raclette cheese to take home and recreate as authentically as you want (or non-authentically – we think crispy fries drizzled in Raclette sounds BOMB).
We won't judge you for going through the whole block alone. Promise.
The Cheese Bar
The Cheese Bar is another spot serving up some of the best bottomless Raclette London has to offer.
For £20 per person, you can scoff unlimited cheese for 90 minutes, alongside a welcome glass of house wine.
As the name suggests, they take their cheese seriously, only serving Ogleshield Raclette, which just so happens to be the same cheese served at Kappacasein.
Aside from Raclette and fondue, their menu is only dedicated to the good stuff. So, whatever your cheesy preference, you're sure to find something that takes your fancy.
La Petite Ferme
Clerkenwell
Wondering where to eat Raclette in London? Second only to the Swiss (sorry to any Frenchies reading this), France does Raclette very well. La Petite Ferme is a case in point.
How does all you can eat Raclette served with potatoes, cornichons, and a charcuterie selection sound? Pretty good, we think. This offering is on the more expensive side, but the selection of cheese and sides is divine.
La Fromagerie
Multiple Locations
With restaurants in Marylebone, Bloomsbury, and more, La Fromagerie has got your back covered should a cheesy craving strike no matter where you are in the capital.
Their dinner menu boasts two excellent Raclette options: A mixed cheese fondue with pickles, breads, and potatoes for dipping; or the star of the show – potatoes with shallots and caper relish, blanketed in thick, gooey Raclette.
It's safe to say you might need to visit twice.
Champagne + Fromage
An equation that equals happiness.
Champagne + Fromage is a cool little spot in Covent Garden that does exactly what it says on the tin. And what a wonderful tin it is. Yes, we know they have a couple of locations dotted across the capital, but the CG offering is the best – trust us.
The Raclette offering is incredible – roasted potatoes with Raclette and blue cheese or an uber-indulgent Raclette with cured meat and truffled options. We'll take a punt and say this is one of the best cheese Raclette spots in the capital.
It's stretchy trouser time, if you haven't left totally stuffed, you've done it wrong.
Le Vieux Comptoir
Tucked away in Marylebone, Le Vieux Comptoir is a French wine bar that just so happens to serve up an ultra-gooey fondue. Because cheese and wine is the ultimate pairing, right? Right.
They have two ridiculously cheesy options on their menu, a cheese fondue or an all-you-can-eat Raclette affair. We know which one we'll be choosing.
Add to this a stellar wine menu packed with authentic French vin and you're onto a winner.
Tips for Hunting Out London's Raclette Restaurants
Raclette is typically an apres-ski meal, this means it's best served with potatoes and ham. Oh, and a glass or two of bubbly.
Raclette is actually a protected cheese, which basically means that it needs to meet strict guidelines to be branded Raclette (much like Champagne) – look out for this on the restaurant's menu, as some places may use an alternative cheese. Just as tasty, but not officially Raclette.
Best Raclette in London: Map
Best Raclette in London: Discover More London Restaurant Guides