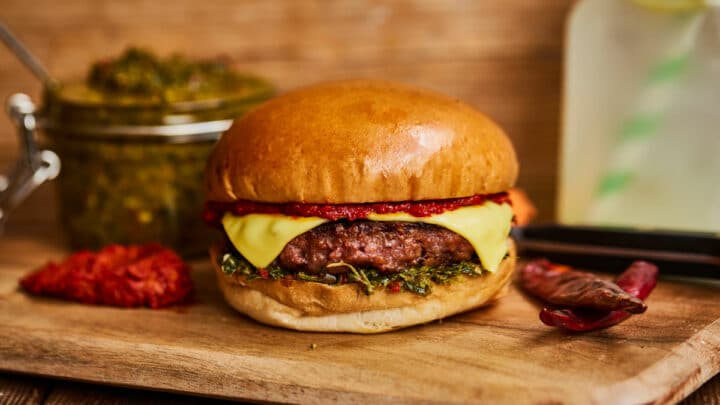 Looking for the best restaurants in Spitalfields? Get ready to discover the area's must-try eats.
Old Spitalfields Market might have a lot to offer in terms of food, but there are lots of restaurants closeby that equally deserve your love and attention.
Whether you fancy dining at Michelin-starred French restaurants or want to chow down in cool eateries with authentic menus, Spitalfields has got your back.
We're feeling hungry… And we're sure you are too. Let's dig into the best Spitalfields restaurants.
Best Restaurants in Spitalfields
Galvin La Chapelle
££££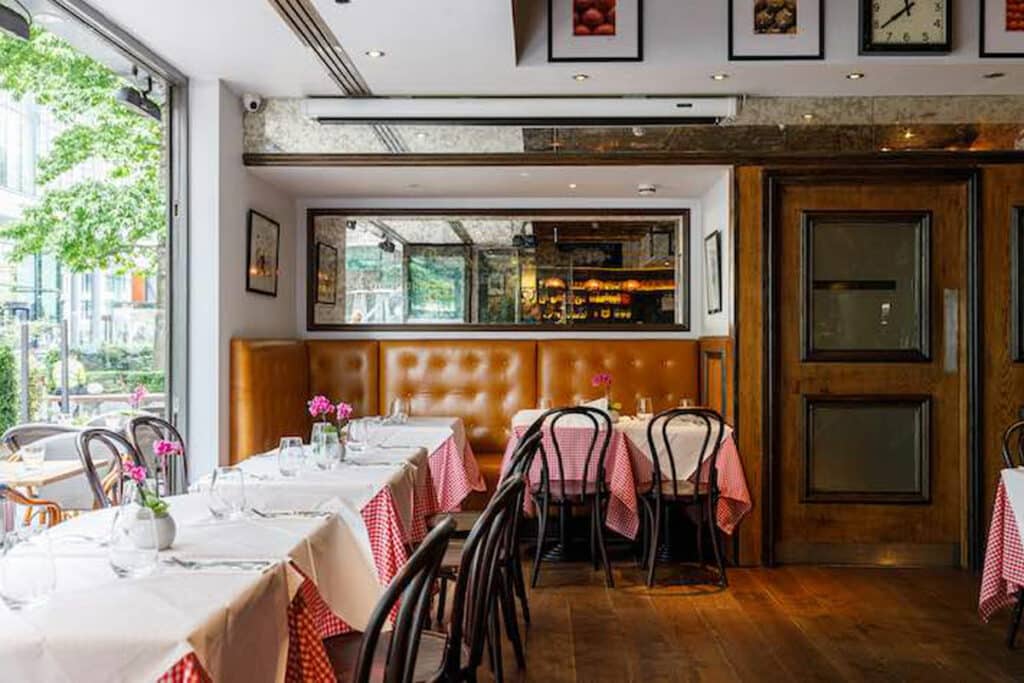 Just a few minute's walk from Liverpool Street station is a fancy Michelin-starred French restaurant. Housed inside a former church, Galvin La Chapelle's dining space is the kind of place you walk into and pinch yourself to check if it's real.
And it is.
Boasting large arched windows and high stone ceilings with fancy curtains, it's like something from an old film set.
The menu here focuses on modern French cuisine and once you taste the dishes you'll know instantly how it retained its Michelin star award in 2011.
Our top picks? To start, try the native lobster ravioli, squid, smoked ricotta, and dashi, followed by the fallow deer, oyster emulsion, Trevisan radicchio, and BBQ celeriac – it's a real feast for the taste buds.
Ottolenghi
££
Tucked away down a narrow Georgian passageway is Ottolenghi's largest location. This cocktail bar, dining room and deli takeaway is one of the chicest restaurants in Spitalfields, serving up a creative Mediterranean menu.
Ottolenghi's breakfast, lunch and dinner menus are short and sweet: Tuck into the moreish Lamb Kebab, Tzatziki, Ladopita for lunch and devour the Roasted Cod, Tomato Sauce, Coconut Pistachio Brittle and Apple Salad for dinner.
The dining space at Ottolenghi is decadent with regal red curtains and large banquette tables filled with exquisite centrepieces. You'll definitely enjoy an elegant dining experience at Ottolenghi.
Hawksmoor
££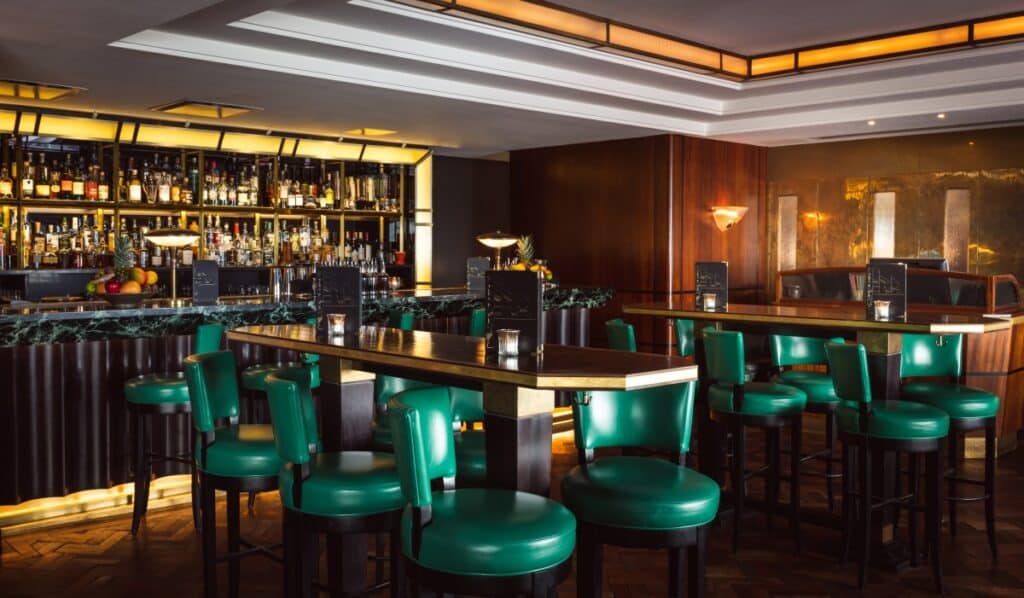 With locations dotted around the capital, Hawksmoor has won over Londoners since 2006.
If you're looking for a steak restaurant in Spitalfields, Hawksmoor should be top of your list. This dimly lit restaurant with exposed brick walls is ideal for date night, and the food certainly sets out to impress.
The two or three-course menu is the way to go here. Warm up your tastebuds with potted beef and bacon with yorkshires and, to seal the deal at this meaty affair, order the 35-day aged rump – it just melts in the mouth and you'll most likely never want your last bite to come.
Finish off with the sticky toffee sundae and a Dirty Vodka Martini for the perfect date night dinner.
Delamina
££
Looking for Middle Eastern restaurants near Spitalfields? Delamina is the place to go.
Opened by wife and husband duo, Limor and Amir, Delamina seeks to bring authentic flavours from Mediterranean homestyle cooking to East London.
The dining space is filled with pastel colours, natural materials and foliage. And, with a focus on earth, land and sea, the menu features healthy yet hearty dishes that are packed with inventive flavour pairings.
There may only be a few fish dishes on the menu, but they're all well-thought-out. In particular, the seared tuna, roasted hazelnuts, rocket, lemon avocado and tamarind drizzle is a dish you won't forget in a hurry.
Sushisamba
££
Sushisamba is probably one of the most popular Japanese restaurants in London, let alone just Spitalfields.
Sushisamba's iconic restaurant is located on the 38th and 39th floors of the Heron Tower, and it even features the highest outdoor terrace in Europe.
Whilst you're sky-high swooning over London's skyline enjoy fresh sushi, shrimp tempura and jersey rock oysters. The Robata menu has everything from pork rib to lamb chop – all expertly charcoal-grilled in the traditional Japanese-style way.
After dinner, enjoy a selection of botanical cocktails – you'll find us sipping on the Sake Spritz, a boozy concoction of sake, rose wine and elderflower liqueur.
Noodle & Beer
££
A few minute's walk from Old Spitalfields market is a Chinese noodle restaurant that we absolutely adore.
How could you not with a name like Noodle & Beer? The two pair perfectly together, always.
The Chongqing-style noodles here are slurpingly good and either bathed in rich broths or dripping with Sichuan-style sauces – we love both equally.
Bubala
££
Whether you're a vegetarian or not, you'll want to try the veggie Middle Eastern food available at Bubala.
Located along Commercial Street is this dinky little dining room frequented by foodies in the know. And now that's you, too.
Another thing you should know about Bubala is the plates are made for sharing. This Spitalfields spot is best enjoyed in groups who love flatbreads, hummus dips, falafel and everything else in between.
Gunpowder
££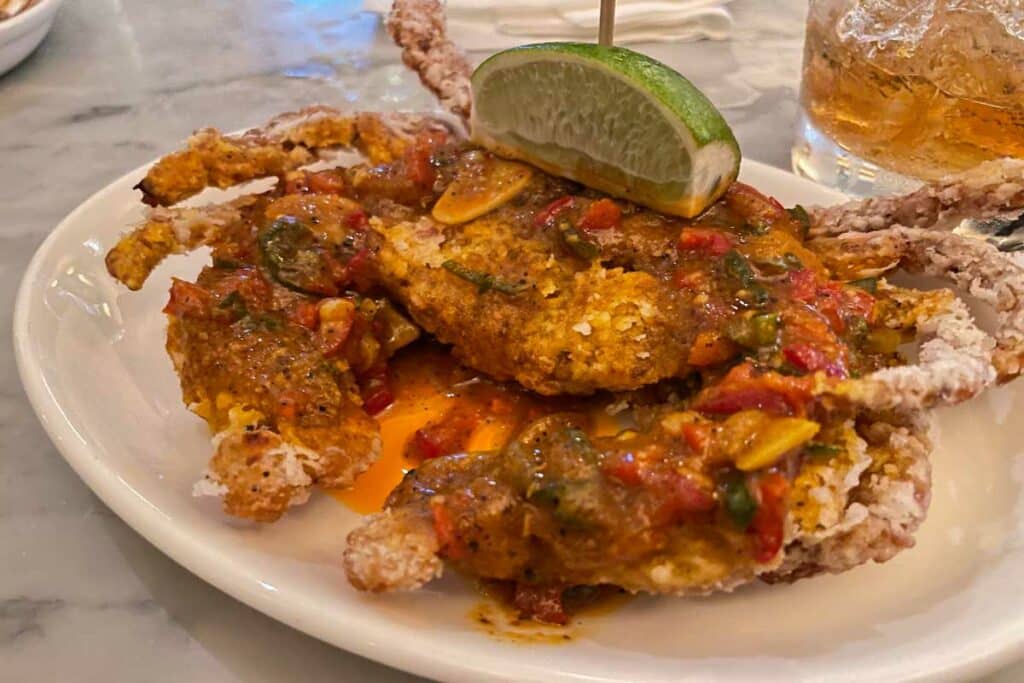 Gunpowder is a unique and intimate Indian restaurant in Spitalfields.
The restaurant's exterior is painted in all black, sleek and modern against the surrounding Victorian building.
Offering a dining experience to suit everyone, the express menu will see you wharfing down two or three courses. Or, gather up the troops for the feast menu with modern takes on Indian food like Spicy Venison and Vermicelli Rice.
Either way, this is one of those Spitalfields indian restaurants that seriously impresses.
Craving Indian food? Read our review of Gunpowder's Soho location.
My Old Place
My Old Place is a busy Chinese restaurant in Spitalfields. This place is fuss-free and very popular with locals, so don't be surprised if you have to elbow your way through crowds for a table.
Inside, the restaurant is decorated with traditional Chinese decor; paper fans, red lanterns and patterned plates and bowls are standard here.
The menu is highly authentic, so if you're expecting British Chinese food, this isn't for you. My Old Place serves up the real authentic stuff, mostly focusing on spice-laden Szechuan dishes.
Lahpet
££
Lahpet is one of our favourite restaurants near Spitalfields Market. Once a food stall, and now a bustling East End restaurant serving up traditional Burmese fare.
This modern spot serves small plates, large plates and bowls filled with a selection of curries and noodles. Lamb Lahpet is the signature dish here, with a lamb shoulder confit, charred cabbage and pickled tea and herb salsa.
Flavour is everything at Laphet – right down to the cocktails. The Smokey Monkey pairs whiskey with mango and red chilli jam, and it's as good as it sounds.
Detroit Pizza London
£
A few minute's walk from Spitalfields Market is Detroit Pizza London, where everything is either cheesy or smothered in sauce… Or both.
This Detroit-style pizza place serves deep-dish pizzas and pies for a wallet-friendly price.
Trust us when we say that it will feel like you've died and gone to cheese heaven. Pizzas by the slice include the Red Stripe or Classic Pepperoni, and these slices are bigger-than-your-head-kinda-huge.
The Real Greek
£
The Real Greek is like a little holiday getaway in Old Spitalfields Market. The service here is warm and friendly and there's plenty of Greek comfort food on the menu.
The Souvlaki wraps are our go-to; the fluffy flatbreads are always stuffed with the best fillings like lamb meatballs, calamari, tomatoes, onions and chips. Yes, really. Don't knock it 'til you've tried it.
To drink, we're flicking straight to the wine section. There's a large selection of fruity Greek wines to help you pretend you're sunning it up in Mykonos.
Som Saa
££
Restaurant and cocktail bar Som Saa is housed in a former fabric warehouse and is a lively place for lunch or dinner.
This Thai restaurant in Spitalfields has an industrial ceiling paying homage to its past and bare brick archways give the bar area a lot of East End character.
The old-style Thai dishes are moreish and you should try the Gaeng Daeng, a rich red curry of prawns, ginger and Thai basil. Oh, and to keep things traditional, you should order a Chiang Mai Beer, it pairs well with curries and is popular amongst Thai locals.
Any excuse, we say.
Honest Burgers Spitalfields
££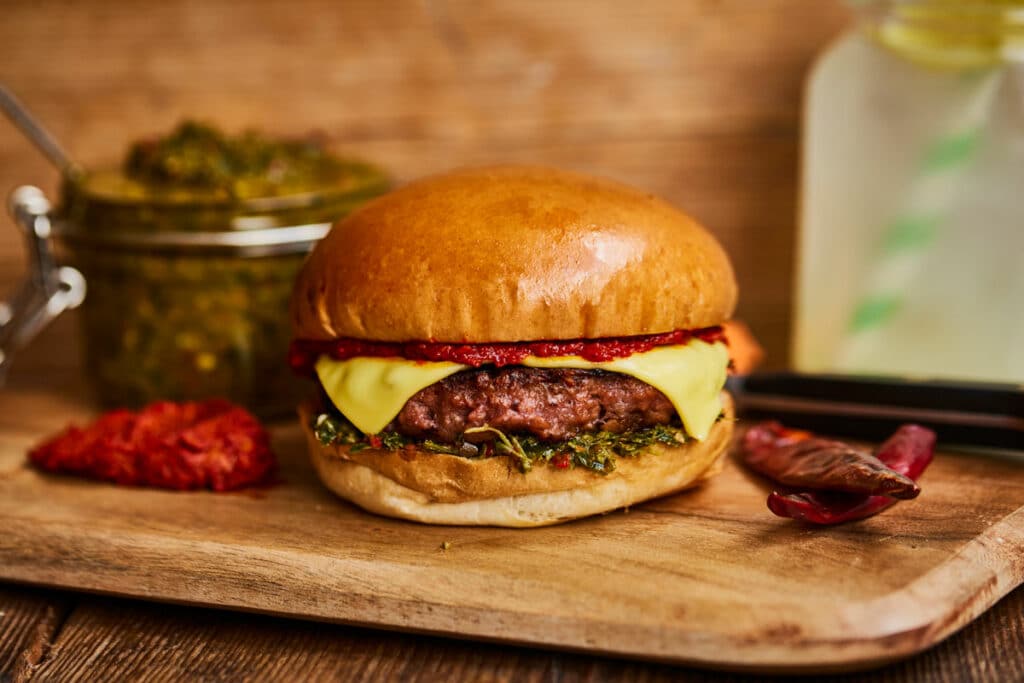 Wondering where to eat in Spitalfields? We love Honest Burgers – they serve up some of the best buns in the capital. Just a few minute's walk from Old Spitalfields Market is one of their many locations and, boy, it's a good'un.
There's a strong emphasis on top quality, sustainable meat here (they even have a couple of vegan locations in London).
Burgers are stacked with the likes of red onion relish, cheddar cheese, smoked bacon – basically anything you could want on a burger you can get at Honest Burgers. KEep your eyes peeled for their monthly specials.
Other Places to Eat in Spitalfields
Poppies Fish & Chips
££
Ready to be transported to the past? Poppies Fish & Chips is a traditional fish and chip shop set inside a retro diner. The chip shop is filled with 1950s memorabilia, and there's even table service – though we say grab a takeaway for the ultimate British experience.
The fish and chips are easily one of the best in London and it's very popular, so expect there to be a queue. Oh, and if you're feeling adventurous, dare to try the jellied eels – a very traditional British dish.
Xi'an Biang Biang Noodles
££
This Spitalfields eatery serves hand-pulled noodles that are extremely spicy – but worth every ounce of pain. Unless you're one of those magical beings who can handle spice (we're very jealous).
The fiery noodles can be topped with all kinds of veg and meats and they're best enjoyed with a side of Xi'an Biang Biang's signature pork dumplings.
Lamb Street Food Stands
Spitalfields Market gets most of the attention from people on the hunt for street food in the Spitalfields area, but you're more likely to find us hanging out on Lamb Street. This new kid on the block is the product of a major renovation that has left this stretch of street looking lovely and filled to the brim with great food stands.
Pizza Guys and Dos Mas Tacos have spots there, as do six other great options serving everything from duck wraps to jerk chicken and smoked barbecue, burgers and hot dogs. It's a bit of a proving ground for new ventures and we expect good things from some of these unseen brands, you should check them out if you're in the area looking for a feed.
Practical Tips for Exploring The Best Spitalfields Restaurants
Check if you need to book in advance and avoid the queues. This is particularly true for Galvin La Chapelle, Gunpowder, and Ottolenghi.
Only got time to visit one spot? Make it Hawksmoor – their burgers are unbeatable.
Spitalfields Restaurants: Map
Spitalfields Restaurants: Read Next