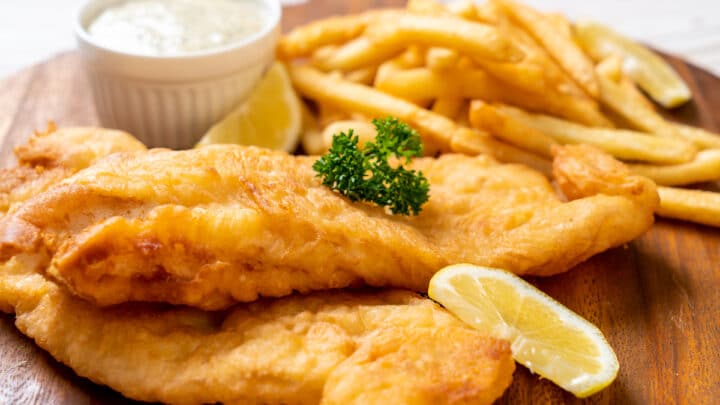 Want the inside scoop on where to find the best fish and chips in London?
This quintessential British meal is among the most-ordered take-away dishes in the capital, served up in countless pubs and restaurants. But, we'll level with you – half of the places rustling up this delicacy serve total rubbish.
Skip the gross spots and instead head to one of these fish and chip shops. No regrets.
Best Fish & Chips in London
Olley's Fish Experience
Olley's Fish Experience is near the top of most lists for the best fish and chips in Brixton, London. They're right near the Herne Hill rail station – or, you can ask any taxi to drop you near Brockwell Park, as it's right next door.
Here, the fish and chips are firm, never mushy, and each serving is plentiful.
Sidle up to a seat and choose from a pretty wide sampling of fish – which you can order either fried or steamed. Though, opt for steamed and you'll garner some rather disapproving nods from those around you.
There's even a special treat for those gluten-intolerant folks who thought they had to give up their favourite comfort food – they also have gluten-free fish and chips.
Kennedy's of London
Multiple Locations
Kennedy's of London has four different locations – with each of their spots serving up take-away and also offering delivery. Whichever Kennedy's fish and chips London location you choose, you can rest assured you'll find only the tastiest fare, prepared fresh.
Of course, the fish is flaky, and the chips are hand-selected, cut, and fried. In addition to haddock, cod, skate, and calamari, there's also plenty to choose from that isn't from the sea.
We adore the meaty sausages, while the chicken and a variety of homemade savoury pies are on offer, along with plenty of sides like mushy peas, beans, and more.
But, given you're likely there for the fish and chips, do yourself a favour and go for the fried wholetail scampi.
Oliver's Fish and Chips
Multiple Locations
When you make a dish part of your restaurant's name, you better know what you're doing. At Oliver's Fish and Chips, London's best is on the menu, and they have been proving it for years. They now have three locations, so whether you're in Wembley Park, Whetstone, or down on Haverstock Hill, you can satisfy your craving for fried fish and chips.
They serve plenty of other foods and drinks, but the fish and chips are what have us coming back at least once a fortnight. You can even bring in your own wine or beer as they don't serve any alcohol.
The only downside with this place is that it's so chock-a-block on Friday nights, so expect a wait to get in.
Poppies Fish and Chips
Multiple Locations
Poppies Fish and Chips London has three different locations: there's one in Camden, one in Spitalfields, and another in Soho.
Upfront, you should know these are grab-and-go places, not plush restaurants or pubs. Instead, the seating and decor are more akin to a small 1950s American diner.
But if you want authentic London fish and chips, Pop Newland and his team do it just right. Start with a Camden Hills lager from the tap and a homemade fish cake – or jellied eels if you can handle it. Shudder.
While they only have fish appetisers, the menu has plenty of things to choose from, including rotisserie chicken, cornish vegetable pasties, sausage, and of course, your choice of fried fish and chips.
Suttons and Sons
Multiple Locations
There are Suttons and Sons shops on Graham Road, on Essex Road, and their flagship restaurant is on Stoke Newington High Street. Each location has its own character, though it offers equally delicious fish and chips in London.
Fantastic fish and chips at affordable prices? What more could you possibly want? How about a menu that is packed with seafood like oysters, cod roe, and a huge selection of battered fish.
Plus, there's chicken, burgers, and plenty more. Or try the seaweed and banana blossom for a taste of the best vegan fish and chips London offers.
Fish House
Multiple Locations
The Fish House has two locations, one in East Village and another in Victoria Park. Seafood lovers will be chuffed to see treats like mussels, fried calamari, fish tacos, grilled cod, fish cakes, and our favourite dish, fish and chips, on the menu.
For the best introduction to the Fish House, go for the battered prime cod fillet and chips. And before you leave, don't deny yourself a decadent dessert, like the apple crumble or handmade ice cream.
The Golden Hind
Standing proudly on Marylebone high street, the fish and chips at Golden Hind are crisped to perfection and pair perfectly with an array of traditional sides.
Plus, you have your choice of more than a dozen choices of fish to choose from and everything is served with the quaint charm of the original 1914 location.
Their fish and chips are fried in groundnut oil, giving their dishes that signature taste. While the fried Rock Salmon is only seasonally available – FYI, it's out of this world and worth enquiring about.
Gigs Fish and Chips
Fitzrovia
With the handy location in the centre of London, Gigs Fish and Chips serve fried cod and crispy chips that are up there with the best in town.
They also show the influence of their Mediterranean roots with subtle touches that bring a unique flair to the menu. Choose from falafel, lamb souvlaki, grilled fish dishes, steaks, burgers, and choose your own mezze to make a custom dish.
Though, as delicious as that all sounds, the battered and fried Plaice and chunky chips is a winning combination that you just have to try.
Golden Union
Soho
If the funky exterior of Soho's Golden Union doesn't entice you inside, their traditional, well-prepared fish and chips alongside a variety of other British classics done right certainly should. Choose from pollock, plaice, coley, haddock, or cod for your fish.
Not to worry if someone in your party doesn't want fish, there are also sausages, pies, and loaded chips topped with cheese sauce, bacon, and jalapenos to devour. And there's even a plant-based menu.
Kerbisher and Malt
Multiple Locations
At first glance, Kerbisher and Malt might seem like an ordinary fish and chips shop – but, it's a cut above the competition and widely ranked among London's best restaurants, period.
The fried fish is crispy, flaky perfection, and the chips are never mushy because they peel and cut their potatoes in-house. They're double-fried for even tastier crispiness on the outside and a more fluffy inside.
For a slight twist on traditional fish and chips, try out the coley fried in matzo.
Practical Tips for Finding the Best Fish & Chips in London
Not all fish and chips are created equal – if you're after quality (and, why wouldn't you be?) you'll want to look for fresh-caught, daily-delivered fish, along with hand-cut, never-frozen chips.
Cod and haddock tend to be the best fish for fish and chips, so keep this in mind when perusing the menu.
London's Best Fish & Chips: Map
Looking for More London Food Guides?