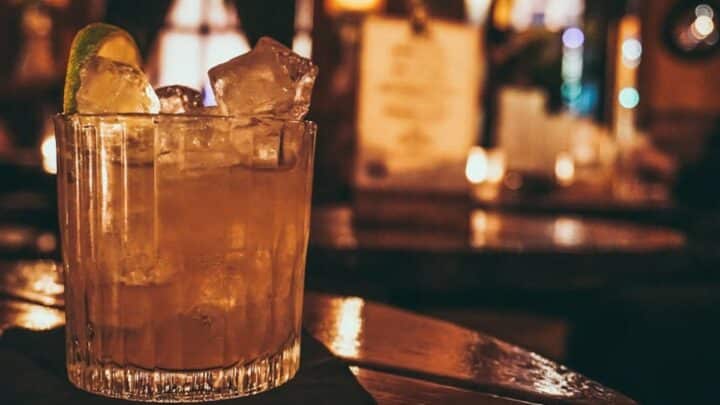 Camden oozes alternative cool – with a well-cemented reputation as one of London's livelier areas. Looking for the best Camden bars for your cheeky night out? Here's where to start.
Camden has no shortage of bars: whether you're looking for a grunge hangout, hidden drinking spots or chic cocktails, you're guaranteed to find it in Camden.
What else would you expect from an area that's pretty much cemented its reputation as one of London's coolest spots?
Finding a good bar though? That takes a little more effort.
Luckily for you, we've done all the grunt work trying and testing Camden's bars to work out which ones are worthy of your time and which ones you can skip without any FOMO.
PS. Take a peek at more of Camden's highlights in this video!
The Best Bars in Camden
Fifty-Five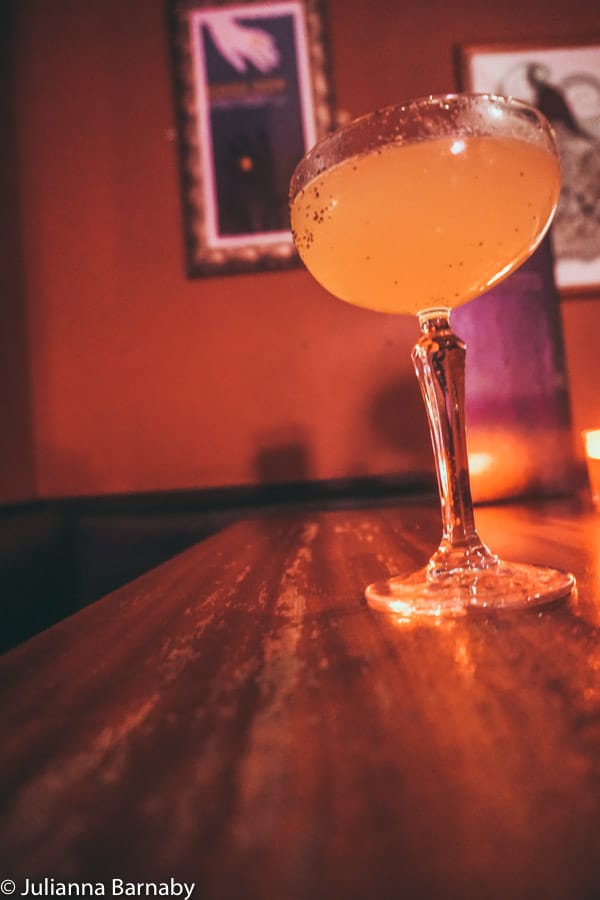 Fifty-Five is one of the stalwarts of the Camden Town bar scene. Set over two levels, this laidback bar has been serving up fabulous cocktails for more than a decade, and has become an integral part of the fabric of Camden.
Why do you care?
Because that means they've had lots of practice when it comes to creating banging concoctions for your evening tipple.
Hands-down one of the best cocktail bars in Camden, Fifty-Five boasts a cocktail list with more than 160 cocktails. Safe to say that you're pretty spoilt for choice then.
Forget pretentious bars, everyone is welcome at Fifty Five. It's the kind of place you can grab a bunch of your friends and head out for some great conversation, a bit of dancing and some fab drinks.
There's a regular calendar of fun events including Tipple Tuesday (with £6 cocktails) and Hot Wings Wednesdays. Then there's Thirsty Thursday which features cheap drinks and great live music. Not to mention a daily happy hour that does a pretty good job of making everyone very happy indeed.
BYOC Camden
It's generally frowned upon to bring your own drinks to a bar, but it's absolutely encouraged at BYOC Camden.
Nope, there's no need to feel nervous as you whisk that bottle past security here. Bringing your own bottle of rare spirits is what is going to make your evening sing.
The concept is simple. You bring a bottle of whichever spirit you choose and BYOC will spend two hours making you amazing cocktails with said bottle. What could go wrong?
The privilege will set you back £30, a fair price for one of the skilled bartenders to mix up some amazing cocktails (using the bar's own range of mixtures and tinctures) for you over two hours. Perfect for when you have that gorgeous bottle but your mixology skills don't quite do it justice.
If you'd prefer not to smuggle in your own booze, there is plenty to buy over the bar.
Simmons Camden Town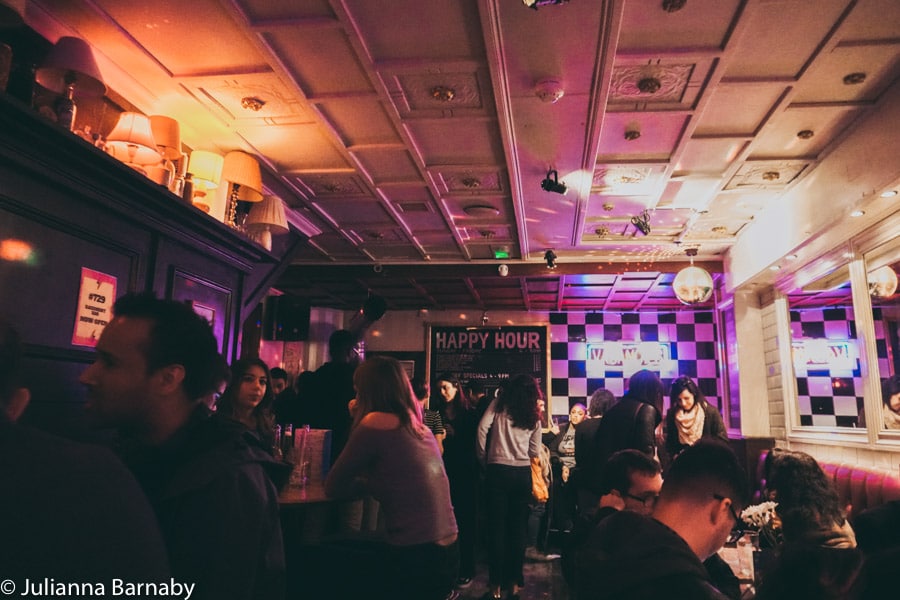 Simmons claims to be the best bar in Camden – we're not sure if it quite lives up to that moniker, but it has a bloody good go in the process.
This quirky cocktail bar has a distinctly retro vibe, complete with an explosion of neon signs and even some vintage console games. Then there's the extra little quirks, like a psychedelic disco skull.
Things are made even better by the generous calendar of live music – Wednesdays are usually the best night to catch up-and-coming acts in Camden Town.
Their happy hour is also seriously legendary. Think £2.5 for a mixed spirit or two-cocktails-for-a-tenner legendary – yeah, we recommend dropping by between 4pm and 9pm Sunday to Thursday.
On the downside, service is slow and sometimes it can feel like the queue for the bar takes longer than drinking the drinks do…. But hey, you win some, you lose some.
The Camden Assembly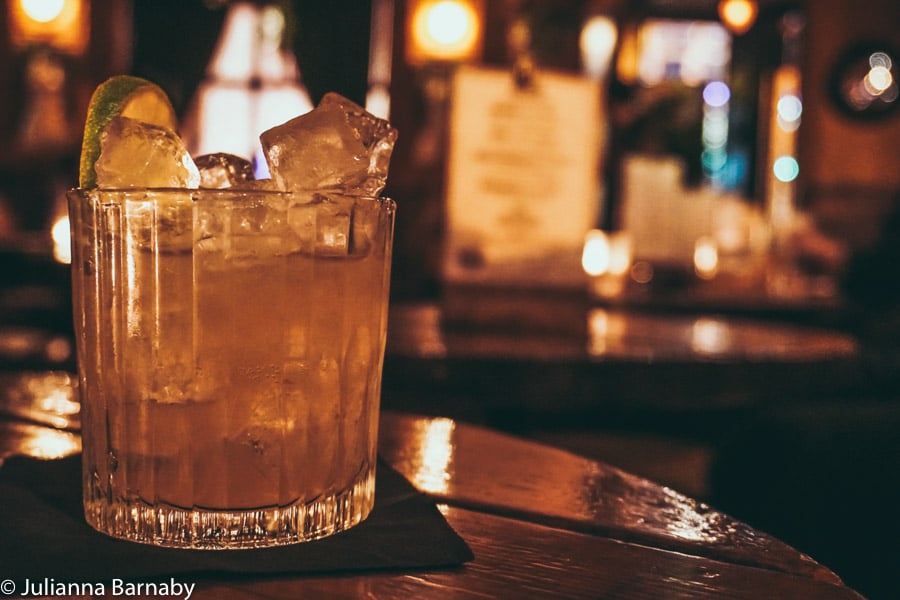 What's better than an awesome cocktail? An awesome cocktail to accompany a brilliant burger.
First up, the cocktails at Camden Assembly are right on the mark.
No frills, no fuss, just a straight-up great cocktail. The list is small and features many a favourite classic – take Tommy's Margaritas (who was Tommy? We think he's a total hero) and Espresso Martinis as two examples.
Then we get to the burgers. We know this is a piece about cool bars in Camden, but those burgers are too good not to talk about them. Made by Burger & Beyond, they should be at the top of any burger-lover's must-try list.
Juicy patties are sandwiched between fluffy demi-brioche buns with a host of suitable accoutrements – and we are totally here for the result – one of London's best.
Oh, and did we mention the Camden Assembly is also one of the area's coolest live music spots? All-round excellence.
Jazz Cafe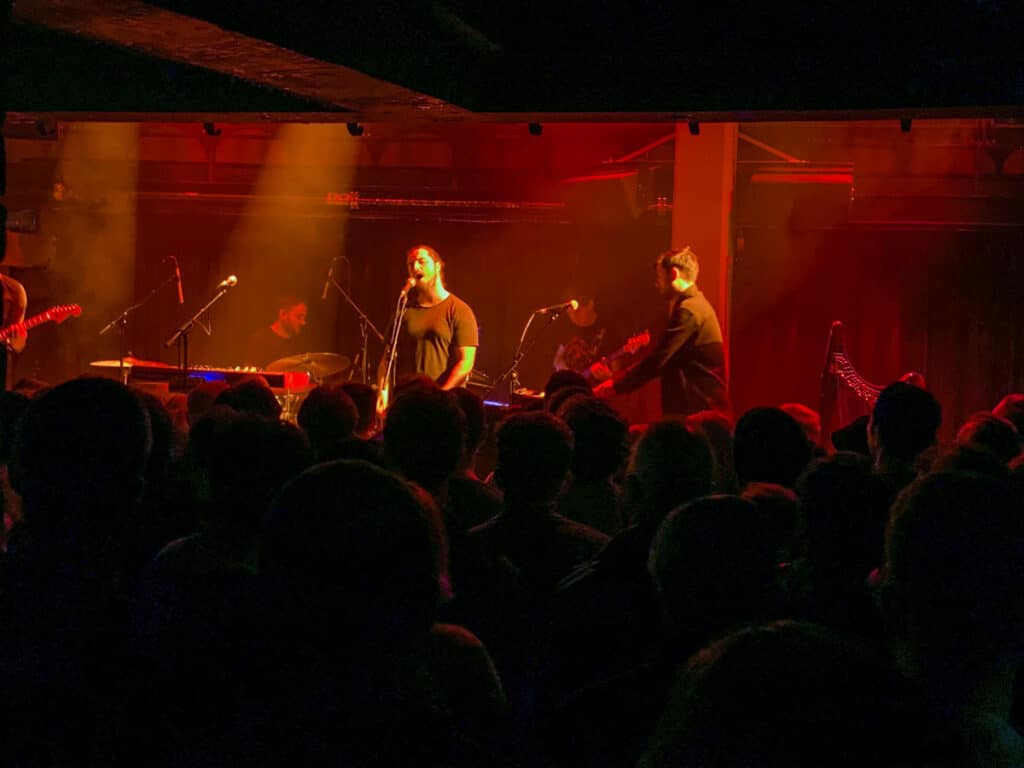 Our pick of the late night bars in Camden is the brilliant Jazz Cafe on the Parkway. Not only does this bar stay open later than most (through to 3am), but it's all-around one of the best.
Whether you consider yourself a jazz aficionado or you've never experienced it, you'll be welcome at the Jazz Cafe.
The legendary venue boasts a great calendar of events that feature some of the big names in jazz, as well as up-and-coming artists. While jazz is certainly the emphasis, other genres such as soul and reggae also make an appearance.
There's also a great food menu featuring options like chilli crab linguine and rib-eye steak. Then there's the delectable drinks list, complete with classics like margaritas and old fashioneds.
Blues Kitchen
Boasting London's largest whiskey collection (now that's saying something) and a menu inspired by the soul food of New Orleans, the Blues Kitchen is an iconic part of Camden nightlife.
And what could go better with whiskey and soul food than good old blues music?
Luckily, the Blues Kitchen well and truly delivers, with an exceptional calendar of live music from mostly UK and US artists.
With such a comprehensive list of whiskeys, narrowing down your choices can be a challenge – but helpfully, the menu is split up into sections and the bar staff are full of knowledge. Bottoms up.
Ladies & Gentlemen Bar
Bad choices make good stories…
It's almost like the guys at Ladies & Gentlemen Bar know exactly what it takes to make a great night out.
The formula goes a little something like this. Take some brilliant cocktails, add a dash of attitude and a lot of gin and voila, you have one of the best Camden bars.
That's even more impressive when you consider that this particular branch of Ladies & Gentlemens only opened earlier this year.
PS: It's no surprise that Ladies & Gentlemen also features on our pick of the Best Gin Bars in London
Made in Brasil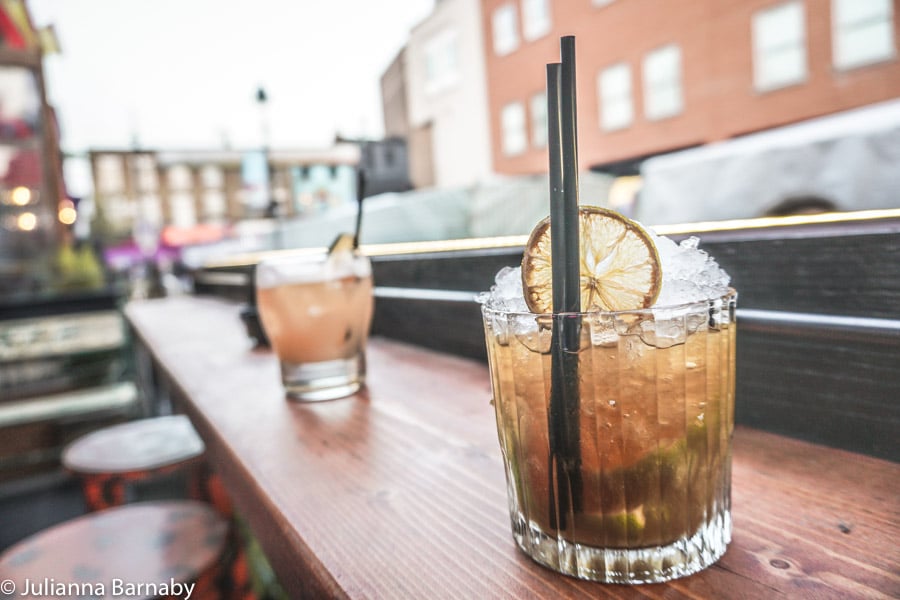 Experience some of those Brazilian beats at Made in Brasil, a fabulous cocktail bar in Camden. It's hard to miss – just look for the colourful exterior complete with the iconic Christ the Redeemer image.
The exterior is not the only way that this great Camden lock bar honours Brazilian culture. It seems like every aspect of this fab bar has been inspired in some way.
There's a great menu featuring Latino classics like Bolinhos de Bacalhau (cod salt fish cakes) and Coxinha (the famous Brazilian street food) – or try it all with a delicious tasting platter.
Of course, the only accompaniment to a Brazilian feast is a Capirinha, prepared to perfection (although there are also other options, too).
It wouldn't be a Brazilian bar without some samba beats – so make sure you wear your dancing shoes and don't be shy about hitting the dancefloor.
Lockside Camden
A brilliant drinks menu + live music = a winner in our books. Lockside Camden sits overlooking the canal, a lively spot both day and night.
Head here for cocktails, beers, and wine, as well as something a little bit stronger if you fancy it. They boast a particularly great mezcal selection, which nowadays is how you can easily tell a good bar from a naff bar.
Lockside also has a hefty food menu, so you can soak up those post-boozing munchies with a hearty bowl of rosemary salted fries. Delish.
Camden Social
Camden Social may be more of a brasserie, but they boast an impeccable drink selection – and the bottomless brunch is one of the best in the capital.
Whether you fancy a classic Aperol spritz, an even fruitier take on a mojito, or something a little more avant garde, Camden Social's talented mixologists have got you covered. We're also huge fans of their Aperol spritz trees to share with friends (or not).
Pssst… Happy Hour(s) is between 1pm and 6pm, so it's the perfect daytime drinking destination when the sun is shining.
The Spirited
A rooftop bar in Camden – who would've thought? The Spirited is perched above the area and serves up some of the best signature cocktails in Camden.
This ever-evolving cocktail bar started off life as a small horse trailer, but has since snowballed into one of the most innovative bars in Camden. With a heavy focus on small, local businesses, you're guaranteed to find your new favourite drink at The Spirited.
The Groot cocktail is a CBD-infused delight, made with whiskey and ginger honey syrup, whilst Junos is a vodka-based drink served in a square saucer.
If it's the wow factor you're after, you'll certainly find it here – it's definitely one of the best bars Camden boasts.
Bar Gansa
Wine and tapas is the name of the game at this Spanish Flamenco restaurant and bar in Camden. Bar Gansa is a lively little spot (emphasis on the little), but it serves up some of the best cocktails in the area so it's well worth elbowing your way to a good seat for.
Whatever you do, order a jug of the signature sangria and a selection of small plates to share at this Camden cocktail bar – you won't be disappointed.
Crossroads
Crossroads is the epitome of Camden, rolled into a grungy underground bar serving up craft beers. You'll find this spot quite literally underneath Camden Town bridge at the *ahem* crossroads of Royal College Street and Camden Road.
Whilst you've got an excellent array of beers to choose between, it's the cocktails that we love here.
The signature menu is based on unique ingredients, take the Basil + Pepper (agave spirits, red basil, green pepper, fortified wine, and soda) or the Tomato (burnt butter gin, gazpacho, oak, and smoked birch) for examples.
The Best Camden Bars: Practical Information and Map
There are a lot of crappy places in Camden that, unless you're absolutely desperate, are not worth your pennies. Avoid.
We guess this is the point where we tell you to drink responsibly kiddos and all that jazz, but you're grown-ass adults and we expect you will do whatever you want on that front.
We love each of the bars featured in this guide, but if you made us choose our favourites they would be Jazz Cafe, Blues Kitchen and The Spirited. Don't miss those.