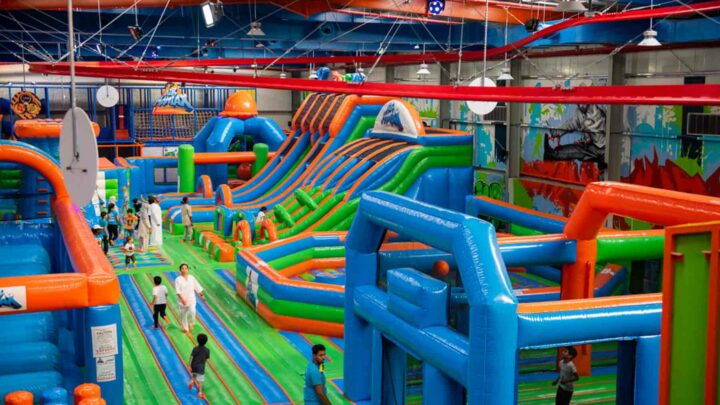 Ready to unleash your inner child? Head to one of these soft play spots for adults in London, fuelled by booze and good vibes only.
Let's be honest, we've all got that inner child who just wants to run around and have some fun – right? We've all watched in awe at kids just losing themselves in soft play centres having the time of their life and wonder why don't they make adult sized ones.
Well, the soft play angels have answered and have done just that.
London now has a handful of offerings where you can unleash your inner child and have the time of your life.
Ready? Let's dive in.
Soft Play Centres in London
KB02
Enfield
When it comes to soft play centres in the capital, KB02 is the ultimate adult adventure playground London has to offer. With options for kid or adult parties on their website home screen, make sure you pick adult and off you go.
They've got an arcade room, soft play and an ultra violet bar with alcoholic drinks from £3! You can also double up on the dance machine, enjoy the FREE punch bag machines, table football, a space invaders machine, and modern gaming consoles.
The best bit? They hold a bunch of different events for you to peruse.
Of all the events, our favourite is Wonderland – take a nostalgic trip at this soft play party. This place isn't open every night, so make sure to check the dates when purchasing tickets and treat that inner child to a bit of adventure.
We're talking ball pits, three stories of soft play, retro arcade games and of course… a photobooth to prove you're having all the fun.
On top of all the soft play fun, as the night goes on it'll turn into a nightclub with DJs playing the cheesiest classics. Go blow off some steam at Wonderland.
Ballie Ballerson
Did someone say ball pit cocktail bar…
Want to frolic around in pits filled with plastic balls whilst sipping on cocktails through the night? YES PLEASE.
With over a million balls, giant ball pits and some of the best mix of RnB, disco and house beats around, there isn't really a better place to shake your booty and jump around with balls.
Some say Ballie Ballerson offers the best night out in London and we tend to agree – it's certainly the most fun.
Also, the pizza is delicious and the spicy chicken popcorn is even better. Go let your hair down in this wonderful place with a choice of two locations, Soho or Shoreditch.
Clip & Climb London
Chelsea's climbing facility for adults, although not a place totally dedicated to soft play, is seriously fun. And we just had to include it in this guide.
You don't need any previous climbing experience or necessarily to be that fit to hang out at Clip & Climb, just turn up and they'll show you the ropes (quite literally).
No one feels embarrassed here, you'll be roped up and ready to go – or you might want to enjoy some bouldering. The nice thing about Clip & Climb is that there's no pretentious climber in the corner eying you up or sending you that judgemental look.
Practical Tips for Exploring Adult Soft Play Centres in London
Always book – don't leave it to chance. These places book out incredibly quickly.
Ladies – don't wear dresses or skirts. A drink or two down in Ballie Ballerson and you'll be flashing absolutely everyone whilst diving into the ballpit. The same can be said for wearing heels. What's the point?
London Soft Play Centres: Map
Discover More Fun Things to Do in London
Love this? Save and share on Pinterest.