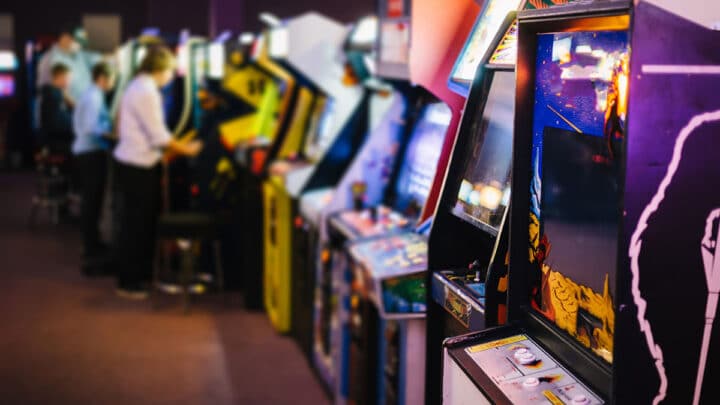 London is full of cool arcades throwing it back to retro gaming delights.
Remember when Saturday nights were spent beating your top score in Pac-Man and challenging friends to air hockey? Or do you have flashbacks of the Trocadero London arcade days? Perhaps you just want to try your hand at gaming 80s-style.
Even though technology took over our lives and we all but forgot our beloved Tamagotchis and dates at the bowling alleys, retro is making a comeback.
Central London's arcade scene is impressive, and there will always be hidden gems dotted across the city.
This one's for you. The best spots for playing arcade games in London.
Best Arcades in London
The Four Quarters
Four Quarters is a retro arcade in London that (wait for it) also serves great cocktails. Because the only thing better than playing a cool arcade game, is doing so with a cocktail in hand. Think childhood fun with an adult twist!
The games themselves are top-notch – Street Fighter 2, Tekken 3, the Star Wars Trilogy – all lined up and waiting for play. Add to that some old-skool Game Boys and you've got yourself all the nostalgic vibes.
The arcade theme doesn't stop at the games either – the pizza menu is named after the Teenage Mutant Ninja Turtles and cocktails sport names like Donkey Kong's tropical punch and Knight Rider.
Heart of Gaming
True to its name, this spot embodies the 'heart of gaming' – in all forms. Not only does this Croydon arcade offer retro games like Street Fighter and Pinball, but you'll also find your favourite consoles.
It's the brainchild of owner Mark Starkey, whose unbounded passion for retro games has led to him creating one of the best arcades in London. As well as the main arcade, Heart of Gaming even boasts a workshop full of machines that he's restoring to ensure there's always something new to try.
Novelty Automation
For something a little more quirky, pay a visit to Novelty Automation, an amusement arcade in London. The games here might look quite different to the other London arcade bars in this guide – that's because they're all the brainchild of the brilliant Tim Hunkin.
Hunkin, an engineer, designed and constructed each of these games from scratch, so when we say it's a one-of-a-kind arcade, we really mean it.
Las Vegas Arcade
The Las Vegas Arcade is a central London arcade that offers a great selection of Japanese-themed video games.
Take your pick from dancing, racing, and fighter games. As well as air hockey, pool, and even a drumming game.
Upstairs is dedicated to casino-themed games and machines, so there is an age limit of 18, but downstairs is open to everyone.
It may get busy and feel a little cramped in the underground-like building, but there's an authentic arcade atmosphere for those who need a bit of nostalgic enjoyment.
Four Quarters East London
Hackney Wick
Much like its sister arcade in Peckham, Four Quarters' Hackney Wick outpost is all about the fun.
The two arcades have a similar selection of retro games – think Pacman, Donkey Kong, and all of the best classics. As well as console booths that you can book out.
Come for a game and stay for a drink in the beer garden. Or gather your friends and make it a full day out.
Loading Bar
Stoke Newington
A trip to Loading is a 3-in-1 experience. You get the arcade games and consoles, of course, but there's also board games and drinks.
All customers at the bar have full and free access to the arcade's extensive list of games to play.
This is a great place to come for some fun before or after a night out. Or to book a 'nerdy' birthday party and geek out to the max.
Vega London
Islington
Vega London removes all bells and whistles and simply runs a no-fuss video arcade for Londoners to enjoy.
It might not be swish but what it lacks in extras, it makes up for in what you actually came here for – retro video games you can't get your hands on anywhere else.
See if you still remember how to kill it at DanceDanceRevolution or remind yourself how great you are at Street Fighter #onceachampionforeverachampion.
London Arcades: Map