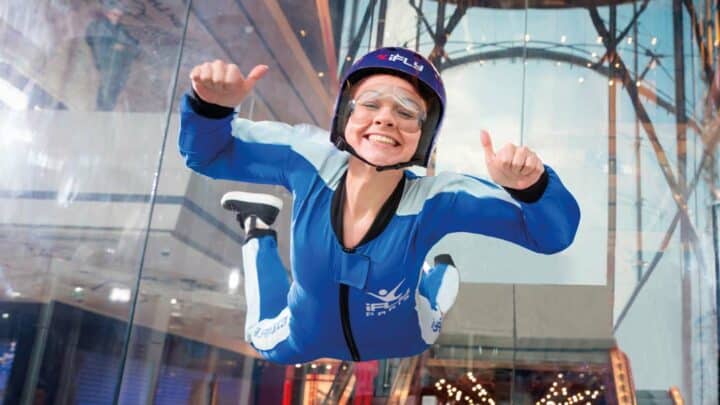 Time to unleash the big kid in you with our guide to the best adult activities in London.
We'll be first to admit that we've never really grown up. And if things like getting drunk in a ballpark or taking a high-speed boat ride along the Thames doesn't get you excited anymore, you're probably getting over the hill.
London's got a million and one fun activities for big kids like us, but which are the best? And where can you book them? Look no further, we've put together this bumper guide of the 20 best activities for adults (big kids) in London.
Fun Activities for Adults in London
Discover Foodie Wonders
Citywide
££
Straddling the line between a walking tour and a treasure hunt, but a lot more indulgent than both, Gourmaze will send you off around London to discover some of the city's best kept culinary secrets.
Your team will solve riddles and decipher codes that direct you to each eatery. You're on a time limit to get to each location so you'll have to act fast. But no worries, they stop the timer while you eat.
Fancy a fun activity with a bit of light epicureanism? This one's for you.
Brave the Tomb Raider Live Experience
££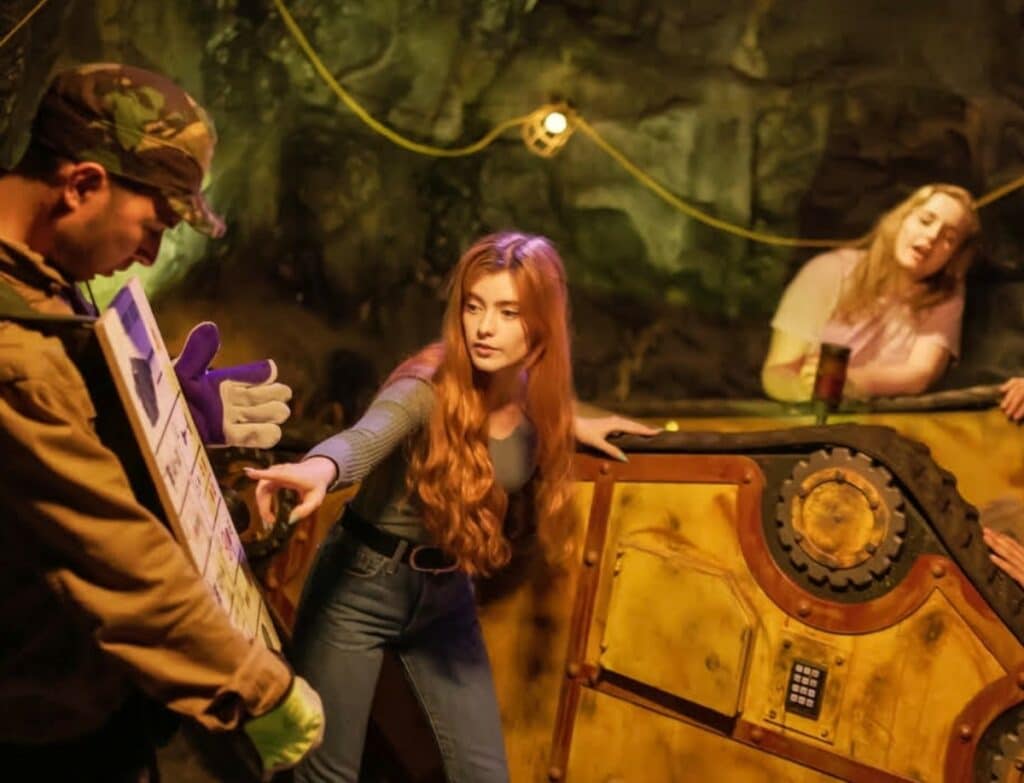 Fans of the old Tomb Raider games will get a kick out of this immersive experience based in the big food market in Camden – they'll have to be ready for a bit of leave-your-judgement-at-the-door type fun though.
The experience turns you into a student of Croft that, with the help of your trusted friends, will be tasked to solve problems to collect relics and help prevent the bad guys from taking over the world.
The journey takes place across a bunch of rooms that represent classic levels from Tomb Raider but in real life translate into something a little more like the Crystal Maze.
It is a right laugh though, if this sort of thing is up your street.
More information and bookings can be found here.
Get Drunk in a Ballpark
£
Here's a bar for anyone who's really having trouble embracing the seriousness of grown up life. At Ballie Ballerson you'll be getting on it in a ballpark.
They've got a fully-licensed bar serving nostalgic cocktails and frankly loads of ball pits, with around a million balls in total. The place is a party zone with RnB, disco, and house tunes and 2am closes at the weekend.
Probably one of the most childish activities in London for adults. But there's nothing wrong with reliving your youth.
Do a Treasure Hunt
Citywide
££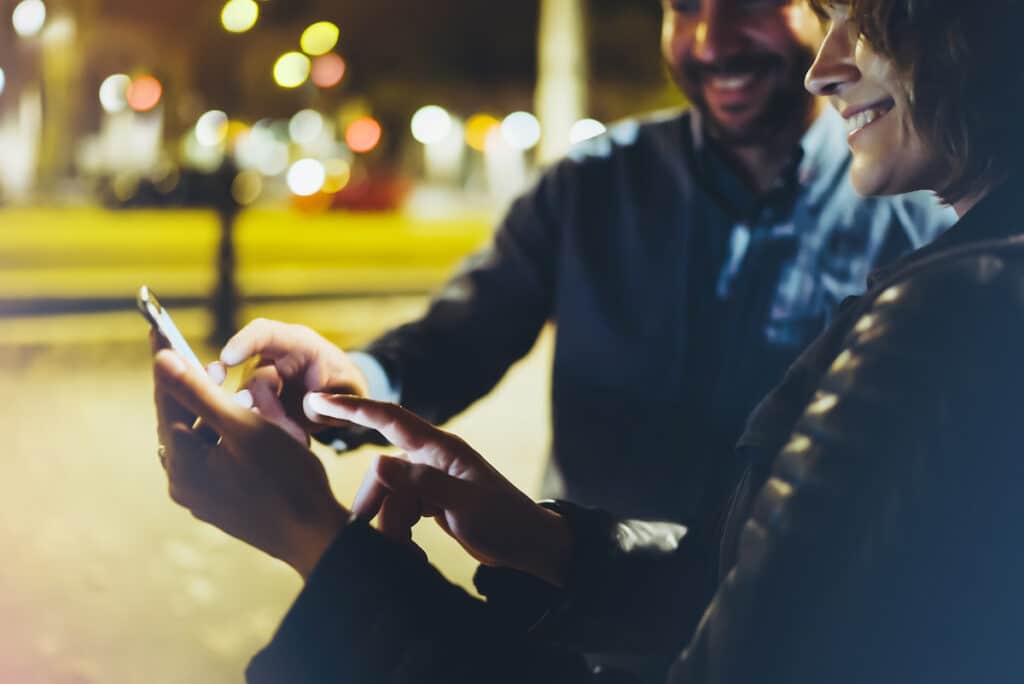 CityDays is a right laugh and a good one for groups that thrive on a competitive streak. You'll be sent on a treasure hunt around London by being guided to clues through your phone.
The clues will be found in the street signs and landmarks of the city, and might involve a bit of puzzle solving. You can do this as a solo group and have a nice little day out, or divide your groups in two and compete against each other to see who can get to the end of the hunt first.
Climb a London Landmark
££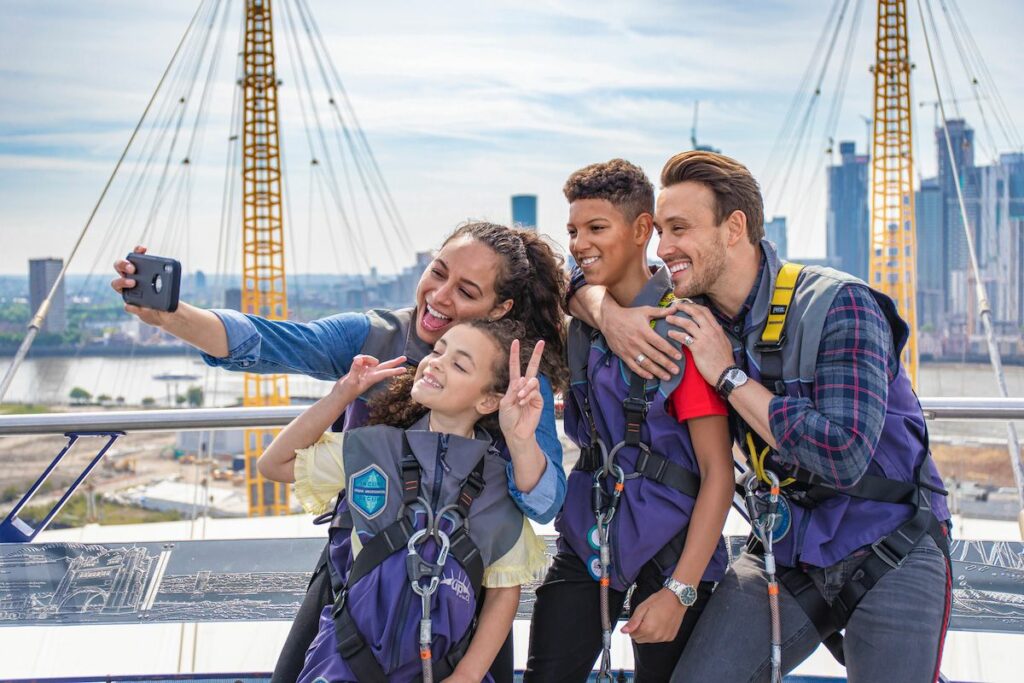 Adrenaline is the true drug of the big kid. And there's nothing like getting a dose of it walking across the top of an iconic London landmark to make you feel like the legend that we all know you are.
To that end, how about a climb on top of the O2 Arena in Greenwich? You can take a sky walk over what you big kids probably remember being called the millennium dome. You'll be strapped in but still pretty high up, with some half-decent views of the city around you.
Best of all? You can choose a time that suits you. Day, twilight, or by night.
Get Crafty With Tufting London
£££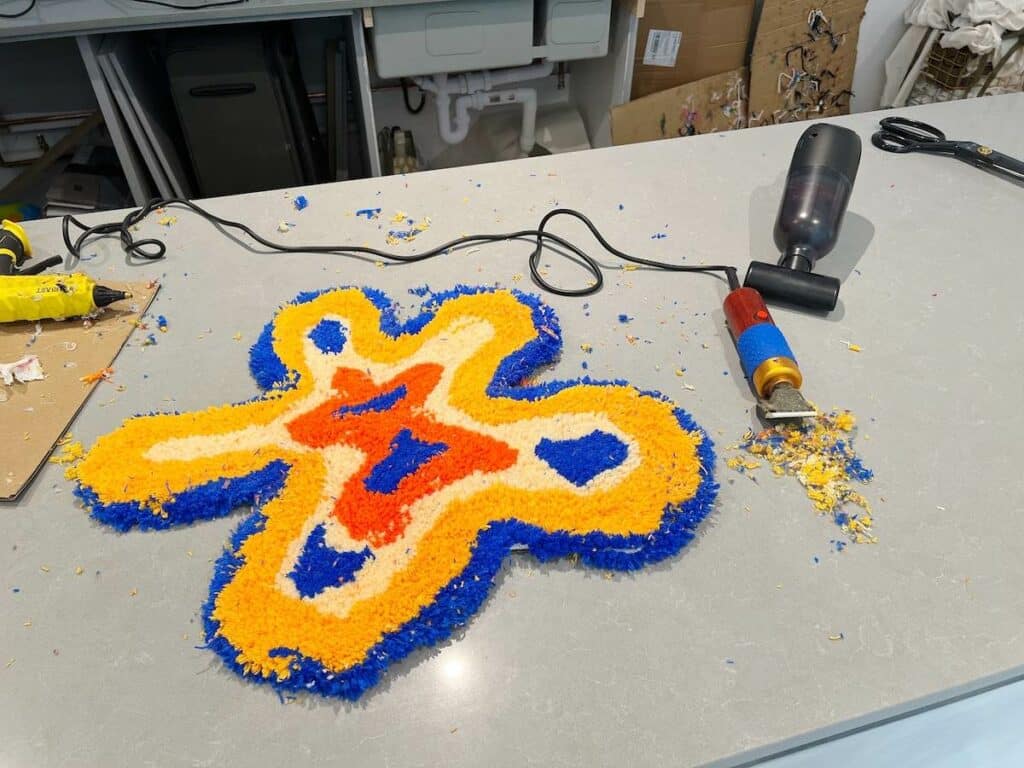 What we miss most about our childhoods is being able to be creative AF whenever we wanted. Also fluffy things.
Well, Tufting London combines both into one epic workshop in Battersea.
What's tufting? This funny word literally just refers to the process of making carpets. And oh em GEE it's therapeutic.
The staff pretty much let you loose to create whatever design you want, though they'll talk you through what you need to get going. Plus, all materials are on site – all you need to bring is yourself and your creativity. House goals await.
Perfect Your Axe Throwing
Citywide
££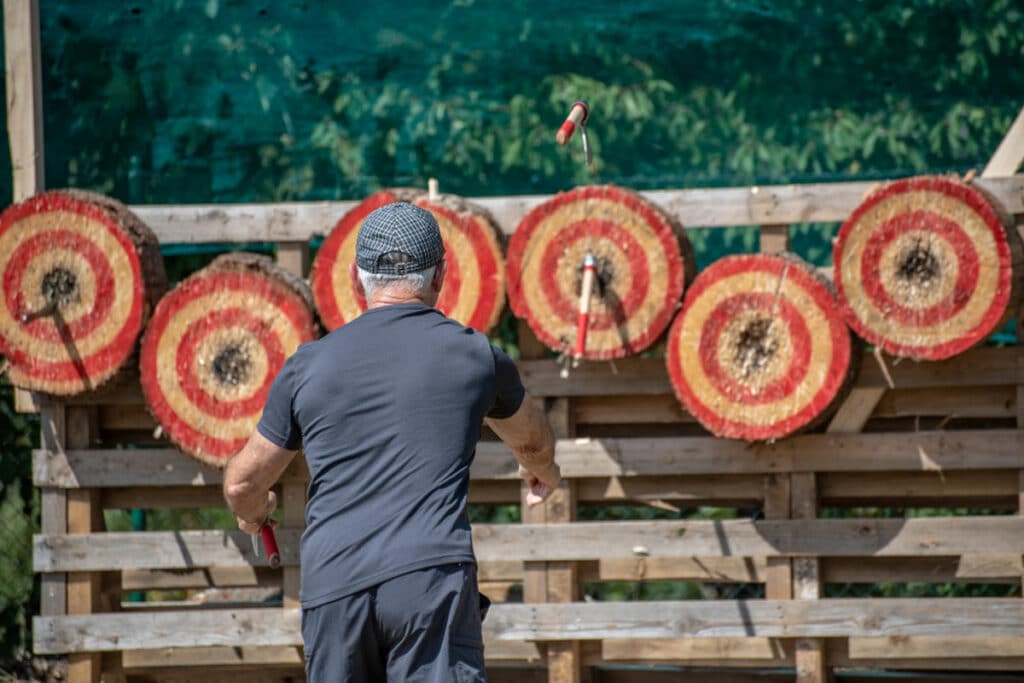 When we were kids archery was the mediaeval activity of choice for birthday parties and adult's office dos. Now it seems all the rage has switched over to axe throwing.
There are a couple of venues in London where you can go to find out how much use you'd have been to a barbarian army, or with Gimli atop Balin's tomb. Whistle Punks is one. They were the UK's first urban axe throwing venue – an accolade which we can't have imagined hearing in the middle ages.
If you fancy something without the hipster claims to fame, you could shoot for one that clearly never misses a chance to coin a good pun – Axeperience.
Take a Historical Pub Walking Tour of London
Citywide
££
Boozing. In Britain we do it well. And have been doing it well for many hundreds of years. London's got a slew of near-ancient pubs that still serve up the devil's brew. You can discover a few of them with Liquid History Tours.
Their tours are run by passionate London locals from all walks of life. As their website says, "your afternoon could be spent with award-winning designers, craft brewers, novelists, stand-up comedians and even the odd rickshaw driver."
They'll take you from pub to pub expounding knowledge and knocking back pints on a boozy day out where you might just learn a thing or two.
Bust out of a VR Escape Room
Multiple locations
££
When reality is no longer exciting to you and your big-kid friends it might be time to don the goggles and enter the metaverse (don't worry, Zuckerberg isn't waiting for you there). Down at DNA VR they'll set you up in a virtual reality that is sadly way more interesting than real life.
Headset on, you'll have options of games to play together. Zombie apocalypse shootouts, Lord-of-the-Rings-style elf town defences, laser tag on steroids, and that's just the tip of the iceberg.
You can also immerse yourself in a total free-roaming experience, or do an entire escape room challenge in VR.
Smash Your Mates at Crazy Golf
Citywide
£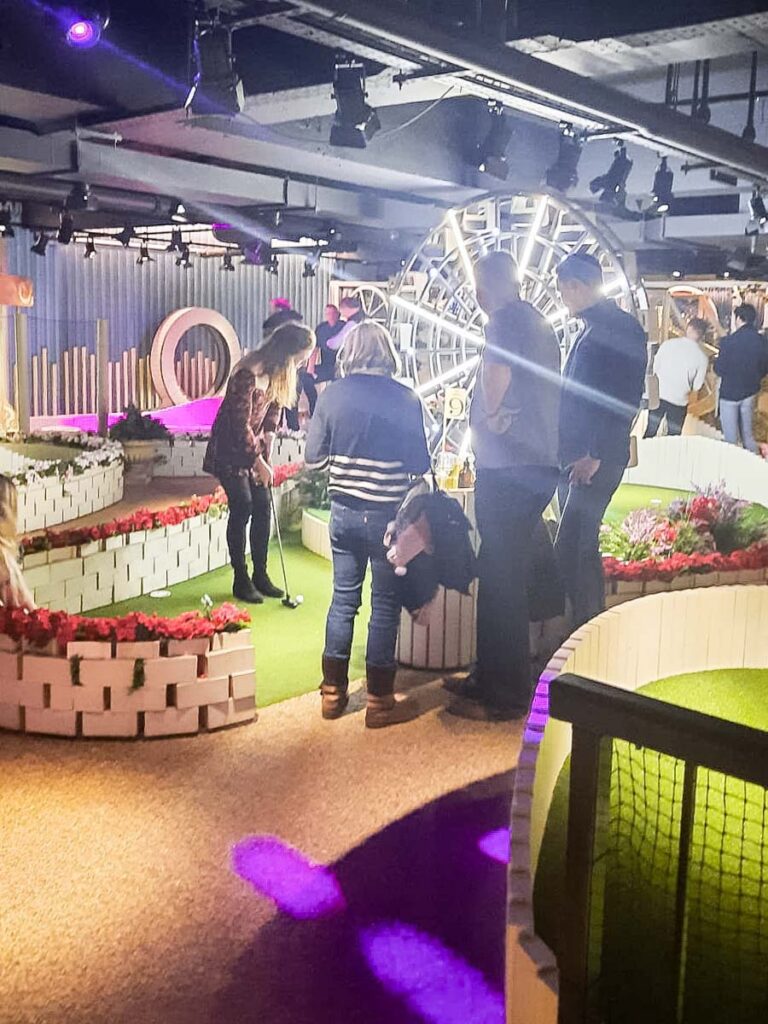 Real adults go swinging. Erm… What did you think we meant? Swinging golf clubs of course. You don't have to go the full 18 holes either. London's got plenty of wacky – and we mean truly out-there – crazy golf courses,
Plonk has locations all round London with courses that resemble scenes out of dystopian gangland flic The Warriors, and other things like bottomless brunches to set you up for the round.
Swingers do things a little differently, modelling their courses on quaint English holiday towns. The boozy element is still there though, in the form of some surprisingly good cocktails.
Other honourable mentions go to Puttshack and Birdies. Both of whom also do food and aim to ply you with drinks. Spotting a theme here?
Have Afternoon Tea on a Bus
Victoria and Trafalgar Square
££
If you don't want your activities to turn into boozy mayhem, congratulations on reaching true adulthood, maybe you could try afternoon tea on a tour bus.
Bridget's set off from Victoria Coach Station and Trafalgar Square at regular intervals throughout the day. You'll spend a couple of hours (depending on traffic) cruising past London's sights and eating from their charming menu of sweets and savouries, all washed down with cups of tea or coffee.
There is always the wine list if you've not quite got a handle on your self control yet.
Take a High Speed Boat Ride on the Thames
Tower Bridge
££
Don your lifejacket, dig out some waterproofs, ditch the sunhats, and go racing along the Thames at breakneck speeds. We've all stood by the river and seen them go by, and most of us have thought it looks pretty fun.
The Thames Tigers will take you and your crew up and down the river where you can glimpse the sights as they slide into redshift, and flip the fingers at the losers who decided to take the Uber boat that day.
You're royalty of the river and you don't care who knows it.
Play Ping Pong with Cocktails
Farringdon and Old Street
£
Not just a sport we play on a dusty table in your mates garage, or an excuse for the Chinese to clean up in the Olympics, ping pong can actually be quite a classy affair. Who knew?
At Bounce you can take to the table with a cocktail in hand, smash your mates in a round robin, maybe put a little money down, win, and do it all before tucking into a pizza and snacks hot from the oven.
Of course these guys are no chumps. They know what booze and ping pong balls will entail, and no it's not that show you went to see in Thailand that one time. Beer pong ladies and gents. Beer pong.
Try Indoor Skydiving
Greenwich
£££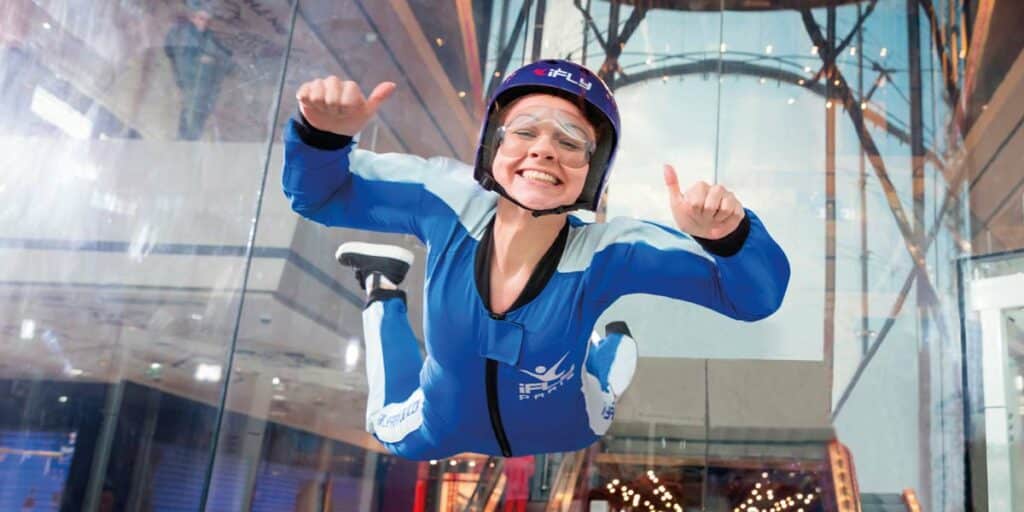 Probably the best in fun adult activities London has to offer, iFly is the city's first indoor skydiving experience. You'll get into one of those giant tubes and have the feeling of hurtling towards earth with only a thin piece of fabric and a pull string to save you from certain death.
You can even jump on the biggest trend of the present day and do the jump in VR, watching computer generated environments whiz past as you glide about, and these guys can photograph your experience so you'll never forget it.
Nothing is going to bond your group together like a bunch of hilarious images of your faces blown out of shape by the industrial winds of this beast.
Go Roller Skating at Usher's Place
White City
£
The opening, in late 2022, of Flipper's was a wild affair that saw Central C taking to the stage and heaps of media attention, not least from us. The rink is a reopening of a 70's roller-boogie wonderland that was a big hit with the Holywooders.

That place has long since closed, but the brand got a revival thanks to, in part, Usher, who got his famous mates into a New York pop-up and then helped open a full-time venue in London.
They've got a big ol' roller rink with skate rentals and lessons and the whole shabang with a bar and a diner serving American food done fancy. If you've ever been wondering what caviar-topped fries taste like, you can find out here.
Have a Shootout in a Nuclear Bunker
Woolwich
££
Looking for things to do in London adults might enjoy? How about hitting a genuine cold war-era bunker for some competitive team-based shootouts?
At Bunker 51 you can choose between paintball, lasertag, and airsoft and stick yourself on the team against that friend you've always secretly wanted to pop off a few shots at. All of this takes place in the most atmospheric of war zones: an abandoned cold war nuclear bunker.
As battlegrounds go, you can't get better than that.
Hit Skylight
Tobacco Docks
£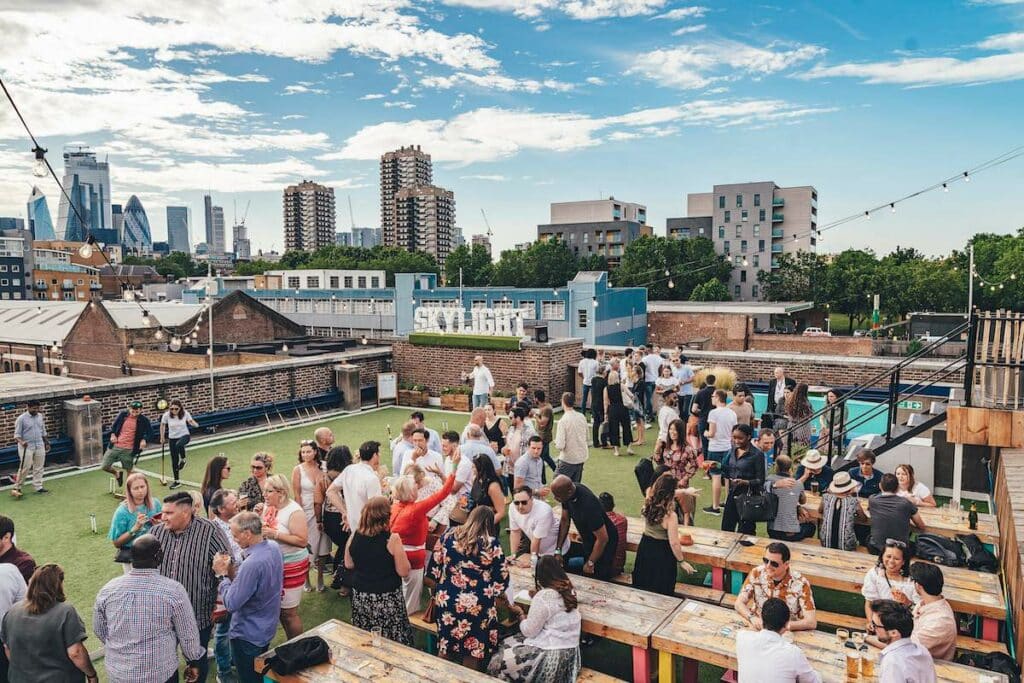 Organising a group of people to come to one afternoon get-together can often feel like an insurmountable task in London.
You've got that one person who doesn't want to drink, another that has a peculiar dietary requirement, then there's always that friend that never leaves whatever godforsaken zone they live in.
Skylight is a happy medium, and a pretty good one at that. You'll find a bunch of games – and during winter, ice skating – there's food to suit everyone's needs, and of course the oil of the cogs of social harmony: alcohol.
Job done.
Break Into Alcatraz
Hoxton
££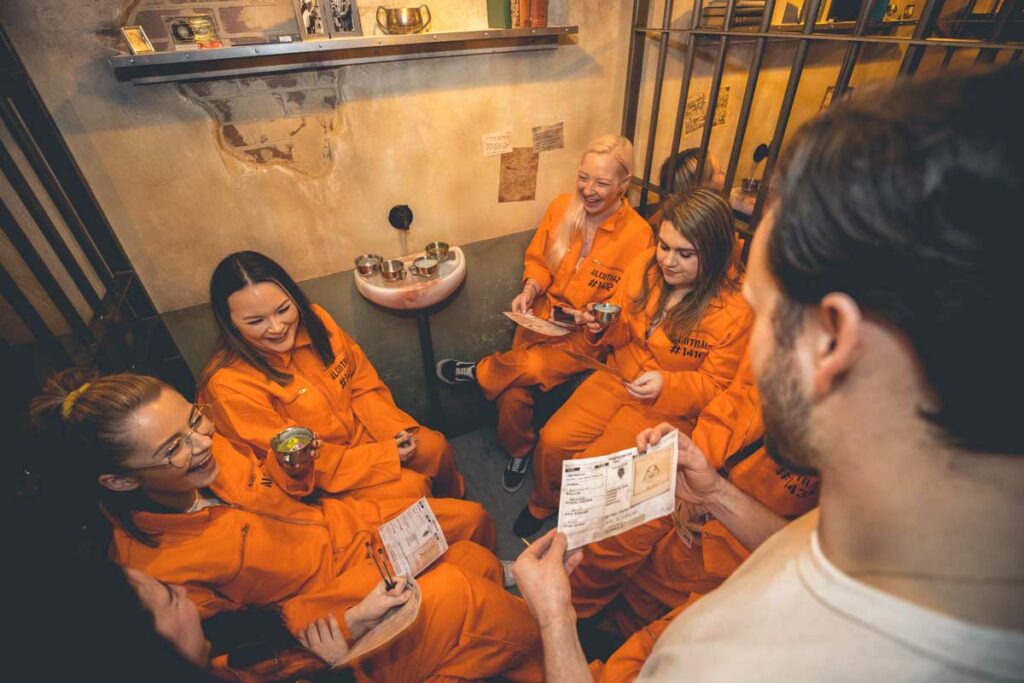 Looking for things to do in London adults might enjoy? How about an immersive cocktail experience? Alcotraz is our go to. You'll be put in an orange jumpsuit and behind the bars of America's most notorious prison.
Once there you'll have to help corrupt guards and prisoners alike smuggle booze through the prison in order to get your hands on that much needed drink – in this case artisanal cocktails as made by professional bartenders.
Just don't let the warden catch you.
Play Board Games
£
The more mature (read: less keen to combine some kind of children's activity with booze) might prefer an afternoon taking it easy on the beer and rolling some dive at Draughts in Hackney.
They're a regular old cafe with stacks and stacks of board games. You can pull what you want off the shelf, find yourself a nice quiet table and while away the hours at a calm round of whatever takes your fancy.
Though we know that's not how it always goes down. If you see a group with a few too many empty glasses at their table, threatening murder at each other over a game of Catan, come over and say hi. We'd love to meet you.
Hit an OTT Bingo Hall
Hoxton
££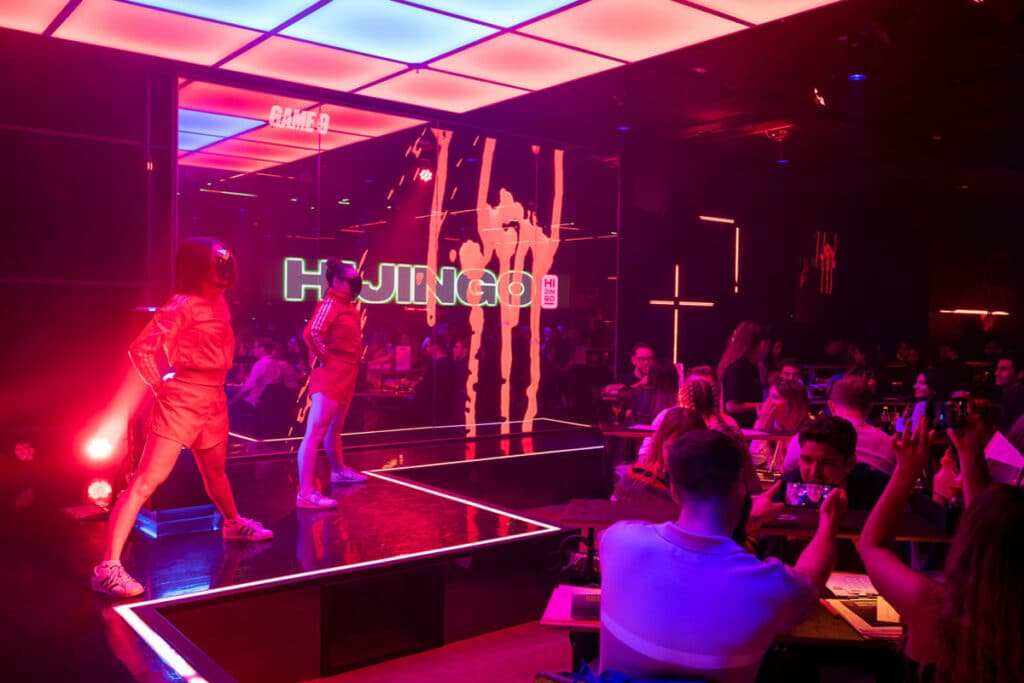 It's the 21st century. Bingo is no longer for the saggy-armed or over-the-hill. It can now incorporate millennial buzzwords like "immersive" and "multi-sensory". Welcome, Hijingo. London's over-the-top bingo hall.
Picture flashing neon, a bingo caller screaming over the crowds to get the numbers heard, and alcohol in free flow. Throw in the occasional themed night where actors simulate system breakdowns and scenes from dystopian futures. That should give you some image of what this place is like.
Don't bring your granny, it might just give her a heart attack.
Become a Monopoly Piece
Tottenham Court Road
££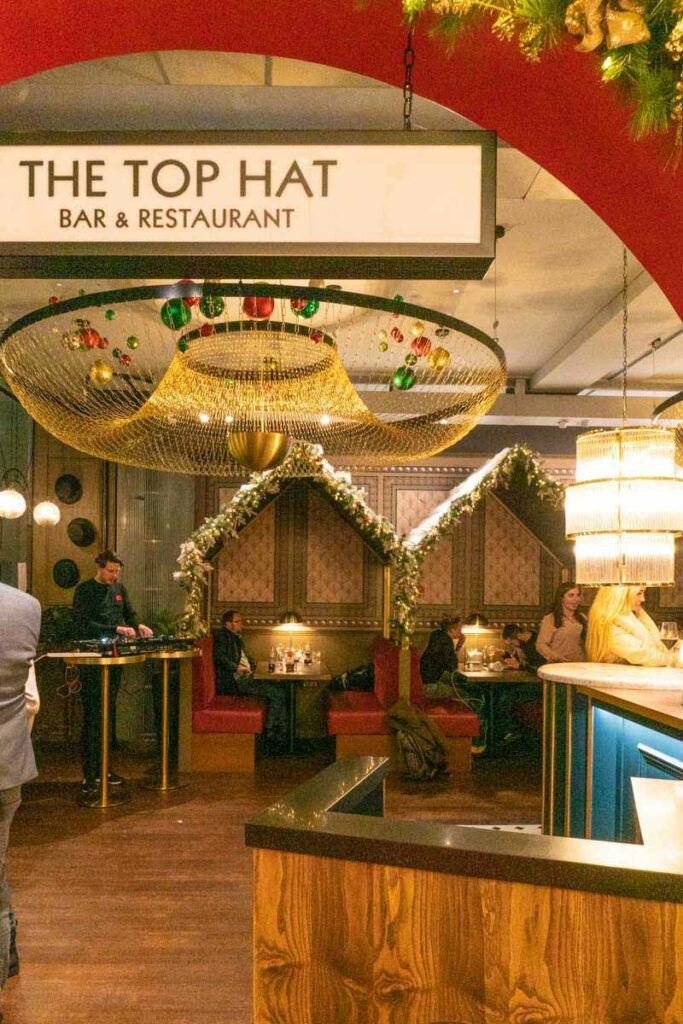 If the regular sized board games at Draughts don't do it for you, why not replace the little top hat or dog for a human sized piece. At Monopoly Lifesized you'll take to the board to buy up property around our fair city.
This enlarged version features games rooms you compete in to buy property, with all the regular angst and screwing over of the opposition that the normal sized game has, but played over a 15m x 15m board.
Get Tipsy and Learn to Paint
Citywide
££
For the more creatively minded, why not combine a bit of artistic work with some light drinking. At Brush and Bubbles, you'll learn the skills to paint a beautiful picture while sipping on seccy to get the creative juices flowing.
People of all skill sets are welcome, there are painting instructors at the class to guide you through the basics. And get this. You don't have to drink. They have non-alcoholic beverages too!
But who's ever heard of a tee-total artist?
Practical Tips for Exploring The Best Days Out in London for Adults
Booking online with the company is always the most straightforward way to get stuck into these things.
If you've made your way through this list and you're looking for more adult activities, check sites like Eventbrite and Designmynight. They usually have a good section devoted to things like this.
Things to do in London for Adults: Map