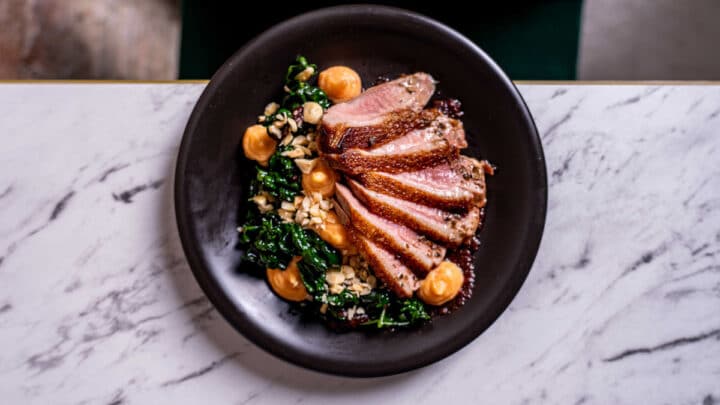 Looking for the best restaurants in Brixton? From old-school classics to stylish eateries, these are the places not to miss.
If London is a melting pot of flavours and cultures, Brixton is where all the ingredients come together. Its eateries span authentic cuisines from all over the globe, from the Caribbean to South-East Asia and Turkey.
Can't decide where to eat in Brixton? Don't sweat it – we've got you covered.
Best Restaurants in Brixton
Wood & Water
££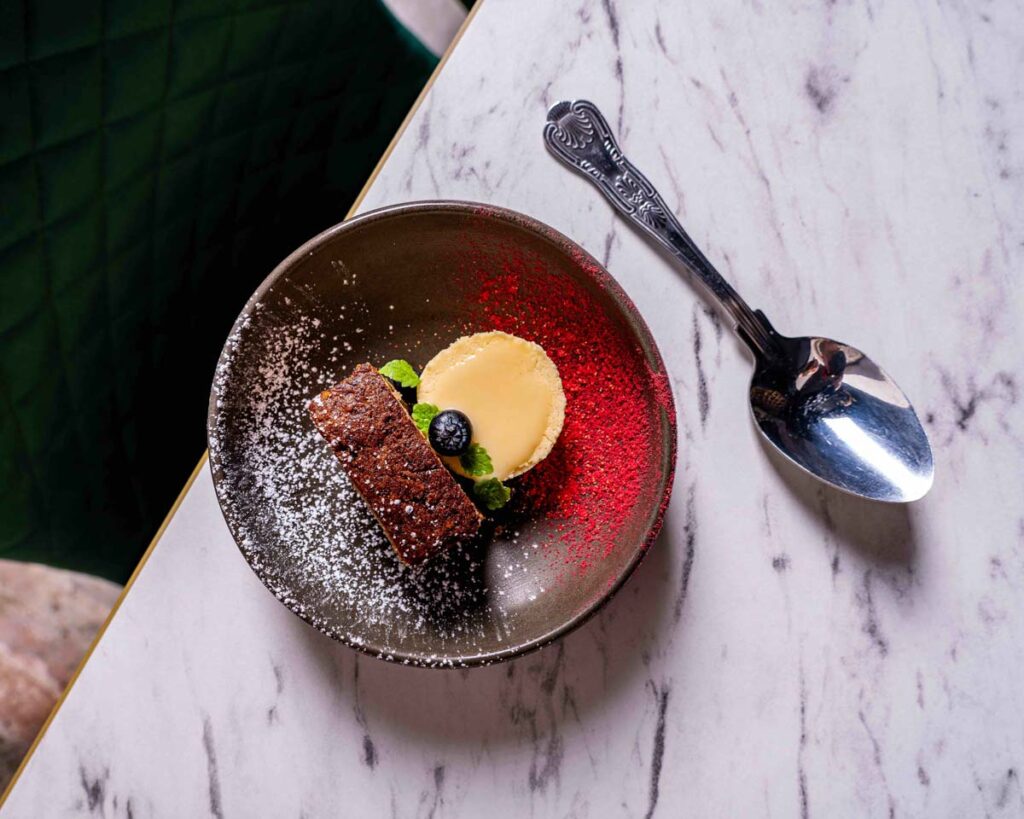 Wood & Water may be something of the new kid on the Brixton restaurant block, but it's already made a reputation for itself as one of the area's must-try culinary spots.
The brainchild of former Miss Jamaica April Jackson, and her partner Lee Tan, it's a bold project celebrating Jamaican cuisine and marrying its traditional flavours with contemporary culinary techniques.
Not sure what that means IRL? A tempting line-up of mouthwatering dishes such as Pan Seared Duck Breast with a Jerk Glaze, Roasted Sweet Potato Purée and Wilted Greens paired with equally stellar cocktails.
Get in on the action before everyone else does.
412 Coldharbour Ln, London SW9 8LF
Canova Hall
££
Rustic, wood-fired, and bottomless are great words to describe Canova Hall. Exposed walls and bare wooden furniture give this wood-fired pizza restaurant a laid-back atmosphere.
Not only do they have wood-fired pizza, but they also have a gin distillery. Enjoy some drinks during a bottomless brunch on Sundays or a bottomless coffee while you work throughout the week.
This Brixton pizzeria has everything to keep you coming back for more.
250 Ferndale Rd, London SW9 8BQ
Mamma Dough
££
Mamma Dough is an authentic Italian restaurant in Brixton. This sourdough pizzeria is one of the best places to eat in Brixton.
Mamma Dough prides itself on selling handmade pizza with only the freshest ingredients. They know that if your recipe is good, you don't need any other frills or tricks to wow your patrons.
If you've ever wondered what 'Nduja is, this is the perfect place to learn about Italy's spicy spread.
354, Coldharbour Ln, Brixton SW9 8QH
Franco Manca
£
If you're looking for things to do in Brixton, this Brixton Market restaurant will hit the spot.
Franco Manca is another sourdough pizza restaurant in Brixton that you should have on your Brixton bucket list. They keep everything simple, from their storefront to their Neapolitan-inspired dishes.
Sit inside or enjoy the buzz around you at the Brixton Market storefront.
3, 4 Market Row, London SW9 8LD, United Kingdom
Senzala Creperie
££
Tired of the bland old crepes in London? Here, at Senzala Creperie, they put a Brazilian flair on the traditional French dessert.
Not a sweet lover? That's okay. Brixton Village food cafe also sells savoury crepes, galettes, tapas, and cocktails.
Another bonus? This restaurant in Brixton is also gluten-free, so no one has to miss out on these Brazilian-French fusion desserts.
Coldharbour Lane 41-42 Brixton Village Market, London SW9 8PR
The Rum Kitchen
££
London's weather can be rather muggy, but it doesn't have to affect your mood if you're at this Caribbean restaurant in Brixton. As soon as you walk through the door, forget about the city and enjoy the island vibes of The Rum Kitchen.
This Caribbean and Jamaican restaurant will get your stomach growling and your feet dancing with their jerk chicken and carnival backtracks. Occasionally, DJs will spin a few decks to keep the jam-rock carnival alive.
437 Coldharbour Ln, London SW9 8LN
El Rancho De Lalo
£
El Rancho De Lalo is a Colombian restaurant in Brixton that prides itself on being as authentically Colombian as the world's salsa capital.
Chefs Lalo and Mercedes serve their food fresh out of the steaming oven. The menu changes every day, with the next day's food better than the day before.
Expect to find the gateway to South America's national dish, Bandeja paisa, and other traditional Colombian dishes.
The press, 1, Buckner Rd, London SW2 5BY
Satay
££
Satay is a Thai restaurant in Brixton that cooks with traditional Malay, Chinese, and Thai influences. Their dishes include almost anything from seafood and curries to burgers and noodles.
The best way to describe the atmosphere is that it's as if you've entered a restaurant that spans across the entire South-East Asia region. It is certainly a mix of flavours and cultures in this Pan-Asian restaurant.
They are also a cocktail bar and have happy hour specials for as little as £10 – such a steal.
447 Coldharbour Ln, London SW9 8LP
Cyprus Mangal
£
Cyprus Mangal is a chic Turkish restaurant in Brixton that puts a modern twist on Turkish cuisine. This restaurant is almost 20 years old and is still at the top of many London Middle-Eastern Restaurant lists.
Whether it's chicken, lamb or beef, you'll find the best roast in Brixton here for a Turkish sub or pita.
Of course, you can also find the popular kebab station within the restaurant. Pop in to buy a few to go as a late-night snack.
45 Warwick Way, Lillington and Longmoore Gardens, London SW1V 1QS
Adam's Ethiopian Restaurant
£
If you've never tasted Ethiopian food, you're missing out big time. Ethiopian food is rich in flavours and tastes, unlike anything in the western world.
That is why a stop at Adam's Ethiopian restaurant in Brixton is a must. Not all dishes are meat-centred. This is also a vegetarian and vegan restaurant. Tuck into a delicious Difin Misir Wot (lentil stew) or injera (flatbread)
For genuine Nigerian food, another African restaurant in Brixton you should try is Enish restaurant Brixton.
86 Brixton Hill, London SW2 1QN
BaBa G's Brixton
££
Baba G's is an Indian restaurant in Brixton with a western twist. This Pop Brixton restaurant infuses Indian flavours into its hamburgers and chips.
At Baba G's, the most important factor is taste. Try their best-selling Crazy Lamb Jalfrezi burger to get a taste of their masterful spice blends.
While this isn't a true outdoor restaurant in Brixton, Pop Brixton has places to eat outside at their venue.
Pop Brixton, London SW9 8PQ, United Kingdom
Fish, Wings & Tings
££
Brixton is known for its Caribbean food, and of the neighbourhood's Caribbean restaurants there's one in particular that stands out. That would be Fish, Wings & Tings. They're one of the many great restaurants you can find at Brixton Village, and have been there doing some excellent food for quite some time.
You'll obviously want to try the jerk chicken but don't be afraid to stray from the path a little and try something new. All the food is great so it's unlikely you won't like the result of being adventurous. Our secret favourite dish here is the Creole Fish Stew.
Granville Arcade, Unit 3, Brixton Village, Coldharbour Ln, London SW9 8PR
Naughty Piglets
££
Since 2015 chefs Margaux Aubry and Joe Sharratt have been doing a roaring trade at their Brixton bistro Naughty Piglets. The food is made from seasonal ingredients and written up into a menu that changes on the reg.
It's hard to say what you could be eating on any given night but mostly the cooking has its roots in European cooking. Even that seems a little wrong to say when you consider how creative the chefs like to get at Naughty Piglets.
We guess the most important thing is that it's basically always delicious – especially when enjoyed with a glass of their house cocktails.
28 Brixton Water Ln, London SW2 1PE
Black Bear Burger
£
A neighbourhood as cool and food obsessed as Brixtron has to have a few good burger spots – it's pretty much a given. Our favourite is Black Bear Burger. What they serve is not delicate. It's certainly not healthy. It is, however, one of the finest burgers around.
The business started out serving up these meaty treats from a stand on Broadway Market and got enough of a following to open up a brick and mortar location, and then another.
Part owner, Stew, gets their meat from his family farm in Devon where the animals are treated with respect and care. On top of that they do everything from cutting the fries to prepping the sauces themselves so they can be sure everything in their burgers is exactly what should be there and nothing else.
13A Market Row, London SW9 8LB
Kricket
££
You may know this hyper-popular Indian restaurant from its central London digs, but it's also got a spot down in Brixton. In fact it was a pop-up in this neck of the woods that got the business going, so you could argue that this location is actually something of a return to the roots.
You'll find the menu packed out with the same elevated Indian fare that brings in the punters in central. As usual they use fresh and seasonal British ingredients to really bring the flavours to life, and put on a solid menu of cocktails to wash it all down with.
41-45 Atlantic Rd, London SW9 8JL
Other Places to Eat in Brixton
The Clink Brixton
££
This restaurant is a bit different from your traditional eatery. It works together with The Clink Charity and is in an active prison where inmates prepare the food.
The Brixton Prison restaurant aims to help inmates from HMP Brixton Prison gain valuable skills to find jobs outside prison. The Clink serves delicious, high-quality meals in a sophisticated restaurant setting. Please bear in mind that because the restaurant is in a prison, they cannot serve alcohol.
HMP Brixton, Jebb Ave, Brixton Hill, London SW2 5XF
Blues Kitchen Brixton
£
Can't decide if you want to go to Brixton for lunch or a cocktail dinner? Do both. Unwind at Blues Kitchen, a Cajun barbeque restaurant that also features a pub and cocktail bar.
Pop in for their Beers, Bourbon and Blues nights on Thursdays or show off your musical knowledge at their pub quizzes. Woke up with your head pounding from the hangover blues from the night before? The restaurant also has a bottomless brunch – the perfect cure.
40 Acre Ln, London SW2 5SP
Barrio Bars
£
This quirky cocktail bar and Spanish restaurant in Brixton is sure to brighten up your day. Finding Brixton food places is as much about the food as it is the ambience.
That is why Barrio Bars has bright murals, a caravan, and plants growing from the roof. Their food and cocktails are just as riveting, with inventive cocktails and South American and Mexican tapas and meals.
They also have special two-hour bottomless drink specials starting at £35.
30 Acre Ln, London SW2 5SG
Practical Tips and Map for Exploring The Best Brixton Restaurants
Please remember that because The Clink is in an active prison, they have strict rules and prohibited items. Read the guidelines and procedures before making a reservation.
Brixton still has loads of cool stuff to discover. Find restaurants near Brixton by checking out these places in the Brixton area.
For the best food in Brixton experience, book your tables beforehand and arrive a few minutes earlier than your booking.
Looking For More Brixton Guides?