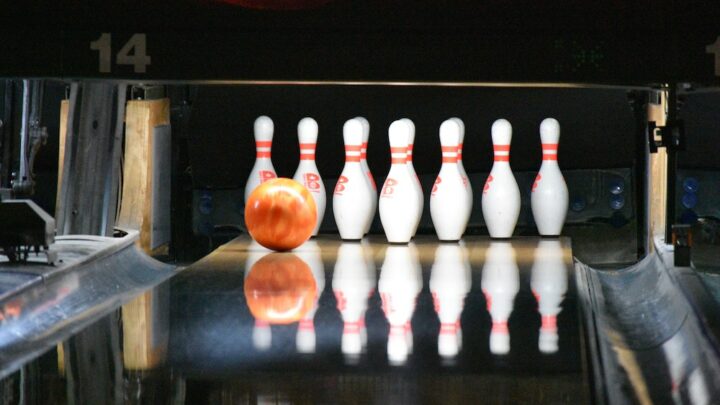 Looking to go bowling in London? Whether you've got a passion for the game or you're just looking to escape the rain (look, it's pretty much inevitable), the capital has plenty of bowling alleys where you can practise the perfect strike.
From totally retro spots that remind you of childhood birthday parties (along with roller skating obvs) – complete with terribly tasty hot dogs and nuggets – to a more grown-up affair of boozy bowling, there's something for everyone.
Ready to flex your bowling skills?
The Best Bowling Alleys in London
Bowling Alleys Central London
The Croc Bowling Alley
Located in the Ham Yard Hotel, The Croc Bowling Alley is entirely sophisticated, a million miles away from the brightly coloured bowling alleys of our childhoods.
Solid maple lanes, monochrome bowling balls, and vintage bowling shoes make this 1950's themed alley pretty damn cool.
At £20 per person for an hour of bowling, this is definitely not a cheap night out – but you are getting an exclusive experience at one of the only bowling alleys of its kind in the UK. Well worth it in my opinion.
After you've bowled, head to the lounge for a classic cocktail or two before taking to the dance floor late into the evening.
Bloomsbury Lanes
Bloomsbury
Looking for all-American style ten-pin bowling in London? Bloomsbury Lanes is your best bet.
Complete with speakeasy-themed karaoke booths, a diner serving up classic grub, and a dancey area, the bowling alley has a really chill, hipster vibe to it.
You pay by lane here, and at £45 it's pretty decent if you pile yourself and 5 friends onto a lane. The central Bloomsbury location also means you're not too far from a whole host of things to do once you've thrashed everyone at bowling (fingers crossed).
Queens Skate Dine Bowl
Queensway
Sure, you can just bowl at Queens – but why not go the whole hog and skate, dine, and bowl?
Neon lights, a wicked soundtrack, and funky bowling lanes ensure you're in for a good time here, and the ice skating rink is baso one giant party in the evening.
With a food menu courtesy of MEATliquor, you would be absolutely bonkers not to scoff one of their hefty burgers before you bowl. Or opt for a fancy lane, where food is just a button-push away.
This is one of the most popular bowling alleys in central London, so you'll definitely need to book in advance to secure your slot.
Bowling Alleys East London
All Star Lanes Brick Lane
Brick Lane
In true Brick Lane style, this All Star Lanes offering is undeniably cool. There are a few locations throughout London (and a couple more in this guide), but the Brick Lane one has a special place in my heart.
Is it because you're steps away from the many markets in the area? Maybe. But the fact that the inside of the bowling alley looks something straight out of a 1920's gangster film also sways me.
There's also a pretty impressive art-deco style bar where you can grab a drink after you've bowled – the orange espresso martini is particularly delish.
All Star Lanes Westfield
Stratford
Located on the second floor of Westfield Shopping Centre in Stratford, this swanky bowling joint provides fun late-night games.
50's Americana-style decor and ambient lighting makes for the perfect atmosphere as you bowl.
Hungry? Head to Lanes Kitchen for the likes of halloumi fries, buttermilk chicken, and BBQ wings, alongside a massive menu full of elevated classics.
Bowling Alleys South London
Hollywood Bowl at the O2
Greenwich
Hollywood Bowl is cheap, cheerful, and perfect for families. And this one is located right inside the O2.
With 12 stylish bowling lanes, this is one of the more modern Hollywood Bowl's out there, but the retro arcade and American diner provide a heavy dose of nostalgia.
Keep your eye out on Hollywood Bowl's website, as they often have special offers that allow you to bowl for ridiculously cheap prices.
Lewisham Lanes
Lewisham
If you're looking to go bowling in South London, Lewisham Lanes is a popular spot. It might not look like much from the outside, but trust me when I say that the inside is far more impressive.
This is your typical local bowling alley – Lewisham Lanes is no frills, but without the rundown feel that you get at many basic places.
If you're after a classic experience, as well as a yummy selection of pizza, Lewisham Lanes is the go-to.
Tenpin Croydon
Boasting a whopping 25 lanes, Tenpin Croydon is one of South London's biggest bowling alleys.
As well as bowling under neon lights, there's an arcade, pool table, and table tennis on offer.
More exciting, however, is the augmented reality climbing wall. Get involved in a number of games that will be projected on the wall as you climb – reminiscent of a dance mat x rock climbing hybrid.
Bowling Alleys North London
Rowans Tenpin Bowl
Finsbury Park
Rowans Tenpin Bowl is a favourite amongst those looking to go bowling in North London.
With two floors packed with 24 bowling lanes, giant sports screens, and pool tables, it feels like you've been transported straight into Grease.
Think you recognise the iconic lanes? You probably do. Rowans features in plenty of tv ads for the likes of Nasty Gal and even a Band of Skulls music video. Keep your eyes peeled for any celebs that might be bowling there, too.
Hollywood Bowl Finchley
Finchley
Finchley's Hollywood Bowl is not too dissimilar to the O2's offering, except in a handy North London location.
Expect 26 state-of-the-art bowling lanes, an amusement arcade, cosy bar area, and cheap bites to eat. For family-friendly fun, you really can't go too wrong with Hollywood Bowl.
Bowling Alleys West London
Tenpin Acton
Acton
Tenpin Acton's glow in the dark bowling lanes provide hours of entertainment for both kids and adults.
Recently refurbished, the lanes here are brand spanking new and perfect if you're after a fun evening out that won't cost you an arm and a leg.
Hyper Bowling is also available here, and don't worry if you're confused – I was too. It's basically a trendier version of bowling, with mini games projected onto the lanes while you bowl.
Sounds like too much going on? They also offer regular bowling during the day, so you can get your classic fix of ten-pin bowling in London.
All Star Lanes White City
Shepherd's Bush
The third All Star Lanes to make this guide is located all the way over in West London. Westfield in Shepherd's Bush, to be exact.
Whether you want to dine and bowl, drink and bowl, or sing and bowl (or just bowl, but where's the fun in that?), this bowling alley in West London has got it all.
Top tip: Head to All Star Lanes in the week and bowl, drink, and dine for just £15 – a steal!
Where to go Bowling in London: Map
Looking for More Things to do in London?
Check these out…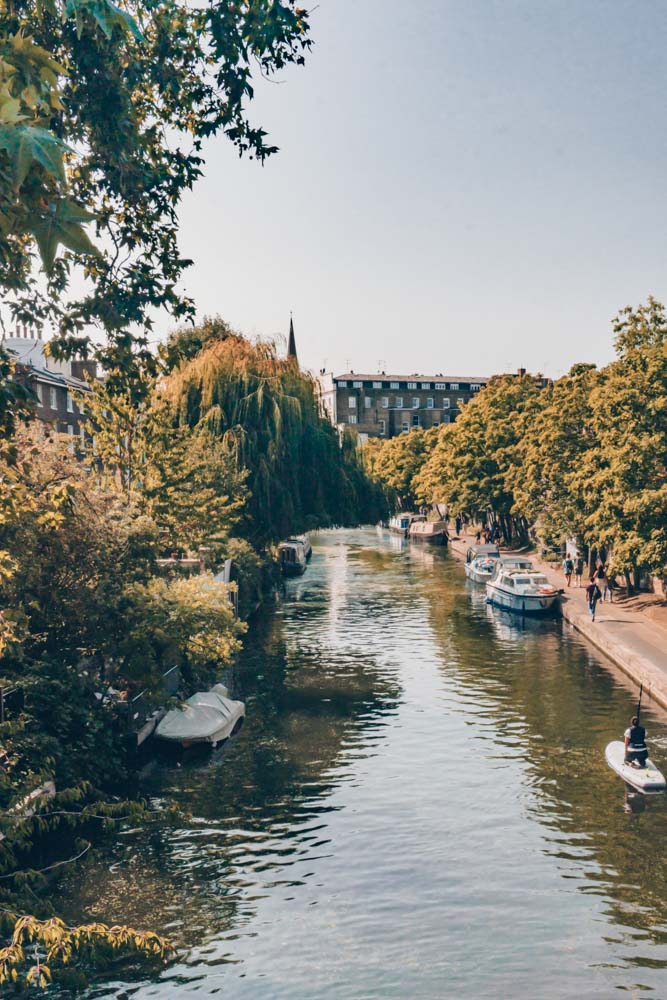 Paddle boarding in London