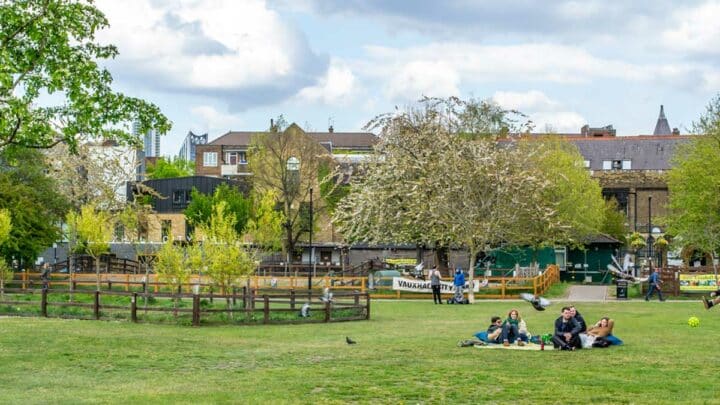 Looking to explore the best nature-filled activities in the capital? These outdoor activities in London are where you should start.
Sure, London's weather leaves a lot to be desired. But, when the sun does begin to shine, the great London outdoors is waiting to be explored.
Whether you fancy strolling through some of the most picturesque spots in the capital, testing your skills on an aerial obstacle course or even chilling out while you wait for a fresh catch, there's plenty to see and do in London.
So, strap yourselves in and discover the best London outdoor activities with us.
Best Outdoor Activities in London
Go Ape
Battersea, Alexandra Palace and Cockfosters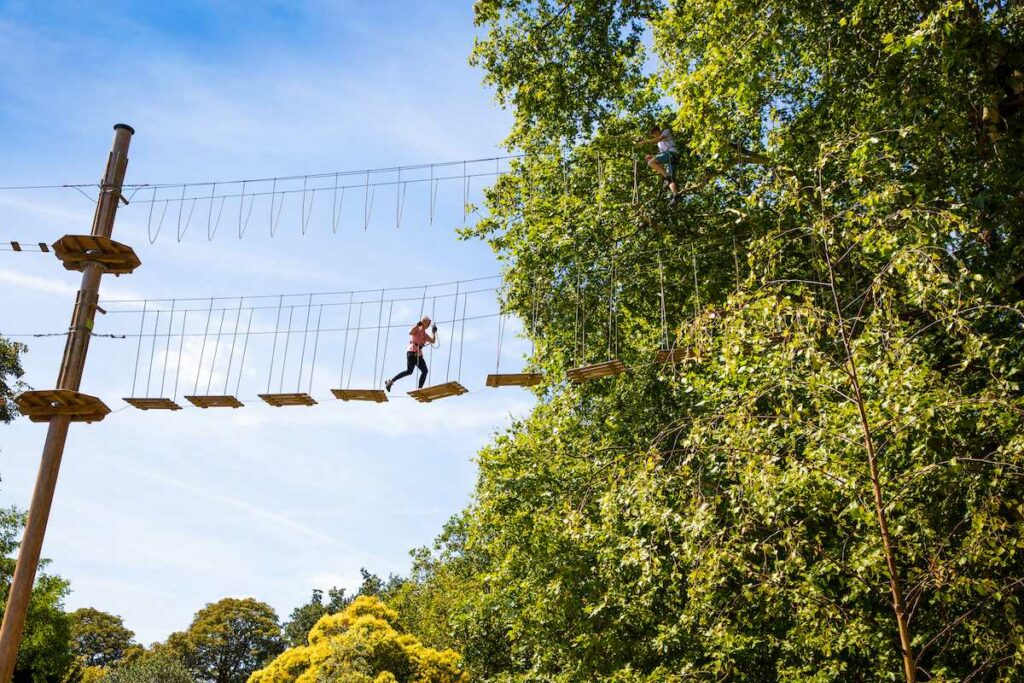 Go Ape bring their unique range of treetop challenges and extreme obstacle courses to three locations in London – Battersea, Alexandra Palace and Cockfosters.
Feeling brave? From the entry-level Treetop Adventure courses with high-rope activities for young kids to the exciting Treetop Challenge Plus for adventurers aged 16+, Go Ape is ready to push you to your limit.
If we had to choose, we reckon the Ally Pally course is our favourite. Purely because it combines exciting and fun challenges with incredible 360-degree vistas across the city.
Lea Valley White Water Centre
Waltham Cross
One of the many London 2012 Olympic venues now open to the general public, the Lea Valley White Water Centre provides plenty of water-borne fun. You can enjoy everything from paddling away with the kids on the centre's lake to riding the hell-raising Olympic white-water rafting course.
There are several different boats and activities to choose from, including raft building, hydrospeeding and the awesome Water Wipeout course. Oh, and coaching courses are available for beginners and newbies seeking a new summer hobby.
One of the best outdoor activities London has to offer? We certainly think so.
Velodrome Cycling
Herne Hill
Located in the lush South London hinterlands, Herne Hill Velodrome provides track cycling possibilities with fresh air, sunshine and all the banked curves you can cope with. Kids sessions are available, along with riding sessions for road bikes, off-road cycles and accessible cycling.
You can turn up on race day to spectate, or if you fancy your pace, unleash your inner Chris Hoy or Laura Kenny by trying out to join one of their many teams and league meetings.
Up at The O2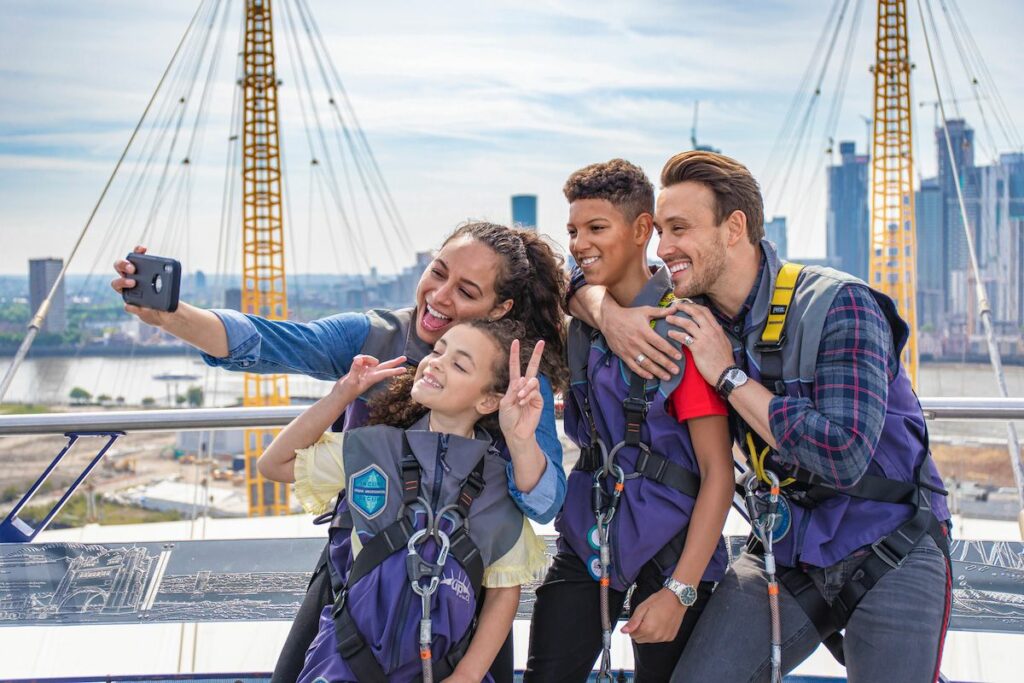 Now, whether you want to take on this next London outdoor adventure will depend on your feelings toward heights.
Those who have no fear, keep reading – Up at The O2 allows you to climb to the very top of the famous landmark, your reward being incredible city views.
Strap in and prepare for a thrilling climb up the side of the O2 – we highly recommend booking onto the sunset climb. Because London only looks more magical when drenched in a golden glow.
CityDays
Citywide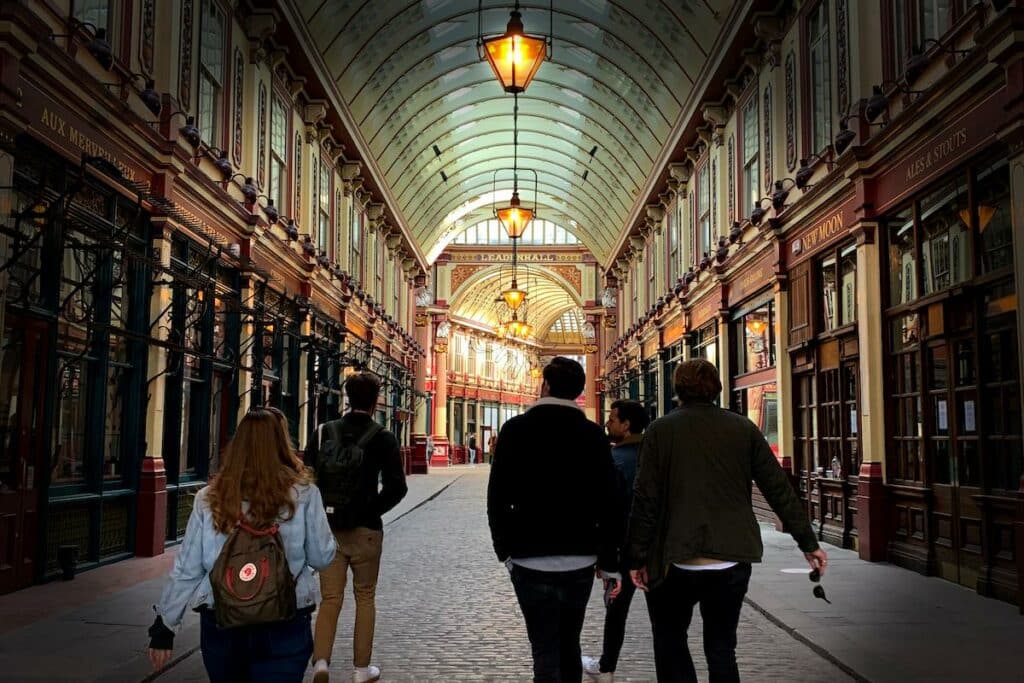 What if we told you that you don't have to leave the city to have a fun day out? That's right – CityDays will organise a jam-packed urban adventure for you that sees you walk around 5km across 2.5 hours.
You can tailor a big day out with friends to explore secret parts of the city while working through a series of puzzle games at varying difficulties. From strolling through Dickens' London to meandering your way through Kensington's charming streets, there are plenty of options all over the city.
These mystery walks see you follow clues sent direct to your phone – they promise fun by the bucketload.
Nature Cycling
Multiple Locations
London is adorned with several beautiful and interesting cycle routes that take you through the centre of town or explore some of the city's less well-explored areas. One of our faves is the 39km route from Big Ben to Richmond Park via the stunning London Wetlands Centre, which is great for more inexperienced riders.
For those with more experience, the 64km route from Canary Wharf to Epping Forest Loop provides a rich insight into the best of London's East End. Those who dig views across South London and Surrey will love the 87km Richmond to Box Hill circular.
Kew Gardens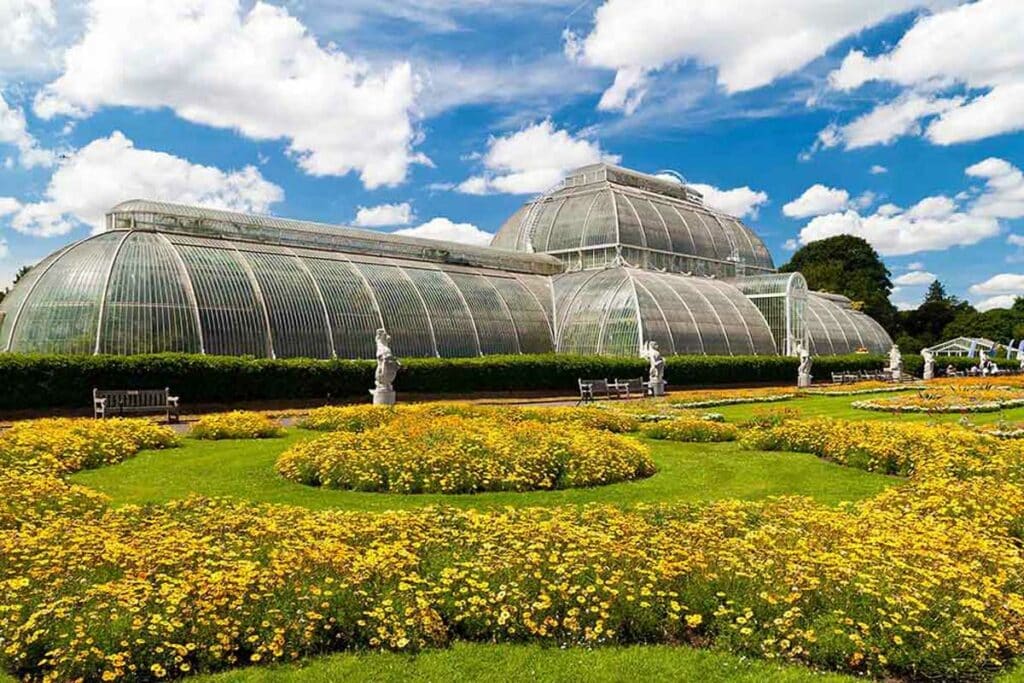 Looking for the best outdoor activities in London that won't break a sweat? No problem – spend an afternoon wandering through Kew's Royal Botanic Gardens just north of Richmond and on the south bank of the River Thames on the Surrey / Middlesex border.
The gardens are famous globally as the most biodiverse place on the planet.
Highlights include the stunningly fragrant and textured Rhododendron Dell, the Woodland Garden and Temple of Aeolus, which is a great place to get some shelter on hot sunny days, and the Great Broad Walk Borders.
Our favourite part? The world-famous Victorian-era Temperate House where you can discover some of the world's rarest and most endangered flora and fauna.
The Parkland Walk
Finsbury Park to Alexandra Palace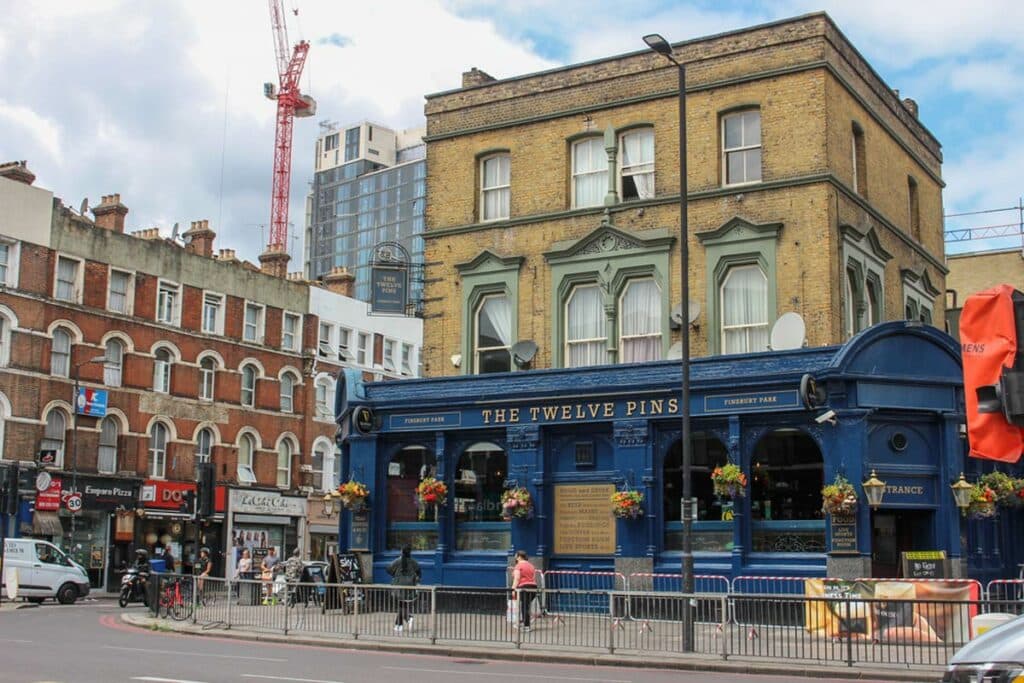 Walkers are spoilt for choice around London, with dozens of stunning natural and urban walks to explore throughout the city. Our favourite is London's longest Nature Reserve, the Parkland Walk, which runs along the former railway line that connected Finsbury Park and Alexandra Palace.
Signs of the walk's past remain, with platforms, the track cutting and bridges still standing, while the route takes in the rich diversity of London's rural and urban existence.
One of the coolest features of the trail is the mini artworks of local artist Ben Wilson, who has created several incredibly detailed pieces of art celebrating the walk on pieces of chewing gum! Keep your eyes peeled.
Read Next: The Best Walks in London
Outdoor Swimming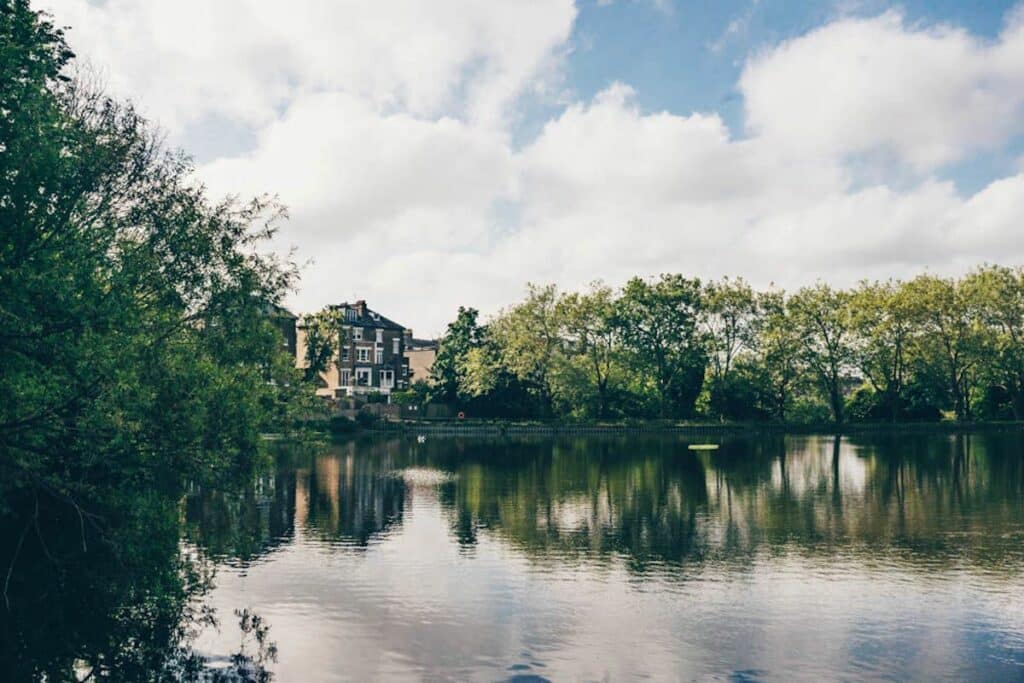 Swimming is a big part of London's outdoor life, with many lidos across the city. Anyone fancying a summertime dip outdoors from Ruislip to Charlton, and London Fields to Brockwell Park, is spoilt for choice.
We love to keep things natural and pop up to Hampstead Heath's Swimming Ponds rather than the heated lido at Parliament Hill. There are three ponds that swimmers can use; Kenwood Ladies' Pond, Highgate Men's Pond, and the Hampstead Mixed Pond. The perfect space to cool down on a hot, sweaty summer's day.
Stand-Up Paddle Boarding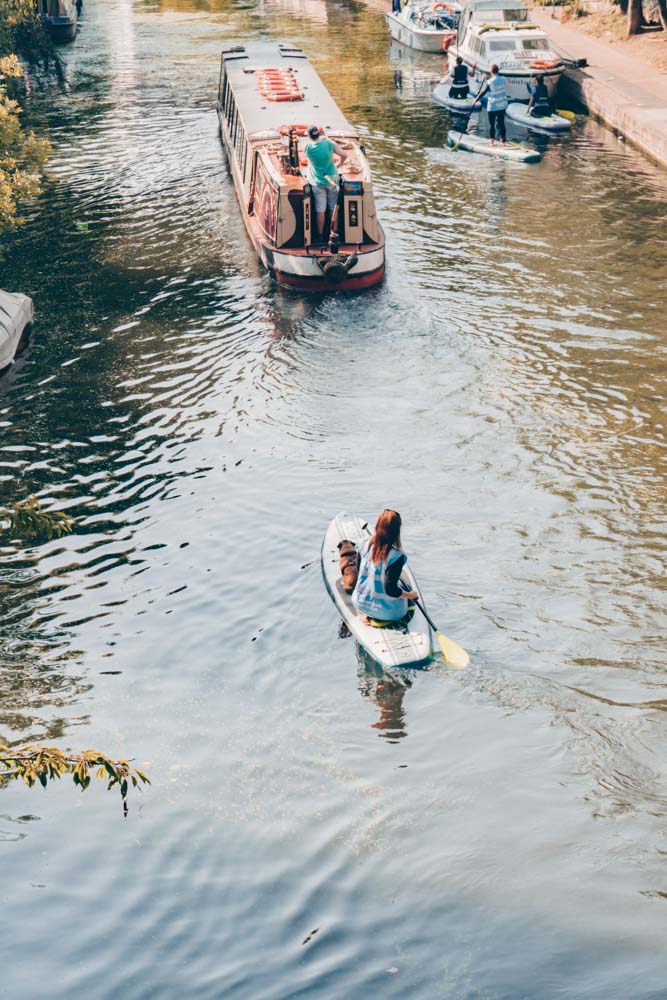 Head to the coast around Britain and you'll find people on the sea, estuaries and rivers paddle-boarding. It has quickly become an activity synonymous with relaxed coastal life. The good news is there are plenty of options to learn how to paddle board in the urban spaces of London, with Paddle Boarding London offering sessions across the city.
As well as the enclosed space at St Katharine Dock in East London, perfect for beginners, there are also sessions available in Hackney and, our favourite, Camden.
Pass through Primrose Hill, check out the animals at London Zoo, and discover the rich history of the Regent's Canal.
Sailing
Welsh Harp
London isn't all built-up areas and greenery, you know; there are plenty of vast open water spaces where people can indulge their passion for water sports. One of the best, a stone's throw from Brent Cross shopping centre, is the Welsh Harp Sailing Club.
The club offers sailing and windsurfing lessons on one of London's most beautiful natural open water spots, surrounded by woodland, nature trails and wetland wildlife.
Already managed to collect your water wings? Good news – you can turn up and sail in the shadow of the Wembley Arch and beautiful new Brent Cross and West Hendon developments to your heart's content.
Skuna Cruise
Canary Wharf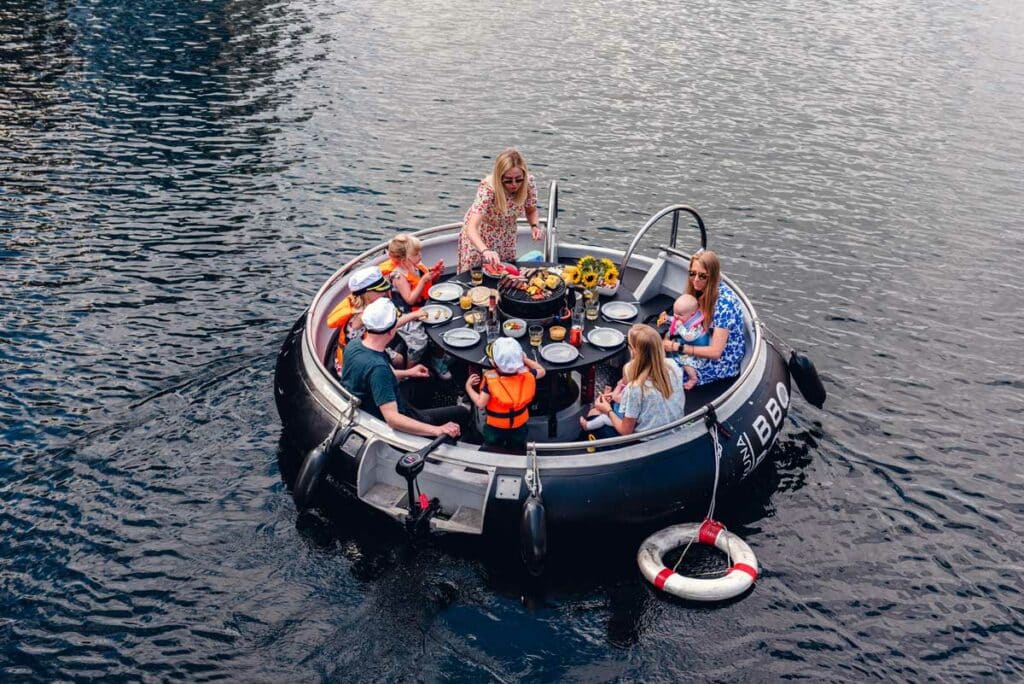 Imagine the scene: it's a balmy mid-summer evening and there are hours before the sun begins to set. It's the perfect time for a dip in a hot tub and maybe a barbecue with a glass of something crisp, cold and damned refreshing.
Sounds idyllic, right? Now imagine that scene aboard a self-navigated boat along the Thames.
Welcome to the world of the Skuna boat: floating hot tubs and BBQs that allow you to take the controls and hover along the Thames at your own pace. Ideal for a romantic couples' sunset or a fun-filled evening.
Go Wild at a City Farm
Hackney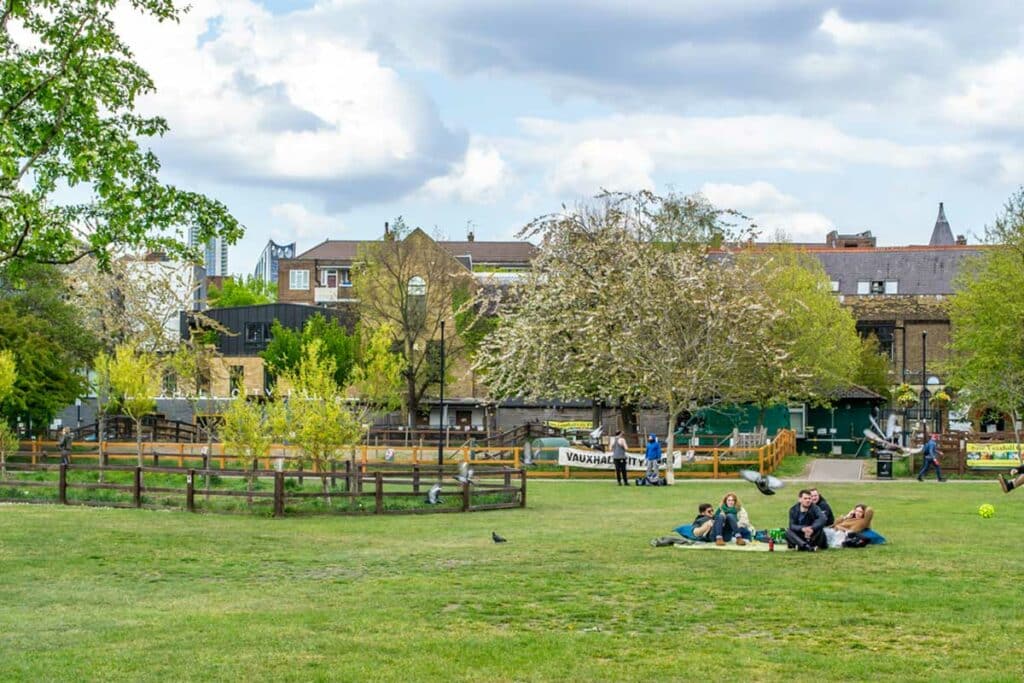 Dig beneath London's urban surface hard enough, and you'll find several locations where city farms have been established. Designed to promote sustainable living and make farmyards and farm animals accessible to urban audiences, they are lovely hands-on spaces where children and adults can experience what it is to run a farm.
Although they're all great spaces, we love Hackney City Farm, in the heart of funky East London, where animals include sheep, goats, and donkeys. Regular family-friendly activities, including arts and crafts are ideal for a rainy or sunny day.
Tackle an Outdoor Escape Game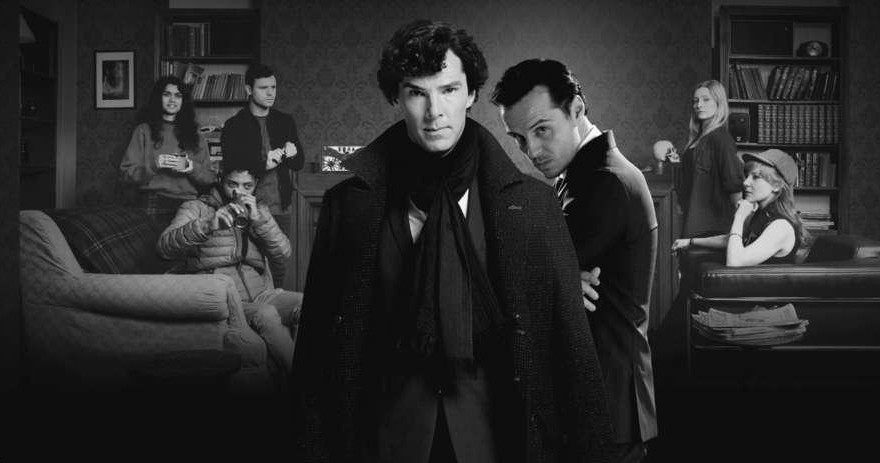 Escape rooms have become increasingly popular pursuits for families, work team-building exercises and romantic date nights, and have sprung up all across London over recent years. Believe it or not, there are now several opportunities to put yourselves to the test outside London.
Our favourite is Moriarty's Game from Hidden City, a must-try for anyone with even a passing interest in Sherlock Holmes and his arch-nemesis, Moriarty. Take a couple of hours, pounding the streets of Marylebone and Mayfair to solve the mystery and outwit the evil genius. Deerstalker optional.
Read Next: The Best Escape Rooms in London
Go Fishing
Walthamstow
Another laidback option for those who don't want to get sweaty, fishing might be the way forward for anyone needing to fully unwind and wanting to let water lazily lap around them.
Several lakes and reservoirs around London allow fishing. However, we recommend hopping East to Walthamstow Reservoirs, where anglers can sit lazily all day, waiting for a bite and, more often than not, catching something tasty for dinner.
There are two lakes specifically for fly fishing, with plenty of trout available for anglers to release or take home.
Take a Secret Gardens of London Tour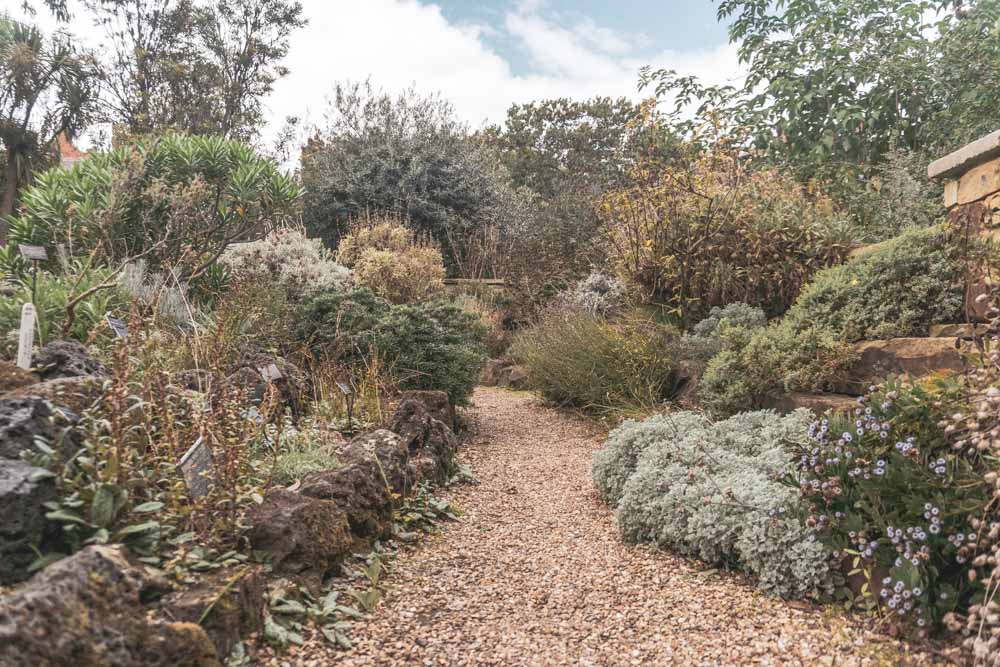 The Secret Gardens of London Tour is a guided walking tour for small groups that takes in some of London's most beautiful and least-well-known parks and gardens.
Starting in Trafalgar Square, the tour takes in St Paul's Artist Church, Lincoln's Inn Fields, John Soane's Museum, Temple Gardens, and Chelsea Psychic Garden, where there's a stop for Afternoon Tea, a quintessential English experience.
You'll find dozens of Insta-worthy photo opportunities, easily rack up your 10,000 steps, and enjoy some lovely refreshments as well as enjoy the experience of a trip in a Black Cab across the city.
Head to One of London's Theme Parks
Did you know there are plenty of fun theme parks in and around London? The capital sure knows a thing or two about providing thrills.
Thorpe Park, Legoland and Chessington World of Adventures are all biggies just a short train ride away – and well worth making the day trip for.
Or, if you want to stay strictly in London, the ArcelorMittal Orbit is a thrilling ride in Stratford. Will you brave the 178-meter tunnel slide?
Practical Tips for Exploring the Best Outdoor Activities in London
Many of the brilliant outdoor things to do in London require booking in advance. Don't get caught out.
Some outdoor activities are free (if in doubt, walking is easy and free!), but you will need to pay for most. Again, check online for prices and availability to help you budget and plan your time out.
Fun Outdoor Activities in London: Map
Outdoor Activities in London: Read Next