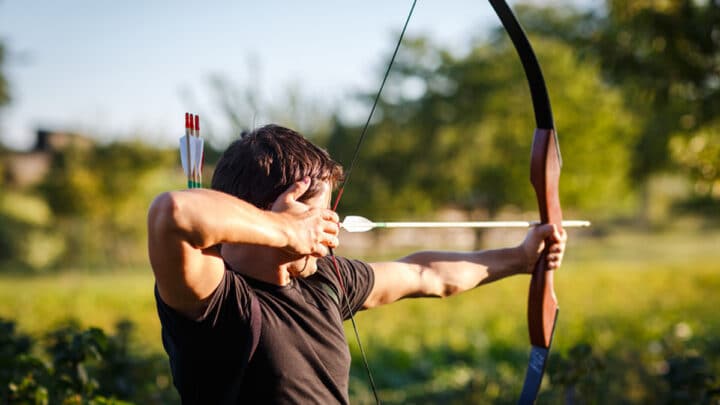 Has the idea of a day on the archery range got you quivering with excitement? Well, you're in the right place.
If you're looking for an archery club, London has plenty to offer. They range (no pun intended) from the more chilled, hit-it-for-your-birthday-party type places to the ultra-serious become-a-human-weapon spots, with a few solid options in between.
You'll find that all the communities are super friendly and just genuinely happy to have people taking an interest in something that they love. What you want from the day is totally up to you.
That might be a game of Archery Tag, or an hour one-on-one with an expert.
It's all here in our guide to the best archery ranges London has to offer.
Where to Practise Archery in London
2020 Archery
2020 Archery began life back in 2014 with digs in Islington. They've since moved down to an upgraded space in Bermondsey where they run an archery range with a good conscience.
They've been awarded prizes and grants for having an archery range that's accessible to everyone – including the visually impaired. That means there's no excuse for you not to get down there and test out your inner Robin Hood.
They offer classes for all levels, buyable in bulk so that lessons can be spread out over a series of months. There is also a 'have a go' option for anyone who just wants to shoot a few casual arrows, as you do…
Best of all: Archery Tag – a game of elimination where you ping off soft-tipped arrows at your mates. The fact this is listed with the subheading 'Stag Parties' on their website should tell you a lot.
Experience Archery
Archway
Here comes some folk who take archery seriously. Experience Archery may offer all the stag and hen options of many other places in this guide but they also have some high-level coaches on hand for anyone, at any level, who wants to take their archer game up a notch.
Those high-level coaches are on hand to give you classes in Olympic recurve bows – that's basically the bows of the pros (as in Olympian archers) – and have won competitions with such bows in the past.
Reach the top of your game here and you can join the elite archery club they are linked with. Keep your Soho House memberships – this is where it's at.
London Archers
When it comes to archery clubs in London, few are as revered as the London Archers. They've been running since 1938 and have the privilege of access to the grounds at Kensington Palace Gardens during the summertime – not a bad place to go shooting…
The only hitch with this place is that you have to be a member of the club to shoot here. We will add though, that membership is only £54 per year for 18-50 year-olds so it's not too much of a sting to lose a few arrows in the hedge of a royal palace.
They also train in multiple bow types, including that pro recurve style, compound and longbows. No crossbows though folks. That just wouldn't be cricket.
Archery Fit
If you want to get into archery, London has plenty of ranges to offer – few of them are as enthusiastic as Archery Fit. The place has a real nice ethos about it and a team of very friendly instructors.
The head of the whole operation, Kate, has won national championships in Britain and Russia and boasts a slew of medals and trophies to prove it.
The team may not have as gilded a record as her but they are all dedicated to providing a fun and relaxed atmosphere for archers of all levels to get stuck into the hobby. If you want a fun, low-pressure induction into archery, this will be your best bet.
Elite Archery Coaching
Chiswick
As you might expect from the name, the folks at Elite Archery Coaching aren't messing around. If you want to learn the ultimate way of the warrior and get down to samurai-level skills, this is the place.
Ok, so you may not actually be able to shoot arrows from the back of a galloping horse, but the instructors here do know the drill. They're all highly qualified and specialise in taking people to the best they can be in the sport.
That means you'll be taking one-on-one classes in all levels of archery from the very beginning of getting your eagle eye into training for your first competition.
Hampstead Bowmen
The Hampstead Bowmen is a small and friendly archery club based in North London. The part about them being bowmen is just a turn of phrase – bow women are welcome too, as is anyone with a curiosity about the sport.
They offer beginners courses and more advanced archery classes for people that have taken their game up to the next level, but the key point is this is a place for anyone keen on archery to come and socialise with a bow and arrow and some like-minded folk.
That said this is a club, so you'll need membership once you're getting into the big league. One year is £80, but includes your insurance in case you take a wayward arrow on the range – unlikely to happen but better safe than sorry.
Practical Tips for Exploring the Best Places for London Archery
This is all about finding the right range for you. If you woke up one morning with a burning desire to be an Olympic champion archer then you've got to consider who you're training with. If you're after a bit of fun the same is true.
If you've already got a membership at an archery club, sometimes you can attend other clubs for a reduced rate. Check the websites of each range for more info on this.
Archery in London: Map