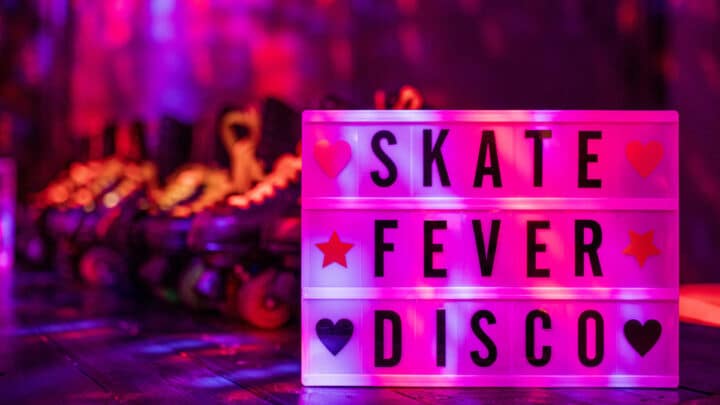 Wondering where to roller skate in London? Skating has become quite the fashionable hobby in recent years and so plenty of cool spots have popped up in the capital.
Whether you want to visit a quiet rink where you can get your bearings or fancy an all-out roller rave (neon leg warmers are obvs required), we've got you covered in this guide to roller rinks in London.
What are you waiting for? Get your skates on!
Cool Spots for Roller Skating in London
Roller Nation
Tottenham
Park roller skating rink and part nightclub, it's no wonder that Roller Nation is our favourite place to rollerblade in London. Whether you're celebrating a special occasion or just want to get the girls together for a giggly skating session, this is the coolest spot.
Mondays are Own Skate Nights – skaters bring their own shoes and choose the music that's played. Throughout the rest of the week you can hire skates and party until your heart's content.
Total newbie? Not to panic, you can head to Roller Nation for a class before you're totally let loose in the rink – or you can simply opt to chill out in the diner and bar to watch from the comfort of no wheels.
Skating Haven
Newham
Family fun doesn't come much better than an afternoon rolling around the rink at Skating Haven. The friendly staff are always on hand to teach you and your little ones how to skate safely – you'll be equipped with the entire kit and caboodle, from helmets to kneepads.
You'll start off with a 20 minute bootcamp: learn how to skate, how to stop, and more importantly, how to get back up when you've fallen flat on your face.
Once you've graduated from training, there'll be plenty of games to get stuck into and, if you're feeling really brave, you'll have the chance to show off your fanciest roller disco dance moves.
Isle of Skating
Multiple Locations
If you're serious about taking up roller skating, London-based Isle of Skating offers an abundance of courses to kick start your new hobby. Despite only being founded in 2020, the company has since grown from a one-woman show to a healthy 20 instructors who all share the same passion for teaching people how to skate.
Classes cover those who are total beginners (can barely stand upright in skates) to those who are around level 2 (which basically means you can do fancy-pants tricks whilst going backwards, FYI).
Isle of Skating also hosts festive evenings, game nights, and roller discos for everyone to get involved with.
Play Tone
Fancy getting fit whilst perfecting your rollerblading skills? Look no further than Play Tone.
On retro wheels, you'll be able to learn the coolest tricks involving hula hoops and skipping ropes to really impress your mates – or feel free to just skate around and burn calories to funky soundtracks.
The benefits of rollerblading are never ending; you can tone your muscles, improve coordination, and strengthen your core whilst having endless amounts of fun. It barely even feels like a workout.
Note: Play Tone have currently taken a break from hosting classes, though they still have regular pop ups and online classes for you to attend. Keep your eyes peeled – they'll be back very soon.
Sk8 City
Harrow
Situated on the outskirts of North West London, Harrow's Byron Hall is home to some of the best roller skating events in the capital.
Seasonal specials, adults-only nights, and family skate sessions are all on offer here, whilst Sk8 City's all-inclusive roller discos are held every few weeks – you can check back here for upcoming events.
London Roller Girls
Various Locations
Want to take your skating to the next level? Join the London Roller Girls for their fundamental training sessions (which are the most intense roller skating lessons London has to offer) and learn all about how Roller Derby's work.
And if you're confused, it's a little bit like rugby – well, if you swap the ball for wheels.
Not to worry, you'll be able to learn all the techniques, from what a jammer is (we still aren't quite sure) to how you actually win a game. Right now, the London Roller Girls are training outside in various locations across the capital, though they usually play in Crystal Palace's National Sports Centre.
Zebra Skate
This one's for the kiddies. Situated in Kensington Gardens, Zebra Skate offers skating classes for young ones – we recommend dropping them off and having a peaceful wander around the gardens while you wait. Or head to one of these brilliant cafes for a coffee.
You can purchase a course of 5 private sessions for £265 or, if you don't quite fancy taking out a second mortgage, opt for the shared classes where it costs £65 per class for up to three children.
They'll be skating-pro's in no time.
Practical Tips Before You Go Roller Skating in London
There are two main kinds of rollerskates: Inline and Quads. Quads are often easier for beginners as they offer more stability. Check which ones are available for hire at the roller rink, or whether you'll need to bring your own.
If you're a total roller skating newbie, it might be worth booking a 1 to 1 session with a professional before you take to the rink. They can help you get to grips with basic movements and ensure you can at least travel before attending a roller disco.
Roller Skating London: Map
Looking for More Things to do in London