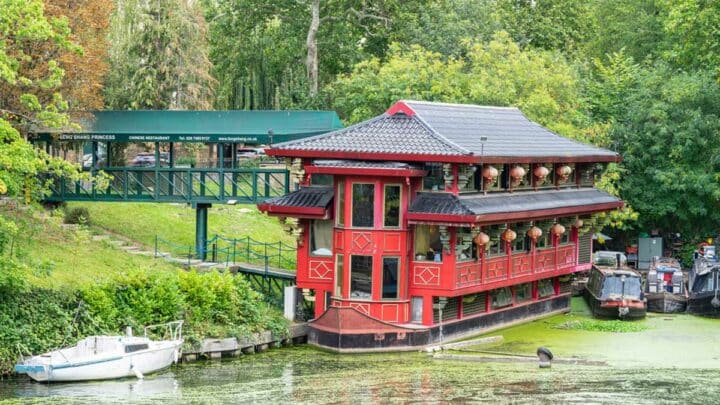 All hands on deck! Which deck? How about one of these highly cool boat bars or restaurants in London?
Sometimes we get the urge to take to the water. We're not talking swimming… We're talking about sipping G&Ts on the top deck when the sun comes out. Or maybe enjoying a good meal as you cruise along the river, gazing up at London's iconic buildings as you dine.
Whatever your reasons for seeking out an excellent ol' boat-bound time, knowing where to find the right spot is crucial. That's why we put our heads together to put together this guide. It's got eleven of the best London boat bars and restaurants for drinks and dinners.
The Best Boat Bars and Restaurants in London
Barge East
££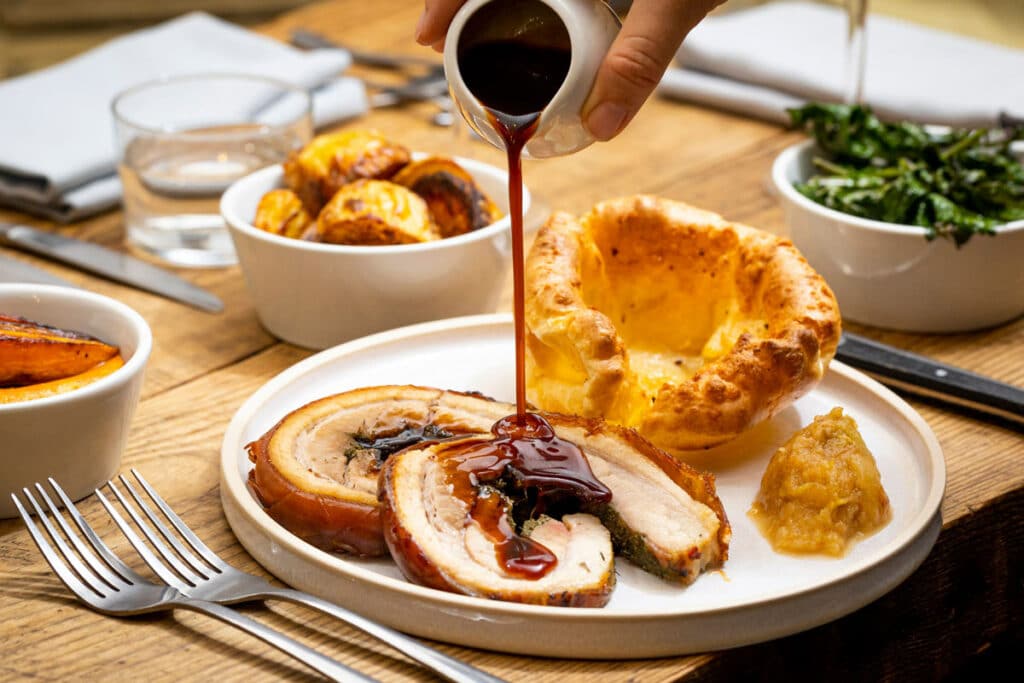 Probably the best floating restaurant London offers is Barge East. This place sailed over from Holland, literally – the owners used the barge to get over to London. Once here they found a good mooring in Hackney Wick and eventually the place became a bit of a dining hotspot.
They cook broadly English food, but strongly emphasize sustainability and locally sourced ingredients. They even grow many of the things they use on the side of the canal the boat is moored to.
That cooking, although traditional, can be very creative and has a very wholesome note running through it. A meal here is always exciting, and can be followed by a lovely walk on the waterside, and maybe a pint at one of Hackney Wick's craft breweries.
The Cheese Barge
££
At London x London we absolutely LOVE cheese. But let's face it: Who doesn't? Either way, we're always very excited when we get a chance to talk about one of our favourite places in London, The Cheese Barge.
Even hearing that name sends warm fuzzy feelings down our necks. The place is pretty much what you would expect it to be from the name – a barge that serves a lot of cheese.
It's not just platters though, they also do melted cheese. That comes in the form of fondue pots or as filling to some pretty top-notch toasties. Yuuuuummmmm.
Feng Shang Princess
Regent's Park
££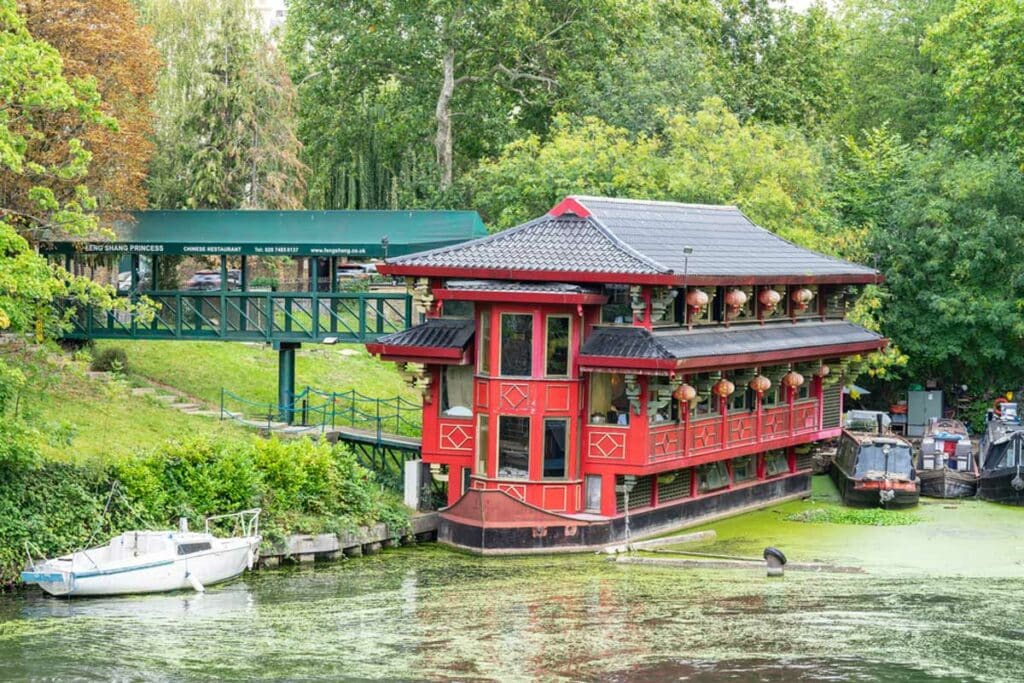 Of all the boat restaurants London has to offer there's only one quite like the Feng Shang Princess. This floating restaurant is shaped like a Chinese pavilion, all dressed up in red with no sparing of decorative frill.
It's not all show either. The food they knock up inside this crazy-looking structure is pretty good. It's a mix of Chinese fares, with a leaning towards the south.
As you can imagine the menu is as thick as an encyclopaedia so you'll have plenty of options to choose from. Our recommendation: get a plate of their mapo tofu.
Tamesis Dock
££
London is full of pubs, but if you want a boat pub London isn't so forthcoming. There is one pretty special place you can visit though. It's called the Tamesis Dock and it's one you need to have on your London bucket list.
This floating boozer is built out of a 30s-era Dutch barge. The space has been cut up and adapted from whatever (probably industrial) function the boat was originally used for and turned into a neon-lit below-deck music venue and top-deck al fresco drinking area.
The vibes are always super chilled up on top, especially in the summer when the warm weather means it's not suicidal to sit up there. You'll be able to see bits of Westminster, including big ben all lit up. Not a bad sight at all.
It would be the most atmospheric spot on the river if it wasn't for the raucous parties that go down when the Tamesis gets a band in to rock the boat.
Hawksmoor Wood Wharf
£££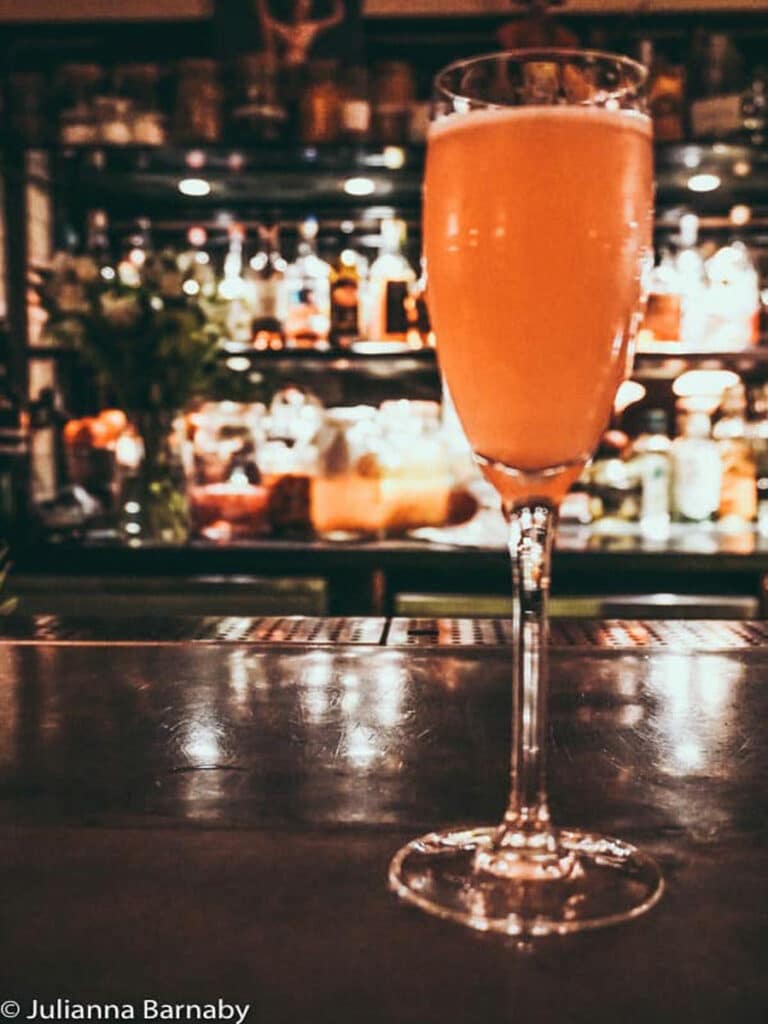 If you're after a truly superb meal on a boat restaurant, London has just the place. Perhaps the crowning jewel of them all is Hawksmoor's Wood Wharf branch.
We have no doubt you're already familiar with the steaks at Hawksmoor, hunks of eye-wateringly delicious beef that's regularly agreed to be some of the best in the city.
It's good wherever you eat it, but the site of Canary Wharf's lights twinkling on the water and a good cocktail or two from the equally stunning bar really add to the atmosphere.
London Shell Co.
Paddington
££
This family-run restaurant is a great place to visit for a bit of boat-based dining. The London Shell Co. opened in 2016 as a small venture serving set menus of seafood.
Not too much has changed since then. The restaurant has kept its simple, family vibes and the seafood is still as good as it was. A meal here is full of atmosphere. The place is sort of like a tribute to the water…
The things you'll be eating come from it (though not from this canal we can assure you) and are handled with a respect that just tells you the chef in the kitchen loves the ingredients they're working with.
As for the boat, it all adds to the experience.
Tattershall Castle
Victoria Embankment
££
Another great boat bar London has to offer is the Tattershall Castle. No doubt you've seen it before – even if you don't exactly know where it is. It's part of that mooring of boats on the north bank of the river, sort of opposite the London Eye.
We called it a bar but, actually, it's closer to a pub. The vibes on board lean more in the direction of traditional English boozers.
There are many places you can perch up with a drink, or a meal for that matter, including a place called the Stateroom which is just as fancy as it sounds. And the old ship's bridge, which is as cool as the Stateroom is fancy.
Bar & Co. Boat
Victoria Embankment
££
If you want to talk boat bars in London you have to mention Bar & Co. Another one to find itself in the moorings alongside Victoria Embankment, this spot is a bit of a London fave.
It takes on the vibe of a bar more than the pub stylings you get from a couple of the other venues in our guide. That bar vibe is a very nice one – slick decor all trimmed with lighting makes the place look great at night.
They do innovative drinks and, at times, a delicious BBQ. When they're not busy grilling it's likely they'll be renting out the whole boat for a private event, or putting on gigs below deck.
Darcie & May Green
Paddington
££
Probably the most unusual boat restaurant London has to offer is Darcie and May Green. What's so unusual about it we hear you ask…
Well, to put it simply, the aesthetic. The place was designed by pop artist Sir Peter Blake and looks something like patchwork quilt of colour, or maybe a floating Battenberg cake?
Regardless, the Australian fare they've got on offer is really pretty good, and even if you're not eating you'll have plenty to indulge yourself in drinks wise – when the sun shines on this place that's what most people will be up to.
The Battersea Barge
£
If you're after a boat bar a little further along the river than Victoria Embankment, or a little further west than Hackney Wick then head down to the Battersea Barge.
The place is moored up on the river next to some pretty new (and very swanky-looking) apartments and as such has a pretty locals feel to it. That plays right into our good books because if we have one complaint about London boat bars it's that they always get way too busy.
You'll find the bar below deck well stocked with craft beers, wines and cocktails, and Chelsea Bridge looking pretty gorgeous from the top deck when it's all lit up at night.
Bateaux
The Thames
£££
All these boat restaurants and so few that actually float off down the river while you eat. Then along comes Bateaux, the ship that's not afraid to set sail, or wow its diners for that matter.
Bateaux has a fully functioning kitchen on board ship and a dining room that could give some of the fine-dining spots on dry land a run for their money. It's very much a white tablecloth affair, with waiters that can play sommelier and twinkly piano music that serenades while you dine.
The food you'll be dining on is broadly British but, as you might imagine from a place named like this, takes a good slice of inspiration from across the Channel. They put a lot of effort into the three sailings they do per night. If you're looking for somewhere special in this guide, it's a good bet this is the one.
London Boat Bars and Restaurants: Practical Tips
You'll need to have a booking for most of these places. For obvious reasons boat bars and restaurants in London fill up quickly. You don't want to be disappointed.
These places fill up even more than usual when the sun comes out. It's something of a frenzy, people clawing at each other to get a seat on the top deck, rough language, routine drownings. Just kidding – but for real, competition is stiff for the sunny seats.
Boat Bars London: Map