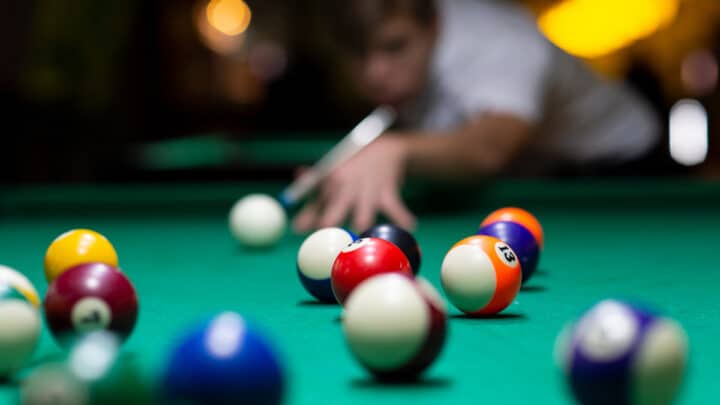 Pool is one of the nation's favourite pub sports – so it makes total sense that there are some brilliant pool bars in London. Whether you're a casual boozy player or fancy yourself as a semi-pro, here's where to head.
Words by Sam Jeans
Pool, darts and other bar games are great for knocking back a few drinks with mates, but if you're an enthusiast, semi-pro or even a professional, London has pool bars and lounges for every motive.
Whether you're looking for London bars with pool tables or somewhere a little bit more established for competitive play, here are the best pool bars London has to offer.
Best Pool Bars in London
The Hurricane Room
Kings Cross, Enfield, Collindale
For those of you who are serious about playing a good game of pool, The Hurricane Room is where you want to head in the capital.
Their flagship London pool bar is at King's Cross and boasts 10 snooker tables, 7 American pool tables, 2 American pool match tables and 6 English pool tables. Prices range from a reasonable £13 per hour for standard tables.
Hurricane Room doubles up as a top-quality sports bar, multiple big screens for live sports and a large licensed bar. There's even a quality pizza menu to boot, with food available until close at 2 am.
The Enfield and Collindale venues are similarly priced and also open late. If you're feeling competitive, there are plenty of regular games and leagues for all levels of players.
1920 Bar
Clerkenwell
1920 Bar is a stylish and lively pool bar located in the heart of Clerkenwell. With four 8-foot American pool tables, darts and table football, this is the perfect spot to enjoy some boozy friendly competitions (or not so friendly, depending on how seriously you take your pub games).
This bar has a great atmosphere for group nights out. We wouldn't call it a super-serious pool hall, but more of a pool, drinking and party spot.
Rileys Sports Bar
Another superb sports bar chain, Rileys' flagship Victoria venue, features two floors of 10 American pool tables, 5 snooker tables and 8 English pool tables. This pool hall is massive, with plenty of room for both social and private games.
There are darts, interactive electronic darts and table tennis, too, all at reasonable prices.
A hearty menu of pizza and snacks or pub-style food like wings and chips tops it off. One of the best spots to play pool in London.
N1 Bar
Tower Bridge
Fancy somewhere a little bit more lively? We've got you. With a pool hall, sports bar and club, Number 1 London features three giant screens, as well as 15 large HD TVs spread throughout the venue for live sports.
There are five American and two English pool tables for hourly rental, though you'll also find table tennis and a boxing machine. So if you're looking to play pool in London while watching sports on big screens, this one's a great bet.
Hungry? Expect a tasty South American-themed menu that features tacos, burgers, hotdogs and Colombian street food dishes.
All in all, N1 boasts regular DJs, a cocktail bar and plenty of space to play games and dance. Oh, and it's open until 6 am on weekends for late-night (or early morning) sessions.
Q Shoreditch
Q Shoreditch is a classy and upmarket pool lounge and games bar, with a selection of high-end pool tables, roulette, blackjack and poker for you to sink your teeth into.
This definitely switches up your typical smoky pool bar vibes with gorgeous interior and a very sleek-looking club in the same venue, Q Club, which hosts regular club nights with DJs and live musicians.
There's a limited food menu but, rest assured, there's a vast selection of booze and cocktails. Prices are north of the average, with pool tables costing £30 an hour – three times as much as other venues.
That said, this is easily one of the classiest bars with pool tables in London.
Shades Sports Bar
Deptford
Shades Sports Bar isn't a shady pool bar at all. In fact, with stellar reviews across the board, this pool bar is among the highest-rated in London.
It's a very warm and friendly venue with a great atmosphere and professional pool tables kept in pristine condition.
Open until 2 am, Shades has an authentic 80s vibe, nailing the basics like friendly service, great snacks and reasonably priced drinks. Proof that not all pool bars need to be rowdy.
Spots & Stripes Pool Club
Located under the arches of a backstreet in Southwark, Spots and Stripes Pool Club is for enthusiast-level players, though anyone is welcome.
It features a whopping 15 Supreme English pool tables and 5 American Tables. There are 12 professional dart boards too.
You can pay per game for hire for an hour, and there's plenty of opportunity for group games and tournaments.
This is the perfect venue for playing semi-pro or professional American pool in London. The bar serves reasonably priced soft drinks and alcohol, too.
Mile End American Pool & Snooker
Mile End
A classic pool and snooker hall, Mile End American Pool & Snooker is equipped with 9 pool and snooker tables.
There are big screens for sports, comfy sofas and hot and cold bar food like sandwiches, hot dogs and pies.
A genuinely friendly and authentic pool hall, this one isn't trying to be flashy, but that's exactly what some look for in a pool bar.
The Moretown Belle London
Near St Katherine's Dock
A quality hybrid of a pub, sports bar and pool lounge, The Moretown Belle offers a tremendous menu with more burgers than we think we've ever seen (we counted 22 – no joke).
You'll also find fish, steaks and some awesome sweet treats – and the food is genuinely great, too.
But what about the pool? Well, you'll be glad to hear that there are three pool tables, plus dart boards, loads of big screens for live sports and a large outdoor terrace. Undoubtedly one of the best pubs with pool tables in London.
Practical Tips for Exploring the Best Weekend Breaks From London
If you're searching for pool tables, London isn't short of pool lounges and sports bars. These vary from your classic 80s pool bars to swanky venues with clubs and cocktails.
When paying to play at a pool hall, London's venues do charge a little more than average, with prices starting at around £10 per hour at minimum.
If you're a serious player, plenty of pool bars have competitions and tournaments for amateurs and enthusiasts – right up to professional level.
London Pool Bars: Map
London Pool Halls: Read Next