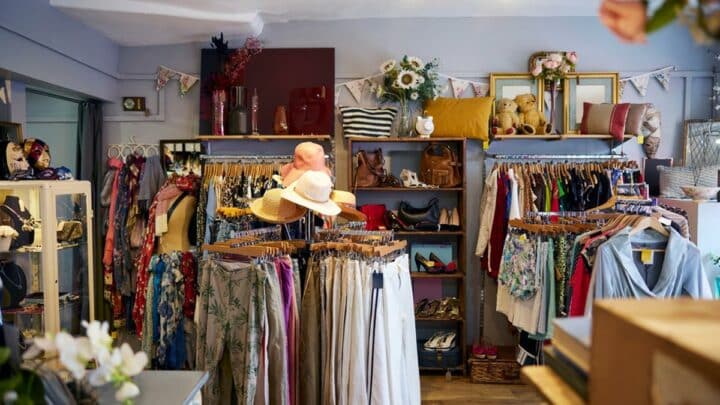 Vintage shopping in Brick Lane and Shoreditch? You're bound to pick up a bargain in one of these cool second-hand spots.
Brick Lane and Shoreditch are the capital of cool in London. And with that comes plenty of places for vintage shopping.
Though, we'll admit that it can be difficult to know where to start, as there are so many shops. Luckily, we like to think of ourselves as bargain hunters, so we've spent quite a bit of rifling through the area's vintage shops.
Second hand shopping is both cheaper and better for the environment – what better reason to shop in Brick Lane and Shoreditch's best vintage shops?
Vintage Shops in Brick Lane & Shoreditch to Look Out For
Levisons Vintage Clothing
One of the best places for vintage shopping in Brick Lane, Levisons is all about rare vintage clothing. They stock unique, hand-picked selections of unique workwear, military items, tailoring and knitwear for both men and women.
Established in 2008, Levisons has been a popular destination for both casual shoppers and collectors alike. New items get added on a weekly basis and they're on a constant mission to track down elusive one-off pieces.
Atika London
Atika London is one of the best vintage shops in Brick Lane – it's absolutely massive which means that you have so much choice. Spread over a 2-storey Victorian warehouse, expect everything from vintage fashion, lifestyle and secondhand homeware.
In fact, Atika is one of the biggest vintage stores in London, with over 20,000 pieces of sustainable vintage and reworked fashion expertly curated. Prices vary and, if you're after the real bargains, it's best to check out downstairs first.
A beautiful shop, well organised clothes, and a brilliant soundtrack – it's quite hard to leave.
Vintage Basement
We love Vintage Basement because of their incredible prices. If you're after the cheapest vintage shops in Brick Lane, add this one to your list because there are some real bargains to be had.
Dance along to a 90s playlist whilst shopping around – with plenty of £10 items to choose from, it's a vintage shopper's paradise. The clothes change regularly so it's best to go early and come back often. Not that you need an excuse, we're sure.
Serotonin Vintage
You know those one-off dream pieces you can't quite believe you've snagged? That's a common occurrence at Serotonin Vintage. This spot was established as a bricks and mortar store in 2016 in Brick Lane and has ever since been one of the top Shoreditch thrift shops.
Whether you're searching for a party or just to spruce up your wardrobe, you'll undoubtedly find what you're looking for. The staff are incredibly welcoming and it's one of the best places to shop in London for vintage.
The prices are great – not the cheapest, we'll admit, but the selection of brands are amazing and the stock is always changing. The place for real vintage gems in London.
Here After
The gorgeous Here After is a wonderfully-curated Brick Lane vintage shop with hand selected accessories spanning the 50s to the 2000s. With stock boasting bold textures, patterns and designs, you'll manage to pick up an item that really stands out from the crowd.
Some items are on the expensive side so it's important to shop around a bit first. The condition of the clothes at this store are usually great, so that's probably the reason for the slightly higher prices.
Rokit
Rokit is the OG vintage shop of London. It stocks a wide range of apparel for both men and women. Prepare to lose yourself in this shop, only to emerge with all the things you weren't looking for but now need.
They sell a mix of second hand and reproduced items. You'll find everything from handbags to knitwear and even the odd cheerleader's skirt on the rails. Rokit has much more of a boutique feel to it compared to the other vintage stores, and that's why we love it so much.
Beyond Retro
Beyond Retro's flagship store is the biggest in the Brick Lane vintage shops scene, offering Londoners and tourists the best destination for all their vintage needs.
From 50s dresses to classic vintage Levis, there are around 20 000 unique gems to try on and, on top of that, one of the best discount outlet sections in Brick Lane. Truly a treasure trove of bargain pieces for all thrift seekers.
We know that vintage stores can be a little hit or miss, so that's why it's worth checking out the big ones. Beyond Retro has so much to offer, you'll be stuck for too much choice (as opposed to the other way around).
The prices are also very reasonable and they have plenty of fantastic vintage accessories to go with your clothing.
Nordic Poetry
Nordic Poetry is the best designer vintage shop in London by a mile. Their items are so beautiful, you almost just want to stare at them instead of trying them on.
The store itself is light and bright with a great vibe. All clothes are in very good condition and the staff are always there to help with anything you may need. The clothes are clearly curated by someone with a fantastic eye!
Top tip: The stock in-store (compared to the website) is leaps and bounds better.
East End Vintage Clothing
Looking for the best vintage shopping Shoreditch experience? We'll go out on a limb here and say that East End Vintage Clothing has the best selection of European and American vintage and retro clothing from across the decades.
From the 20s all the way through to the 90s, you will find vintage clothing for prices you won't find anywhere else.
The shop has two major sections: Vintage Selected and a Fill-A-Bag section. And they even hold flash pound sales on some weekends, as well as offering alterations, repairs and customisation.
This is one of Shoreditch's best vintage shops, it's trendy and unique with 100% handpicked clothing.
East End Thrift Store
East End Thrift Store is a wonderful warehouse full of bargain vintage spots in Shoreditch, along with the best secondhand clothing and shoes for both men and women.
You'll find deals such as 3 sweatshirts for £20 – and you'll even be able to find reduced items if they have minor flaws. A great shop if you're truly after a bargain or need to buy a gift for someone and don't want to break the bank.
The shop is clearly split between 3 areas based on price range and quality. Remember to get cash out before (there's a cash machine around the corner) as they don't take card.
Paper Dress Vintage
Paper Dress Vintage is a lot of fun. They're a Hackney-based vintage clothing boutique that doubles up as a live music venue by night. You can shop and listen to music at the same time!
It's a very unique way to shop and we absolutely love it. It's so important to support independent venues such as this one and, on top of that, shop second hand. It's a double whammy and we just can't resist.
They have amazing brands and the clothes are of a very high quality, slightly on the pricey side but that's expected when the quality is a bit better.
Practical Tips for Shopping for Vintage Clothes in Shoreditch
Go early. The number one tip we have is to be there as early as possible so you can pick the best items.
Be patient. It will get tiring and you will want to give up – but keep going! You'll find those gems, though you might need a few coffee breaks along the way. Luckily for you, Shoreditch is full of incredible cafes and lunch spots.
Bring cash. A lot of these vintage shops are cash only so make sure to check before, it'll always be easy to find a cash machine close by.
Prepare to haggle. If it's an expensive piece of designer vintage, you'll be able to haggle. Offer them what you'd like to pay instead of the price on show.
Vintage Shops Brick Lane & Shoreditch: Map
Vintage Shopping in Brick Lane and Shoreditch: Read Next