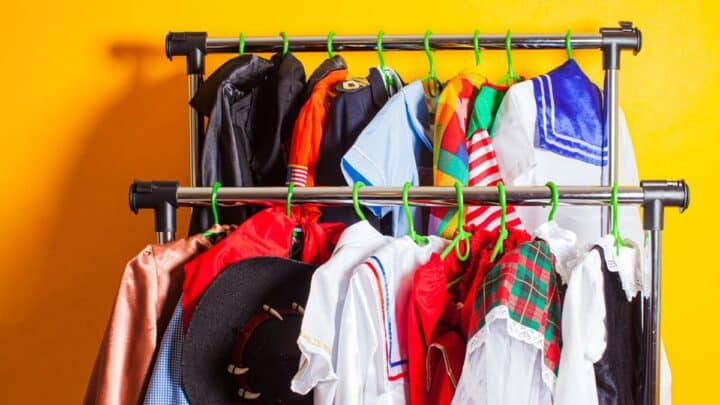 Looking for a nightmare-fuelled Halloween costume? It's that time of year again when the witches and devils come out to play – these are the best Halloween costume shops in London.
Whether you're heading to a ghoulish Halloween party or hitting the bars this Halloween, you'll need a spooky costume.
That's where this handy guide to the best Halloween shops in London comes in, you'll find everything you need to make this Halloween a success at one of these shops.
From ridiculously scary to downright weird costumes, these are the best Halloween costume shops in London to visit. Happy spooking!
Ghoulishly Brilliant Halloween Costume Shops in London
Angels
Hendon
Spread over five floors, Angels is one of the best halloween costume shops in London stocking everything from Victorian ghosts to Stormtrooper costumes.
They've worked with some big names throughout the years, supplying West End shows with costumes – so the quality is guaranteed to be excellent.
Angel's understand that you may only need your spooky Halloween outfit just for halloween night, that's why there's a bespoke rental service available. There's something to suit everybody's budget too, with packet costumes coming in at around £30.
Fancy Dress Town
A trip to Fancy Dress Town in Bermondsey will see you leaving with the most spooktacular halloween costume. With helpful staff on hand, you're guaranteed to find the perfect fit.
Whatever your halloween vision you'll be spoilt for choice. The collection ranges from blood guzzling vampires to ghoulish ghost costumes as well as couples costumes, so you and your significant other can arrive at the halloween party in style.
Carnival Store
Looking to buy or rent your Halloween costume? You can do both of those at Carnival Store. This two-storey fancy dress store has been helping Londoners find the perfect costume since 1952.
Expect an extensive collection of pretty much any halloween costume you could think of, from spooky accessories to creepy clown costumes, Carnival Store is one of the best halloween costume shops in West London.
If you're not sure what you'd like to dress up as this year, Carnival Store has a dedicated team on hand Monday through Saturday to help you pick out your Halloween costume.
Mix Max
You'll find Mix Max fancy dress store nestled amongst the bustling streets of Soho. Inside the small but convenient store you'll discover all the Halloween props you should need to pull off a killer outfit.
There's full costumes up for grabs at Mix Max too, but most of them are standard packet costumes. This truly is the place to shop if you're in need of Halloween accessories, from fake blood and animal ears to deadly plastic weapons, whatever prop you need you will find it here.
Mad World Fancy Dress
Multiple Locations
If you're looking to hire your Halloween costume this year instead of buy, Mad World Fancy Dress is where you want to shop.
There's an interesting selection of costumes to hire, whether you're searching for the perfect PVC pumpkin, James Bond suit, or even a graveyard bride and a dracula costume.
Looking to buy your Halloween costume? Mad world Fancy Dress can help you out with that too. You'll find everything from grim reapers, zombies and werewolves on offer at this London Halloween costume shop.
So High Soho
Soho
A trip to So High Soho is an experience in itself. This quirky Soho fancy dress shop has an eclectic mix of fancy dress costumes and accessories.
If you're looking to go all out, then this is the best Halloween costume shop in London for everything you'd need to create your Halloween look. So High Soho's makeup and prosthetics selection boasts creepy tattoos, face paints and even fake scars.
In terms of Halloween costumes, you're bound to find something unique here – or just elevate your existing fit with their abundance of costume jewellery and selection of scary masks.
Costume Boutique
Costume Boutique offers an exclusive selection of Halloween costumes, and it's by appointment only– so make sure to book in advance.
Halloween costumes are only available to hire, so there's no need to worry about being left with a costume you'll most likely only wear once.
Costumes are inventive and go above and beyond the standard devil and witch, the funky 1960s bat costume with ears will certainly rule out any outfit clashes at your Halloween party. Better yet, costumes can be adapted and tailored too.
Prangsta Costumiers
Lewisham
Theatrical costume company, Prangsta Costumier, has a magical selection of flamboyant garments and decadent headpieces available for hire.
This is the place to shop if you're attending a fancy Halloween party and you really need to impress. Put your trust in Prangsta Costumiers to create you a mystical Halloween look that is square to wow.
Costume hire and personal styling is by appointment only and this can be offered in person or remotely.
Party and Celebrate
Party and Celebrate is a large fancy dress shop in Clapham that has all the spooky costumes and accessories to ensure that you're the best dressed this Halloween.
Costumes here are very reasonably priced too, so no need to worry about breaking the bank at Party and Celebrate.
Whether you're in the mood for a more casual witch and zombie bride costume or prefer to go all out as Cruella Devil, you're guaranteed to make a terrific entrance this Halloween.
Practical Tips for Finding the Perfect London Halloween Costume Shop
Consider whether you'd like to buy or hire your halloween costume, different shops cater for different needs. We recommend hiring when you can as it's far more eco-friendly.
We know it's usually inevitable, but don't leave it to the last minute as a lot of the best costumes will be snapped up early. And you will regret it.
Halloween Costume Shops London: Map
Halloween Costume Shops in London: Read Next